Are you searching for the Best Folding Bike you can buy today?
In this article, we'll review the foldable bicycles currently available and provide you with buying guides and other tips.
With an almost endless amount of new brands popping up every day, it's becoming increasingly difficult to determine which folding bike will the best for your individual requirements.
Top 10 Best Folding Bikes Reviewed
There is considerable diversity between foldable bike options; they all possess differing frames, gears and overall purposes too.
As a result it's nearly impossible to advise on which is the absolute best folding bicycle. We have answered this question by breaking it down into more manageable segments in our folding bike reviews.
Below are our shortlisted winners, scroll deeper to see longer reviews of these and other models, plus our buyers guide.
BEST OVERALL
EuroMini ZiZZO Campo
BEST OFF-ROAD
X-Spec Folding MTB
BEST VALUE
Schwinn Loop 20"
BEST COMMUTER
X-Spec 20" Commuter
BEST OVERALL
BEST OFF-ROAD
BEST VALUE
BEST COMMUTER
Last update on 2021-07-28 / Affiliate links / Images from Amazon Product Advertising API
#1. EUROMINI ZIZZO CAMPO: BEST OVERALL
OUR VERDICT
"The EuroMini ZiZZO Campo is an exceptional bike which features a lightweight aluminum frame, 7 speed Shimano gears and folds away in seconds. A great all-rounder which is extremely hard to beat for the price!"
The first thing we noticed while testing the ZiZZO was how fast it felt, this is thanks to the aluminum frame and choice of components which all up weighs in around 28 pounds.
One other thing we LOVED was the fact that it's suitable for riders from 4'8″ through to 6'3″ meaning the whole family could make use of it.
Other notable features include a 7 speed Shimano drivetrain, 20″ wheels, powerful v-brakes and a convenient folding mechanism which allows you to fold the ZiZZO away in under 15 seconds.
There were a few small things which we didn't like, such as the saddle wasn't very padded and we would prefer an adjustable handlebar stem. Not dealbreakers however we would recommend upgrading the saddle for maximum comfort.
Overall, the EuroMini ZiZZO Campo is an excellent all-rounder which would make a great foldable bike for commuting, the family to use or for leisurely rides.
#2. DJ BIKES 750 WATTS: BEST ELECTRIC
OUR VERDICT
"Fun, easy, great new design. The perfect folding electric bike for city riding and using on gravel road tracks thanks to the 4 inch fat tires which make the DJ so comfortable to ride."
The DJ folding e bike boasts a remarkable 750 watts motor with a 1000W peak power, so you can easily tackle almost any terrain.
It's made in Canada and complies with the highest safety standards on the market. The battery pack, charger, motor and frame design all passed the UL 2849 tests.
Other noteworthy features of this e bike include the 20″ x 4″ fat tires, 7-speed Shimano drivetrain, Tektro disc brakes and Mozo suspension forks.
The DJ e bike can travel up to 37 miles unassisted and is rated to carry up to 275 lbs weight.
READ NEXT: BEST FOLDING E BIKES
#3. XSPEC 26": FOLDING MOUNTAIN BIKE
Xspec Folding Mountain Bike
OUR VERDICT
"A great entry level folding mountain bike which does the job well, not exceptionally well, but good enough. The X-Spec performed well both off-road and for urban riding."
If you're searching for an entry level folding mountain bike then look no further than the X-Spec 21 speed folding MTB.
Equipped with 26″ wheels, powerful disc brakes, and Shimano components the X-Spec offers exceptional value for money.
During testing, we found it to be a reliable, well built bike which performed well off-road and surprisingly well on road too.
One thing to note is that this bike is rated for a maximum rider weight of 220 pounds, so if you're a heavier rider you should consider some of the alternative options we reviewed here.
#4. SCHWINN LOOP: GREAT VALUE
OUR VERDICT
"The Schwinn Loop is our clear winner for the best value folding bike. Built by a highly reputable brand it remains as one of the most popular cheap bikes on the market today."
The Schwinn Loop has consistently ranked in our top picks for several years now, and with good reason..
Schwinn is a reputable bike builder who have are renowned for building quality bikes, and being able to purchase of one of their bikes for such a cheap price is awesome!
Noteworthy features include 20 inch wheels, 7-speed Shimano grip shift and a super useful built-in rear carrier.
We would have liked to have seen an adjustable handlebar height option, but at this price it's not a deal breaker.
#5. XSPEC 20": OUR FAVORITE COMMUTER
Xspec 20" Folding Commuter Bike
OUR VERDICT
"A new addition to our shortlist for 2021, the Xspec 20 inch has proven itself as the best folding bike for commuting."
This Xspec folding bike folds away in seconds and can easily be stored under a desk, on public transport, in the trunk of a car and at home. 
It comes equipped with 20 inch wheels, 7 speed gears and alloy wheels. One thing we really liked was the comfortable seat which made longer commutes effortless.
As with most bikes, it comes boxed and you will need to assemble it yourself. We found this to be pretty straightforward with only a few adjustments required on the brakes and gears.
#6. MANTIS TRI-RAD: BEST FOLDING TRICYCLE
Mantis Tri-Rad Unisex Folding Tricycle
The Mantis Tri-Rad Folding Tricycle provides safe and comfortable rides for adults and children alike.
It's suitable for elderly riders or children with special needs or balance issues.
Additionally, the single speed gearing makes it less complicated (and more fun!) to ride.
During testing we found the Mantis to be really comfortable thanks to the cruiser handlebars. We also really loved the powerful v-brakes which made stopping effortless.
This bike offers value for money. When not in use can be easily folded away to half its full size.
#7. LANOS: FOLDING EXERCISE BIKE
Lanos Folding Exercise Bike
The Lanos exercise bike is our choice for the best folding exercise bike because it's the most versatile of all the models we reviewed.
One unique feature of the Lanos that we really loved is that it can easily switch between the recumbent and normal upright position.
It also includes a precision-balanced flywheel which really helps to make this a quiet folding exercise bike.
Packed with great features, we were also pleasantly surprised at the price point this bike comes in at, offering fantastic value for money!
#8. BIKE FRIDAY WORLD TOURIST: MADE FOR TOURING
Bike Friday World Tourist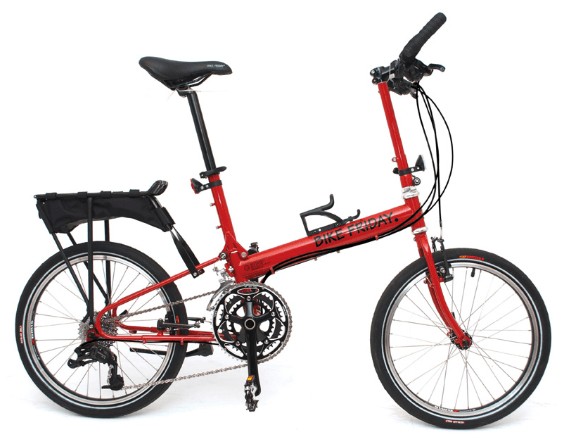 The Bike Friday New World Tourist Folding Bike consistently comes out on top for its reliability and comfort.
It's a tried and tested design with customizable features which will impress even the most seasoned tourers.
The World Tourist comes in three different models.
If you're looking for a folding bicycle for touring we would recommend choosing the World Adventure model because it's the most powerful bike of the three.
Fully-loaded with features that'll impress even the most professional riders, the New World bike is often considered the best folding bicycle for touring.
The World Tourist is built on 20″ wheels which, combined with the short wheelbase, make for a very manoeuvrable bike perfect for exploring new places.
Other components include either a 16 or 20-speed Shimano drivetrain, and SRAM X4 grip shifters.
It also has Avid BB7 mechanical disc brakes, offering superior control on slippery surfaces.
The Brompton S6L folding bicycle is a user-friendly bike that folds quickly and effortlessly.
Designed for easy storage, fun travels, and easy commutes, it offers many great benefits.
It's lightweight, and easy to fold thanks to a patented folding mechanism.
Once folded, you can take it with you on almost any public transport and easily tuck it away in your office.
As with other Brompton bikes, the S6L features 16 inch wheels which is great for folded size however may not be to everyone's taste.
#10. HUMMINGBIRD: LIGHTWEIGHT FOLDING BIKE
With its lightweight, state-of-the-art design, the Hummingbird is our top pick for the best lightweight folding bicycle. One of the most innovative features is its rear hub, which remains pivoted around the bottom bracket.
This means the distance from the rear hub to that bottom bracket remains the same, even when you fold the bike.
It eliminates the need for chain tensioners and is one reason why the Hummingbird is lighter than other folding bikes. Crafted from carbon fiber, each bike is handmade in the United Kingdom.
Understandably, it comes with a hefty price tag and you'll need deep pockets for this one!
YOU MAY ALSO LIKE: BEST LIGHTWEIGHT FOLDING BIKES
The Best Folding Bike Buyers Guide
As you have probably already realized, choosing the right folding bike is an absolute minefield. There are simply so many different angles to tackle this problem from and it's easy to get lost.
However, don't despair, follow our guide below and you will be able to find the perfect folding bike for you:
1. Choose your wheel size
You should search for the right size wheel for you; the options available range from 16-inch wheels through to 27.5 inch wheels:
16″ Wheels: These wheels are tiny; they do not offer the most stability, but they are exceptionally flexible on the road. These bikes are specifically designed for short distance leisurely riding and should not be considered if you plan on travelling on them as your daily commuting ride. They are not the quickest style of wheel; however, they are by far the most portable.
20″ Wheels: Most folding bicycles have 20-inch wheels, these are the quintessential hybrid sized wheel. Not only do they offer good maneuverability, they are also truly agile and portable as well. Perfect for your daily commute, or for your leisurely activities too – one to consider.
24″ Wheels: The larger the wheel, the more comfortable the ride. This is the size of wheel where this statement becomes most evident. While these bikes are not the most portable, they are far more stable to ride and are still a totally viable option to use on your commute. Regardless of whether you require the use of public transportation – these are not overly large wheels and a good model can still be folded down to a reasonable size.
26″ or 27.5″ Wheels: The largest style of bike wheel, typically found on folding mountain bikes. This is somewhat of a niche wheel size and is certainly rarer than the other wheel sizes discussed above. They offer the most stable and therefore comfortable ride because of their outstanding shock resistance. However, they are quite large and cumbersome to carry around daily.
2. Choose your frame size
One crucial consideration that many people often forget to make is to choose a bike that fits their bodily dimensions.
It is essential to first consider whether you are likely to sit comfortably on your chosen model. And if not – ensure that it is fully flexible and can be adjusted to your size.
The last thing that anybody wants is to purchase a bike that simply doesn't fit them.
Remember, the best folding bikes are those that are the most comfortable to ride and transport around with you. You should be looking for bikes that can vary their handlebars, saddles and frames if possible, too.
3. Select the folding mechanism
Many people don't realize the significance of a bikes folding mechanism when it comes to buying their first model.
I can tell you from many years of experience, it is absolutely – one hundred percent – essential.
At a fundamental level, it is the solitary component that affects how quickly the bike can be folded down.  The different types of mechanism include:
Split Fold Mechanisms: This is the most popular type of mechanism, by quite a margin too. Generally found on the average 20″ bikes, but also right up to the largest models too. 
This mechanism functions by utilizing a hinge located in the center point of the bike's frame. It essentially functions by folding the bike in half. Why would you want to choose this type of mechanism?
Well, these folding bikes tend to function the best in almost all circumstances and are also relatively quick to fold away.
Why wouldn't you? 
The main reason would be that they are generally the bulkiest when folded. They are perfect for people that constantly find themselves on the go and for those that have ample storage space.
Triangular Hinge Mechanisms: These are becoming increasingly common in today's bikes – in fact, many believe they are now the gold standard.
While I'm currently sat on the fence about this, there's no doubt that they are a well-functioning style.
Bike frames containing these mechanisms function by intricately folding together in a particularly compact form. They contain both hinges and clasps – as a result they are slightly more complicated to fold away and usually take more time.
However, once folded down, they take up the least space and so they are very useful bike models to carry around on public transport.
Break Away Mechanisms: The rarest of the three mechanisms. Whilst the majority of folding bikes are either folded or somewhat taken apart.
These bike models function by splitting entirely into two separate pieces.
This may sound appealing however I have found that it takes far longer to fold these bikes away and it can become quite a tedious task too. I would never personally recommend purchasing one of these styles, however there is a small minority of people who swear by them.
4. Choose the number of gears
One bike configuration variable that people tend to get stuck at is whether or not to purchase a geared model.
I will break this decision down for you, so it is easy to digest.
Single speed bikes function via a single chain, they are slow at accelerating, have a high-top speed and generally struggle at climbing hills. However, these bikes are the most reliable and so many choose to use them for their daily commute.
Geared bikes accelerate quickly, can traverse hills with relative ease and also have a high-top speed. The downside is that these bikes are liable to breaking.
I would personally recommend purchasing a bike with three to eight gears.
5. Consider frame material options
I believe another specification that should be central to any decision is the material of the frame.
Why the frame?
Because the frame is what contributes most of the weight towards the bike and so it is crucial to ensure you get the lightest type possible – in most cases at least. The most popular folding bike frame materials include:
Aluminium
The benefits of choosing an aluminium frame design are numerous.
This has been the material of choice for bike users across the world for many years now, and not for no reason.
These bike frames will not rust and are relatively lightweight too.
On the downside, aluminium isn't the strongest material around, however it is a good hybrid and certainly a good choice.
Carbon Fiber
The most expensive style of bike frame by a significant margin.
Carbon fiber is the lightest type of material and so your bike will weigh virtually nothing.
However, expect to break the bank and spend extortionate amounts of cash if you want one of these gorgeous frames.
Furthermore, carbon is very easily broken and so it is essential to take care of it if you plan on purchasing one of these folding bikes.
Steel
Like aluminium in the sense that it has been utilized in bike frames for many years now.
It is also resistant to becoming rusty over time. What's more? It is also a lot more durable than aluminium too.
The down sides?
Steel is the heaviest of the materials used in bike frames and so it isn't really an ideal option for a folding bike, given that most people want a portable model.
Titanium
A less widely used bike frame material; however, it is a totally viable option – if you can afford it.
Expect to pay a similar amount as what you would expect for a carbon frame.
Titanium bike frames weigh more but are very durable and so you won't break your bike easily at all.
Furthermore, these are the most stable bikes, vibrations are kept to an absolute minimum by these truly premium frames.
Which Foldable Bike Should You Choose?
Make a final decision on anything in life can be a difficult job.
When it comes to deciding what is the best folding bike for your things can get a little bit trickier. I believe the best way to decide is narrowing down your options based on what type of rider you are.
What I mean by this is, what is the ultimate purpose of your folding bike going to be?
Leisure
Most people looking to purchase a folding bike are intending to buy one for leisurely purposes.
This generally involves taking your bike short distances away from your home for day trips or small excursions, but not utilizing it as your main mode of transport.
Your activities would therefore include taking it to the shops, out around your local town or to even use for part of your commute.
If after reading this you would classify yourself as a leisurely rider, you should therefore be looking at purchasing a cheaper model of bike.
Fundamentally, you don't require the highest specification bike and in an ideal sense, you just need a folding bike that will get you safely from A to B.
Obviously the higher the specification the better; you want the bike to look good, be comfortable and also be unlikely to break – however, aside from that, you should probably look to cut costs where possible.
Some additional considerations for your bikes specification should also be made, including the number of gears your folding bike will have – if you live in a particularly hilly area you should probably go for a bike with more, if not, then less – or even none.
Commuters
If you're not a leisurely cyclist, then you are almost certainly a commuter. In this instance you will regularly find yourself sharing the road with cars over particularly long distances.
Travelling to work, for many, is a mundane and unpleasant experience.
Consequently, I believe that it is essential that we identify a model to make this as bearable as possible. The best folding bikes for work commutes are generally exceptionally comfortable, fast, lightweight and above all – totally safe and unlikely to break.
That sounds like a lot of requests however most folding bike models have been designed with commuters in mind.
This is ultimately what they were designed for, and so you will find several models that are perfectly suited for your requirements.
Other essential considerations for commuters looking to purchase a collapsible bike include the wheel size and, once again, the number of gears.
Wheel size is an essential component because it is directly related to the speed and stability of the bike, likewise with the number of gears too.
Given the fact that you will be doing many miles on your bike on an almost daily basis, you should ensure that your bike is always quick and totally secure to ride.
Mountain Bikers
There is always one anomaly, and this is it. Some people will be actively searching for a portable bike that is capable of surviving off-road.
These are typically few and far between, however there is a definite increasing trend in the number of these folding mountain bike models becoming available.
Overall, these bicycles are designed to be thoroughly durable and quick over a diverse array of terrains too.
These bikes have large, thick, and often have large treads too.
Furthermore, they are not always too portable since they always tend to weigh a little more to increase their riding stability when off-road.
Not only that, these bikes characteristically come with shock absorption features to prevent the riding from being thrown around too much.
There is a large variety of suspensions that are found on these bikes, some are considerably better than others – but they all essentially do the same thing.
Prices on mountain bikes vary drastically, make sure that you weigh up your personal requirements before purchasing one as it is easy to spend astronomical amounts of money on a top of the range fold up bike.
Types of Folding Bike
Not only are there many different brands that are currently producing foldable bikes, there are also several different types too.
While it holds true that most collapsible bikes are your typical size (20-inch wheels), it is crucial to realize that there are many more potential options to choose from:
Folding Mountain Bikes
We have provided an article on what we think are the best folding mountain bikes here.
MTB's are certainly growing in popularity, whereas in the past they were quite a niche form of fold up bike. They're the least portable form of folding bike, however they are extremely useful for a wide range of activities.
Not only do they offer higher speeds than standard models, they're also capable of tackling both road and dirt tracks.
Another benefit that mountain bikes offer is the capacity to traverse hills relatively easily.
This is a result of folding mountain bikes usually having larger wheels, although this can vary somewhat between manufacturers.
An increasing number of brands are taking the step to producing folding bike and mountain bike hybrids in recent years.
We believe that soon they will be regularly seen on roads globally due to their exceptional usability.
Folding Road Bikes
Another example of a relatively unheard of or unseen style of foldable bicycle is the folding road bike.
As many would expect, these are typically the lightest models available, but as discussed previously regarding mountain bikes.
They also tend to be moderately less portable than a 20″ model.
Conversely, as their name suggests, road bikes are extremely fast on the road and can travel far faster than motor vehicles throughout a city.
If time is important to you, and portability not so, then these lightweight bikes might be perfect you.
Regarding portability, these bikes also tend to have much larger 700cc diameter wheels, but they don't weigh too much so carrying them around isn't always a massive drain.
Benefits of Foldable Bikes
There is an almost innumerable amount of benefits that can be derived from using a folding bike. Here are some of the main reasons for why so many people consider purchasing folding bikes:
Free Travel
Folding bikes enable you to save vast sums of money in such a short period of time, whatever your circumstances.
Think about it; no transport fees, insurance, fuel, parking tickets or any form of maintenance for your auto-mobile either.
Furthermore, you have the capacity to utilise more than one mode of transport with a folding bike.
You can it onto any form of public transport and therefore reach your destination far quicker.
I personally save upwards of $300 every single month using my folding bike in combination with public transport, buses and trains.
Exercise Daily
When I purchased my first folding bike, I never realised quite how much it would raise my fitness levels.
I used to be fairly overweight, and by fairly, I mean extremely.
Weeks would go by where I very rarely did any physical exercise and was constantly travelling to and from work in my car, then simply vegetating at my desk all day long.
I purchased my folding bike to make travelling to and from work quicker and to become less dependent on cars.
As a result of riding my folding bike I managed to lose excess fat, look and feel so much healthier.
Flexibility
In many cities across the world it is extremely difficult to travel around by car (difficulty parking and constant traffic) and you are therefore forced to walk or use public transport to get around.
Folding bikes can be carried anywhere, they are smaller than a briefcase and weigh very little.
Consequently, you're able to take them absolutely anywhere with ease and won't have to worry about them being stolen.
FAQ's
What is the best folding bike?
The 10 best folding bikes for 2021:
EUROMINI ZIZZO CAMPO: BEST OVERALL

DJ BIKES 750 WATTS: BEST ELECTRIC​

XSPEC 26″: FOLDING MOUNTAIN BIKE​

SCHWINN LOOP: GREAT VALUE

XSPEC 20″: OUR FAVORITE COMMUTER​

LANOS: FOLDING EXERCISE BIKE

BIKE FRIDAY WORLD TOURIST: MADE FOR TOURING

BROMPTON S6L

HUMMINGBIRD: LIGHTWEIGHT FOLDING BIKE
What is the best folding electric bike?
Here's our top picks for the best folding electric bikes you can buy right now:
Aceshin 26″ MTB

Fiido L2

Qualisports

Brompton Electric Bike
Are folding bikes worth it?
Folding bikes are perfect for commuters and touring because they can be easily folded to a compact size for transportation by plane or public transportation.
If you are using your bike for commuting then a folding bike offers another advantage of security because you can easily store it in your office and/or apartment for safekeeping.
How much is a folding bike?
You can buy a good folding bike for under $500. The most expensive models on the market today could easily set you back several thousand dollars.
For example, the Hummingbird has a recommended retail price of £3,745 (approximately $5,000).
What is the best lightweight folding bike?
Here's our top picks for the best lightweight folding bikes you can buy right now:
Are folding bikes good for long rides?
While foldable bikes typically used for shorter rides, they are in fact suitable for long rides.
If you intend to ride longer distances we recommend choosing a quality brand, such as Bike Friday or Brompton, which are well suited for this purpose.
Why are foldable bikes so expensive?
Because they are more complicated to design and manufacture than other bikes. That said you can pick up a good folding bike for less than $300.
Are bikes with smaller wheels slower?
No! Actually, smaller wheels offer faster acceleration and lose less speed due to wind resistance. 
Do folding bikes break easily?
No. Folding bikes are required to be built to tighter tolerances in order for the folding mechanism to work correctly.
Provided you buy from a reputable brand then you should expect it to last for years and years.