The Auto-Mini was a folding bike made by the Junior Fahrradwerke in Graz and Köflach, Austria, from 1965/66 to 1975.
The bike was primarily made for department stores and mail order companies with their respective name on the head badge decal, but it always said "Auto-Mini" in large type on the main frame tube. 
There were two versions of the Auto-Mini, a "Junior" model and a larger model with a slightly longer wheelbase.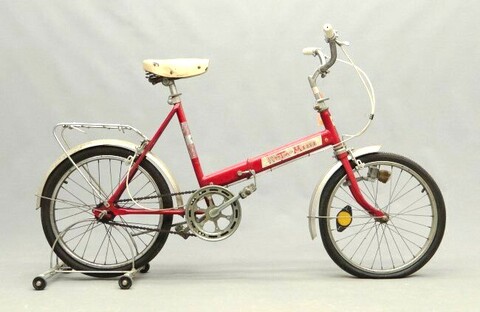 The Junior model could be distinguished by the word "Junior" appearing in the "T" of the word "Auto-Mini" in small script letters. 
All models had 20″ wheels and were either single-speed or equipped with a 3-speed Sturmey-Archer hub or a Fichtel & Sachs 2-speed Duomatic hub.
In the U.S., Montgomery Ward and J.C. Penney sold the bike, as did Simpsons-Sears (badged "Executive") in Canada. 
"Kent" badged examples are also common as they were a wholesale importer and distributor of the Auto-Mini in North America. Occasionally a well-known bicycle company such as Elswick Hopper in England, for example, would carry it as an OEM folding bike offering.
It isn't a particularly rare vintage folding bike as they were sold in the thousands of units but finding them in original mint condition is reasonably tricky. 
The photos below are of an Auto-Mini sold by Montgomery Ward, and the last photo is of one sold by Elswick Hopper with a 3-speed Sturmey-Archer hub.