When you use our links, we may earn an affiliate commission. Learn more.
A folding bike can be a way of adding more convenience to your daily commute. When you arrive at the office, you'll be able to fold it back down and store it inside the building.
Or you can take it on public transport with you.
But with so many folding bikes available, it can be hard to know which brand you should choose. Generally, it's best to stick to a model that a reputable brand makes. This ensures you will get a high-quality bike, usually with a strong manufacturer's warranty.
Keep reading to learn the 7 best folding bike brands you should consider.
Best Folding Bike Brands Compared
| Folding Bike Brand | Our Rating | Price ($-$$$) | Best For |
| --- | --- | --- | --- |
| Brompton | 4.5 out of 5 | $$$ | Commuting |
| Decathlon | 4 out of 5 | $ | Hilly Terrain |
| Tern | 4 out of 5 | $$ | Electric folding bikes |
| Dahon | 5 out of 5 | $$ | Value for money |
| Raleigh | 3.5 out of 5 | $ | UK riders |
| Bickerton | 4 out of 5 | $$ | Best Brompton alternative |
| Schwinn | 5 out of 5 | $$ | Best for female riders |
1. Brompton – Best For commuting
Let's start with one of the most well-known and respected brands. Brompton is one of the oldest folding bike manufacturers. It was started in 1975 by Andrew Ritchie. Though they didn't start mass manufacturing bikes until the early 1990s.
A few factors help set Brompton apart from other folding bike brands.
First, they are manufactured by hand in the United Kingdom. Plus, they are constantly pushing for more innovation. As a result, they were the first company to create a foldable bike with an electric motor.
They also pride themselves on setting an affordable price, intending to make foldable bikes accessible for all.
See my article on the 7 reasons why Brompton makes the best folding bikes.
Within the Brompton range, there are several options that you can explore. These are:
A Line. This is the most basic, with a three-speed gear system. It will be the most affordable option.
C Line. There are three variations of this line to explore. You can either get an Urban, Utility or Explore. The main difference between them is the position of the handlebars and the seat post. They all come with mudflaps and luggage carriers.  
C Line Electric. This model lets you get an electric battery on a foldable bike. However, this battery will be in a backpack, which you will need to carry on your back.
T Line. This is designed to be the lightest type of Brompton bike, weighing 16.5 pounds (7.45kg). However, the T-Line comes at a higher price than the other lines.
P Line. This is a lightweight 4-speed bike. If you prefer, it can come in an electric variety.
It should be noted that there are a few ways that you can customize your folding bike to better suit you. For example, you might want to modify the handlebars you use. You can also upgrade the saddle type, getting something more flexible.
Get Our FREE Tricycle Buyer's Cheat Sheet
This free cheat sheet will help you choose a trike by providing quick information on the 7 key considerations for buying an adult tricycle!
By subscribing, you agree to get emails from Folding Bike Guy. We'll respect your privacy and you can unsubscribe any time.
2. Decathlon – Best for hilly terrain
Another folding bike brand worth considering is Decathlon. The folding bikes that they offer are part of the Tilt range. There are a few bikes in this range, including:
Tilt 100
Tilt 110
Tilt 500
Tilt 900
The Tilt 100 is the most basic model. It will give you a good ride for a low price.
But if you want to upgrade to the Tilt 900, you'll be able to get more premium features. This includes a memory foam saddle, mudguard, and double chainguard.
There are a few features that all Decathlon bikes offer. These include:
Easy to use. The company states you can unfold the bike and start riding within 15 seconds.
9-speed bikes. Having a bike with multiple gears is ideal if you live in a hilly area and need extra assistance to get up the incline.
Affordable. One of the most significant benefits of the Tilt brand is its low cost. Even the premium Tilt 900 will be low-cost when compared to the competition. Because of this, they are usually the best option for cyclists who are on a tight budget.
It should be noted that this brand aims to be a one-stop shop for all your biking needs. You can get apparel, shoes, and accessories.
3. Tern – Best for electric folding bikes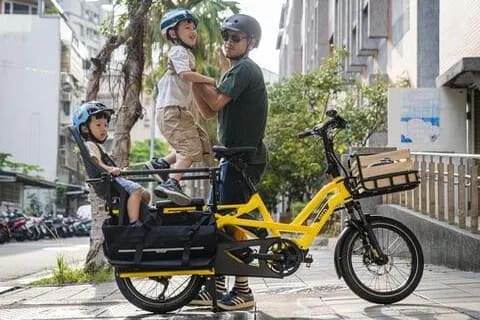 The third brand that you should consider is Tern. There is a vast number of foldable bikes in this range. Some of the varieties offered include:
Link
Node
Eclipse
Verge
Vektron
Because of this vast range, there are lots of bikes that you can choose from. For example, if you want a folding bicycle that you can use to travel to work, you might want to consider the Link or the Eclipse.
These are lightweight and easy to use. According to Tern, these will be able to fold in less than ten seconds.
On the other hand, if you want something for a longer distance, you might want to consider the Vektron. This comes with electric pedal assistance, which is rare in a folding bike. This will make going uphill a lot easier.
The battery is built into the bike, unlike Brompton models, which come in a backpack.
Plus, the Vektron comes with larger tires for a smoother ride. There is space at the back of the bike for you to add your luggage. This means that you might be able to use a folding bike for a small shopping trip.
Another benefit of having an extensive range is finding something that will suit your budget. You should be able to find a basic Tern folding bike for around $550. But the premium electric offerings can come with a higher price tag costing approximately $9,000.  
However, many of their models will be more expensive than the competition. But, to compensate, they will come with premium features. Plus, they will come with a five-year warranty.
4. Dahon – Best value for money
Dahon has a long history with folding bikes. They have been manufacturing them for over 35 years. As a result, they have produced a massive range of options for you to choose from. These include:
Vybe D7
Unio E20
SUV D6
Qix D3
MU LX
Mariner D8
Launch D8
K3 and the K3 Plus
HIT
Airspeed
Archer P8
Dove Uno
Curl i4
With so many folding bikes to choose from, it will be easy to find the right one to suit you. For example, you can find a basic model, like the Vybe D7, which is excellent for the daily commute.
However, if you want something tougher, you might want to consider the GB-2. This comes with larger wheels, which make it a good choice for exploring gravel roads.
These bikes offer good value for money, especially compared to the competition.
Plus, they come with a lot of useful features. For example, one of Dahon's most popular options, the Mariner, comes with mudguards, a rack, and a kickstand. This is everything you need to start riding around the city in comfort.
5. Raleigh – Best for UK riders
This is one of the oldest bike manufacturers in the world, with the company starting in 1883. The range of folding bikes isn't as extensive as some of the other brands on this list. But the folding bikes they do offer are of exceptional quality.
Here are the bikes that provide and some of the elements that set them apart:
Stowaway. This comes with some premium features as standard. For example, you can get a carrier rack, mudguards, and seven gears. The primary drawback, though is that it weighs a little more than the competition.
Evo. This is an electric folding bike. It folds easily into a compact size, though it may be a little heavy for some riders at 20 pounds. The additional weight, though, allows for a powerful electric motor. According to the manufacturer, it has a range of 31 miles.
Flex. This bike features 20-inch wheels and a rear carrier rack, making it the ideal choice for trips around the city.  
6. Bickerton – Best Brompton alternative
This is another veteran British manufacturer. They started making bikes in 1971. Today, they offer the following bike styles:
Argent
Docklands
Junction
Pilot
Scout
Like the other brands on this list, each bike has a different role in the market.
For example, the Scout is best for shorter rides within the city. The wheels are only 14 inches, so the bike will be compact and easy to store.
If you want to go on a longer ride, you might want to consider the Docklands 1824 Country. This comes with full-sized wheels, which can be a good way of getting around the city. The larger wheels can make for a more comfortable experience.
The Bickerton bikes have a strong reputation for their history, similar to the Brompton brand. But they will generally be more affordable. Unlike other brands, though, they don't offer an electric model.
7. Schwinn – Best for female riders
Schwinn is one of the most respected brands in the world. They make their bikes from quality materials, so they have a reputation for lasting for a long time. Like many other brands on this list, Schwinn has a long history.
They first started manufacturing bikes in 1895.
To see these qualities, we can look at some of their most popular folding bikes, the Schwinn Loop. You'll get front and rear brakes, fenders, a carrying rack, and a strong frame.
With seven gears, you'll be able to ride comfortably, even when heading uphill. The 20-inch wheels will offer a smooth ride.
Even better, it comes with an affordable price tag.
The Schwinn loop costs just $250. This will be more affordable than many other folding bikes on the market. When you consider the materials and the brand's reputation for quality, it is a great deal.
Other Folding Bike Brands To Consider
While these are seven of the most popular bike folding bike brands, there are a few others that you might want to consider:
Origami Bike Company. Though this is a relatively new brand, having started in 2011, they have quickly gained a strong reputation within the folding bike world. Their bikes have strong frames capable of handling heavier riders, and their Hawk model can carry 240 pounds.
Hummingbird. This company was founded based on a Kickstarter. Today, their bikes are known for being lightweight, making them easy to transport. For example, the electric model will weigh just 22 pounds. However, they will be more expensive than their competition.
Rad Power Bikes. As the name suggests, these bikes contain a powerful electric motor. Of particular note is the RadExpand 5 Electric Folding Bike. This includes a powerful 750W electric motor. It will have a range of over 45 miles. This makes it one of the world's most powerful foldable electric bikes.
Aventon. Another type of electric bike that you might want to explore is the Aventon Sinch. This gives you data on the battery life remaining on a color display. The most impressive thing about the Aventon brand is that their bikes are built tough. The Sinch will be able to handle going off-road, something that most foldable bikes will struggle with.
Blix. This brand offers bikes with front and rear carriers, making transporting luggage easier. In particular, the Vika+ Flex has a battery lasting more than 45 miles.
Which Brand Should You Choose?
As folding bikes become more popular, new brands are emerging every year. With so many folding bicycle brands available, how can you find the one that's right for you?
Here are seven important things that you should be looking for when choosing a foldable bicycle:
Types of protections offered. Many manufacturers will offer a warranty, showing that they are confident in the quality of their products. But the details of this warranty can vary a little, depending on the brand. Some warranties will last for five years, while others will only last for one.
Reputation. It's always recommended to read the bike reviews before buying. This gives you a good idea of the type of experience that customers have had and the issues you might face.
Range. Many folding bike brands will offer a wide range of products. This will allow you to find the one that will suit your needs.
Price. You'll have to think about the cost of the folding bikes, compared to the ones offered by other manufacturers. As you do this, it's crucial to consider the build's quality and the type of things that will be included as standard. There's no point buying a budget folding bike just for it to fall apart within a few months of use.
Longevity. Ideally, the bike will be made from solid materials to last a long time. A folding bike can easily last for 15 years if you maintain it properly.
Resale value. If you choose a high-quality brand, the reputation will make people more willing to pay top-dollar on the second-hand market. This can help you recoup your costs.
Returns policy. Sometimes you will try a bike for a few days just to discover that you don't like how it rides. In this case, you should choose a brand that will allow you to return the bike for a full refund.  
With so many folding bike brands to choose from, it's best to take your time and do your research. Spending a little time to find the right bike will set you up for future success.
Finding The Right Folding Bike For You
Once you've decided what brand of folding bike you want, it's time to narrow it down to the individual foldable bicycle.
There are a few things that you should be looking for:
Size of the wheels. The larger the wheels will be, the harder it will be to fold the bike. Plus, they will add more weight. But bigger wheels will make for a more comfortable ride.
Seat height. One of the most critical elements to consider is the seat's height. This will determine how comfortable you feel riding the bike. Ideally, you can choose a model with an adjustable seat post.
Size and weight when folded. In most cases, you are choosing a foldable bike because you want something that will be lightweight and portable. Most bikes will be roughly the same size as a suitcase when folded. Though you should always double-check these dimensions before you buy.
Electric capabilities. If you live in hilly terrain or plan on taking long bike rides, it might be best to choose an electric bike. But if you just want it for the daily commute, you might not need an e-bike. A non-electric bike will be cheaper and lighter.
Time to assemble. Most modern foldable bikes can be put together fairly quickly. In most cases, assembly takes less than thirty minutes.
Included features. As we mentioned, some brands are known for having premium features, like mudguards and carriers, at a reasonable price.
The most important factor, though, will always be comfort. If possible, you should always take a folding bike for a test ride before buying.
Here is a short list of my favorite folding bikes which are available on the market right now.
Final Thoughts
There are dozens of folding bikes to choose from. Choosing an excellent brand is the best way to narrow down your options. The good news is that plenty of well-known and well-respected manufacturers can choose.
As long as you stick to the brands in this list, you can be assured of getting a folding bike that will be comfortable to ride and last for many years.
Mark Plummer
Mark Plummer
is an experienced bike mechanic who has built, repaired, and customized thousands of bikes over the years. A former mountain biking athlete, his cycling adventures have taken him all over the globe from the mountains of Scotland to the South Island of New Zealand. These days he enjoys the benefits of commuting to work and touring on his Dahon and Brompton folding bikes.
Get Our FREE Folding Bike Buyer's Cheat Sheet
This free cheat sheet will help you choose a folding bike by providing quick information on the 7 key considerations when buying a foldable bicycle!
By subscribing, you agree to get emails from Folding Bike Guy. We'll respect your privacy and you can unsubscribe any time.