Commuting in a busy city can be tedious and time-consuming, especially when dealing with traffic and limited parking spaces. 
That's where folding commuter bikes come into play. 
These innovative bicycles offer a practical and convenient solution for urban commuters, providing a compact mode of transportation that can be easily folded for carrying on public transport or stored in small spaces.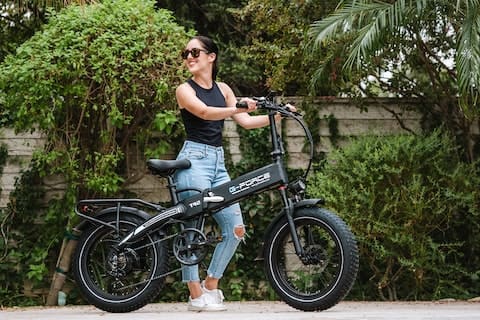 When choosing the best folding bike for commuting, I recommend considering size, weight, riding comfort, and ease of folding. 
Based on my ten years of folding bike commuting experience, I've compiled a comprehensive guide to help you select the perfect folding bike for your needs, whether you're a seasoned cyclist or a newcomer to the world of folding bikes.
The 8 Best Foldable Bikes For Commuters 2023
Having a reliable and portable folding bike is essential when commuting to work. Fitting in small spaces and getting you to your destination quickly, here are the top 8 folding bikes to enhance your daily commute.
Tern Verge D9
---
Pros 
Affordable: The Tern Verge D9 is priced competitively, making it accessible to many bikers.
Built tough: Designed to withstand bumpy commutes and fast speeds, this bike is durable and can handle rough terrains.
Easy to fold: Even if you're unfamiliar with folding bikes, the Tern Verge D9 is user-friendly and easily folded.
Smooth ride: The bike offers a comfortable and enjoyable riding experience, ensuring a pleasant commute.
Manageable weight: Weighing only 27 lbs, the Tern Verge D9 is relatively lightweight, making it easier to carry, haul, or transport on the road.
Cons
Steel fork adds weight: Including a steel fork in the bike's design slightly increases its weight.
Limited customization options: The Tern Verge D9 may have limited options for customization compared to some other models.
The Verge D9 from Tern is a folding bike that breaks some molds and performs exceptionally well. With larger wheels, a wide drivetrain, and a folding time of 10 seconds, the Very D9 is fast, sleek, easy to ride, and comfortable.
This makes it simpler to use during commutes, and the compact folded size of 31 by 29 inches means it fits under most desks.
Unhook the handle bat lack and unhook the middle latch to fold and store; magnets help the bike stay compact until you unfold it again. 
It'll cost you $1,149 and would be ideal for those new to folding bikes looking for a more traditional-feeling ride. It's available in Red or Silver and is made of hydroformed aluminum.
Brompton A Line
Best Commuter
Brompton A Line
The Brompton A Line is perfect for the stylish commuter who wants a reliable folding bike that they can easily fold away to take on public transport or store in the office.
Pros:
Folds away in less than 20 seconds, perfect for fast and easy commuting

Brompton is an outstanding brand

Very fast to ride around town, weighs 25 lbs!
Cons:
Brompton's are excellent bikes but cost more than other brands

3-speed may not be ideal if you live or commute in a hilly area.
Buy from Amazon
We earn a commission if you make a purchase, at no additional cost to you.
10/27/2023 01:39 pm GMT
---
Pros 
Low pricing and affordability: The Brompton offers a competitive price point, making it an attractive option for budget-conscious customers.
Compact size: The smaller size of the Brompton makes it ideal for those with limited space at home or in the office, allowing for convenient storage.
Iconic design: The unique design of the Brompton appeals to many, giving it a distinctive aesthetic appeal.
Suitable for smaller folding bike enthusiasts: If you're accustomed to smaller folding bikes, the Brompton will likely be an excellent fit for you.
Suitable for flat paved surfaces and gentle slopes: The Brompton performs best on flat, smooth roads, making it ideal for urban environments with predominantly even terrains.
Cons
Polarizing design: The iconic design of the Brompton can be polarizing, with some finding it fantastic while others may find it too small or the elongated handlebars and seatpost odd-looking.
Limited off-road capabilities: The Brompton is unsuitable for off-road adventures or rough terrains and should be used primarily on paved surfaces.
Rough ride on bumps and curbs: Due to its smaller size and wheelbase, the Brompton may need to be more comfortable when encountering bumps and curbs.
Not a mountain bike substitute: The Brompton is not designed for mountain biking and is better suited for urban commuting rather than off-road trails.
The Brompton A Line is a classic-looking Brompton Bike that rides a bit small but is ideal for urban commuters wanting something compact and unique-looking.
Experts at folding, Brompton delivers a fully compact 25-inch by 23-inch bike in under 20 seconds. The steel frame is solid and durable, giving you years of commuting. The handlebar conveniently converts into a luggage handle-like extension, making it easier to roll and walk with when folded. 
The Brompton A Line is uniquely affordable while also being high-quality and lightweight. At only 25.3 lbs, it's easier to roll, store, and carry while the steel keeps it strong. Available in White.
Dahon Vybe D7
Best Dahon Commuter
Dahon VYBE D7
The Dahon Vybe D7 is perfect for commuters because it folds away in less than 20 seconds, is lightweight, and has 20-inch wheels which offer better rolling performance.
Best For: Commuters.
Key Specifications:
Folded size: (26.3 x 13.3 x 32.6) inches
Wheels: 20-inch aluminum
Weight: 26.2 pounds / 11.9 kilograms
Weight capacity: 230 pounds / 105 kilograms
Brakes: 110 millimeters WinZip V-brakes
Drivetrain: Rapid shifting 7-speed SRAM
Frame: Vise-Grip technology, Lightweight VYBE Dalloy
Pros:
Durable and stable folding bicycle

7-speed rapid shifting gears

Attractive design

Rust resistant

Easy and comfortable riding

Quick folding and unfolding mechanism.
Cons:
Seat height is difficult to adjust.
BUY FROM AMAZON ➚
OUR REVIEW ➚
We earn a commission if you make a purchase, at no additional cost to you.
10/27/2023 06:24 pm GMT
---
Pros
Affordable: The Vybe D7 offers a budget-friendly option for customers, providing a reliable folding bike without breaking the bank.
Suitable for taller individuals: Despite its small size, the bike can accommodate riders up to 6'4" in height and up to 230 lbs.
Agile and fast: The Vybe D7 offers agility and speed, making it ideal for maneuvering through slow traffic and crowded spaces.
Compact and foldable: The bike's folding capabilities make it convenient for storage and transportation, particularly in urban environments.
Cons
Less durable tires: The tires on the Vybe D7 may be the least challenging or sturdiest, potentially making them more susceptible to punctures or wear over time.
Sensitive steering: The bike's steering can be sensitive, requiring caution during turns to avoid oversteering or turning too fast.
Uncomfortable saddle: Some riders have complained about the saddle being narrow and painful, especially during long commutes. Consider replacing the factory saddle with a wider and more comfortable option.  
Need a genuinely affordable commuter folding bike?
The Dahon Vybe D7 is an excellent, cute little folding bike that would work great in-city. With seven speeds and a rider weight limit of 300 lbs, it's an excellent choice for a broader range of riders while still weighing only 26 lbs. 
It's 26 by 31 inches when folded up, and the alloy aluminum frame is light yet capable.
It folds in the middle, and the handlebar can be removed for compact storage and rolling. It's a smaller bike that would work well for long or short commutes and does best on good roads.
To fold the Vybe D7, lower the saddle entirely, unhook and lower the handlebar, and unhook and fold the frame. All of this should take about 30 seconds.
Montague Navigator
Montague Navigator
The Montague Navigator is ideal for riders seeking a folding bike with a full 700c wheel size for maximum rolling performance.
Key Specifications:
Carrying capacity: 240 lbs
Height range: 4'8" - 6'4"
Pros:
Quick and easy folding mechanism

Frame available in two sizes (19" and 21") to accommodate taller riders

Sturdy 7005 aluminum frame

Wide gear range with Shimano Sora 9-speed drivetrain

Reliable Tektro disc brakes

Comfortable ride quality

700c wheels and Schwalbe Marathon Racer tires handle heavier riders well.
Cons:
Slightly heavier than some other folding bikes (29 lbs.)

Folded dimensions may still be too large for some storage situations.

Price may be a barrier for some riders (around $1,300).
Best For: Tall riders seeking a full wheel size foldable bike.
$1,195 from Montague ↗
Our Montague Navigator Review ↗
We earn a commission if you make a purchase, at no additional cost to you.
---
Pros 
Off-road capability: The Navigator handles well on unpaved surfaces, making it suitable for weekend adventures and rides beyond paved roads.
Versatility as an all-rounder: This bike can serve as an all-rounder, performing well both on adventurous outings and daily commutes.
Reasonably priced: The Navigator offers a reasonable price point, making it accessible to most commuters.
Cons
Complicated folding process: To completely fold the bike, the front wheel needs to be removed, making it one of the trickier folding bikes for folding away.
The Navigator by Montague is a tough-built folding bike that works as an urban commuter, gravel road rover, and general touring bike. It's more versatile than some other bikes on our list, and the 27-speed drivetrain allows you to choose a gear ratio that works for any setting.
It's $1,195 and weighs 29.5 lbs. Folded, it's 36 by 28 inches, making it a bit heavier and bigger than other folding bikes. 
The color is Midnight Blue, and the more traditional bike build will be a welcome design to those more used to a regular ride with standard wheels. 
Best Electric Folding Bike for Commuting: Brompton Electric C Line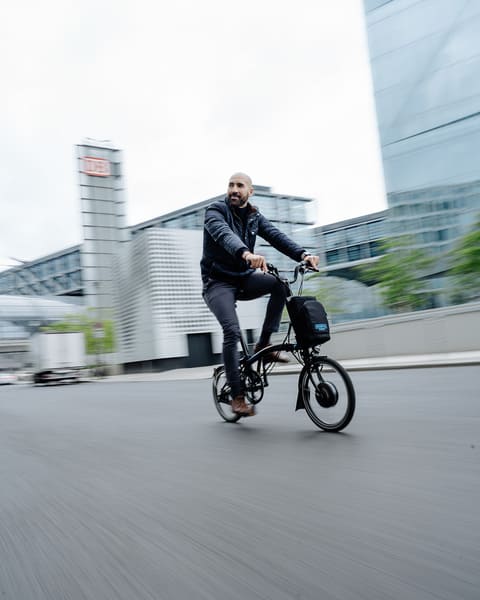 ---
Pros
Durable steel frame: The Brompton Electric C Line is built to last, thanks to its sturdy steel frame, ensuring longevity and reliability.
Suitable for city commuting: These bikes perform well in urban environments, offering a stiff, agile ride ideal for in-city commuting.
Electric motor for uphill commutes: The electric motor is a significant advantage, especially when commuting uphill, providing assistance and making the ride easier.
Cheery and diverse color range: The Brompton Electric C Line offers a wide range of vibrant color options, allowing for personalization and adding a touch of style to your ride.
Suitable for paved bike trails and urban weekend trips: The bike is well-suited for riding on paved bike trails and can be a reliable companion for urban weekend trips.
Cons
High price tag: The Brompton Electric C Line is relatively expensive, which may make it less accessible for customers on a budget.
Limited off-road capabilities: Due to its smaller size, the bike could be better suited for rough terrain or rugged trails, limiting its usage to paved surfaces.
Not ideal for budget-conscious buyers: The Brompton Electric C Line may not be the best choice if you're looking for a more affordable option.
The Brompton Electric C Line is an electrified commuter that combines the convenience of electrified power with the small, foldable portability of a Brompton. It's got 6 speeds, a 250-watt hub motor, and a maximum 44-mile range.
It folds in the middle in under 30 seconds and weighs 38.4 lbs.
Folded, it's just 25.3 inches by 23 inches. It's one of the pricier commuting bikes on our list, but for many commuters, it may be worth the price, thanks to quality and convenience alone.  
Brompton C Line Urban
---
Pros
Lightweight: The Brompton C Line Urban is very light, making it easy to carry and maneuver.
Competitive pricing: Considering the build quality, the bike is priced at just $1,550, offering value for money.
Portability: Thanks to its foldable design, the bike is super portable, allowing for easy transportation and storage.
Durability: The Brompton C Line Urban is built to last, ensuring buyers can enjoy its performance and reliability for years.
Suitable for urban settings and leisurely commutes: The bike excels in urban environments and is well-suited for leisurely commutes in the city.
Cons
Adjustment for users of larger bikes: Users accustomed to larger bikes may need help getting used to the smaller size and design of the Brompton C Line Urban.
Another Brompton! The C Line Urban from Brompton is a beautiful back-to-basics folding commuter that works hard and delivers years of travel. It's made of high-quality steel, yet only weighs 24.8 lbs. It's small but performs well, and folks into a 25.3-inch by 23-inch size when folded. Like all Bromptons, it folds easily in the middle and rolls anywhere.
Zizzo Urbano
Our Pick
ZiZZO Urbano 24lb Foldable Bike
A high-performing, lightweight (24lb) folding bike that is perfect for commuting and tackling hilly terrain, thanks to its 8-speed 11-32T Shimano cassette. And it's 3-5x cheaper than a Brompton!
Best For: Urban riders seeking value for money.
Key Specifications:
Wheel size: 20-inches
Gears: 8-speed
Weight: 24.5 lbs
Fold time: <30 seconds
Pros:
Lightweight, strong aluminum frame

Zizzo is a reputable brand

11-32t cassette is perfect for flat and hilly terrain riding

Outstanding value (5x cheaper than most Brompton's!)
Cons:
Folded size of H-27" L-31" W-12.5 won't fit in a standard suitcase

The saddle and pedals would benefit from an upgrade
BUY FROM AMAZON ➚
We earn a commission if you make a purchase, at no additional cost to you.
---
Pros 
Reasonable pricing: The Zizzo Urbano is affordable for those new to folding bikes.
Versatility in urban and trail settings: The bike performs well in city environments and paved trails, providing a versatile riding experience.
Easy to travel with and store: The Zizzo Urbano is convenient and easily stored in apartments or cars, thanks to its folding design.
Enjoyable ride experience: Despite its low price, the Zizzo Urbano offers a joyous ride experience and performs well on bike trails.
Suitable for beginners: This bike is an excellent choice for individuals new to folding bikes.
Cons
Limited performance on steep hills: The Zizzo Urbano may need help to handle steep hills, so there may be better choices for commuters with primarily hilly or steep routes.
The Zizzo Urbano is a very affordable little folder that would be a great entry-level folding bike and a practical commuter.
It squinches to a 27 by 31-inch format at a center hinge and weighs just 24 lbs.
Folding is also a breeze and takes under 2 minutes. It's not the fastest fold, but it is easy to get the hang of. The Urbano is priced right for most lower-end budgets, and users are incredibly pleased with its cute design and forgiving weight.    
Lightest Folding Commuter Bike: Quirky Kwiggle
---
Pros 
Compact size: The Kwiggle is incredibly tiny and compact, making it highly portable and easily transported. It can even fit in a luggage storage compartment.
Ideal for multi-modal commuting: The small size and extreme portability of the Kwiggle make it perfect for commuters.
Smallest folding bike in the world: The Kwiggle claims to be the smallest folding bike available, offering a unique selling point for those seeking the ultimate compactness.
Upright riding stance: The novel upright riding posture of the Kwiggle is a plus, as it can reduce fatigue on long commutes and provide a more comfortable riding experience.
Cons
Itty-bitty 8-inch wheels: The small 8-inch wheels of the Kwiggle may take some getting used to, and they limit the bike's ability to handle rough roads or uneven surfaces. It is better suited for gentle roads and well-paved riding environments.
With a funny and memorable name, the Kwiggle is a German-made folding bike that rides a line between a scooter and a bicycle. It's remarkably small and folds down to 20 by 16 inches. That makes it the tiniest and most portable folder on this list. 
It's also the lightest, at just 22 lbs.
The unique design keeps the rider upright and more relaxed instead of hunched or leaning forward. At about $1,800, it's a mid-range folding bike that would make a great traveling companion in-city. The unique design is also sure to turn heads, and this can be a fun bike to take on a paved trail. 
Selection Criteria: What To Look For In The Best Folding Bike For Commuters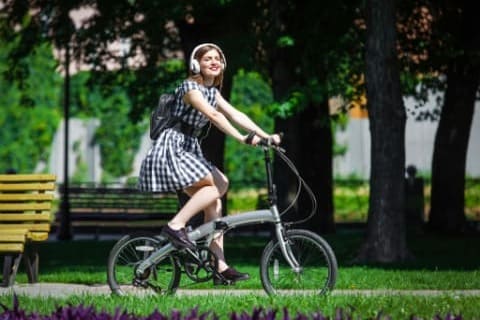 When searching for the ideal folding bike to meet your commuting needs, there are several factors to consider. These criteria will help you decide and select the best option for your daily commute.
Commuter Folding Bike Criteria
What To Look For
Weight
A lightweight folding bike makes it easy to carry and maneuver on public transportation or at home. Since you may need to carry your folding bike upstairs or lift it into your vehicle, make sure you can comfortably handle its weight.
Folded size
The primary advantage of a folding bike is its compact size when folded. Make sure the bike you choose can be easily stored in your home or workplace and fits conveniently into your car trunk or on public transportation.
Speed & gearing options
The best folding bikes for commuters will have a wide range of gear options to accommodate flat terrains and hills. Depending on your daily commute, consider whether a single-speed or multi-speed folding bike will better suit your needs.

Gears are essential for adapting to different riding conditions, terrains, and speeds. A multi-speed bike offers more versatility for a diverse commute, while a single-speed option is suitable for flatter areas.
Ride quality
A folding bike should provide a comfortable and smooth ride, even over long distances. Look for features such as a sturdy frame, reliable brakes, and responsive handling to ensure your commute is enjoyable and safe.

A comfortable ride and an upright riding position are crucial for your daily commute. A well-padded saddle, ergonomic handlebar grips, and a suspension system can all contribute to a more enjoyable experience.
Price
As with any purchase, consider the cost of the folding bike. The best option for you will offer the right features and affordability. Investing in a higher quality product may save you money in the long run through increased durability and performance.
Reviews
When considering different folding bike options, take the time to read reviews from experts and other commuters. This will help you gauge a particular model's overall performance and satisfaction, allowing you to make a more informed decision.
Safety
Safety: Disc brakes offer greater stopping power and control, especially in wet conditions. High-quality folding bikes with disc brakes will help you feel safer during your commute and better prepared for unexpected situations.
How I Tested and Picked The Best Folding Bikes for Commuters
I thoroughly researched and tested various models to find the best folding bikes for you. The testing process was designed to ensure that the bikes we picked would meet the needs of daily commuters.
First, I evaluated the ease of folding and unfolding. I considered how quickly and effortlessly a bike could be folded into a compact size and then unfolded again. I knew this was essential for you as a commuter, as you may need to switch between biking and public transportation.
Next, I looked at the bike's ride quality and stability. I took each bicycle for a test ride, assessing how stable and comfortable the bikes were. After all, you'll want your daily commute to be smooth and enjoyable.
The bike's weight was another critical factor, and I considered lighter models that won't cause unnecessary strain on your back and arms.
I also assessed each bike's versatility and adjustability. This meant ensuring the bikes I chose could adapt to various road conditions and rider preferences, whether tackling hilly terrains or navigating busy city streets.
Lastly, I considered the price and value for money. While I wanted to include high-quality bikes in the shortlist, I recognize that affordability is essential for many commuters. With this in mind, I strived to select models that offer the best balance of performance and cost.
Based on these selection criteria, I evaluated each commuting bicycle against each criterion, rating it from 0% (worst) to 100% (best). Here are my evaluation results:
| Bike Name | Weight | Folded Size | Gear Options | Ride Quality | Price | Overall Rating |
| --- | --- | --- | --- | --- | --- | --- |
| Tern Verge D9 | 85 | 80 | 70 | 90 | 75 | 81 |
| Brompton A Line | 90 | 85 | 70 | 75 | 75 | 79 |
| Dahon Vybe D7 | 88 | 80 | 70 | 80 | 90 | 81 |
| Montague Navigator | 80 | 70 | 95 | 80 | 75 | 80 |
| Brompton Electric C Line | 70 | 85 | 70 | 85 | 55 | 74 |
| Brompton C Line Urban | 90 | 85 | 70 | 80 | 70 | 79 |
| Zizzo Urbano | 90 | 80 | 70 | 75 | 95 | 80 |
| Quirky Kwiggle | 95 | 95 | 70 | 70 | 65 | 78 |
Notes:
Weight: Lower-weight bikes get higher ratings.
Folded Size: Smaller folded size gets higher ratings.
Gear Options: More gears or greater versatility get higher ratings.
Ride Quality: Smooth and comfortable ride gets higher ratings.
Price: Lower-priced bikes get higher ratings.
Safety: Safer bikes (features contributing to safety and riding stability) get higher ratings.
Overall Rating: The average of all the individual scores for each bike.
How To Customize Your Folding Bike For Optimal Commuting
Customization and accessories can make a big difference in your riding experience when setting up the perfect folding bike for your commute. 
One essential accessory for any commuter bike is mudguards, which help protect you from splashes and dirt during your ride.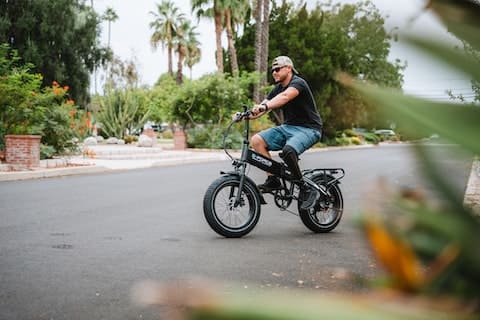 Full-coverage fenders are ideal, as they offer maximum protection from the elements. Many folding bikes include mudguards, but if not, you can easily purchase and install them yourself.
A reliable folding bike should have a robust Shimano drivetrain, ensuring smooth gear shifting and a comfortable ride.
This will ensure your bike remains reliable and easy to maintain throughout its lifetime. Look for bikes with a lifetime warranty, offering you peace of mind in the quality and durability of your choice.
The adjustable handlebar allows you to customize the fit of your bike, ensuring a comfortable ride for riders of different heights. Some folding bikes even offer the option of an adjustable stem, further enhancing the possible customization level.
Don't forget about accessories specifically designed for commuters!
These range from practical items like pannier racks and bags for carrying your stuff to work to safety features such as lights and bells. These essential items will make your commute more enjoyable, efficient, and safe.
Frequently Asked Questions
Are folding bikes good for commuters?
Yes, folding bikes are a convenient option for commuters. They are quick to fold, easy to store, and ideal for small apartments or limited storage at the workplace. Their compact size, usually around 20" x 10" x 20", allows you to store them in tight spaces like under staircases or beds.
What are the top folding bike models for a daily commute?
Some popular commuting folding bike models include the Tern Verge D9 and the Brompton A Line. These bikes have received positive reviews for their functionality, ease of folding, and overall performance during daily commutes.
Are there lightweight folding bikes suitable for adult commuters?
How does the performance of a folding bike compare to a regular one?
While they may not offer the same level of performance as some full-sized bikes, folding bikes still provide a comfortable and efficient ride for most daily commutes. Their compact size and folding capabilities maintain their functionality and riding experience.
Can folding bikes handle various terrains and weather conditions?
Yes, folding bikes can handle many types of terrains and weather conditions. Some models, like the Eurobike 26-inch Mountain Folding Bike, are specifically designed for tackling different terrains, offering an all-around biking experience.