When you use our links, we may earn an affiliate commission. Learn more.
The Bike Friday New World Tourist Folding Bike is our pick for the best folding bike for touring.
Fully-loaded with features that'll impress even the most professional riders, it's consistently praised for its foldability, reliability, and comfort.
But does it really live up to all the hype? Let's take a look.
Best Folding Bike for Touring – Bike Friday New World Tourist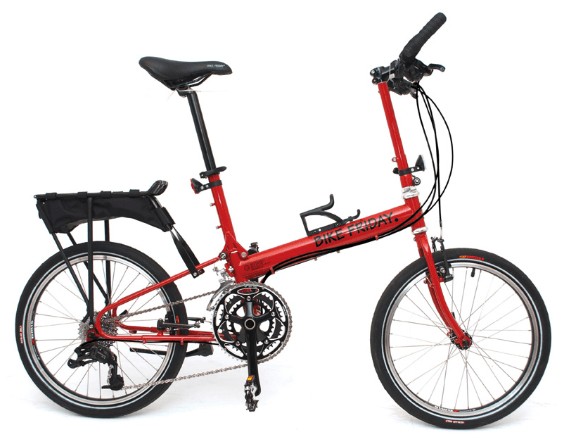 Design
The New World Tourist Folding Bike has three different designs to choose from.
Luckily, each one of them is created for maximum comfort and can be customized to fit your size and your riding style.
All can be easily loaded with panniers, bags, and/or a trailer hitched behind.
It transitions easily and compacts right down to be packed in a suitcase or to fly as checked baggage.
Let's first discuss the specs we have on New World's most standard bike, the Weekend Warrior.
Weekend Warrior 
Hubs: standard sealed bearings | Brakes: linear-pull brakes  | Gearing: 2×8 speed Shimano (16 gears) | Weight: 27 lbs
The Weekend Warrior is the default model of this bike.
It's perfect for those who are looking for a simple travel bike to get around and can cover 30-50 miles with ease.
Long-Distance
Hubs: Shimano Deore/Sunrace | Bars: alloy drop-style | Gearing: 2×10 speed Shimano (20 gears) | Weight: 27 lbs
Compared to the Weekend Warrior, this particular design is ideal for long weekend tours.
There is no limit as to how many miles the Long-Distance can go, but just like the aforementioned Warrior, it provides optimum comfort for long rides.
This bike is versatile and flexible enough to be folded up quickly. It can be accepted as checked baggage on airplanes.
World Adventure
Hubs: White Industries | Brakes: Avid BB7 mechanical disc  | Gearing: 11-46t wide range x 54t chainring | Weight: 27 lbs
The New World Tourist World Adventure is the most powerful bike of the three.
It's designed to be ridden fully-loaded across continents with ease, no matter how hard the trail is.
It's for those who love putting in some serious miles through rough terrain.
Features and Specifications
The New World has a riding space and coordination that rivals normal bicycles.
This bike's fast and slow-speed maneuverability is excellent, which is just what you need for urban riding and touring.  
Tires and Brakes
With a short wheelbase and 20-inch wheels, this bike provides unmatchable comfort and high acceleration even when loaded.
It actually turns quicker than a standard bike and reduces your turning radius.
Its shorter spokes, under loaded conditions, makes for exceptionally strong wheels.
With the aid of the Avid BB7 mechanical front and rear disc brakes, riders will have superior control on slippery surfaces.
Drivetrain
The gearing on the New World is spectacular.
Depending on the model you choose, you'll get either 16, or 20 speed Shimano gears, with the exception of the World Adventure that has an outstanding 11-46t wide range and 54t chainring.
The SRAM X4 grip shifters allow for a smooth and hassle-free speed change, which is highly valued for lengthy trips.
What really impresses, though, is just how well the New World handles everything you throw at it.
Long rides in the city, hours and hours of commutes, out-of-saddle sprints, gravel, and unsurfaced towpaths; it powers through all of these with ease.
Overall, this bike rides smoothly.
You won't find it twitchy like a lot of foldable bikes, which is one of the reasons why we listed this bike as the best folding bike for touring.
Download Free Folding Bike Buyer's Guide
This free buyer's guide shows you how to find the best folding bike for your budget.
By subscribing, you agree to get emails from Folding Bike Guy. We'll respect your privacy and you can unsubscribe any time.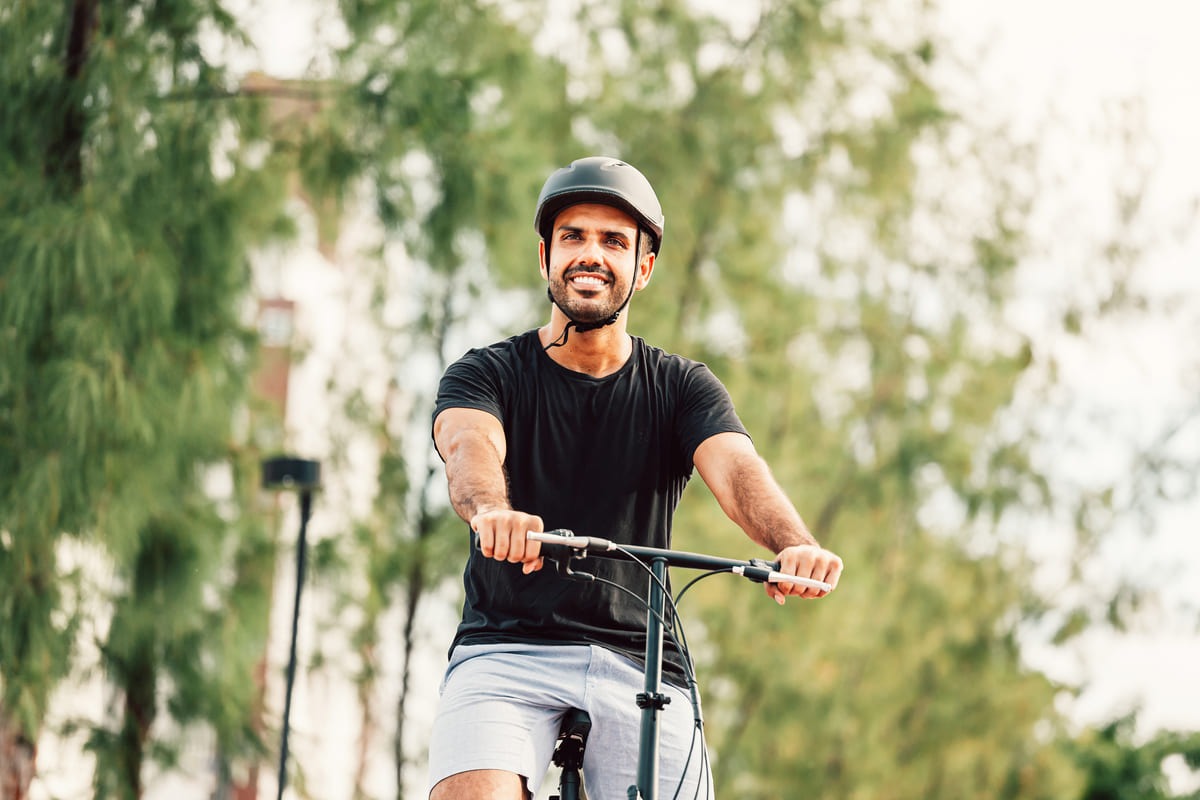 Additional Travel Options
When purchasing a Bike Friday folding bike, you'll be able to select from their additional travel options.
This includes a soft bag that'll allow you to easily carry or store your Bike Friday, a tow-ready travel trailer, and an electric-assist system.
The bike's electric-assist doesn't come built-in; it's a special feature that you can add to your bike.
When added, the Bafang motor's e-assist system will be replacing the rear hub of the bike's wheel.
Plus, it doesn't have any motor resistance.
You'll have power and speed on top of what you're contributing already, so can ride for more miles than you'd be normally able to on a standard bike without an electric assist feature.
It rides insanely smooth while being as quiet as a mouse.
The aforementioned motor comes with 3 LIGO batteries that are one of the few legal options to fly with on airlines, so you don't have to worry about leaving your bike or paying extra to have it flown with you.
How Does It Fold?
Folding the Bike Friday New World bike is as simple as it gets.
You'll find a quick-release bolt near the seat post that folds the rear and seat mast over, and another quick release that removes the stem.
Tools aren't required when folding up this bike.
It doesn't fold up in a matter of seconds as some folding bikes do, but with a bit of practice, you'll have the New World folded down within 5-15 minutes.
Any additional feature you may have attached to the bike needs to be removed beforehand, along with bottle bases, before packing up. 
When folded, the New World measures 32" by 24" by 12" with the bar and post on the lowest setting.
It can be disassembled to fit into a special Samsonite suitcase.
The New World's weight is something to consider before buying this bike, especially if it's important to you.
It weighs approximately 45 lbs, which means it isn't the lightest around, but it's certainly easy enough to move around, clean, and fold. 
Pros
Has a well-controlled braking system that'll provide extra safety
Various color choices and a ton of customizable features
Superior grips that provide secure and powerful steering
Frames are durable, long-lasting, and holds up to environmental weathering
Wheels handle bumps and vibrations well
Reasonably priced
Cons
Heavier than most folding bikes
Doesn't fold quickly
Tires have a bit of a 'buzz' when riding over smooth roads
Conclusion
As a cost-effective, premium-quality folder for long rides or mixed-mode commutes, the New World Tourist Folding bike is arguably hard to beat.
If you're going to be touring soon, absolutely go for this bike.
READ NEXT: BEST FOLDING BIKES
Mark Plummer
Mark Plummer
is an experienced bike mechanic who has built, repaired, and customized thousands of bikes over the years. A former mountain biking athlete, his cycling adventures have taken him all over the globe from the mountains of Scotland to the South Island of New Zealand. These days he enjoys the benefits of commuting to work and touring on his Dahon and Brompton folding bikes.
Download Free Folding Bike Buyer's Guide
This free buyer's guide shows you how to find the best folding bike for your budget.
By subscribing, you agree to get emails from Folding Bike Guy. We'll respect your privacy and you can unsubscribe any time.