When you use our links, we may earn an affiliate commission. Learn more.
Folding electric bikes are perfect for easy commuting and avoiding traffic while reducing your carbon footprint simultaneously. Recent advancements in motor and battery technologies mean e-bikes are more accessible than ever.
Whether you own a motorhome or boat, are on a tight budget, or are a heavier rider, there is an electric folding bike for you.
I'll be honest that I was a late adopter of motor technology, preferring to use my legs to provide the pedaling power.
However, as folding e-bikes have evolved, my opinion has changed, and I can see their distinct advantages.
Which folding electric bike is best? Here are our top picks for every kind of budget and ride…
The Heybike Ranger is my favorite foldable e-bike for 2023 because it's built by a reputable brand, offers excellent performance in terms of range (48 miles) and top speed (25mph), and the low step-thru frame makes mounting and dismounting effortless.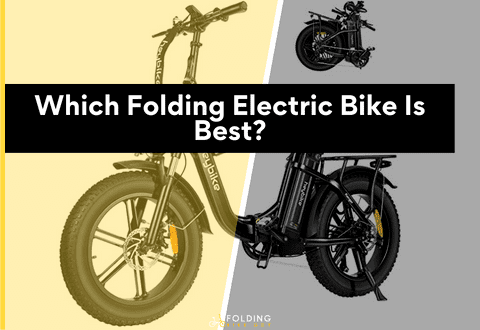 Here's how the best folding electric bikes for different budgets and riding styles stack up:
Updated 2023: We added several new folding e-bike categories, enhanced our selection criteria, and made some changes based on the latest models available on the market, our reviews, and the testing process.
Is A Folding Ebike Worth It?
Folding Ebikes are worth it for commuters, motorhome, and boat owners who want the benefits of a folding bike with the additional advantage of being able to travel further distances in less time. Ebikes can be folded away in 30 seconds or less, making them ideal for taking on public transport.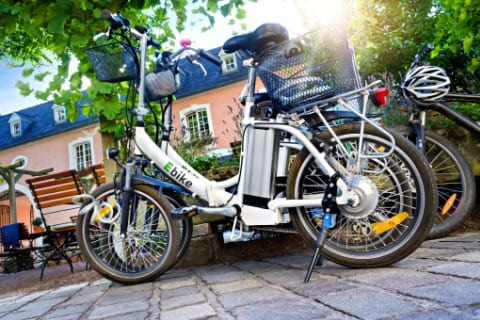 The main disadvantages of folding bikes are the higher cost and complexity due to additional components such as the electric motor and folding mechanism. They tend to be heavier than non-electric bicycles.
Get Our Ultimate Folding Bike Guide
Learn How To Choose, Setup, Ride & Maintain Your Folding Bike with The Ultimate Folding Bike Beginner's Guide
Learn More
Best Folding Electric Bike for Adults: Heybike Ranger
Last update on 2023-10-03 / Affiliate links / Images from Amazon Product Advertising API
---
Motor performance: 500W | Range: 55 miles | Top Speed: 25 mph | Our Rating: 89/100
Advantages
Heybike is a very reputable brand
The Ranger 5 is the latest model with significant upgrades
55 miles range is outstanding
Drawbacks
Weighs 70 lbs, challenging to lift upstairs or into the trunk of your car
Challenging to pedal if the battery dies
I've been a fan of Heybike bicycles for several years now, and the Heybike Ranger is the latest model in their range and my top pick for 2023 because it maintains all the advantages of previous models (such as the Heybike Mars) with some notable upgrades:
The Ranger has a top speed of 25 mph compared to the 20 mph top speed of the Heybike Mars.
The Ranger's battery can travel up to 55 miles because it has been upgraded from 12.5 Ah to 15 Ah.
The frame design has been modified to a low step-thru design instead of the traditional top tube design, making mounting and dismounting much more manageable.
The wheels have been upgraded to maintenance-free mag wheels, which are stylish and easy to maintain.
If black isn't your favorite color, you will be pleased to know that the Heybike Ranger is also available in white.
While the price has increased since previous models, it still offers exceptional value for money at $1,399.
How is it to ride?
Thanks to the 20-inch by 4-inch all-terrain fat tires, relatively upright geometry, riding position, and comfortable saddle, the Ranger is delightful to ride even over longer distances.
I liked the intelligent three pedal-assist modes and mostly enjoyed leisurely rides traveling around 15 miles per hour in Mode 2.
As a former mountain biking athlete, I was keen to test the Heybike Ranger off-road too, and I had lots of fun on the trails thanks to the powerful motor, all-terrain tires, front suspension, hydraulic disc brakes, and Shimano 7-speed Tourney groupset.
Overall the Heybike Ranger is a highly versatile folding e-bike and is excellent for everything from commuting to off-roading to folding away and taking it with you in your RV.
There are a couple of drawbacks worth highlighting, though.
At 70 lbs, this is a heavy option. Combined with the higher rolling resistance from the fat tires, the Heybike Ranger is challenging to ride without electric assist, and carrying it upstairs or lifting it into the back of your vehicle can be challenging.
Lightweight Folding Electric Bike: Hummingbird Electric Gen 2.0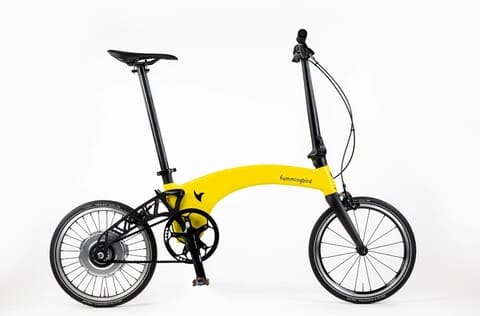 ---
Motor performance: 250W | Range: 31 miles | Top Speed: 15 mph | Our Rating: 88/100
Advantages
Ultra lightweight folding electric bike (under 23 lbs!)
Amazing build quality, carbon fiber frame
The folding mechanism is similar to a Brompton: folds quickly and easily
Drawbacks
Expensive
Top speed of only 15 mph
Hummingbird folding bicycles need no introduction, having claimed the impressive title of the lightest folding bike for (yet) another consecutive year. And weighing in at a claimed 22.7 pounds (10.3 kg), the Hummingbird is the most lightweight folding electric bike in the world!
The Gen 2.0 is built around Hummingbird's base folding bicycle model, which has been modified to include a 250 watts electric motor integrated into the rear hub. What is particularly unique about this design is that the hub also houses the battery making the bike look clean.
Performance-wise, the Gen 2.0 is an excellent option for commuting because:
It folds away in 10 seconds or less, making it perfect for taking on the tube or folding away quickly to store in your office.
The Hummingbird folding electric bicycle can travel up to 30 miles (50 km) in pedal-assist mode and achieve assisted speeds up to 16 mph (25 km/h).
Its ultra-lightweight makes it fun to ride and much easier for carrying upstairs, lifting onto the bus, etc.
The 16-inch wheels and folding mechanism remind me of a Brompton (perhaps unsurprising given that Hummingbird bicycles are also UK based), although the Hummingbird is not as compact as other rivals when folded:
In summary, the Hummingbird Gen 2.0 electric folding bike is perfect for short commutes by riders who don't mind paying extra to have an ultralight e-bike.
If you are on a tighter budget, which most of us are these days, then I would recommend either the Qualisports Volador (36 lbs) or the Swagtron EB-5 (37 lbs), which is up next.
Best Folding Electric Bike Under $1,000: Swagtron EB-5
Sale
Last update on 2023-10-03 / Affiliate links / Images from Amazon Product Advertising API
---
Motor performance: 250W | Range: 15.5 miles | Top Speed: 15 mph | Our Rating: 73/100
Advantages
Exceptional value for money
Folds compactly to 26″ x 15.6″ x 23.6″
Drawbacks
14-inch wheels compromise ride performance
Limited range of 15 miles
If you're searching for an affordable folding electric bike under $1,000, then the Swagtron EB-5 is my top pick because: 
It's relatively lightweight; 
The Swagtron EB-5 rides well in pedal-assist and manual mode; and 
It folds up compactly thanks to the 14-inch wheels, which makes it ideal for commuting and short rides in urban environments.
One thing I love about the Swagtron EB-5 is that it comes almost completely assembled, perfect to save time and hassle, especially if you're not particularly experienced in building bicycles.
Performance-wise the EB-5 has a 250 watts motor that can achieve up to 15 mph and travel up to 15 miles on a single charge. Swagtron also offers the option of purchasing an additional battery which you can easily swap out if you want to cover longer distances.
There is a simple user interface on the handlebars to choose between throttle mode (which quickly accelerates you up to cruising speed), pedal-assist, or off if you want to ride manually.
Unlike other electric folding bikes tested here, the EB-5 rides well without battery power. It also has 5 speeds, sufficient to depend on hilly terrain unassisted.
The Swagtron EB-5 is an excellent choice if you are looking for a lightweight, highly portable foldable e-bike on a budget. There are some inevitable drawbacks at this price point which may or may not be dealbreakers depending on your requirements.
The things I didn't love about the EB-5 were:
The 14-inch wheels and steep headtube angle make for a twitchy ride which felt much less stable than other e-bikes tested here.
The design and geometry of the EB-5 make it unsuitable for taller riders over 6 feet in height.
Best Folding Electric Bike for Motorhome: Rad Expand 5
---
Motor performance: 750W | Range: 45+ miles | Top Speed: 20 mph | Our Rating: 93/100
Advantages
US-based reputable brand
Powerful 750 watts motor
Designed with RV owners in mind
Drawbacks
Weighs 62 lbs, challenging to lift into your RV
No LCD on the handlebars (previous model Rad Expand 4 had one)
Seattle-based Rad has been producing excellent electric folding bikes for some years now, and the Rad Expand 5, the model which supersedes the Expand 4, is no exception.
What I love about the Rad Expand 5 for motorhome owners is that it's a solid, reliable e-bike that folds up pretty compactly, saving precious space in your RV.
I also like the fat tires, which offer excellent comfort when riding and can tackle a range of terrains – ideal for exploring while traveling and adventuring in your motorhome.
Powered by a heavy-duty 750 watts motor (by comparison, that's 3 times more powerful than a Brompton motor!), the Expand 5 has a claimed range of 25 to 45 miles which should be sufficient for getting out and about.
The moor is activated and controlled via a simple twist throttle, and I was impressed by the four pedal-assist levels with a cadence sensor.
I also liked the 180mm hydraulic disc brakes with superior stopping power even in wet or slippery conditions and a 7-speed drivetrain to find the correct gear-inch ratio for most terrains.
Did I identify any drawbacks with the Rad Expand 5?
My main criticism of the Expand 5 in terms of using it for motorhome owners is that at 62 lbs, it's on the heavy end and takes a bit of lifting to mount it on a rear bike rack or stow away inside your RV. I would have liked to see an LCD on the handlebars, which the previous model, the Rad Expand 4, actually had, so I don't know why Rad chose to remove it.
Best Folding Electric Bike for Boats: Tern Vektron S10
---
Motor performance: Bosch 65Nm torque | Range: 34-68 miles | Top Speed: 20 mph | Our Rating: 94/100
Advantages
Tern is the only folding bike brand in the US to use Bosch motors
Excellent build quality
Shimano Deore 10-speed gears
As a keen sailor and cyclist, I know the challenges of carrying a folding e-bike onboard, especially if you are boating in the sea where the salty air can rust metal components too quickly!
With that in mind, the Tern Vektron is a high-quality folding bike that will last for years if properly looked after. It folds away compactly and is the only folding bike in North America equipped with a Bosch motor known for its excellent performance and reliability.
Unlike many folding bikes, the Tern Vektron features a decent 10-speed Shimano Deore drivetrain which shifts gears very smoothly and provides enough range to tackle any terrain you may encounter on your boating adventures.
I was equally impressed to see that Tern specced this beauty with Magura hydraulics brakes, which I have been using on various bicycles for over 25 years now, and they've never missed a beat.
Other neat features which make the Tern Vektron perfect for nautical folks are the rear rack for additional carrying capacity and the innovative Andos stem that uses quick-release clamps to allow the height to be effortlessly adjusted for different riders.
Any drawbacks?
I'm still looking and will let you know when I find one 😉
Most Portable Electric Bike: Axon Pro Lite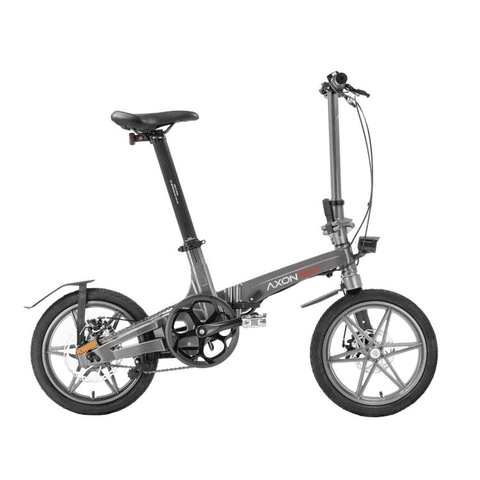 ---
Motor performance: 250W | Range: 25 miles | Top Speed: 15.5 mph | Our Rating: 83/100
Advantages
The most portable e-bike!
Weighs under 15 lbs
Drawbacks
Not suitable for tall riders
Twitchy handling characteristics
The Axon Pro Lite is a clear winner if you're looking for a portable and lightweight folding e-bike! The Pro Lite can be easily folded away in 10 seconds or less, and weighing only 15 lbs makes it super easy to transport around wherever you go.
Similar to Brompton bikes, the Axon Pro Lite is built around 16-inch wheels which are at the smaller end of wheel sizes for folding bikes but not too extreme, IMO, given that the focus here is on portability.
A 250W rear-hub motor provides surprisingly good acceleration and can achieve up to 25 miles on a single charge. Other notable features include disc brakes and a single-speed drivetrain which keeps things simple but may not suit if you are planning to tackle steep climbs.
Overall, a fantastic folding e-bike for those who need something highly portable.
If there were any disadvantages to highlight, they would be that the Axon Pro Lite wouldn't (in my opinion) suit very tall or heavy riders, and it's not suitable for off-road riding, but of course, it was never designed with that in mind.
Best Folding Ebike for Commuting: Brompton Electric C Line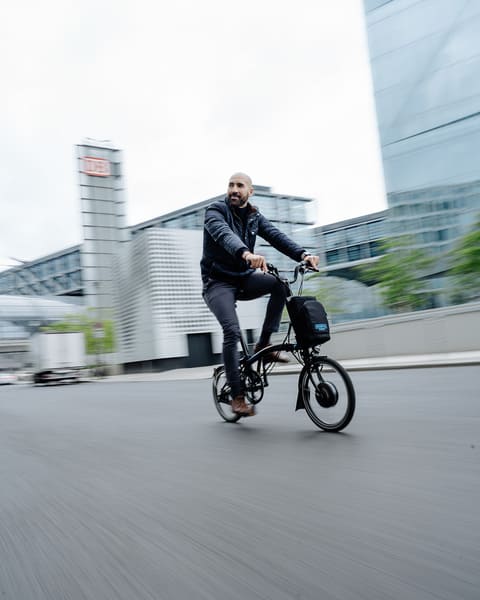 ---
Motor performance: 250W | Range: 20-45 miles | Top Speed: 15.5 mph | Our Rating: 90/100
Advantages
Perfect for commuting
The folding design is easy and quick to use when commuting on public transport
Brompton is a renowned folding bike brand
Handmade in London since 1975, the Brompton Electric Folding Bike comes to mind when the words "high-end" and "foldable electric bike" are mentioned.
The first thing you notice looking at this beauty is the absence of the 36V 8.55Ah battery on the frame.
While most bike designers need help with the right place to put their massive batteries and whether or not to make them detachable for easy charging, Brompton went for a more practical solution.
With this bike, the battery fits in a compact shoulder bag that conveniently snaps onto the front of the bike, not hidden inside the tubing or fastened onto the rear carrier.
Included in the purchase, you'll get a 1.5-liter Essential bag to house the 300Wh battery, which delivers a decent range between 20 to 45 miles (30 to 70 km) depending on how and where you ride.
The bag features an outer pocket for the charger and some gadgets.
However, you can't plug the battery into the bike without the bag.
On top of the battery are two buttons for engaging the power assist modes and toggling the front/rear LED lights.
There are also indicator lights that show the power mode, the lighting status, and how much battery life is remaining.
The Brompton Electric Folding Bike adopts a steel frame that supports a maximum load of 242 pounds (110 kg).
Besides the two 16″ wheels, the company also added three extra small wheels (two behind the seat post and one on top of the rear fender).
This allows you to pull the bike like a piece of luggage using the handlebar when folded.
Folding size: 22.2″ × 23″ × 10.6″ (56.5 × 58.5 × 27 cm)
Gears: 2-speed / 6-speed
Claimed weight: 36.6 pounds (16.6 kg) / 38.3 pounds (17.4 kg)
Max weight capacity: 242 pounds (110 kg)
Top speed: 15 mph (25 km)
Range: 20 – 45 miles (30 – 70 km)
Sizes: standard, extended, or telescopic
Best Foldable Ebike for Seniors: Rattan 750W
Last update on 2023-10-03 / Affiliate links / Images from Amazon Product Advertising API
---
Motor performance: 750W | Range: 30-45 miles | Top Speed: 15.5 mph | Our Rating: 90/100
Advantages
The low-step-through frame is ideal for senior riders
Powerful 750w motor with 45 miles range
Comfortable, padded saddle
Drawbacks
60 pounds weight is higher than I would have liked
Throttle can be a bit tricky initially to get used to
The low-step-through frame design, aluminum frame, powerful 750 watts motor, and stable ride make the Rattan 750W the best foldable e-bike for seniors.
I also liked the 20-inch wheels, which offer lower rolling resistance, and the puncture-resistant tires mean that you won't find yourself stuck by the side of the road trying to change a tire.
Performance-wise, the 48V 13ah removable battery can speed up to 23 mph and can travel up to 45 miles on a single charge. I found the Rattan comfortable on longer rides thanks to the padded saddle, dual suspension, and fat tires, which absorbed bumps from the trail.
Overall this is an excellent ride at a competitive price. However, there were a few drawbacks that I picked up from test riding the Rattan:
While I mentioned it was a comfortable ride, this comes with the disadvantage that the folding ebike is heavy (over 60 lbs). Combined with the fat tires, it makes riding without pedal assist very challenging.
Initially, I found the throttle too powerful when accelerating, but I got used to this quickly after a few rides.
Best Ebike for Off-Road: Opeak Ebike
Sale
Last update on 2023-10-03 / Affiliate links / Images from Amazon Product Advertising API
---
Motor performance: 750W | Range: 46 miles | Top Speed: 32 mph | Our Rating: 83/100
Advantages
26″ wheels, full suspension, and 4″ fat tires make the Opeak ideal for off-roading
Powerful 750 watts motor
Drawbacks
At 69 lbs the Opeak is a little heavy
I would have liked to see more than 8-speeds for a folding mountain e-bike design
The Opeak Ebike is my pick for off-road riding because:
It has a powerful 750 watts motor which is ideal for off-road riding (and zooming around at up to 32 miles per hour on the roads!).
The combination of full suspension and 4-inch fat tires make for a comfortable ride even on the roughest of terrains. The grippy tires also provide superior traction, which gives me confidence when tackling challenging trails.
The 26-inch wheels are ideal for off-road riding, whereas most folding bikes have wheel sizes less than 20 inches in diameter, which won't roll nicely off the road and provide minimal bump absorption.
Other things I liked about the Opeak Ebike include the disc brakes, lightweight aluminum frame, and 8-speed drivetrain, combined with the powerful electric motor that made even the steepest of hills possible to climb.
I would have liked a more extensive range of gear if possible, but it wasn't a dealbreaker at this price point.
I tested the Opeak off-road and had lots of fun riding on a range of trails, it's super comfortable, and I felt confident even in wet or muddy terrain thanks to the 4" fat tires. My main drawback was the 69 pounds weight which was heavier than I would ideally have liked, although it comes with the territory when buying a folding electric bike for off-roading in the under $2,000 price range.
The Selection Criteria: What We Look For In Top Electric Folding Bikes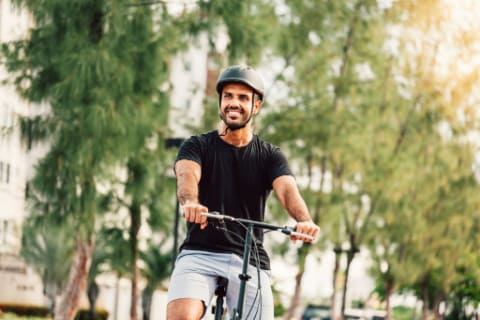 With such a fantastic selection of electric folding bikes on the market today, it's essential to understand the most critical selection criteria you should consider when choosing a foldable e-bike.
Here are the five most important things I look for in a quality folding electric bicycle:
| | |
| --- | --- |
| Folding Electric Bike Selection Criteria | What To Look For? |
| Motor performance | Sufficient power and torque for your intended riding environment. |
| Range | Capable of covering your required distance on a single charge. |
| Battery | Look for higher voltage and ampere-hours ratings to indicate a more powerful battery. You may also require a detachable battery for security and charging purposes. |
| Build quality | A reputable brand with a solid track record of building reliable folding e-bikes, I always check customer reviews to see if any other riders experienced build quality issues. |
| Ride performance | With a comfortable riding position even over longer distances, the bike should handle all terrain you plan to ride on and feel fun to ride! |
| Folded size | A small enough folded size that you can store your bicycle away at work, on public transport, or in the trunk of your car if required. |
Motor Performance
When choosing a folding electric bike, it's critical to understand the specifications and performance of the motor and determine whether they will meet your riding requirements.
The simplest way is to look at the power rating of the motor, which is generally, although not always, divided into 3 power categories:
250-watt motors: this is the lowest power rating and tends to be fitted to lightweight folding e-bikes to act as a pedal-assist on shorter commutes, for example. The advantage of the smaller motor is that it weighs less and requires a smaller battery to power it.
500-watt motors: a mid-range motor that offers considerably more power and torque than a 250W motor, perfect if you need to climb hills or ride on more challenging terrain. This motor could be a good option for motorhome owners, boating enthusiasts, or leisure riders who plan to explore and don't need to frequently transport their bicycles on public transport.
750-watt motors: a high-performance motor with superior torque and power, perfect for more challenging rides, taller and heavier riders, or those who also intend to ride off-road or tackle steep climbs with their folding e-bike.
Knowing the power rating of the motor is an excellent first step. Still, it would help if you also considered the motor's torque, as a higher torque will provide more significant acceleration, albeit at the cost of higher battery usage.
Another important consideration is the motor placement, which could either be hub-mounted or a mid-motor design. Hub motors offer some key advantages:
They can be integrated into an existing folding bike design, such as Hummingbird, who combined a rear hub motor into their folding bicycle.
Hub motors are smaller and don't take up valuable real estate because they can be incorporated into the wheel's hub.
Hub motors are cheaper than mid-drive systems.
Range
Of course, you'll want to know how far you can travel on a single charge but be warned that doing so can be tricky. 
Similar to how car manufacturers state their vehicles' fuel efficiency, the reported ranges of folding e-bikes tend to be based on optimal riding conditions (i.e., flat terrain, lowest power mode).
So the claimed range is likely higher than what you achieve for yourself. For example, you may use a lower pedal-assist power mode but occasionally choose a higher power setting for climbing hills which would drain the battery faster.
This is particularly important for heavier e-bikes with fat tires because they can be challenging to pedal unassisted. In contrast, a Brompton, Hummingbird, or similar lightweight folding electric bicycle could easily be pedaled if the battery dies.
Battery
There are three critical factors to look for in the battery:
Ampere-hours (AH): this is a fundamental metric because higher watt-hours mean the battery can store more "juice" and will last longer before needing to be charged.
Detachable: many of the folding electric bikes reviewed here are fitted with removable batteries, which can be convenient if you want to take them out to charge but also to prevent people from stealing them while they are in storage.
Build Quality
Build quality is critical for folding bicycles due to the increased complexity of adding a hinge mechanism or other folding designs. This becomes even more important for a foldable electric bike because of the increased weight of the battery and motor and the potentially higher riding speeds.
I recommend choosing a reputable folding bike brand and reading other customer reviews before purchasing to assess whether other cyclists have reported any issues with the build quality.
You would be looking for reported issues such as cracks in the frame, failure of components, and any problems with battery life, motor performance, etc.
Folded Size
Understanding your requirements on how compactly you need the e-bike to fold away. 
Someone who is planning to ride predominantly off-road and only occasionally fold the bicycle away to transport to the trails would have a very different requirement than someone who is planning to use their folding electric bike for short commutes to work every day, taking the bike on public transportation and needs to be folded away to a compact size in 10 seconds or less.
So, considering the folded dimensions is vital, as is the time and ease of using the folding mechanism. If you are looking for a highly efficient, easy-to-use fold design, then Brompton is hard to beat!
How We Picked The Best Folding E-Bikes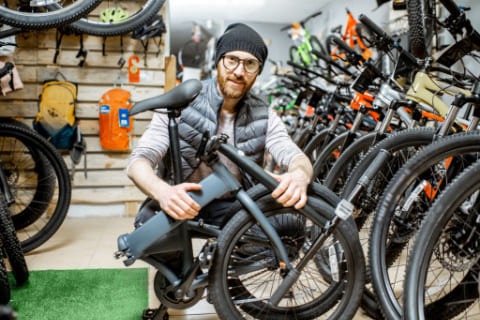 As an experienced cyclist with over 25 years of riding, building, repairing, and testing mountain bikes, road bikes, and folding bicycles. I deeply understand what to look for when choosing the best folding electric bikes on the market.
Having also had the pleasure to test hundreds of folding and electric folding bicycles over the years, I have been fortunate to see and understand the evolution of folding e-bikes.
Since folding e-bike design has improved so much in recent years, I also performed extensive research and testing and read other expert reviews and customer feedback.
Our Testing Process And Why You Should Trust Us
Selection of the best folding electric bicycles involved research and test rides of select folding e-bikes to see how they performed in various environments and riding conditions.
After these two phases of testing were completed, I compiled a summary of my rankings and shortlisted the 9 best folding electric bicycles as detailed below:
| | | | | | | | |
| --- | --- | --- | --- | --- | --- | --- | --- |
| Folding Electric Bike | Motor Performance | Range | Battery | Build Quality | Ride Performance | Folded Size | Overall Score |
| Heybike Ranger (Best overall) | 85% | 95% | 90% | 95% | 90% | 80% | 89% |
| Hummingbird Electric (The lightest folding electric bike) | 70% | 80% | 80% | 100% | 100% | 95% | 88% |
| Swagtron EB-5 (Best under $1,000) | 60% | 50% | 60% | 90% | 80% | 100% | 73% |
| Rad Expand 5 (Best for RV owners) | 95% | 90% | 90% | 100% | 95% | 85% | 93% |
| Tern Vektron (Best for boat owners) | 95% | 100% | 90% | 100% | 90% | 90% | 94% |
| Axon Pro Lite (The most portable e-bike) | 80% | 70% | 75% | 85% | 90% | 100% | 83% |
| Brompton Electric C Line (Best for commuting) | 80% | 80% | 80% | 100% | 100% | 100% | 90% |
| Rattan 750W (Best for seniors) | 95% | 85% | 95% | 90% | 90% | 85% | 90% |
| Opeak Ebike (Best for off-road) | 95% | 75% | 90% | 90% | 90% | 60% | 83% |
It's worth noting that each bicycle above is ranked relative to its category and not necessarily strictly against one another. 
It would be unfair, for example, to directly compare a lightweight and compact folding e-bike with one designed for rugged off-road riding since they have both been designed for different purposes.
Common Folding E-Bike Questions
Which folding electric bike is best?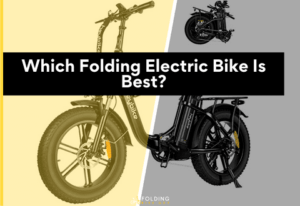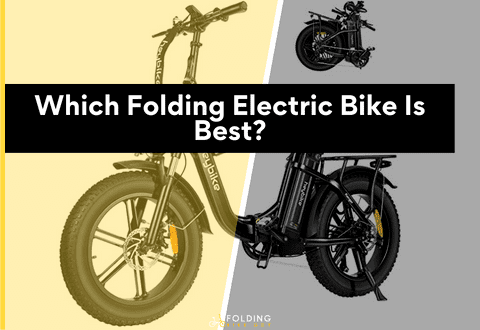 The Heybike Ranger is the best folding electric bike for most riders because it's built by a reputable brand, the electric motor delivers exceptional top speed, and range performance, and the low step-thru frame design is suitable for easy mounting and dismounting.
Other popular folding e-bikes include the Rad Expand 5, Brompton C Line, and Tektron Vern. As your specific requirements will depend on your preferences and riding needs, it's worth considering essential factors such as motor performance, battery range, and folded size before choosing.
How long do e-bike batteries last?
If well maintained and stored in a cool, dry environment, you should expect an e-bike battery to last between three to five years, equivalent to approximately 500 to 1,500 charge cycles. When storing the battery for an extended period, leaving the charge between 40% and 80% is recommended.
E-bike battery capacity will decrease over time, meaning that the charge they can hold will gradually decrease compared to when it was new.
Can E-bikes be used off-road?
Most e-bikes are unsuitable for off-road riding because they have yet to be designed for challenging terrain. Some "mountain e-bikes" or "fat-tire e-bikes" are equipped with front and rear suspension, 26-inch or 27.5-inch wheels, powerful 750-watt motors, and a range of gears making them ideal for off-road riding.
Mark Plummer
Mark Plummer
is an experienced bike mechanic who has built, repaired, and customized thousands of bikes over the years. A former mountain biking athlete, his cycling adventures have taken him all over the globe from the mountains of Scotland to the South Island of New Zealand. These days he enjoys the benefits of commuting to work and touring on his Dahon and Brompton folding bikes.
Get Our FREE Folding Bike Buyer's Cheat Sheet
This free cheat sheet will help you choose a folding bike by providing quick information on the 7 key considerations when buying a foldable bicycle!
By subscribing, you agree to get emails from Folding Bike Guy. We'll respect your privacy and you can unsubscribe any time.