When you use our links, we may earn an affiliate commission. Learn more.
Subaru has a range of vehicles for carrying bikes in two different ways. Usually, the easiest way to move multiple bicycles on a car is to install a trailer hitch and use a bicycle rack that fits the hitch mount.
Subaru's roof rack is suitable whether your vehicle is equipped with an aftermarket roof rack or a roof mount.
The next option is the trunk-mounted rack.
Trunk racks (the least desired and generally the more inexpensive option) should be the only choice when traveling infrequently.
At A Glance:
Below you'll find our shortlisted picks for the best Subaru bike racks together with some important considerations to help you choose the right one for your needs and budget.
How To Choose The Right Bike Rack For Your Subaru
Because Subarus and folding bikes are expensive, you need to understand what to look for when choosing a Subaru bike rack or risk making the wrong choice and potentially damaging your car and bike.
So how do you select the best Subaru rack for you?
Here are five key things that you should look for and think about when choosing between Subaru bike racks.
Mount method
There are three popular ways to carry bikes with your Subaru – roof mount, hitch mounted, or fork mounted. Each has its unique advantages and disadvantages, which I have summarised below:
Roof-mounted bike carrier – an excellent choice for dedicated cyclists, this is a moderately expensive option to carry bikes securely. The main cons are windage and wind noise while driving, difficulty lifting the bikes onto the roof, and it can become quite costly if you also need to purchase Subaru roof bars.
Trunk racks – are ideal for recreational cyclists who occasionally need to transport bikes with their Subaru. Trunk racks are lightweight, highly portable, and generally the cheapest option. They are not as secure, can result in the bikes swaying and moving, and have a limited load capacity usually restricted to two or three cycles.
Hitch mount bike racks are more expensive than trunk racks. Hitch racks are ideal for securely carrying three or more bikes with minimal windage issues. You can choose between a platform style or hanging cradle style hitch rack. The main disadvantage of hitch-mounted racks is that they can impede your rearview vision while driving, and it can be challenging to open the trunk (although generally, more expensive hitch racks allow you to tilt them to open the trunk).
Fork mounted bike carrier – a classic style roof bike rack that connects to the bike's fork for secure transport and minimal frame contact.
Carrying capacity
You will need to be clear about how many bikes you need to carry at any given time, and how frequently you intend to take the bikes is also worth considering:
If you carry one or two bikes, you should consider either a trunk-mounted rack (for occasional use) or any other option for more frequent use.
I would recommend the hitch mount bike rack for three bikes or more. If you intend to use the rack pretty often, then it's worth paying a little extra to get one with a tilt option so that you can open the trunk even with bikes mounted on the back of your Subaru.
Weight
Arguably the weight of the rack is not a significant consideration; nevertheless, it's worth at least considering when comparing bike racks. I often choose an aluminum bike rack for its lightweight construction and rust-resistant properties.
Cost
Naturally, the best Subaru bike racks cost more, so it's worth considering how often you will use them and how expensive and fragile your bikes are before deciding your budget.
A critical consideration for the budget is if you prefer genuine Subaru parts because companies or car dealers offering genuine Subaru parts will charge a premium!
Ease of use
I'm not too fond of roof-mounted bike racks for the simple reason that I don't particularly appreciate having to lift my bike up and down from the roof every time I want to travel somewhere. This depends on personal preference, and so it's a case of you deciding which rack style works best for your individual needs and preference.
Comparison of 5 Best Subaru Bike Racks 2022
| | | | | | |
| --- | --- | --- | --- | --- | --- |
| Product: | Thule | Thule Apex XT | Allen Sports | Subaru OEM | Thule Circuit |
| Image: | | | | | |
| Editor's Rating: | 4.7/5 | 4.5/5 | 4.6/5 | 4.4/5 | 4.3/5 |
| Best for: | Subaru Forester | Subaru Outback | Subaru XV | Subaru Impreza | Subaru Crosstrek |
| Mount method: | Hitch | Hitch | Hitch | Roof | Roof |
| Carrying capacity: | 2 bikes | 4 bikes | 4 bikes | 1 bike | 1 bike |
| Weight: | 27 lbs | 35 lbs | 22 lbs | N/A | 7 lbs |
| Cost: | 4/5 | 4/5 | 5/5 | 4.5/5 | 4.5/5 |
| Ease of use: | 4/5 | 4/5 | 4/5 | 3.5/5 | 3.5/5 |
Get Our FREE Tricycle Buyer's Cheat Sheet
This free cheat sheet will help you choose a trike by providing quick information on the 7 key considerations for buying an adult tricycle!
By subscribing, you agree to get emails from Folding Bike Guy. We'll respect your privacy and you can unsubscribe any time.
Best bike rack for Subaru Forester – Thule Helium Pro
Last update on 2023-05-04 / Affiliate links / Images from Amazon Product Advertising API
Foresters have long been a popular compact SUV for cyclists.
Its design offers a good balance between design performance, four-wheel operation, and practical functionality. A variety of accessories are available that will enhance any outdoor adventure in your Subaru Forester. 
After countless hours of testing by our experts, the best bike rack for Subaru Forester is the amazing Thule Helium Pro 2 rack which is made specifically for Subaru vehicles and compatible with the Subaru OEM hitch.
This rack weighs in at only 27 lbs, thanks to the aluminum construction. Although the design is a cradle hanging style, I found that anti-sway cages held up to two bikes securely, and I didn't encounter any issues with bike sway or banging into the trunk while driving.
Mount method: Hitch-mount
Carrying capacity: 2 bikes
Weight: 27 pounds
Cost: $$$
Ease of Use: Excellent
For a Thule model, the price is reasonable; however, if you are on a tight budget, a suitable alternative to consider would be the trunk-mounted Allen Sports Deluxe rack which also carries up to two bicycles.
---
Last update on 2023-05-04 / Affiliate links / Images from Amazon Product Advertising API
Another outstanding design from Thule, the Apex XT rack, is ideal for the whole family thanks to its four bike capacity.
The Thule Apex XT is a cradle-style hitch mount rack with an anti-sway cage design to ensure that all four bikes are held securely without banging into each other.
Another neat feature that I liked is the integrated cable which securely locks all bikes to the rack.
If you plan to use your bike rack frequently for family trips and adventures, I recommend upgrading to the swinging rack design because it allows you to rotate the stand and access whatever you have stored in the trunk.
---
Sale
Last update on 2023-05-04 / Affiliate links / Images from Amazon Product Advertising API
Some of the other bike racks mentioned in this review are also suitable for the Subaru XV. However, my recommendation for the best bike rack for Subaru XV is the Allen Sports 4-bike hitch rack because:
It can safely and securely carry up to four bikes, making it perfect for family cycling trips
It is exceptional value for money
It's lightweight and easy to install and store away
Can tilt, which allows you to access the trunk even with the Allen Sports rack installed
This rack is designed with a quick install and can easily be put on and taken off your Subaru XV in minutes.
I noticed that because it lacks the anti-sway cages of the Thule racks, the bikes sway and can knock into one another or even the trunk of your car.
You can quickly resolve the swaying issue by purchasing a few bungee cords, securing all the bikes, and using a little padding of any potential contact spots where the frames could get damaged or marked.
If you prefer a roof-mounted bike rack option, it's worth considering the Thule Pro Ride XT, which is compatible with all Thule roof bars and most Subaru OEM roof bars. The only downside with choosing this option is that you could only carry one or two bikes on the roof.
---
Last update on 2023-05-04 / Affiliate links / Images from Amazon Product Advertising API
If you're a Subaru Impreza owner, I recommend the genuine Subaru parts Thule roof-mounted bike carrier, which consistently receives excellent reviews from other Subaru Impreza owners.
I loved this rack's self-adjusting jaws that connect to the downtube for precise and secure transportation. Once you have the jaws in place, you need to simply place and tighten the two adjustable ratchet straps around the front and back wheels.
This rack holds one bike; however, you could easily purchase two pieces if you wanted to carry two bikes. Anymore though, there won't be sufficient roof space for all the bikes, in which case you may want to consider one of the trailer hitch racks reviewed above, which are also suitable for a Subaru Impreza.
---
Last update on 2023-05-04 / Affiliate links / Images from Amazon Product Advertising API
The Thule low-profile fork mount bicycle rack is ideal for the Subaru Crosstrek and can be attached to genuine Subaru factory-installed crossbars or Thule rack systems.
The main advantage of the fork mount bicycle carrier is its ability to hold the bike super-steady during transportation because the forks are mounted directly to the rack.
You can also separately purchase a Thule 593 optional front wheel holder that can mount to the crossbars to hold the front wheel. I don't bother with this and chuck the front wheel in the trunk of the Subaru Crosstrek.
One thing worth noting is that because this rack is a fork-mounted bike carrier, it is not suitable for thru axel mountain bikes.
---
Review Process – Why You Should Trust Us
We are a community of passionate folding bikers who test, research, and educate on issues and products relevant to the folding bike market.
We strive to use our expert research and knowledge to help you make better-informed decisions about buying folding bikes and accessories.
When it comes to Subaru bike racks, we have a wealth of practical experience using and testing them.
Over the past few months, we sourced, tested, and most importantly, used 50+ of the best bike racks on the market.
Our recommendations are based on more than 100 hours of combined testing by our dedicated team of folding bike experts.
People Also Ask
How do I attach my bike rack to my Subaru?
The steps required to attach your bike rack to a Subaru will depend on the type of rack you own:
1. Secure the frame using the attachment straps provided for a trunk-mounted rack.
2. For a trailer hitch-installed rack, you should insert the rack into the trailer hitch and secure it firmly.
3. As per the instruction manual, you attach the frame to the vehicle's crossbars for roof-mounted models.
Can you put a bike rack on a Subaru Outback?
Yes, you can put a hitch, trunk, or roof-mounted bike rack on your Subaru Outback. If you install a hitch rack on your Outback, you must already have a hitch receiver. Similarly, roof-mounted bike racks require pre-installed crossbars.
Can you put a bike rack on a Subaru Forester?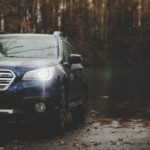 You can put a roof bike rack on your Subaru Forester. If your Forester has no spoiler, you can install either a trunk or hitch bike rack. Our preferred rack for the Subaru Forester is the Thule hitch mount bike rack.
Mark Plummer
Mark Plummer
is an experienced bike mechanic who has built, repaired, and customized thousands of bikes over the years. A former mountain biking athlete, his cycling adventures have taken him all over the globe from the mountains of Scotland to the South Island of New Zealand. These days he enjoys the benefits of commuting to work and touring on his Dahon and Brompton folding bikes.
Get Our FREE Folding Bike Buyer's Cheat Sheet
This free cheat sheet will help you choose a folding bike by providing quick information on the 7 key considerations when buying a foldable bicycle!
By subscribing, you agree to get emails from Folding Bike Guy. We'll respect your privacy and you can unsubscribe any time.