Though many folding bike manufacturers are available, Birdy has gained a reputation for combining exceptional quality, outstanding performance, and stylish designs. Because of this, they have quickly risen to prominence within the cycling community.
While Birdy might have a strong reputation, that doesn't mean Birdy is the best foldable bicycle for you. Please keep reading to learn more about this brand and the types of bikes they offer.
About Birdy Bikes
The Birdy Bikes company was founded in 1992 by college friends Markus Riese and Heiko Müller. They had a long passion for cycling and loved to ride during their breaks. However, they quickly discovered that a lack of suspension in their bikes led to an uncomfortable ride. 
This is why they decided to innovate and create the first full-suspension folding bike.
The prototype earned the name Birdy because it glided smoothly, like a majestic bird gliding through the skies. In 1993, they found a manufacturer, Pacific Cycles, to help them build their bikes.
Over time, the brand has expanded around the world. Today, there have been over 100,000 bikes sold so far. 
6 Best Birdy Folding Bikes 2023
The Birdy bike range offers a range of exciting models. The best Birdy folding bikes they offer are reviewed below and summarised in the following table:
Birdy City 9SP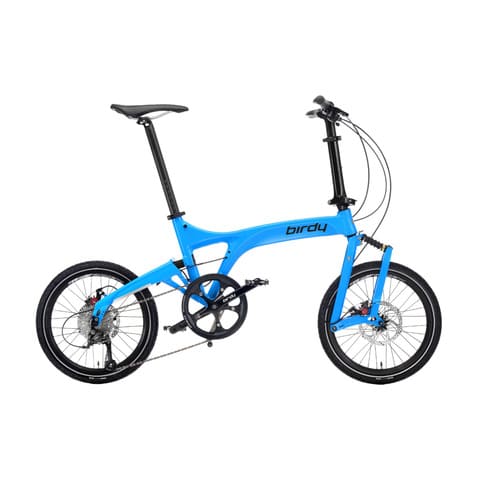 Positives 
9-speed gears are perfect for a range of terrains
Lightweight, weighing just 22 pounds (10 kilograms)
Can hit high speeds with ease
Negatives
The unfolding process can be confusing.
Birdy City 9SP Review
There is a lot I liked about the Birdy City 9SP. Namely, its ability to create a comfortable riding environment. Thanks to the gear system, you won't have any problems cruising at high speeds on city streets. Like all Birdy bikes, the City 9 speed comes with full suspension so that you won't be bumped around by any dips in the road. 
Thanks to the 9-speed gears, it will be easy to overcome rugged terrain. You shouldn't have any issues climbing steep hills. 
The only problem might lie in the folding mechanism. When folded, the bike is lightweight and portable. As a result, you shouldn't have any issues taking it on public transport with you. 
But the problems might start when you decide to unfold the bike.
The folding mechanism can be complex and confusing. To help you with this aspect, watch a few YouTube videos describing the assembly process. But once you have gotten used to it, the bike can be folded and unfolded quickly.  
Birdy New Classic 8SP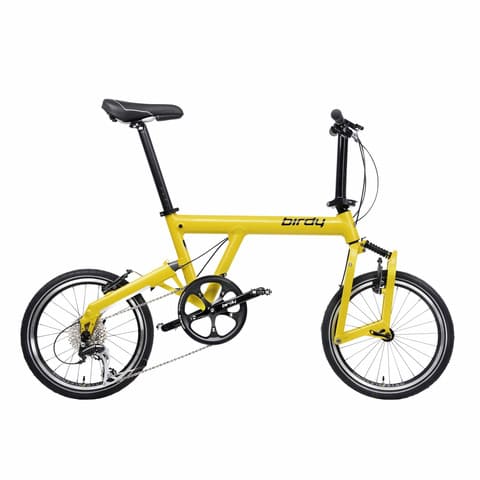 Positives 
8-speed gears 
Stable handling
Comfortable grips and easy-to-adjust seats
Negatives
Extra weight, like backpacks, can affect steering.
Birdy New Classic 8SP Review
The New Classic 8SP gets its name because it is a remodel of the Classic Birdy, which was discontinued in 2008. While it has a retro appearance, it has been upgraded to create a better riding experience. In this area, Birdy has been successful. 
When you combine an eight-speed drivetrain with the Birdy suspension system, you should be able to take on most types of terrain. Though it might struggle on steeper inclines. 
Another benefit is that it's easy to adjust the seats.
You can customize the bike within a few seconds to suit your preferred riding height. Combining this with the comfortable handlebar grips and a padded seat makes you feel comfortable riding this bike. The handling is smooth, making it the ideal choice for beginner riders. 
Furthermore, it's worth noting that this is the most affordable bike in the Birdy range.
While it's still more expensive than other entry-level options on the market, it does provide good value for money. This is because it comes with suspension, which ensures a smoother ride. It's also been built with high-quality parts, so it will last for years. 
Of course, though, there are a few downsides of the New Classic 8SP that you should consider.
It can struggle a little when carrying additional weight, like a backpack. This can be especially apparent if you place it onto the optional front rack. If it isn't distributed correctly, it might affect the steering. However, this is a minor hindrance. 
Overall, the Birdy Classic is an excellent choice for daily commuters looking for a basic folding bike. 
Birdy R20 11SP
Positives
Able to achieve high speeds
Smooth gear changes
Agile and easy to steer
Negatives
Might struggle on rougher roads
Expensive
Birdy R20 11SP Review
If you are looking for a bike capable of achieving high speeds, the Birdy R20 is the ideal option. One of the main reasons why the R20 can travel so quickly is because of the Panaracer Minits Tough 20 x 1.25" tires.
These ensure you will have plenty of traction, keeping a tight grip on the road. But they are also sleek and slim, reducing the drag you will experience. 
Furthermore, the R20 is one of the lightest folding bikes.
It weighs just 23 pounds (10.8kg). This ensures that you won't have to pedal too hard to get it up to speed. Plus, it will be easy to carry onto and off public transport. 
A few other features ensure that the Birdy R20 is fun to ride.
First, it comes with an 11-speed groupset. This allows you to smoothly move up and down through the gears, finding the one that will work best for you. This makes it easy to climb up and down. 
It's also an easy bike to steer.
It's easy to maneuver through the corners. You only need to lightly squeeze the hydraulic brakes when you want to slow down. 
While the fast Birdy R20 is a lot of fun, there are a few downsides.
First, no Birdy is built to handle off-road conditions.
But, due to the thin wheels, the R20 is especially susceptible to uncomfortable bumps. Though the suspension can help soften the blow's worst, it's still a good idea to steer clear of potholes and other rougher road parts. 
Another thing to consider about the Birdy R20 is that this is an expensive bike.
This might be the ideal option if you have the budget and want to splurge on something that can deliver a lot of speed. But if you are looking for a basic commuter bike, choose the New Classic. 
Birdy Rohloff 14SP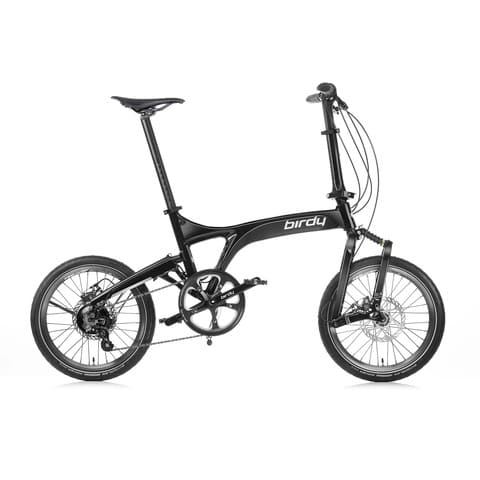 Positives
Designed to travel over long distances
Enclosed gear transmission
Able to ride through rougher terrains
Negatives
One of the most expensive folding bikes in the Birdy range
Birdy Rohloff 14SP Review
If you are looking for a foldable bicycle that can travel longer distances, the Birdy Rohloff 14SP might be the ideal option because it is built to be comfortable for longer rides. You can add a mudguard or a luggage rack if you want.
Though these will be an additional cost. 
One of the reasons why this bike is so popular is because it contains an enclosed gear transmission.
This helps offer protection from dirt and grime, limiting the maintenance you need to complete. With 14 gears, getting up hills and achieving high speeds will be easy. 
This bike can go over some rougher ground.
It should be able to handle some bumps in the road. Though I'd still recommend avoiding off-road tracks. The suspension system will cope with mild bumps in the road surface for a smooth ride. 
The biggest downside, though, is the cost.
At around $4,800, it is one of the most expensive folding bicycles in the Birdy range. It's also significantly more expensive than other folding bikes on the market. 
Birdy Touring PLUS 24SP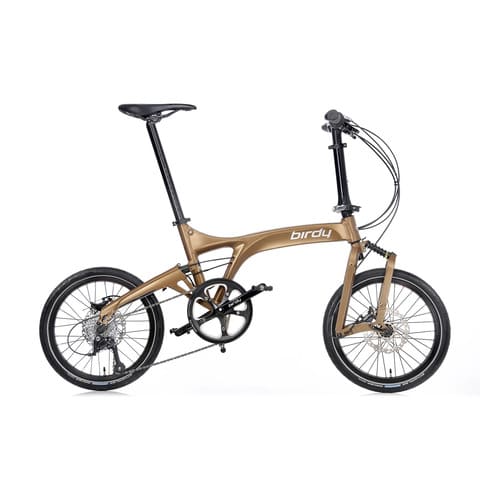 Positives 
Ideal for longer rides
Large selection of gears
Can cope with bumps in the road
Negatives
It can wobble a little due to the suspension.
Birdy Touring PLUS 24SP Review
As the name suggests, the Touring model is built to be comfortable to ride, whether on a longer ride or a shorter trip to work. This is something that Birdy has been very successful at. Riding this bike gives you plenty of control. It's easy to steer it around the road. 
Another feature that elevates this bike is that it comes with 24 gears.
This is the most of any Birdy bike.
As a result, it will be easy to get up hills and build up an impressive speed over the flats. The 18-inch wheels and robust suspension system will allow you to deal with minor bumps efficiently. 
Some reviewers have reported that the suspension system can cause the bike to wobble.
However, this is a relatively minor issue, and you will soon get used to the sensation of riding it. They also raised a problem with the high price compared to the other bikes on the market. 
E-Birdy Electric Folding Bicycle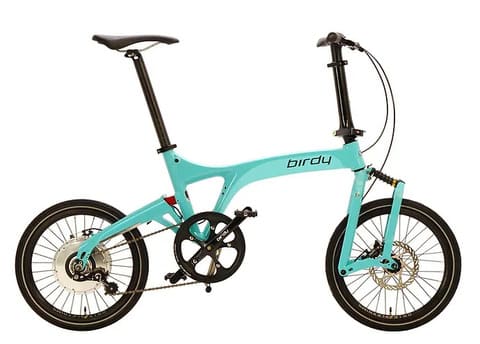 Positives
The electric battery offers pedal assistance to make it easier to climb up hills.
It can be controlled through a smartphone
Lightweight and portable
Negatives
Heavier than other Birdy bikes. 
E-Birdy Review
The E-Birdy bike comes with some innovative features. For example, your smartphone can control the battery before the trip. This lets you set the amount of assistance you get from the motor. 
How far you can go will depend on the setting you are using.
If you want to push the motor to the max, you can expect a range of 20km. If you want to use the most conservative setting, you might be able to ride for 70km. Plus, it charges quickly, within two to three hours. 
Another remarkable element is how light it is. It will weigh around 40 pounds (18kg).
This is lighter than many other electric folding bikes on the market. Though it is heavier than other bikes in the Birdy range. 
Aside from the battery and motor, it looks like a regular Birdy and is comfortable and easy to control. Currently, there are two types of E-Birdy bikes available, they are: 
How To Choose The Right Birdy Bike For Your Needs
There is a range of Birdy bikes for you to choose from. Here are a few selection criteria to help you select the right Birdy foldable bicycle (and here's my complete Folding Bike Buying Guide for reference). 
Ride Performance
When you select a bike, it's essential to choose something that will be comfortable to ride. You should consider: 
Whether the seat is padded and adjustable
How fast the bike can travel
Whether it is easy to ride
How easy it is to dismount
How it performs on hills 
Whether it is easy to steer. 
Often, the best option is to take the bicycle for a test ride and see how it performs. If you don't like it, you might be able to return it for a refund. 
Build Quality
Birdy bikes are expensive. So, choosing one that will last for a long time is essential. Look at the frame and the bike components to ensure they are high-quality. You can also see if the bike has a warranty, protecting you from mechanical faults. 
Value For Money
Birdy bikes are expensive compared with other folding bike brands. Because of this, you want to ensure you are getting your money's worth. Comparing the different Birdy models based on price is a good idea. This allows you to get a great bike without blowing your budget.  
Foldability
Before you buy, consider the folding mechanism. It should work quickly. Folding and unfolding might take practice. But once you get familiar, you should be able to fold away the bike within seconds.  
Gearing
Finally, consider the number of gears the bike has. Generally, the more gears, the easier it will be to tackle hills. It will also ensure a smoother ride. 
Alternatives To Birdy Bikes
Brompton, Tern, and Bike Friday are the three main alternatives to Birdy. Birdy compares favorably when comparing ride performance and manufacturing quality. However, it will be more expensive than many other models on the market. 
Let's take a closer look at other folding bike manufacturers and how they compare with Birdy.
Birdy Bikes vs. Brompton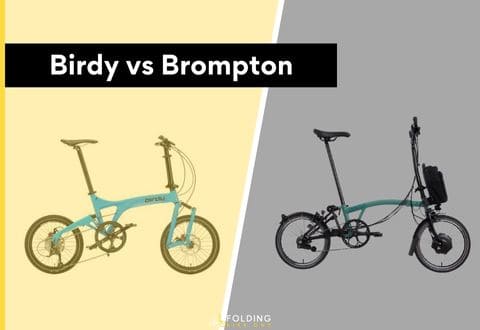 Brompton is also known for its wide range of bikes. Their bikes are more compact, which makes them easier to carry. However, the Birdy is more comfortable, especially if you plan a longer ride. The difference will be evident if you are riding on a rougher road. However, while Brompton is a premium brand, their product is less expensive than Birdy. 
Birdy Bikes vs. Tern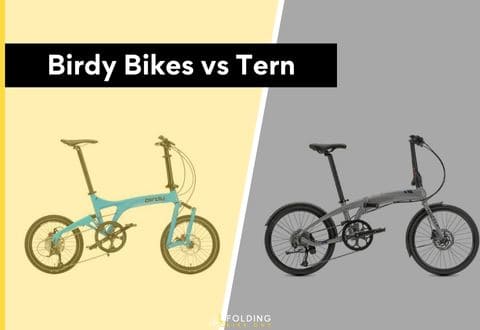 Birdy and Tern are premium bikes known for their quality and are priced accordingly. But Tern has a broader range. Birdy models are mainly aimed at commuters and some longer-distance riders. 
On the other hand, Tern bikes can offer more heavy-duty bikes. They also have some bikes that will be able to handle going off-road. 
Birdy Bikes vs. Bike Friday
Birdy and Bike Friday feel great to ride, similar to a full-sized bike while Bike Friday is a little more affordable. However, the most significant difference is how fast Bike Friday can be folded. According to the company, Bike Friday models can be folded within 15 seconds. 
People Also Ask
Is Birdy a Good Bike? 
Birdy bikes are known for being high-quality. They are one of the only bike manufacturers that include suspension with each bicycle. This creates a smoother ride. Furthermore, their bike frames are made from robust materials that will last a long time. The bikes can be folded easily. 
But there is a downside. This quality comes with a hefty price tag. Birdy bikes will be more expensive than the other options on the market. 
Is Birdy Better Than Brompton? 
Birdy and Brompton are excellent options, though there are a few key differences. Birdy comes with suspension, while Brompton doesn't. Because of this, Birdy will offer a smoother ride. Brompton, though comfortable, can have over-sensitive steering due to the smaller 16-inch wheel size. 
However, Brompton bikes are known as excellent commuter bikes. They excel over shorter journeys and will be more compact than Birdy models when folded. Brompton bikes will also be less expensive than Birdy bikes. 
What Country Is Birdy From? 
Birdy bikes are manufactured in Taiwan. They are built by a company known as Pacific Cycles, headquartered in that country. This is a long-standing partnership. Pacific Cycles has been the only manufacturer throughout the 20-year history of the Birdy brand
How Fast Can Birdy Go?
Birdy bikes can travel up to around 35 miles an hour. This is because of their lightweight design, with most models weighing slightly over 10kg. These bikes also have an advanced gear system to allow riders to maintain the speed up hills. 
Though the rider's technique determines how fast the bike can go. Though most people can go quickly on a Birdy, it will take a more experienced rider to unlock the top speed. 
Why Is Birdy So Fast?
There are a few reasons why Birdy bikes can achieve speeds of up to 35 miles an hour. First, they have a lightweight frame. The bikes also have larger wheels and a suspension system for smoother riding. All their bikes come with an advanced gearing system to cope with hills. 
Some Birdy models, though, will be faster than others. The quickest Birdy is the R20. This is because it has slimmer tires, allowing a firm grip on the road while reducing drag.
How Heavy Is a Birdy Bike?
The weight of the Birdy Bike will vary a little depending on the model purchased and what additional features are added. Generally, a basic Birdy bike will be around 23.8 pounds (10.8kg).
This is significantly lighter than many of the other folding bikes in the world. Most will start between 24 pounds (11kg) and 40 pounds (18kg).
Where Are Birdy Bikes Made?
Birdy bikes are manufactured in Taiwan by a company called Pacific Cycles. They have been making bicycles since the company was founded in 1992.
Birdy Bikes Verdict
Birdy bicycles might have started as a smaller company by two friends in Taiwan. But it has since spread into a global brand. 
Birdy bikes have been praised for their high-quality materials, which last for years. They are also known for providing excellent speed. So, whether you are a commuter looking for a comfortable ride to work or a tourer searching for a bike for long-distance riding, Birdy is the ideal option for you.