In the folding bike world, two companies stand out: Brompton and Dahon, and many people (just like you!) would like to know who has the better bikes for you and your wallet.
The main difference between Brompton and Dahon is that Brompton has a smaller wheel size, weighs less, and folds to a more compact size. So if you want a folding bike for short commutes pick Brompton. However, Dahon offers more powerful e-bikes, better accessories, folds away faster, and is more comfortable for long rides.
Dahon vs Brompton Folding Bikes Compared
We'll be making a lot of comparisons between Dahon and Brompton, but here's the synopsis in the table below.
 
Pros:
Cons:
Brompton
✅ Lighter in weight.
✅ Easier to carry for Seniors.
✅ More stylish.
✅ More compact.
❌ A flimsier frame.
❌ Not great for rough terrain.
❌ Less variety.
❌ Takes longer to unfold.
❌ Fewer accessories.
Dahon
✅ Sturdier frame, better for long rides
✅ More variety.
✅ More powerful e-bikes
✅ Durable, innovative hinges.
✅ More accessories.
❌ Heavier in weight.
❌ Not as stylish
Want to get a few more details of each of Brompton's and Dahon's folding bikes' pros and cons? To determine whether Dahon is as good as Brompton, I compared them across several different criteria, including:
Variety
Speed
Accessories
Foldability
Commuting
Cost
Keep reading to see who trumps who in cost, quality, size, variety, accessories, foldability, and more!
1. Variety
We appreciate that our rider readers have very different riding styles and needs, so it would be important that each company has a variety of bikes to choose from.
Brompton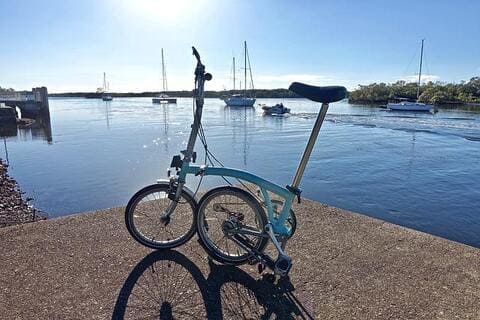 Brompton has four lines of folding bikes:
A-line
C-line
P-line
T-line
A-line – Also known as the B75, this is the classic model. Manually powered, but the most sturdy for longer commutes.
C-line – Contains the C – urban, utility, explore, and explore black edition. The electric folding bike collection ranges from 2-speed to 6-speed.
P-line – A specialized folding 4-speed e-bike built to be 4lbs lighter and fine-tuned for the contours of the urban setting.
T-line – The most expensive line, and their lightest at 16-17lbs, has two models: the One and Urban. The One is a single-speed, and the Urban is a 4-speed. Both are strictly for short, city commuting in flat terrain.
Dahon
With twice the models as Brompton, Dahon has a bike for almost everyone's needs and includes both manual and e-bikes.
If you stuff your SUV to take advantage of every cm of space, the SUV D6. If you want the most bang for your buck, that would be the HIT PANDEMIC model. Want something for longer rides as well as a commute? Check out their MU D8.
The point is, with their versatility in their frame materials, designs, and modifications, you'll find something you like.
2. Speed
Many of you care about getting to where you're going faster, so let's break down speed. Both companies have manual bikes and e-bikes. 
The manual bikes for either company will allow you to ride at an average speed, the same as a conventional bike, just a tad slower if your chosen model comes with extra weight. 
Brompton manual bikes are slightly slower on long, steady rides but are faster in urban settings because their smaller wheels will accelerate more quickly as you stop and start at every crosswalk and stop light.
As for the e-bikes, Brompton's options will range from single-speed to 6-speed with 9 total electronic options.
On the other hand, Dahon has 16 options total – 11 manual and 5 electric. The available options will delight the thrill-seekers as Dahon has only 7-9 speeds.
3. Accessories
If you enjoy customizing your ride, you will want to opt for a Dahon bike. Brompton does not offer additional accessories such as modified luggage, though they may have different racks. Dahon, on the other hand, offers the following additional accessories:
Racks
Luggage
Fenders
Lights
Pedals.
4. Foldability
Each company prefers two different ways of having their bikes folded and unfolded. Brompton prefers to use clips and hinge clamps. They are typically folded by,
Releasing the rear wheel clip and swinging the wheel underneath the bike by allowing it to roll.
Unscrewing the hinge clamp toward the front just before the handlebar support
Folding the front half of the bike inward by holding the handlebar support and bringing it in with a stirring motion that hooks the front wheel to the frame.
Then, release the seat lever to drop it and tighten it again to keep it in place.
Next, release the hinge clamp on the handlebar support to allow it to drop and automatically stay in position.
Finally, rotate the crank of the pedals so that the right pedal is touching the front wheel. Lastly, you can press the pedal latch to fold it up, and you are ready to go.
This seems exhausting, but with this visual guide, you'll see it takes less than a minute to do. 
Dahon, on the other hand, prefers a lattice-forged hinge and vise-grips. The steps include,
Release the seat clamp to lower it.
Open the handlebar clamp to position your handlebars downward and close again.
Open the handlebar support clamp and set the telescopic post. Close clamp.
Release the main stem to let the handlebars swing down.
Release the central lattice hinge in the middle to fold the bike in half.
Fold down the pedals.
Following this video, you'll notice Dahon takes half the time to fold than a Brompton. This is likely thanks to their fast-release lattice hinge with vise-grip tech as their central hinge.
5. Commuting
For most of us, purchasing one of these bikes makes our ride to work more pleasant and much quicker. When it comes to being used to taking you to and from work, these two companies' bikes are pretty different!
Brompton's bikes are made of high-tensile steel, which is exceptionally lightweight but a bit on the flimsy side.
This makes them very easy to carry, but they're best fit for urban commutes or multi-modal commutes that require you to ride a short distance, take a train or bus, and then ride the rest of the way. 
Meanwhile, the larger and sturdier Dahon models make riding a dozen miles to work and back much more comfortable to avoid the bus. They typically use 20" wheels and 4130 Chromoly steel for a more confident ride. 
Since it is made with a sturdier and heavier material, it isn't as easy to carry around, so keep that in mind if you live in an apartment and have to take it up and down the elevator or stairs. 
6. Cost
This is usually the deal-breaker for everyone, but many times it's worth spending a little more to get the bike that you want, so that's why this factor is one of the last.
We can say that Dahon beats Brompton in price, hands down. With their cheapest bike starting at $500, Dahon is two to eight times more affordable than Brompton's options.
Conclusion
So, you should opt for the folding bike that best suits your needs rather than focusing strictly on each company's reputation.
Still, Bromptons will be great if you need a smaller bike because you're a little shorter or your commute is short. 
Meanwhile, Dahon bikes are perfect for anyone who needs to make a longer ride and find the small Bromptons a bit uncomfortable. I hope this article clears things up for you. Happy riding!