When you use our links, we may earn an affiliate commission. Learn more.
Citizen folding bikes are trendy and for good reason. They offer a comfortable and easy riding experience. Riders from every corner of the country choose the unique folding models of Citizen. 
They have been offering folding bikes to customers for more than 15 years. 
Folding bikes are the perfect transportation solution that makes daily life a lot easier. Despite having an affordable price, they offer high-quality materials along with unique styles. You can get different accessories free of cost by purchasing your folding bicycle from Citizen.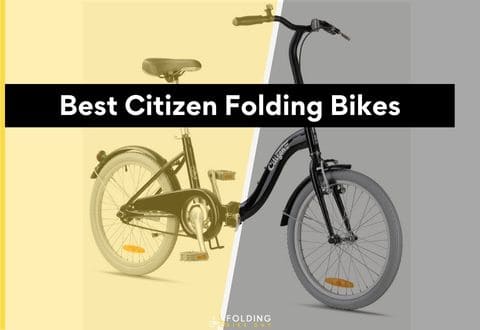 The company also helps set up the bike at the time of delivery and offers all the accessories at no cost.
After service, this company is very well praised by the customers as they are available 24×7 to help you with any difficulties via call and message. In case of any problem, they will reach out to you and fix it very quickly.
Suppose you are thinking about choosing the best model for your purchase. In that case, some of the Citizen folding bike reviews are given below. 
At A Glance
1. CITIZEN MILAN REVIEW
Our Rating
PROS
Folds away rapidly
Slim and compact design
20-inch wheels (our preferred size for foldable bicycles)
Durable and sturdy frame
CONS
Single speed
Not so comfortable for longer rides
One of Citizen's best-selling folding bikes, Milan offers an excellent experience for beginner riders and great comfort for experienced riders. It comes with 20-inch alloy rims and a very attractive design. 
The size of this bike is quite compact to carry around and fits perfectly in small storage.
The superior durability of this bike makes it an ideal choice to use in any terrain. The bike is very easy to fold, and setting it up when you need to get going takes less than a minute.
The bike is made to withstand more than 220 pounds of weight with a sturdy finish.
There are adjustment options available to customize the bike based on requirements. It offers a maximum height range of 5-6 inches to the users. 
Unlike many other models, you can fold the pedals in Citizen Milan, giving it a very compact look. Overall, the Milan is one of the best Citizen models that comes in an affordable price range. 
2. CITIZEN TOKYO REVIEW
Our Rating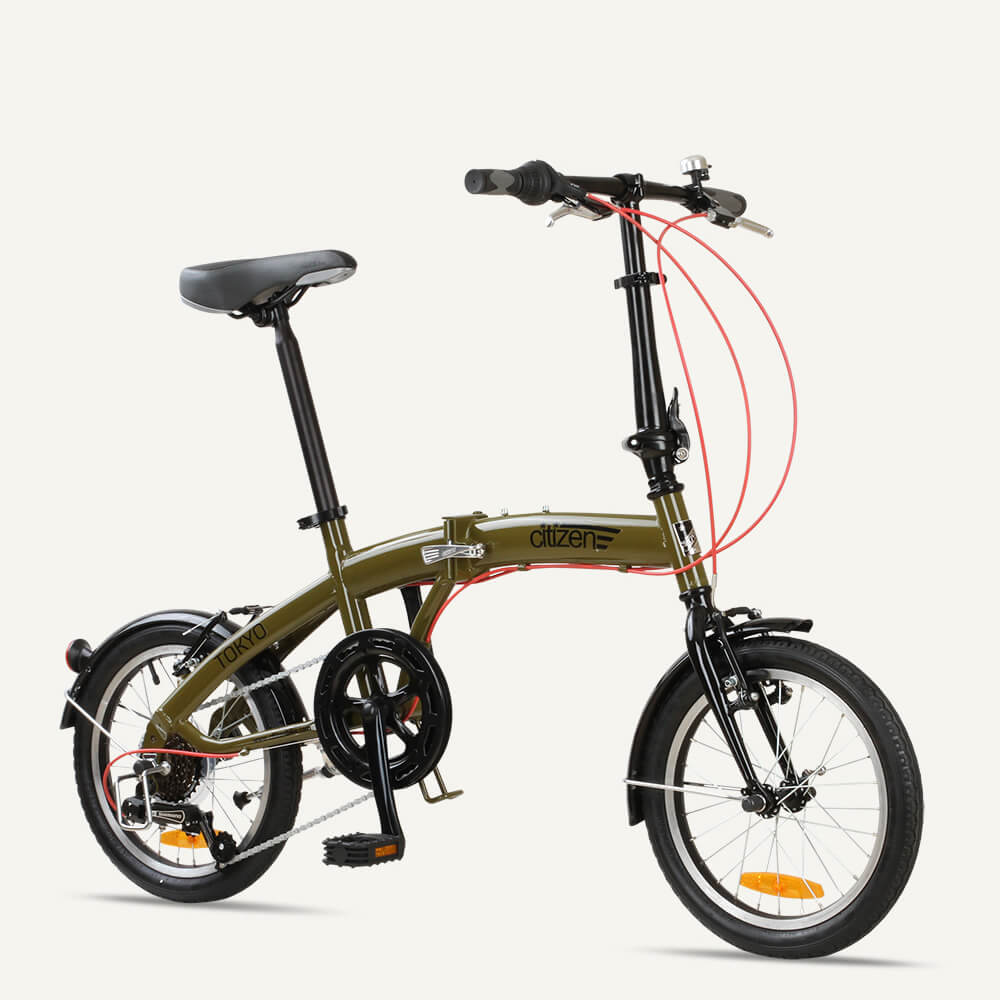 PROS
Stylish design
Affordable price with great features
Lightweight to carry
6-speed gear system
Ideal for long-distance rides
CONS
Takes time to assemble
The gear system is placed very low
Tokyo is another trendy Citizen model known to be an ideal choice for riders of every age. From incline and decline to urban streets, the bike performs very well in different terrains. 
It has a total of 6 gear options that helps the riders to choose based on speed requirements.
The bike itself is convenient to carry around, and the folded version can be easily stored in the back of the car or office desk.
It can take more than 220 pounds and a rider between 5 to 6 feet without any issues.
However, this bike stands out in the market among all the other competitors with its durability and excellent materials. 
Tokyo offers some additional accessories that will add more reasons to choose this model over any other, including a wireless music speaker, LED lights, and a basket. All these features make it a perfect companion to go out on a long ride.
3. CITIZEN MIAMI Folding Bike REVIEW
Our Rating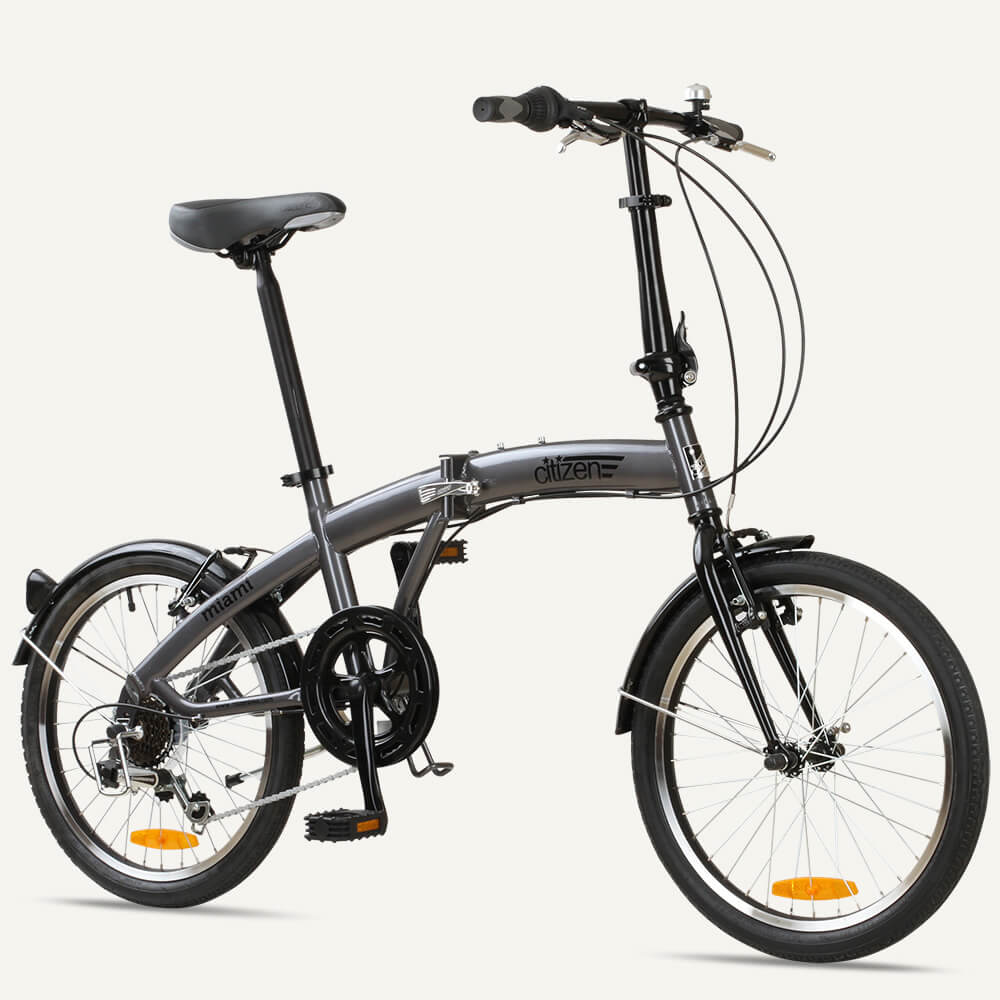 PROS
Made using strong material
6-speed Shimano drivetrain
Simple and easy folding mechanism
Durable and sturdy finish
Sleek and attractive design
CONS
Pedal quality needs to be improved
Not ideal for long-distance rides
Citizen Miami is an excellent choice for riders who use bikes for daily use and short rides. It is designed with a steel frame of 20 inches which makes it perfect and durable for all riders. 
The unfolding and folding of the bike are pretty simple, making it easy for beginners to handle.
No additional tools come with both the folding or non-folding versions of this bike. You can set the speed as you like using the 6-speed gear system of this bike.
The riding experience of Citizen Miami is one of the best because of the comfortable sitting posture. Also, the seat is adjustable, which helps you to set it based on your comfort. No matter the road's terrain and condition, the bike can quickly get through it without any damage. 
This bike's maximum weight can withstand 220 lbs and a height range of 5 to 6 inches.
4. CITIZEN SEOUL REVIEW
Our Rating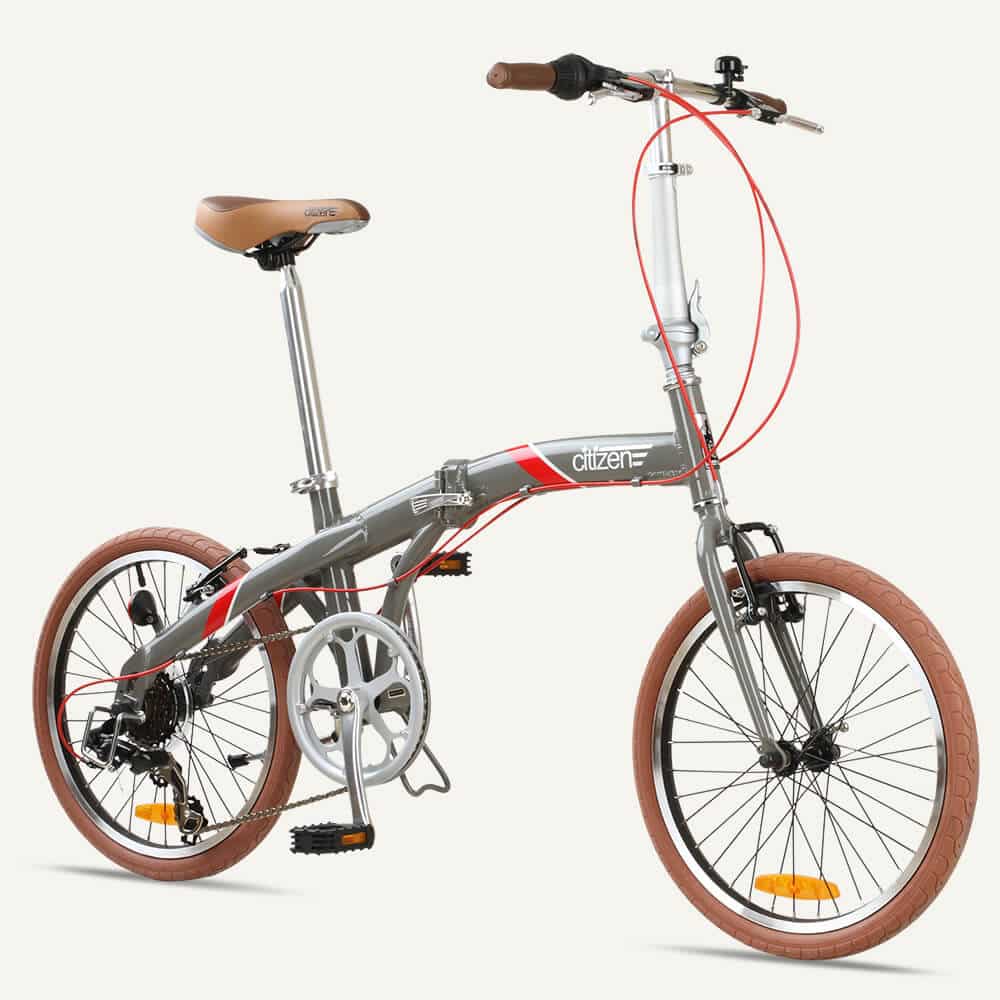 PROS
Efficient 7-speed gears
Excellent design and style
Lightweight and compact
Convenient for every terrain
Adjustable seat for maximum comfort
CONS
Some components need improvement
No disc brakes
Seoul is one of the folding bikes of Citizen that increased brand recognition with a comfortable riding experience. It is known to be a very good value-for-money bike that comes with different features and options. 
You can choose the design, style range, and color of this bike that perfectly fits your personality. 
Despite being very stylish, the materials used in this bike are very strong which makes the Seoul folding bike durable. Like other Citizen models, this bike's weight capacity is 220 lbs, and 5 to 6 feet in height range.
However, the feature that makes it very different and special from other bikes in this price range is the 7-speed gear system. It helps to get full control of the bike on rough terrains to have a joyful ride. 
It takes a very short time to fold this bike and a short space to store it. 
The sleek design with an attractive style makes it very eye-catching. Riders have the option of adjusting the seat based on their sitting posture.
5. CITIZEN GOTHAM REVIEW
Our Rating
PROS
Comes in a variety of colors
Lightweight and compact design
7-speed gear system
Easy to fold and store
CONS
High handlebars
Latching system is not available
This model of Citizen won the hearts of millions of experienced and beginner riders around the world. Gotham is very commonly chosen among all the other folding bikes because of its rich features. 
The simple mechanism of folding helps the riders to fold and store it under one minute. 
You can choose the color of this bike among a wide range of options to meet your personality. If you ride on different terrains, this bike is ideal for you as it comes with a 7-speed gear system.
The entire frame of the bike is made using an aluminum alloy that makes it extra durable. Despite being made using aluminum alloy, this bike's weight is very light, making it easy to carry. 
The bike is usable for both long and short rides and provides great comfort. With all these features, this bike's price is affordable, which makes it the preferred choice.
6. CITIZEN BARCELONA REVIEW
Our Rating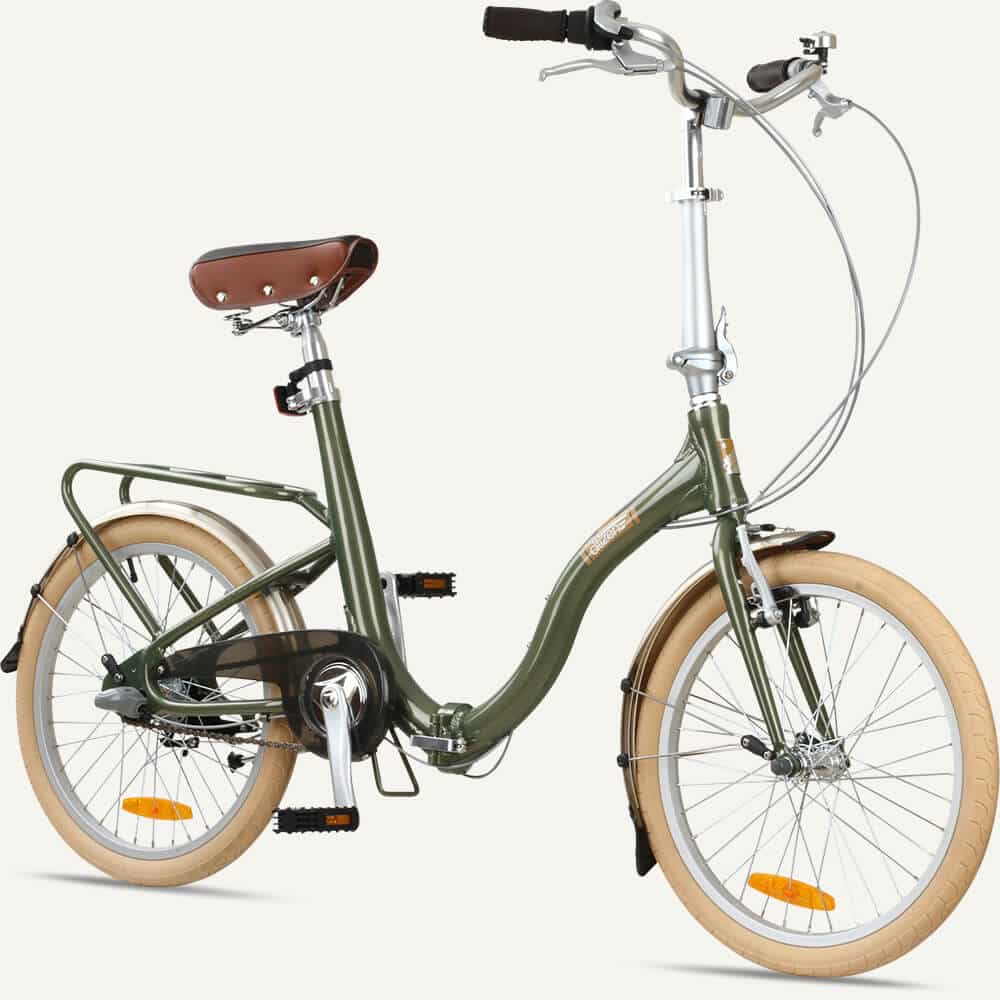 PROS
3-speed gear system
Attractive design
Internal shifting system
Includes a basket
Value for money
CONS
Bulky and heavy
Slow to fold away
The Barcelona bike from Citizen offers a plush design and classic styling with premium technology. The bike offers a wide range of features to customers. The cushioned grips help give a very good riding experience. 
It comes with a curved frame made of aluminum alloy. 
You can ride it off-road with the help of a low step-through specially designed for this model. It doesn't demand much storage space and is also very easy to fold and put away.
The gear system is 3-speed from Shimano Nexus which allows the riders to ride on rough roads. The gear shifting is effortless and comfortable which boosts the riding experience. 
The bike is very low maintenance which saves a lot of money.
Some other accessories available with this bike make it look more attractive, such as the woven basket. 
The pricing of this bike is very reasonable compared to other bikes with the same features.
Frequently Asked Questions
Are Citizen folding bikes any good?
If you need a bike for daily use, then Citizen bikes are convenient for you. They are comfortable with adjustable sitting posture, durable build quality, perfectly usable in different terrains, and most importantly, come with a good riding experience.
They are priced very low compared to other folding bikes available in the market. The customer service of Citizen is one of the best in the industry. So, among all the other folding bikes, Citizen bikes are one of the best choices.
Where are Citizen folding bikes made?
Citizen bikes are manufactured in the USA at their headquarters, then shipped and delivered after customization from the USA to different locations. The company has been offering the direct-buy option for over 15 years.
How do you fold a Citizen Miami bike?
Folding the bikes gets very easy after some practice. Here is the step-by-step guide that will help you know the Citizen Miami bike's folding process.
1. Release the clips on the handlebar, pull them down, and push the safety lock.
2. Release the "quick release" under the seat and push it down and close it
3. Now, push the pedals inwards and push downward to fold them.
4. Go to the center part and release the quick release, pull around and lift to release the safety lock automatically.
Conclusion
As mentioned above on Citizen bikes, most of them offer great comfort and riding experience. These models offer an easy folding and unfolding process, lightweight, and take short storage space. You can use them on different terrains as they are very durable and made with sturdy material.
Most of all, the Citizen folding bikes are available at a reasonable price, making them the first choice for the customers.
Mark Plummer
Mark Plummer
is an experienced bike mechanic who has built, repaired, and customized thousands of bikes over the years. A former mountain biking athlete, his cycling adventures have taken him all over the globe from the mountains of Scotland to the South Island of New Zealand. These days he enjoys the benefits of commuting to work and touring on his Dahon and Brompton folding bikes.
Get Our FREE Folding Bike Buyer's Cheat Sheet
This free cheat sheet will help you choose a folding bike by providing quick information on the 7 key considerations when buying a foldable bicycle!
By subscribing, you agree to get emails from Folding Bike Guy. We'll respect your privacy and you can unsubscribe any time.