When you use our links, we may earn an affiliate commission. Learn more.
Without a doubt one of my favorite-looking folding bikes at the moment, the Dahon Mu SL is forged out of an ultra-sturdy Dalloy Aluminium frame.
The bike has larger paired spoke wheels than the typical 20″ associated with folding bicycles.
Dahon has truly pushed the boat out with this exceptionally well-refined model, they have clearly incorporated everything that they know about crafting an ultra-light and fast bicycle – ultimately providing a particularly well-rounded model.
Dahon MU SL Folding Bike Review
Our Rating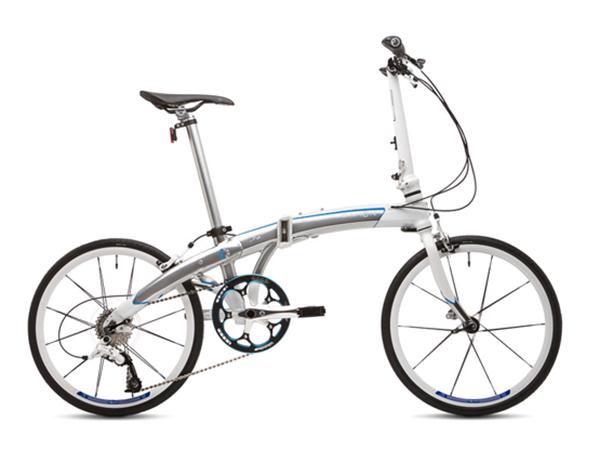 PROS
Very light, weighing in at around 23lbs
Rust resistant Aluminium frame
Gorgeously styled frame and paint job
Larger wheels – fast and stable
9 gear speeds to facilitate rapid hill climbing
Easily folded away in under 15 seconds
All components are of exceptional quality
CONS
Slightly larger wheels so takes up more room when stored away
Quite an expensive model
OUR VERDICT
"Not only a beautiful looking folding bike, but Dahon's MU SL has also been meticulously crafted out of high-quality components that will last a considerable amount of time. A truly high-performance folding bicycle."
All of the components used are of the highest quality, Dahon hasn't cut a single corner in the production of this premium lightweight folding bike.
"An elegantly styled high performance folding bike; the Mu SL is both fast and lightweight, what else could anybody possibly require – a true beast!"
There are so many benefits that this bike has it is difficult to fit them all into one review, however, I believe that my favorite feature is the 451mm wheels.
These do not simply offer more pace than the 20″ standard wheels, they also offer far more stability on the road too.
Not only that, I also found that these Kenda tires have outstanding grip and are some of the finest tires around on any folding bike.
Furthermore, the wheels are designed using a Dahon exclusive laser spoke rim layout, this reduces the weight of each wheel considerably.
To add to this, the Dahon Mu SL also comes with a 9 speed SRAM APEX derailleur, this effectively makes gear shifting largely unnoticeable.
The bike seamlessly shifts through the gears and this makes transitioning from flats to steep hills very simple.
Now, the thing that everybody is most interested in, is speed.
You will be pleased to hear that the Dahon Mu SL is not only as fast as any of the previous models that Dahon has offered, it is faster than the majority of them by a considerable margin.
The larger 451mm wheels make the Mu SL almost comparable to a full-sized road bike, this is quite the feat for what is in effect a folding bike.
If you are searching for a folding bicycle with a little more pace than the Mu SL might be the one for you, this bike truly flies down the road – and almost effortlessly too.
Full Review
In all honesty, right off the mark, the Mu SL had me impressed with its ridiculously good looks, the frame is truly elegantly styled and it has a paint job that anyone would envy.
It undoubtedly stands out from the crowd and rightfully so. Dahon has routed all of the cablings inside the frame, this feature is becoming somewhat standard among premium folding bikes these days, however, it is always a nice touch to have.
But in all seriousness, this bike offers so much more than just vibrant colors and gorgeous aesthetics, it is a beautifully refined bike that excels in every aspect possible.
Amazon Bestselling Dahon Folding Bikes
Last update on 2023-04-08 / Affiliate links / Images from Amazon Product Advertising API
Specifications
Folded Size
25.9″ x 14.5″ x 32.2″
(65cm x 36cm x 81cm)
Weight
23.5lb (10.6kg)
Wheel Size
451mm
Frame
Dalloy Sonus Tubeset & V-Clamp technology
Fork
Lightweight Dalloy Aluminum
Handlebars
Radius T & V-Clamp
Drivetrain
SRAM Apex Derailleurs & SRAM SL700 Shifters
Wheels
451mm Formula Xero
Brakes
SRAM Apex Caliper Brake
Concluding Remarks
I genuinely loved testing out the Dahon Mu SL, as I do with any of Dahon's more premier models.
There seems to be little room for improvement as this bike is far more advanced than your typical bike, it is lightweight, rapid on flats and hills, easily transportable, and above all just a well-rounded bike.
I can't really find anything negative to say about the Mu SL, if I wanted to be picky I could bemoan about the high price point, however, this is expected given the sheer quality on offer with this model.
To be honest, I'm still quite gutted that I can't keep this one for myself, however, it will be a bike I may consider purchasing in the very near future.
Thanks for reading, please go ahead and discover some of my other best Dahon folding bikes reviews today.
Mark Plummer
Mark Plummer
is an experienced bike mechanic who has built, repaired, and customized thousands of bikes over the years. A former mountain biking athlete, his cycling adventures have taken him all over the globe from the mountains of Scotland to the South Island of New Zealand. These days he enjoys the benefits of commuting to work and touring on his Dahon and Brompton folding bikes.
Get Our FREE Folding Bike Buyer's Cheat Sheet
This free cheat sheet will help you choose a folding bike by providing quick information on the 7 key considerations when buying a foldable bicycle!
By subscribing, you agree to get emails from Folding Bike Guy. We'll respect your privacy and you can unsubscribe any time.