Downtube folding bikes are quickly becoming one of the most popular ways of getting around. Downtube aims to capitalize on this popularity by presenting a range of bikes that provide a smooth, comfortable ride and a stylish finish. Even better, they are some of the most affordable models on the market. 
This approach has turned Downtube into one of the most popular folding bike manufacturers in the United States. Keep reading to look closely at some of their best models to see if they fit your needs.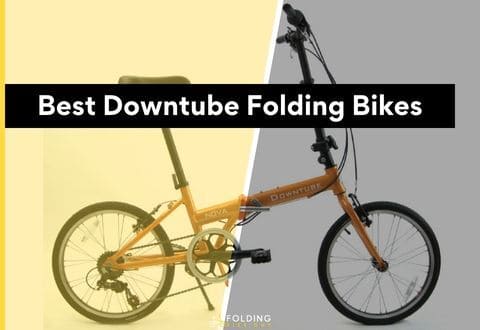 About Downtube Bikes
Downtube bikes were started in 1996 by Dr. Yan Lyansky. He was an avid cycler with plenty of miles under his belt and was an expert at mountain riding. This passion led him to develop the company's first folding bike in 2003.  
Since then, they have been working on refining folding bike technology.
Throughout this time, though, they have kept the customer at the front of their mind. They make their products in the United States, handling the manufacturing process in-house and selling their bikes directly.
This ensures that they can offer their products for an affordable price. 
Downtube Folding Bike Review – Expert Top Picks
Downtube offers an impressive range of folding bikes. Here are our favorite options ranked and reviewed: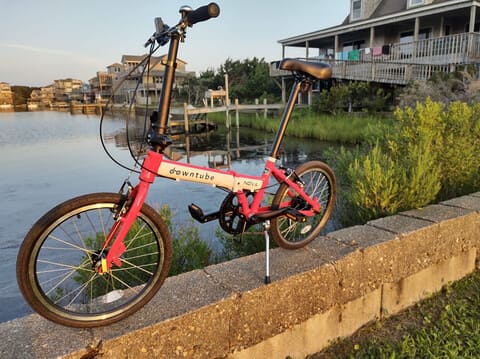 Pros
Inexpensive
Lightweight
Easy to adjust
Can cope with hilly sections
Easy to repair
Cons
Need to be careful to avoid bumps in the path
Review
The Nova is an excellent option for tackling the daily commute. There are many aspects of this bike that impressed me. First, it weighs just 24.5 pounds and folds into a compact package. This is essential when you are planning on traveling on public transport. 
Despite its low weight, the Nova offers exceptional performance.
The lightweight nature of this bike and the smaller tires ensure that it will be easy for you to get up to speed. Furthermore, it comes with an eight-speed gear system.
This ensures that you will be able to go up hilly sections with ease. Plus, you can adjust the saddle to ensure that the bike fits you comfortably. 
However, this bike does feature minimal suspension.
Because of this, you will feel it when you encounter a bump in the road. As a result, this bike is only suitable for use on paved roads.
It should be noted that this bike only uses standard parts.
This ensures it will be easy to repair. You should be able to take it to any bike shop. Plus, this bike comes with a one-year warranty. During this time, the excellent customer service team will be able to send you replacement parts.
Though you will have to make the repairs yourself.
Some customers report that this bike can experience mechanical problems. In particular, the pedals are the cause of most issues. 
However, this folding bike's most significant selling point is the low cost. It starts at just $750.
This is substantially less than other folding bike manufacturers, which can start at $1,000. Plus, this bike has various features that other manufacturers would charge for, like a frame protector and a kickstand.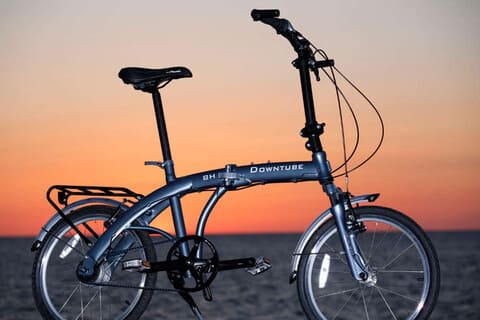 Pros 
Fast
Low maintenance
Lightweight
Comes with features like a kickstand and fenders
Strong and durable
Cons
The saddle can be uncomfortable.
Review
If you are looking for a folding bicycle that offers superior performance, the 8H is a good choice. There are a few features that help make this model stand out.
It comes with a Gates carbon belt and Shimano Nexus 8-speed internal gears. There are a few reasons why this is so important. 
First, the carbon belt is quieter than a chain.
It also won't be susceptible to rusting, so it will last many years. The internal gearing will help protect the belts from dust and grime. This reduces the amount of maintenance you will need to perform. 
However, one of the biggest appeals of having an 8-speed drivetrain in such a lightweight folding bike is that it allows you to pick up speed quickly.
Even more than an uphill section will be needed to slow this bike down. This bike handles well, feeling similar to riding a full-sized model. 
The frame is made of lightweight material, so it will be easy to lift the bike when folded. The frame is strong and can last for a long time.
It should also be noted that this bike comes with a wide range of accessories. It contains a kickstand, a fender, and a water bottle braze-on, though you will need to buy the cage yourself. 
The only downside in the performance area is that the bike saddle can be uncomfortable, particularly if you plan a longer ride. However, this is a relatively minor concern. If it is bugging you, it's easy to go into a bike shop and request that they replace it. 
Considering everything you are getting, this bike represents excellent value.
You can find it for under $1,600, while other manufacturers would charge over $2,000 for a bike that boasts similar features.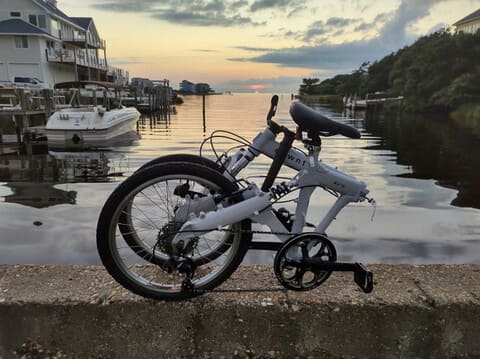 Pros 
Able to handle mild bumps in the road
Comfortable
Easy to adjust
Inexpensive
Cons
Review
If you need a folding bike that will feel comfortable to ride around town, the XFS might be the ideal choice. This is because it comes with a built-in suspension system. This is rare for folding bikes, and only premium brands tend to offer it.  
Because of the suspension, you can absorb any minor road bump. This creates a smoother ride. Though I wouldn't recommend going over any particularly rough terrain, like gravel. 
The comfortable riding experience extends to how you can easily adjust the bike to better fit your needs.
The XFS also offers an impressive performance.
Thanks to the 10-speed groupset, you can get up to speed quickly. Plus, you'll be able to head up hilly terrain without any hassles. Steering the bike is easy thanks to the excellent brake system. The tire rims have been textured to provide more stopping power. 
Like the other Downtube models, the XFS comes with a range of impressive features included as standard.
For example, you will get a kickstand mount, frame protector, two water bottle braze, a pump interface, and a head tube bag interface. This gives you plenty of scopes to customize the bike as you see fit. 
The price is affordable, considering the quality of the suspension system and the number of included features. Especially when you think other manufacturers can charge $2,000 or more for a folding bike with a suspension system.  
The bike is compact. It can be folded and placed into the back of a car or fit neatly into a closet.
The only drawback is that it is a little heavier than the other Downtube models we've looked at.
At 27.5 pounds, it's still easy enough to transport. But you would want to avoid carrying it around for an extended period. 
Pros
Better equipped for rougher rides
Feels like a full-sized bike
Wide gear range
Cons
Won't be as compact as other models
Review
If you are looking for a Downtube model that can take on some rougher roads, the Dylan 24″ might be the ideal option for you. This is because it comes with larger wheels than most other folding bikes. It can absorb any bumps in the road when coupled with a sturdier fork. 
Furthermore, the larger wheels give you more space to stretch out in the cockpit while riding.
This makes it feel more like you are riding a full-sized bike rather than a smaller folding bike. This makes for a more comfortable riding experience.
The larger wheels might make it harder to build up some momentum initially.
But it will be easier to maintain the top speed. Furthermore, it comes with a ten-speed gear system. This will make climbing up hills a breeze. 
Because of this, the Dylan 24″ is a common choice for longer rides and might be suited for touring. Furthermore, this bike comes equipped with a rear rack.
This gives you a place to put your luggage during the trip. Plus, you can get a fender to keep dirt off yourself while driving. 
But the larger 24-inch wheels come with a downside.
It makes the bike bulkier than other folding bikes when folded. Because of this, there might be better choices for the daily commute.
Though if you intend to use it for touring, where you will be riding for most of the day, this is less of a problem. The bike should fit comfortably into a car's boot or be stored in a wardrobe. 
Pros
Smooth ride
Powerful brakes
Easy to maintain
Comfortable saddle
Cons
It can be a little heavy
It might be a little bulky when folded
Review
Downtube says that this is the best commuter bike they have available. And it's hard to disagree. This is one of the only bikes in their range that has suspension.
But, thanks to the suspension system on the front brakes, you don't need to worry about minor bumps in the road. This ensures you don't need to worry about the occasional pothole as you are on your way to work. 
Another cool feature of this bike is its powerful braking system. The Tektro brakes and textured rims will ensure that you slow down as soon as you press the brake lever.
This ensures that you will have plenty of control over the bike. 
While the 10-speed gear system offers plenty of power, it's also easy to maintain because it is protected by a metal chain ring cover to keep the dirt out of the chain.
Plus, like all Downtube bikes, it uses non-proprietary parts. This ensures that you can quickly repair the bike as needed. 
However, the suspension system does come at a cost.
It makes the bike a little heavier, weighing 28 pounds. It also means that it will be a little bulkier when folded. This is a downside if you need to get on a lot of public transport on your way to work. 
How To Choose the Right Downtube Bike For Your Needs
As you can see, there are some excellent types of Downtube bikes for you to explore. Here are some things to consider to find the best model to suit your needs. 
You may also want to refer to this folding bike buying guide.
Riding Style
First, you must consider where you intend to ride your bike. For example, do you want a commuter bike that you will depend on city streets?
Or do you prefer something that can handle rougher terrain? Sometimes you might be looking for something that you can take on an overseas trip with you. 
Which Drive Chain Do You Prefer? 
Downtube offers two types of drive chains. You can either have a belt drive or a chain. Generally, the belt drive is the best option. It will be easier to keep clean, won't rust, and be quieter. But it will also be more expensive. 
Is Suspension Required? 
Sometimes, you might go over rougher roads and need a suspension system to insulate you from the bumps. A suspension system can smooth the ride if riding on paved roads, though it isn't strictly necessary.
Plus, a bike with a suspension system will be more expensive. 
Gears
It's a good idea to consider the number of gears you want.
This will often depend on the type of terrain you will be facing. On flat ground, you can get away with a single speed. Generally, it's better to choose an eight to twelve-speed. It's also important to consider whether you want an internal gearing system.
This will protect the belts or chain from dirt and grime, though it will be more expensive. 
Budget
Lastly, consider how much you are willing to spend. The good news is that Downtube bikes sell directly to the consumer. This allows them to make some of the most affordable folding bikes on the market. 
Downtube Bike Alternatives
While Downtube might be a famous manufacturer, other companies also make great folding bikes. 
Downtube vs. Brompton
Brompton is known for having some of the best foldable bicycles in the world. Their bikes are some of the lightest, most compact options on the market. Plus, they can be folded very quickly. The world record for folding a Brompton is just over five seconds. 
Plus, Brompton is known for providing exceptional comfort with world-class commuter bikes. The downside is that they are very costly. Often, a Brompton will be double the cost of a Downtube bike.  
Downtube vs. Zizzo
These two brands have a similar price range, though the Zizzo is often more expensive. Generally, though, the Zizzo brand is known for its high-quality bikes. They are built to last for many years to come. They come with a lifetime warranty on the frame, and long-term customers report a few problems. 
On the other hand, the Downtube bikes are also built to last.
Plus, it will be easy to upgrade and adjust them to better suit your lifestyle. Generally, if you want an affordable folding bike, both brands offer good options. 
Downtube vs. Dahon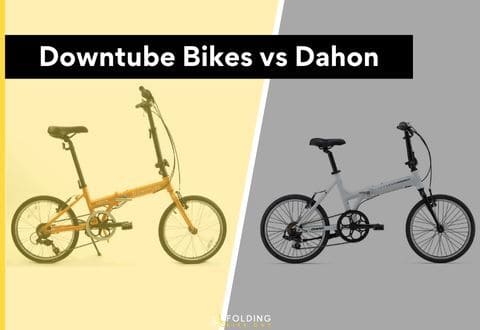 Let's start by looking at the prices. The Downtube range will often be cheaper than a Dahon with similar features. Generally, a Downtube will have a better selection of gear.
They tend to offer a nine-speed gear system, while Dahon ranges from seven to eight. 
Another big downside to buying a Dahon is that they have their own proprietary parts. This can make them more expensive and complex to repair. Downbikes will use standard features instead, which all bike shops will be able to source.
However, there is one big reason why you should consider using a Dahon bike. They tend to be lighter. 
Downtube Bike Verdict
Downtube folding bikes have earned a reputation for providing affordable bikes. While they might be cheap, they aren't low quality.
They have created a responsive, compact, lightweight range with superb features.
Because of this, they have become the most popular manufacturers in the United States. Plus, with a wide range, they will have a bike to suit every type of rider, so you can experience how much fun it is to own a Downtube.