When you use our links, we may earn an affiliate commission. Learn more.
"One gear, one thousand possibilities." Quite an ambitious statement by Durban, however, this is how they have decided to describe the Durban folding bike – while certainly true to an extent, this review outlines the downfalls of this entry-level Durban One budget folding bike.
DURBAN ONE FOLDING BIKE
Our Rating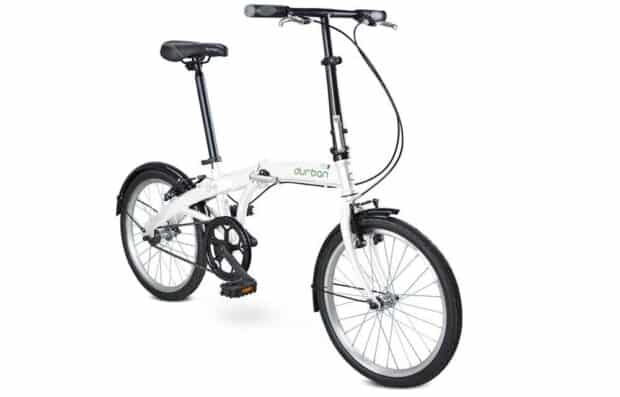 CONS
Single speed
Relatively heavy (over 30 lbs)
Flimsy build quality
Seems to rattle when moved or used
Quite bulky when folded down
OUR VERDICT
"A budget-level folding bike that is below par in almost every aspect possible. There are too many issues with this bike for me to recommend it to anybody – avoid."
Durban Bike Review
"Not a folding bike that I would personally recommend to anybody, a cheap bicycle model that has many downfalls and very few perks"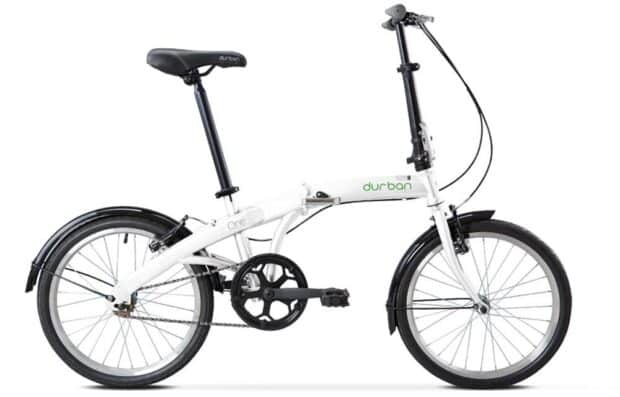 This single-speed folding bike really is the definition of what a budget bicycle is, it is formed out of cheap components in its entirety.
Straight out of the box you can immediately tell this.
Firstly, every part of the bike seems to rattle when you move it and when you ride on it. This is not a great initial sign and it sums up our brief review of this model.
The bike is not the lightest bike around either, it is steel framed and weighs 30lbs, notably more than most other folding bikes around.
Furthermore, while their website states that the Durban One should be able to be folded away in less than 15 seconds, we found that it took well over 20.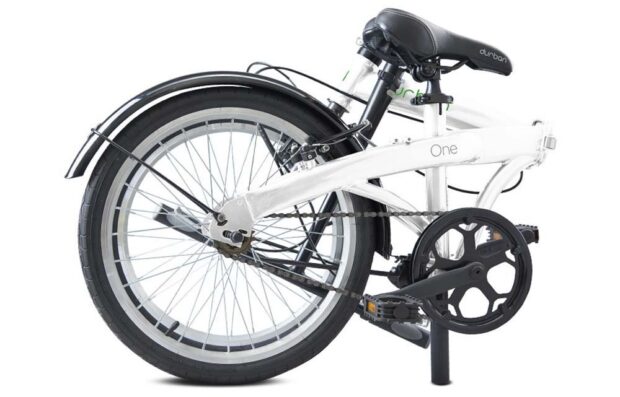 The folding mechanism wasn't particularly impressive either, this is one of the main sources of the 'rattle' we discussed previously.
The bike isn't really suited for long-distance usage because it is extremely uncomfortable, the frame isn't very stiff and you feel every single vibration. If you are planning on using it over short distances then I can't see this becoming too much of an inconvenience.
The single-gear speed setup that the bike offers means that while it can get up to a relatively fast speed on flats, it really struggles when you are on any hills.
Some single-speed bikes can cope well with hills, however, the Durban One does not and for that reason, I cannot recommend it for anything other than flat urban environments.
Specifications
| | |
| --- | --- |
| FRAME | High-Tensile Steel Frame with Durban B-Type Latch |
| FORK | High-Tensile Steel Fork |
| HANDLEPOST | Durban B-Type Steel Handlepost with Security Lock |
| SADDLE | Durban Comfort Saddle |
| SEATPOST | Steel Seatpost (Size 550mm) |
| BRAKES | Alloy V-Brake |
| BRAKE LEAVER | Alloy Brake Leaver |
| WHEELS | 20″ Alloy Rims / 20″—1.5″ Tires / UCP Spokes |
| SHIFTER | – |
| DERAILLEUR | – |
| FREEWHEEL | 16T Freewheel |
| CHAIN | KMC Chain |
| CRANKSET | 48T Steel Crankset |
| PEDALS | Folding Pedals with Reflectors |
| QUICKSTAND | Steel Kickstand |
| MUDGUARDS | 20″ Wheel Steel Mudguard |
| RACK | Not included (optional) |
| PAINT | Clear coating Over Decals |
| REFLECTORS | Front and Wheel (white) / Rear (red) |
| BIKE BAG | Not included (optional) |
| MAXIMUM LOAD | 210 lb (95kg) |
| SUGGESTED RIDER HEIGHT | 4'8″ to 6'3″ (1.40 to 1.90 meters) |
| ASSEMBLING | Fully Assembled (Final adjustment required) |
Conclusion
Overall the Durban One, albeit a cheap model, is not a folding bike I could ever see myself purchasing. There are better folding bike models out there for moderately more money and a handful that actually cost less too. 
I would personally steer away from the Durban brand in general and go for a more premium name, while I wouldn't recommend going for a name in all things in life, folding bicycles are generally well made by the bigger names around.
Mark Plummer
Mark Plummer
is an experienced bike mechanic who has built, repaired, and customized thousands of bikes over the years. A former mountain biking athlete, his cycling adventures have taken him all over the globe from the mountains of Scotland to the South Island of New Zealand. These days he enjoys the benefits of commuting to work and touring on his Dahon and Brompton folding bikes.
Get Our FREE Folding Bike Buyer's Cheat Sheet
This free cheat sheet will help you choose a folding bike by providing quick information on the 7 key considerations when buying a foldable bicycle!
By subscribing, you agree to get emails from Folding Bike Guy. We'll respect your privacy and you can unsubscribe any time.