When you use our links, we may earn an affiliate commission. Learn more.
Below is a list of folding bike manufacturers from around the world. If you know of other makers that should be added to the list, click on "Contact" in the footer below and send an email, and they will be included. 
The manufacturer's headquarters country of origin is listed, and while many have distribution outside their home country, availability may be limited.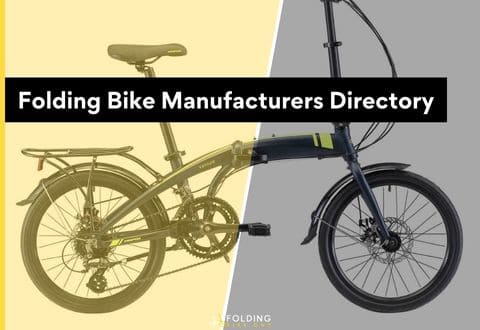 As with most bicycle companies today, their factories may be located outside the indicated country. Some folding bike brands you may come across in the market are not listed since they are not manufacturers; they are OEM or ODM partners. 
The directory was last updated in 2023 to include the latest folding bike manufacturers and remove obsolete ones that are no longer in business.
Folding Bicycle Manufacturers
#
---
17 Bicycle (Japan)
5Links (Japan)
A
---
A-Bike (UK)
Airnimal (UK)
Aleoca (Singapore)
Allen Sports (USA)
Alton Sports (South Korea)
A.S. Bikes (UK)
Asia Bicycle Trading Company (Taiwan)
Atala (Italy)
Aurorita (Argentina)
B
---
Bad Bike (Italy)
Batavus (Netherlands)
Bazooka (Canada)
Be.Bike (Japan)
Beixo (Netherlands)
Belize Bicycle (Canada)
Benotto (Mexico)
Bernds (Germany)
Bickerton (UK)
Bigfish (Slovenia)
Bike-in-a-Bag (UK)
Bike Friday (USA)
Biomega (Denmark)
Birdy (Germany)
Biria (USA)
Blanc Marine (France)
Breezer (USA)
Bridgestone (Japan)
Brompton (UK)
Brooklyness (USA)
BSA (India)
B'TWIN (France)
C
---
Carnielli (Italy)
Changebike (Taiwan)
Checker Pig (Germany)
Chedech (South Korea)
Cicli Elios (Italy)
Cigno Seventy (Italy)
Cinzia (Italy)
Citizen Bike (USA)
Clou (Austria)
Compagnia Ducale (Italy)
Conor (Spain)
Corex (South Korea)
D
---
Dahon (USA)
Dawes (UK)
Dibar (Taiwan)
Di Blasi(Italy)
Doppelganger (Japan)
Downtube (USA)
Durban Bikes (Brazil)
Dynamic Bicycles (USA)
E
---
Enda Bikes (Chile)
F
---
Falco (China)
fBIKE (USA)
Figmo (Taiwan)
Flamingo (Grace Gallant) (Taiwan)
Flebi (Spain)
Flik (Taiwan)
Folding Project (Greece)
Fonta Cycles (Ireland)
Fubi (Finland)
Fuji (USA)
G
---
Gazelle (Netherlands)
Giant (Taiwan)
Giatex (Taiwan)
Gitane (France)
GoBike (Canada)
Goericke (Germany)
Goods-2-Go (Lite Ride) (Canada)
GreenZone Bikes (USA)
Grigiocarbonio (Italy)
GTA (China)
H
---
Handybike (Germany)
Hasa Bike (Taiwan)
Helix (Canada)
Hercules (Germany)
Hidesawa (Taiwan)
High Minded Bicycle (China)
Hodaka (Japan)
Hummingbird Bike (UK)
I
---
Ignio (Japan)
Iko (Germany)
Italwin (Italy)
Ixi (USA)
J
---
Java Bikes (Netherlands)
Jee Ann (Taiwan)
K
---
Kansi (UK)
Kenhill (Germany)
KHS (USA)
Kinn-Ovations (USA)
Koga (Netherlands)
Komda (China)
K-Rock (China)
Kross (Poland)
Kuwahara (Japan)
Kwiggle Bike (Germany)
L
---
Lahsen (Chile)
Land Rover (UK)
Langtu (China)
Lapierre (France)
LIOS (UK)
Liyang (Taiwan)
Lombardo (Italy)
Lordan (Argentina)
LucaBike (USA)
M
---
Maderna Cycle Systems (Austria)
MBM (Italy)
Megamo (Spain)
Melon Bicycles (USA)
Mezzo (UK)
Mifa (Germany)
Ming Cycle (Taiwan)
Mizani Bikes (UK)
Mobic (USA)
Mobiky (France)
Moma Bikes (Spain)
Montague (USA)
Montante Cicli (Italy)
Montecci (USA)
Monty (Spain)
Moulton Bicycle Company (UK)
Murayama (Japan)
N
---
Nanoo (Italy)
Neobike (Taiwan)
Nyfti (Philippines)
O
---
Ocean Bicycle (China)
Olmo (Italy)
Onda Bike (Spain)
Onipax (Taiwan)
Ontek (Switzerland)
Onyerbike (Australia)
Orbita (Portugal)
Ori (Taiwan)
Origami Bicycle Co. (USA)
Origin-8 (USA)
Ossby (Spain)
Oyama (Taiwan)
P
---
Pacific Cycles (Taiwan)
Pacy (Germany)
Panasonic (Japan)
Panther (Germany)
Pashley-Moulton (UK)
Peerless Bicycles (China)
Pegasus (Germany)
Peregrine Bicycle Works (USA)
Peugeot (France)
Phoenix Bicycle (China)
Pinnacle Bikes (UK)
Polygon (Indonesia)
Pro Walker (Taiwan)
Puma (Germany)
Q
---
Q-Bike (Taiwan)
Qeridoo (Germany)
Quix (Germany)
R
---
Rabbit Cycles (Germany)
Raleigh (UK)
Retrospec Bicycles (USA)
Ridgeback Bikes (UK)
Rodados Aurora (Argentina)
S
---
Sakamoto (Japan)
Samchuly Bicycle (South Korea)
San Eagle (China)
Santosa (Taiwan)
Saracen (UK)
Schauff (Germany)
Schwinn (USA)
SEC (Taiwan)
Senan (China)
Sette (USA)
Shulz Bikes (Russia)
Shunde Qile (China)
Sliding Bike Development (Taiwan)
Slingshot (USA)
Smartcog (Japan)
Speed one Bike (Taiwan)
SRS Bike (Taiwan)
Strida (UK)
Sun Bicycles (USA)
Swift Folder (USA)
T
---
Tern (Taiwan)
Tianjin Flying Pigeon (China)
Tsan Ching Limited (Hong Kong)
Trinx (China)
TW-Bents (Taiwan)
Tyrell (Japan)
U
---
Umov Technologies (Canada)
Universal Cycle Corporation (China)
Utopia Velo (Germany)
V
---
Vello Bike (Austria)
Velori (USA)
VIO Bikes (Canada)
Vilano (USA)
Vrum Bike (Italy)
W
---
Weelin (France)
Wiel Bike (China)
Winora (Germany)
World Cycle Industrial (Thailand)
Worksman Cycles (USA)
X
---
Xootr (USA)
Y
---
Yeah Bike (Taiwan)
Z
---
Zed Cycles (UK)
Zero Cycles (UK)
Zerobike (Spain)
ZGL Bike (China)
Zizzo Bike (USA)
Mark Plummer
Mark Plummer
is an experienced bike mechanic who has built, repaired, and customized thousands of bikes over the years. A former mountain biking athlete, his cycling adventures have taken him all over the globe from the mountains of Scotland to the South Island of New Zealand. These days he enjoys the benefits of commuting to work and touring on his Dahon and Brompton folding bikes.
Get Our FREE Folding Bike Buyer's Cheat Sheet
This free cheat sheet will help you choose a folding bike by providing quick information on the 7 key considerations when buying a foldable bicycle!
By subscribing, you agree to get emails from Folding Bike Guy. We'll respect your privacy and you can unsubscribe any time.