When you use our links, we may earn an affiliate commission. Learn more.
Your folding bike can open a world of new transport options for you. If you're looking to save money on your daily commute or explore new places by bike, a folding bike is a practical and convenient option. But what types of public transport can you access with your folding bike?
Can you take your folding bike on the bus, for example?
In general, you can take your folding bike on the bus. As a rule, you must be able to lift your bike yourself, and it must comply with individual service size restrictions. Some bus services require you to store your bike in a bag and may only let you travel at the driver's discretion.
Rules regarding taking folding bikes onboard buses may vary depending on the individual bus service. We have all the information you might need to travel with peace of mind while out and about with your folding bike. 
Rules for Folding Bikes Onboard Buses
In general, there are some rules for taking folding bikes on board buses that you should be aware of to ensure a smooth journey for you and other passengers.  
Can You lift Your Folding Bike?
If you are taking your folding bike on the bus, you must be able to lift it in and out of the luggage storage area.  
One consideration when purchasing a folding bike is its weight. Generally speaking, the more expensive your folding bike is, the more lightweight it will be.  
Do You Have a Bag to Store Your Bike In?
Some buses require you to store your folding bike in a bag. This helps protect your bike. It also ensures that the pedals and chains do not accidentally injure other passengers.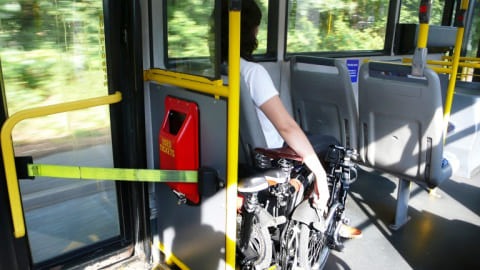 If you have been riding your bike somewhere muddy or wet, a bag will help protect the bus's interior from getting damp and dirty. So having a bag to store it in will stop you from encountering any problems with the bus driver in this situation.
A bag will also allow you to maneuver your bike more easily when boarding the bus or if you want to carry your bike around with you. 
Once the bike is in the bag, it is in disguise, so no one can tell it is a bike!
Respect Other Passengers
When taking your folding bike on the bus, apply common sense and courtesy to other passengers. Don't leave your bike in the aisle or anywhere you could cause an obstruction. Likewise, do not try and store your bike on a seat; you should keep it in a luggage compartment.   
Can I Be Stopped Getting on the Bus with My Folding Bike?
Individual bus services may have different rules when boarding a bus with a folding bike.  Many buses apply an at the driver's discretion policy.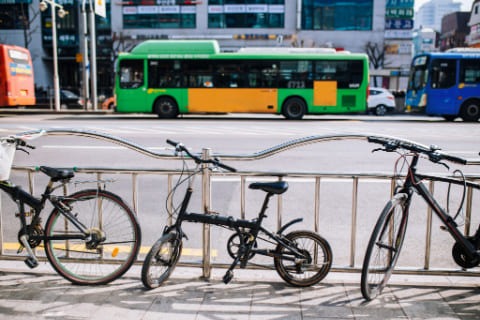 If the bus is jam-packed, they may not allow you on your folding bike. 
Avoiding traveling at peak times may help prevent problems like this; however, this may be unavoidable if you commute with your folding bike.  
Get Our Ultimate Folding Bike Guide
Learn How To Choose, Setup, Ride & Maintain Your Folding Bike with The Ultimate Folding Bike Beginner's Guide
Learn More
Does Size Matter When Taking a Folded Bike on the Bus?
Some buses may have size restrictions on luggage brought onto the bus. Check the dimensions of your folded bike. It would pay to check with the individual bus service to see if they have any size restrictions on luggage.  
How Does Wheel Size Affect Folding Bikes
When buying a folding bike, the size of the wheel is something to consider. The smaller the wheel size, the more compact your bike will be when folded.
The three most common wheel sizes for bikes are as follows.
| | | |
| --- | --- | --- |
| 16 Inch Wheel | 20 Inch Wheel | 24 Inch Wheel |
| Very Compact | Most Common size | Most Stable |
| Less stable | Smoother Ride | Good for difficult terrain |
| Lightest | Cheapest | Not Compact |
The size of your folding bike's wheels affects the overall size and dimension of your bicycle when folded and how your folding bike rides.  
16-Inch Wheels on Folding Bikes
The smallest folding bikes have 16-inch wheels making them light and compact, making them straightforward to store and transport. 
You should have no problem taking these folding bikes on the bus or other types of transport. Even in your carry-on luggage on a plane! Because of the miniature wheel size, they can be less stable and are maybe unsuitable for rough terrain and long-distance use due to their small tire size. 
20-Inch Wheels on Folding Bikes
The most common wheel size on a folding bike is the 20-inch wheel.  
Folding bikes with these size wheels tend to be cheapest as this is a more common wheel size than the 16-inch wheel, which means it's easier to get replacement parts as more companies manufacture them. 
Though they are not as compact as folding bikes with 16-inch wheels, they can give a more stable ride and can be more suitable for rougher terrain,  
24- Inch Wheels on Folding Bikes
The largest size of wheels for folding bikes are 24-Inch folding wheels.  
Folding bikes with large wheels may not be accepted on buses and other public transport. However, these types of folding bikes are great for people who want to do trail riding or ride on rough terrain.  
4 Cities That Allow You to Take Folding Bikes on the Bus
A folding bike is a unique and convenient option for exploring big cities, which allows you to move around freely and is a cheap method of transport.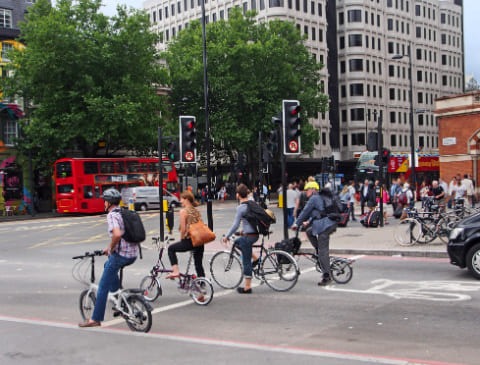 Many cities will allow you to take your folding bike on the bus.
For example, the following table outlines general guidelines for taking folding bikes on buses in London, New York, Toronto, and Singapore.
These four popular cities have bus transport options, allowing you to travel with your folding bike.  
Traveling Across Europe with Your Folding Bike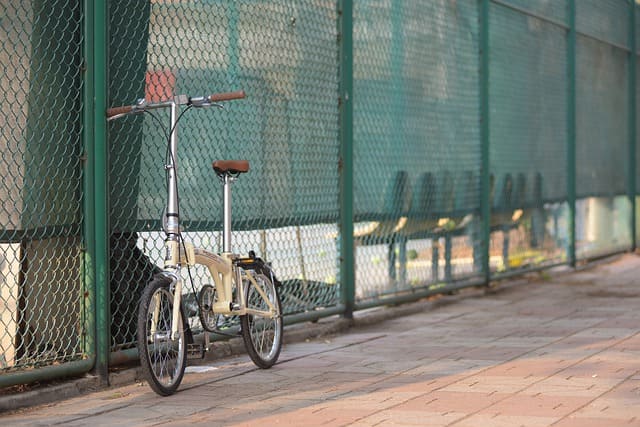 Thinking of taking your folding bike with you on a cross-European trip but not sure if you can take your bike with you on international bus services across Europe?
We have got the answer for you below.  
You can travel across Europe by bus with your folding bike. Two low-cost bus carriers operating routes across European cities are Flixbus and BlaBlaCar Bus, which allow folding bikes if they meet size and weight restrictions.
| | |
| --- | --- |
| Flixbus | Yes, it must be booked as special baggage, only one per person, and stored in a bag.  Max weight 70 lb, max. length + width + height = 95 inches, No E-bikes.    |
| BlaBlacar | Yes, it must be stored in the luggage hold, weigh no more than 23 kg, and have a length, width, and depth of no more than 200cm.  |
So, pack up your bike and get ready to head out on your next multi-country cycling adventure, hitting up European capitals with just you and your foldable bicycle!
Conclusion
In conclusion, most buses allow you to travel with your folding bike.
However, there may be a size restriction on luggage items so check with the service you wish to carry your bike on. Some buses have a driver's discretion policy.
It is a good idea to purchase a bag to carry your folding bike in for convenience and ease of transport, as some services require a folding bike to be transported in a bag. 
Mark Plummer
Mark Plummer
is an experienced bike mechanic who has built, repaired, and customized thousands of bikes over the years. A former mountain biking athlete, his cycling adventures have taken him all over the globe from the mountains of Scotland to the South Island of New Zealand. These days he enjoys the benefits of commuting to work and touring on his Dahon and Brompton folding bikes.
Get Our FREE Folding Bike Buyer's Cheat Sheet
This free cheat sheet will help you choose a folding bike by providing quick information on the 7 key considerations when buying a foldable bicycle!
By subscribing, you agree to get emails from Folding Bike Guy. We'll respect your privacy and you can unsubscribe any time.