When you use our links, we may earn an affiliate commission. Learn more.
Do you know what's awesome? Folding bikes. Yeah, you heard me right. These nifty little gadgets, once just the darlings of urban commuters, have become the go-to choice for touring enthusiasts. 
And why not? 
They're compact, portable, and super versatile. No wonder they're quickly becoming a favorite for folks looking to hit the open road on two wheels.
So, what's the deal with this folding bike touring popularity surge? Let me break it down for you:
The tech and design of folding bikes have come a long way, baby! Nowadays, these beauties perform just as well as their full-sized cousins. No more choosing between a good ride and a space-saver.
Foldable bikes and multi-modal transportation are a match made in heaven. Planes, trains, and buses? No problem! Just fold 'em up, and you're good to go.
Honestly, who wouldn't want to enjoy a fantastic journey without the hassles that come with traditional bike touring?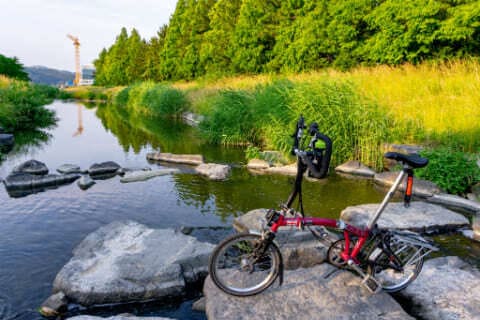 So, are you ready to join the folding bike bandwagon and try this new way of exploring the world? 
Trust me, once you do, you'll never look back. Let's dive into the world of folding bike touring and discover why it's the bee's knees!
Can Folding Bikes Be Used For Touring?
Folding bikes can be a good option for touring because they are lightweight and compact, which makes them easy to transport. This gives you more freedom to explore. For example, take your bike on a bus or boat for a day trip. Plus, a folding bike on an airplane is cheaper and easier than a conventional bike.
Folding bikes have limitations, such as their lack of suspension, lower weight capacity limits, and smaller wheel size. But you can manage these by packing light and choosing a suitable route.
Are Foldable Bikes Good For Long Distance?
Foldable bikes can be great for long-distance touring when chosen and set up carefully. Key factors include wheel size, gearing options, and frame material for a comfortable ride. Smaller wheels affect riding speed, but proper setup can ensure a satisfying experience. Personal preferences and riding style determine if a foldable bike is ideal for your adventures.
The key to a successful long-distance tour on a folding bike comes down to three main factors:
Bike choice: It's essential to select a folding bike designed with touring in mind. Some folding bikes are built more for short commutes, while others, like the Tern Verge Tour or the Brompton M6L, are explicitly designed for longer journeys. Choose a bike with a robust frame, good gearing options, and quality components to ensure it can handle the demands of touring.
Folding Bike Touring Setup: A well-prepared folding bike touring setup is crucial for comfort and efficiency on the road. Customize your foldable bicycle to fit your body and preferences, whether adjusting seat height, investing in a comfy saddle, or adding a suspension seat post. These small changes can make a notable difference in your overall touring experience.
Personal preferences: Touring on a foldable bike ultimately boils down to personal preference. Some riders may find that a traditional touring bike is a better fit, while others will appreciate the versatility, portability, and compactness of a folding bike.
Choosing The Best Folding Bike For Touring (4 Easy Steps!)
So, you're sold on folding bike touring, but how do you choose the perfect steed for your adventure? Here's what I look for:
Wheel size: Smaller wheels can be more portable and maneuverable, but larger wheels provide a smoother and more stable ride. What's your priority? It's a trade-off, but most folding bike tourers lean towards 20" wheels for that sweet spot of performance and portability. Keep in mind that smaller 16" wheels can still work for touring if you prioritize compactness and agility.
Gearing options: Touring can take you from steep hills to flat terrain, so you'll want a bike with a wide range of gears. Look for models with at least 7 gears or more if you plan to tackle diverse landscapes. This will make those long rides more enjoyable and less of a leg workout.
Frame material and build quality: Durability is vital for touring, so make sure your folding bike is built to last. Look for frames made from aluminum or steel, as both offer strength and sturdiness. And always check reviews to ensure the build quality is up to par—remember, a little research now can save you from trouble on the road.
Comfort and ergonomics: When spending hours in the saddle, comfort is crucial. Consider features like adjustable handlebars, ergonomic grips, and a supportive saddle to make your touring experience as enjoyable as possible.
Popular Folding Bike Brands For Touring
Now that you know what folding bike features to look for, let's check out some top folding bike brands that touring enthusiasts swear by. I've rounded up four of my favorites, each with its unique strengths:
Can You Ride Long Distances on A Brompton?
The Brompton brand is known for its high-quality manufacturing, which will be durable enough for long-distance riding. However, the 16-inch wheels reduce your touring speed and make traveling over bumps and potholes uncomfortable. Brompton's weight limit of 110 kg (242 pounds) may also be a problem for those going on a multi-day trip where you must carry a lot of gear.
Touring on a Tern Folding Bike
Are you considering giving a Tern folding bike a shot for your next touring adventure? You know, Tern bikes are incredible with their quality, innovative designs, and versatility. Many folding bike tourers are choosing them for a good reason. Riding a Tern folding bike while touring has some unique advantages:
Compactness and portability: With Tern's nifty folding mechanism, you can squish your bike into a tiny package. Great for public transport or fitting in tight spaces, huh?
Sturdy and reliable: Tern bikes are built tough, ready to take on long-distance touring with solid frames and high-quality components.
Versatility: Tern's got models designed just for touring, with plenty of gear options, wider tires, and cool features to make your ride comfy and smooth.
Ease of maintenance: The simple design of Tern's folding bikes means they're low-maintenance, so you can spend less time fixing stuff and more time enjoying the ride.
"I've taken my Tern Verge Tour on several long-distance trips, and I love its versatility and adaptability. The wide gear range makes tackling hills a breeze!"

Laura – folding bike touring enthusiast.
Not all Tern folding bikes are equal when it comes to touring. But don't worry; I'll share a few models that are perfect companions for your long-distance tours:
Tern Verge S8i: This baby's got a low-maintenance belt drive, a wide gear range thanks to the Shimano Alfine 8-speed internal hub, and built-in lighting and fenders. A reliable, high-performance ride for touring enthusiasts.
Tern Verge Tour: Made for touring, this model boasts a strong frame, many gears, and tough Schwalbe Marathon tires. The Verge Tour has a rear rack and integrated lights, so you're all set for extended trips.
Tern Node D16: It's not as compact as other Tern models, but the Node D16 sports 24-inch wheels for a comfier ride over varied terrain. Its 16-speed drivetrain offers plenty of gear choices and has fenders and a rear rack to boot.
Get Our Ultimate Folding Bike Guide
Learn How To Choose, Setup, Ride & Maintain Your Folding Bike with The Ultimate Folding Bike Beginner's Guide
Learn More
Folding Bike Touring Setup For Maximum Comfort
So, you've got your dream folding bike, but are you ready to hit the road? Before you pedal off into the sunset, setting up your touring folding bicycle for maximum comfort is essential.
After all, a great touring experience goes hand-in-hand with a comfortable ride. A properly adjusted folding bike can prevent pain, strain, and discomfort, making your journey all the more enjoyable.
Comfortable Saddle Selection
The saddle is your throne; a good one can make or break your touring experience. So how do you pick the perfect perch? Try different saddles to find one that suits your anatomy and riding style. A good touring saddle should be supportive, well-padded, and designed for long-distance riding. Brands like Brooks, Selle Royal, and Terry offer a range of touring-specific saddles.
Optimal Handlebar Position And Ergonomic Grips
Regarding handlebars, it's all about finding the perfect position. Adjusting the height and angle of your handlebars can alleviate pressure on your hands, wrists, and shoulders, making your ride a breeze. Look for a setup that allows a slight bend in your elbows and keeps your hands in a natural position. You can also consider ergonomic grips or bar ends, which provide additional hand positions and help distribute pressure more evenly.
Adjusting Gears For The Terrain
Being able to tackle diverse terrains is the beauty of bike touring, but you'll need to ensure your folding bike's gears are up for the challenge. 
Before setting off:
Familiarize yourself with your bike's gearing system and practice shifting smoothly through the gears.
Make sure you're comfortable with both climbing and descending, as well as cruising on flats.
If you find your gears lacking in range or flexibility, consider upgrading your gear ratios or adding an extra gear, such as a smaller chainring, to suit better the terrain you'll be conquering.
Essential Gear for Folding Bike Touring
If you want to tour comfortably on a folding bike, here is the essential equipment that you will need to take with you:
Tire repair kit. You don't want to be hampered by a flat tire. You should also have the skills needed to identify and fix the issues. It's also worth knowing where bike shops are along your route if you need to solve more advanced problems. 
Water and food. Proper hydration and nutrition are essential if you plan to ride long distances. It would be best to carry sufficient supplies or take regular breaks along your journey to give yourself time to refuel and recharge. 
Map. It's best to take a paper map of the route, especially if you are going into an area with patchy phone service. This will ensure you don't get lost and help you find new local attractions. 
Front and rear lights. These are required if you plan to ride at night on the road, ensuring that drivers can see you coming. 
A way of storing your gear. The most popular way to store your equipment is a pannier for the front and rear racks. At other times, consider bringing a trailer. On a shorter trip, you can keep everything you need in a hiking bag. Whatever option you choose, make sure that it's waterproof. 
Fenders. These stop mud and dirt from getting flung onto your clothes. 
Bike lock. Choose something secure so thieves won't be able to cut through it.
Of course, this list covers the basics and should be personalized to suit your needs. For example, you might need camping gear and a gas stove on a longer trip. 
Here are the clothes that you should be wearing during this journey: 
Helmet and sunglasses. These are vital pieces of safety equipment.
 Cycling jersey. This will include technology to help you wick away sweat to keep you cool while riding. The jersey should have long sleeves to protect you from the sun. 
 Bike pants. These will contain padding to help you sit in the saddle for an extended period. 
 Gloves. Gloves can help you deal with the vibrations if you go over rough terrain and protect your hands if you have a biking accident. 
Packing Tips For Your Touring Folding Bike
Here are my favorite packing tips to help you optimize performance on your touring folding bike: 
Use both front and rear panniers. It's recommended that 60 percent of the weight is focused on the front pannier. The rear pannier should take the remaining 40 percent. 
Pack heavier items at the bottom. This is a neat tip to lower your center of gravity and make your bike easier to control. 
Put essential items in the front pannier. It is easier to reach the front pannier, so you can grab the necessary items quickly.  
Strap bulkier items to the rear rack. This is the ideal location for tents and sleeping bags, which are too large to fit into a pannier. 
Lay everything out before you pack. This makes it easier to see double-ups. Try to avoid overpacking.
Planning Your Tour
There are a few types of bike tours that you can try, each with slightly different needs. The options include: 
Self-supported tour. This is where you will camp and cook food on a portable stove. You need to make full use of storage space on your bike. You might also need to tow a trailer behind your bicycle. 
 Credit card tour. You can ride during the day, then book yourself into a hotel at night. Furthermore, use public transport to help you reduce the amount you need to ride. 
 Vehicle-supported or organized tours. In this case, your equipment will be transported to the campsite for you, minimizing the amount you need to take on the bike with you.  
Factors To Consider When Planning A Tour
Here are three factors you should keep in mind to create a safe and comfortable bike tour on your folding bike:
Distance traveled. How far do you intend to travel each day? Most people will cycle between 40 to 60 miles each day. But if this is your first tour, you should lower the distance you must travel. 
Route. Are you going on a cycle path or riding on public roads? This might affect the distances between destinations and the number of safety precautions you need to take. You should also research the area and find interesting places to stop and investigate. 
Terrain. Plan on a shorter day if you must go over hilly terrain, which will drain your energy levels. 
Accommodation. Do you plan on camping or staying in a hotel? Will you need to book your accommodation or get a camping permit?  
Gear you are taking. Your equipment list will depend on the kind of tour you are doing. For example, you'll need camping gear for a self-supported tour. The heavier your gear is, the more energy you burn on your trip. 
Knowing the emergency exits. Sadly, an emergency injury can end your bike tour early. You should have a copy of the emergency contact numbers if you are touring in a foreign country. You should know how to contact the rangers in a national park. 
Navigational aids. Many people prefer to rely on a GPS unit or mobile app that can be mounted to the handlebars. I also like to take a paper map if I experience poor mobile coverage. 
Resources To Help You Plan Routes
There are plenty of great cycling routes for you to explore. Here are some ways to help find them: 
Google Maps. To get an overview of the roads in the area, allowing you to reach your destination while staying off highways and other busy streets. Plus, they have tools to help you find bike paths. 
 GPS App. This will let you plan out your route and stay on course. Many apps are available; make sure your chosen app works in the country you plan to tour. 
 National parks websites. National parks will have an extensive series of paths. The website will tell you the track type, how long, where it goes, and how rugged the terrain is.  
On the Road: Tips for a Successful Folding Bike Tour
Here are my favorite tips you can use to help you complete a tour on a folding bike safely and comfortably. First, it's essential to understand your fitness levels.
Adjust the route to suit your needs.
For example, if this is your first bike tour, you should try a relatively short trail that travels over mostly flat ground. 
Before you leave, you should ensure you are familiar with your bike.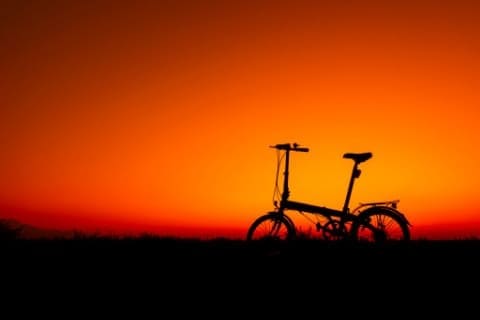 You should know how to repair any mechanical defects that you encounter along the way. If you plan self-supported camping, spend a few nights in the tent first. This ensures you know how to put it up and operate equipment, like a camp stove. 
Don't forget to give yourself regular breaks along the way.
This is an excellent chance to get off the bike and drink water and a bite of food. Stretch your legs before getting back behind the saddle. 
Scan the path ahead for potholes and other bumps as you are riding. Due to the smaller wheels and lack of suspension, you'll feel these bumps hardest when on a folding bike. 
Lastly, make sure to correctly set up your folding bike before you leave to ensure that you can maintain a comfortable riding position. Make sure that you have relaxed shoulders and a straight back. Your elbows should be bent, so you can better absorb any impacts. 
How To Overcome Common Challenges
You will face obstacles no matter how well you plan your biking tour. Here are some handy tips I've learned over the last 15 years of bicycle touring:
Navigating through unfamiliar routes. Before you start the tour, you should study the way to know where you should be going. You can use a GPS app on your phone to avoid getting lost. Have an old-fashioned paper map if your phone runs out of battery or you can't get cell service.
Dealing with inclement weather. During rain and fog, you should make sure that you wear bright clothing, so drivers can see you coming. It would be best to ride slower, as the slick roads can make it harder to control the bike. If things get too bad, shelter in a motel or head under a structure until the worst weather passes. 
Finding water. If you are touring a city, you can refill your water bottle in a fountain. If you are camping, look for a natural water source, like a stream or lake. Before drinking, you must filter and add a purification tablet to the water to remove contaminants. 
Popular Folding Bike Touring Destinations
There are so many incredible places that you can explore on your folding bike; some of the most popular options are: 
Europe. Europe has constructed extensive cycling tracks, making exploring on a folding bike easy. Europe has some of the world's most beautiful bicycle tour routes, so you can be assured of a memorable ride.  
North America. North America boasts many tourist attractions to explore. Even better, the cities have a network of bike paths, so you won't have any trouble getting around.
Asia. You can explore the beautiful historic temples of Cambodia, check out the beaches in Vietnam, or ride along the Great Wall of China with a folding mountain bike. 
South America. If you want a more scenic trip, try cycling through South America. These routes can take you to beautiful natural locations and let you explore areas away from cities and large population areas. 
Australia and New Zealand. These locations are known globally for their natural beauty, with white sandy beaches, lush forests, and a vast range of exotic animals. I toured the South Island some years back around Queenstown and Lake Wanaka; both were spectacular!
Folding Bike Touring Recap
In this article, we've explored the world of folding bike touring, discussing: 
Choosing the best folding bike for touring; and 
Setting up your bike for maximum comfort. 
I've also touched on the unique experience of touring on a Tern folding bike, essential gear and accessories, and tips for planning your route.
Hopefully, now you can see folding bikes offer a versatile and convenient alternative to traditional bikes for touring. 
With their compact design, portability, and potential for customization, folding bikes can take you on a memorable touring adventure. 
So why not give it a try? 
Pick the right folding bike, gear up, and hit the open road – your next incredible journey awaits!
Mark Plummer
Mark Plummer
is an experienced bike mechanic who has built, repaired, and customized thousands of bikes over the years. A former mountain biking athlete, his cycling adventures have taken him all over the globe from the mountains of Scotland to the South Island of New Zealand. These days he enjoys the benefits of commuting to work and touring on his Dahon and Brompton folding bikes.
Get Our FREE Folding Bike Buyer's Cheat Sheet
This free cheat sheet will help you choose a folding bike by providing quick information on the 7 key considerations when buying a foldable bicycle!
By subscribing, you agree to get emails from Folding Bike Guy. We'll respect your privacy and you can unsubscribe any time.