This folding bike has a whole lot of irony attached to it. Fuji made it for a Marlboro cigarette promotional campaign in 1996. 
It was touted as a limited-edition (not so limited since they were produced in the thousands) folding mountain bicycle, and the name of the campaign was "Marlboro Unlimited," with the word "Unlimited" featured on the bike's head badge decal.
How you obtained the foldable bicycle was you needed to redeem 2,200 "Marlboro Miles" and pay an additional $110.00.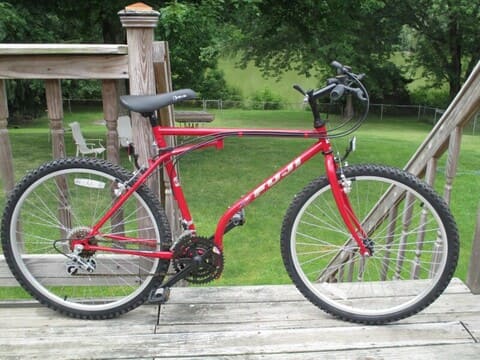 A smoker received 5 Marlboro Miles for each pack purchased, so 440 boxes would have to be consumed to earn enough miles. Without the Marlboro stickers, you could buy this bike from a Fuji dealer for $330.00.
The promotion was reasonably successful, and it turns out that the non-Marlboro version of this bike, the "Fuji Folder," is relatively rarer than this "limited" edition.
To continue the irony, you had to be a relatively heavy smoker to earn enough miles to get the bike. 
Many who ordered the bike, perhaps with the good intention of changing their lifestyle, hardly, if ever, rode them, and they regularly come up for sale in the used market in excellent condition. 
A reader of The Folding Bike Guy recently reported that they bought one at an estate sale in pristine, still-in-the-box condition for $110.00. The owner had died of lung cancer.
Fuji Marlboro Folding Bike Review
As the Fuji folding bike was built in 1996, reviewing and comparing it to the best folding mountain bikes available today would be unfair.
It is built from 4130 Chromoly tubings and has a 15-speed drivetrain and 26-inch wheels; these three design factors remain relevant today and make for a solid foundation for off-road riding.
I haven't ridden the Fuji myself; however, I did thoroughly enjoy watching LocoJoe's review and test ride of the Fuji Marlboro Folding Bike, which you can check out below:
If you want to own a vintage folding bike and become part of Marlboro's somewhat ironic history of sponsoring sporting pursuits, it would be worth investing in.
Does Fuji Make A Good Bike?
Fuji has a long history of making high-quality, reliable road bikes. Fuji bikes were manufactured in Japan until the 1990s, and today, they are built in several factories worldwide. Some bikers believe that the build quality of the Japanese-manufactured Fuji bicycles is superior to those made overseas.
While Fuji has a stellar reputation for road bikes, its mountain bikes could be better in design, specifications, and ride experience.
Did Fuji Bikes Go Out Of Business?
Fuji's American parent company, Nichibei Fuji Cycle Company Ltd., filed for bankruptcy in 1998. United States distribution of Fuji bicycles was taken over by Advanced Sports, which Jade Pacific subsequently acquired, a Taiwanese company.
In November 2018, the parent company of Advanced Sports declared bankruptcy leaving the future of Fuji's distribution and sales in the US uncertain.
Final Thoughts
Honestly, this was one of the most unusual folding bike reviews I have been involved in. Nonetheless, it was interesting to learn about the history of the Fuji Marlboro folding bike.
I suppose it's also worth remembering that during the 1990s, cigarette companies were relatively common in sponsoring sporting and outdoor activities. However, I don't recall many campaigns where you had to smoke more to buy a bicycle!