When you use our links, we may earn an affiliate commission. Learn more.
Giant Bikes is the world's largest bike manufacturer, and since its foundation in 1972, they have established a stellar reputation for producing innovative, quality bikes at competitive prices.
I had the pleasure of owning a Giant NRS 1 mountain bike and a Giant carbon fiber road bike which a friend of mine purchased while visiting the Giant factory in Taiwan where Giant bicycles are manufactured.
I loved both of my Giant bikes and was always impressed with how innovative Giant was.
For example, my NRS1 had a hydro-formed aluminum frame, one of the market's lightest and most robust frames.
But do Giant make folding bikes, and if so, how good are they? Let's find out.
Does Giant Make Folding Bikes?
Giant has been making folding bikes since 2003 when they launched the Giant MR4 folding bike. Since then, Giant has released three more models: the Giant Halfway, Giant Expressway 1, and Giant Expressway 2.
While Giant is the largest bicycle manufacturer in the world, they have limited folding bike experience and exposure compared to other leading foldable bicycle brands such as Brompton, Dahon, and Tern.
Are Giants Good Bikes?
Giant bikes are among the world's highest-rated mountain, hybrid, and road bikes because they invest significantly in developing leading technology. Through their scale, Giant can bring bicycles to market, which offer excellent value for money and last for many years.
Get Our Ultimate Folding Bike Guide
Learn How To Choose, Setup, Ride & Maintain Your Folding Bike with The Ultimate Folding Bike Beginner's Guide
Learn More
Best Giant Foldable Bikes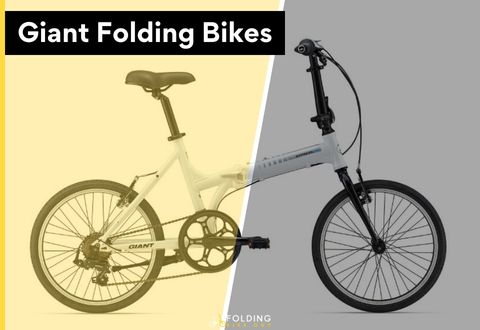 We have established that Giant Bicycles is a leading brand with a strong reputation for producing well-built, innovative bikes. What needs to be clarified is how that translates into Giant folding bikes and whether they can compete with the best folding bike brands.
I will answer that question by reviewing current and discontinued Giant folding bikes and providing some comparisons with alternative brands.
Let's go!
Giant Halfway Folding Bike Review (3.5 out of 5 stars)
The Giant Halfway is a discontinued folding bike released about a decade ago. It has a very unusual design which I have not seen in any other folding bike.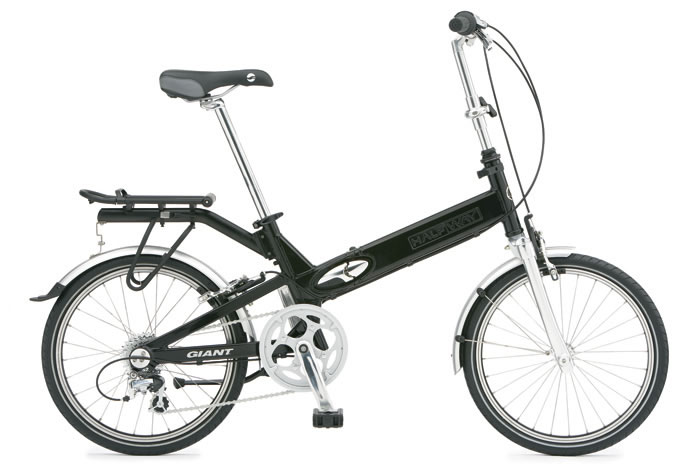 Specifically, the Giant Halfway has only one fork, reminiscent of the Cannondale "On folding bike design concept, which was never actually developed.
Similarly, the rear triangle is also one-sided.
While I'm okay with this design concept per se, I have previously had the opportunity to ride Cannondale Lefty bicycles. I found it odd having only one fork when you look down.
Overall, the Giant Halfway is a reasonable performer, and the 20-inch wheels combined with a simple 3-speed drivetrain make for fast, efficient commuting.
Pros
20-inch wheels are ideal for faster speeds on flat terrain and for improving rolling performance.
The single fork and rear chainstay design is unique and may appeal to some riders.
A 3-speed drivetrain assists in tackling hilly terrain or when riding against headwinds.
Cons
I was not too fond of the single fork and chainstay design.
The Giant Halfway is a little challenging to fold away, and the folded size is less compact than other brands.
The plastic chainring and other components were of poor quality, which may affect longevity.
Giant Expressway 1 Review (4 out of 5 stars)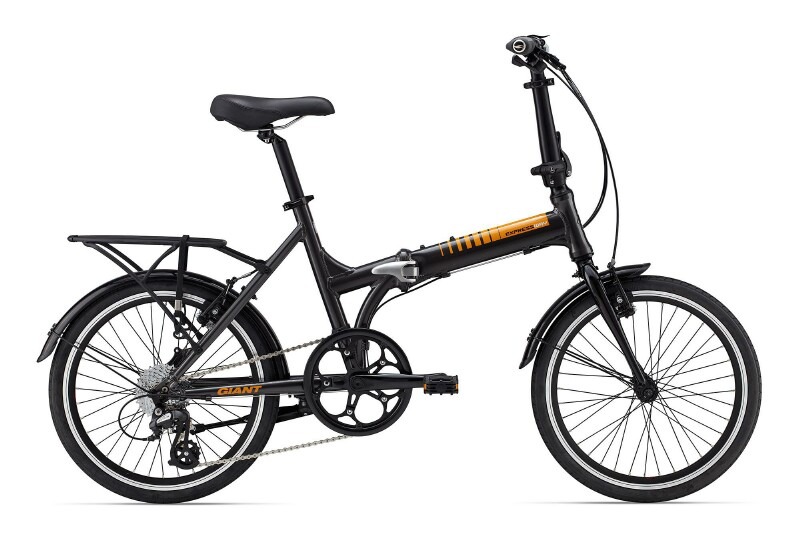 At first glance, the design of the Giant Expressway 1 reminds me of a Dahon folding bike. As you dig deeper, though, some unique features make it apparent that it is a Giant bicycle:
The ALUXX aluminum frame is a Giant proprietary technology.
The folding design and hinge mechanism are bespoke.
So how does the Giant Expressway 1 perform?
Overall it's another solid, if not outstanding, design from Giant, which performed quite well during testing. The Expressway 1 is built around a 20-inch wheel size and features an 8-speed Shimano Altus drivetrain.
I liked that Giant has thought about commuters' requirements and included a standard rear rack and mud fenders, which is an excellent addition and saves some money on post-purchase upgrades.
While it's hard to put my finger on it, better folding bikes are out there.
So unless you were buying the Expressway 1 at a heavily discounted price, I would consider other options, such as the Zizzo Urbano folding bike, which is lighter, cheaper, and feels faster than the Expressway 1 to ride.
Pros
The aluminum frame takes advantage of Giant's forging facility, which provides some of the lightest, most robust aluminum.
I liked that the Giant Expressway 1 comes with mud fenders and a rear pannier rack as standard; these are perfect for commuting without getting muddy.
The 1 x 8 drivetrain is ideal for riding in hilly areas with steep ascents.
Cons
Expressway 1 is only available in one size.
The Shimano Altus groupset is inferior to the Tourney groupset used on Expressway 2.
While this is a solid-performing folding bike, it is not one of the best.
Giant Expressway 2 Review (3.5 out of 5 stars)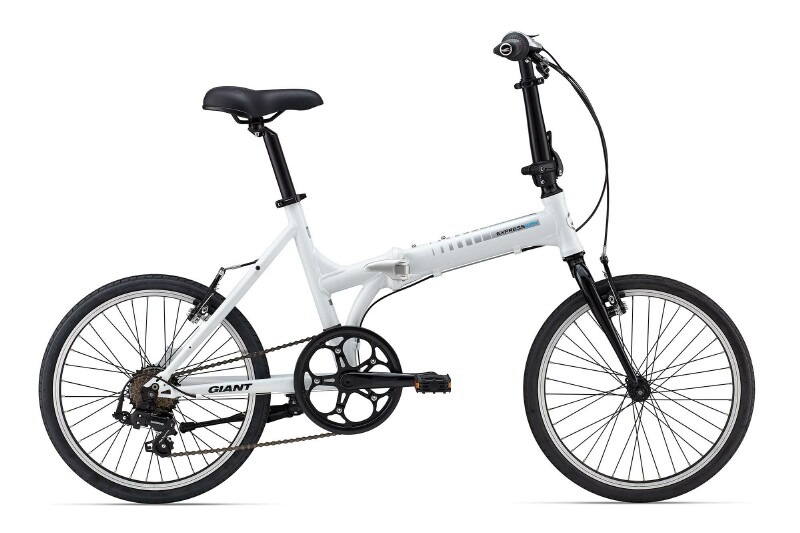 The Giant Expressway 2 is an updated version of the Expressway 1 and has many of the same design features. For example, the frame is identical to the wheels and most other components.
The drivetrain is the main difference between Giant Expressway 1 vs. Expressway 2. In the newer model (Expressway 2), Giant has downgraded from a Shimano Altus to Shimano Tourney groupset.
As a result, the Manufacturers Suggested Retail Price (MSRP) is less than the Expressway 1.
Overall, therefore, my review is similar for both Giant Expressway folding bike models; however, despite the lower price, I believe the Expressway 1 offers better value for money, especially if you are buying second-hand and can negotiate a good deal 😉
Pros
The MSRP of the Giant Expressway 2 is lower than the Expressway 1
Lightweight proprietary aluminum frame design
20-inch wheels offer improved performance over bumpy terrain and a higher top speed.
Cons
The Shimano tourney drivetrain is a downgrade from the Expressway 1, which featured an Altus drivetrain.
Only one size is available.
Giant MR4 Folding Bike Review (2 out of 5 stars)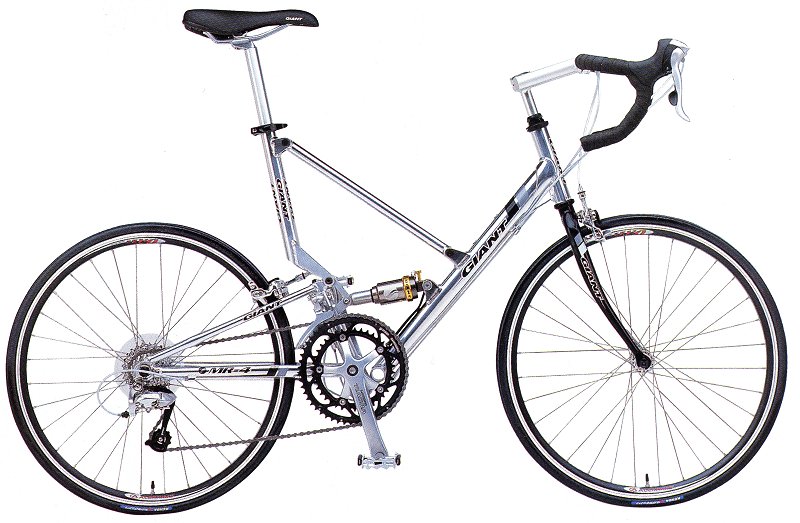 While I never had the opportunity to ride a Giant MR4 folding bike for myself, I wanted to include this discontinued Giant model because it's such a unique and quirky design.
The Giant MR4 was a folding road bike, built around 24-inch wheels, and featured a rear suspension which is somewhat unusual for a road bike.
The Giant MR4 came with drop bars, but you could also select flat bars.
This design wouldn't personally appeal to me; however, its unusual design certainly has its fans, as I discovered in this Bikeradar article. 
Pros
24-inch wheels combined with the road bike frame and handlebars make the Giant MR4 perfect for faster riding speeds.
The design is very unusual and may appeal to vintage folding bike lovers.
Cons
Adding rear suspension to a folding road bike increases weight and compromises transmitting pedal power.
24-inch wheels heavily compromise the size that the Giant MR4 can fold down to.
Alternatives
As I mentioned earlier in this review, it's vital to compare Giant folding bikes with other leading folding bike brands because Giant is not a specialist in this area.
I have provided some alternative options below and my recommendation for each.
Dahon vs. Giant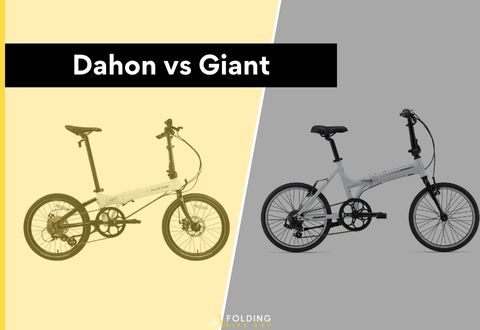 Dahon is a leading folding bike brand with a strong reputation and track record of producing excellent folding bikes. I recommend choosing Dahon instead of Giant because they have a better track record in the folding bike niche.
Giant vs. Brompton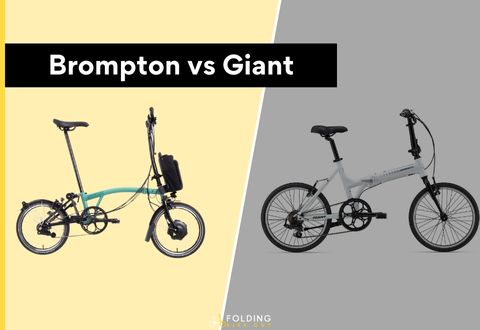 Brompton has a more extended folding bike history and offers a wider variety of foldable bicycles than Giant. Brompton is a better option for most people. However, they are more expensive than Giant folding bikes, so I recommend Giant for those on a limited budget.
Mark Plummer
Mark Plummer
is an experienced bike mechanic who has built, repaired, and customized thousands of bikes over the years. A former mountain biking athlete, his cycling adventures have taken him all over the globe from the mountains of Scotland to the South Island of New Zealand. These days he enjoys the benefits of commuting to work and touring on his Dahon and Brompton folding bikes.
Get Our FREE Folding Bike Buyer's Cheat Sheet
This free cheat sheet will help you choose a folding bike by providing quick information on the 7 key considerations when buying a foldable bicycle!
By subscribing, you agree to get emails from Folding Bike Guy. We'll respect your privacy and you can unsubscribe any time.