When you use our links, we may earn an affiliate commission. Learn more.
The Hummingbird folding bike first appeared on the market in 2016.
It's the brainchild of an innovative product designer and bike fanatic, Peter Craciun.
Craciun wanted to find a solution for bikes that were either too heavy or too complicated to fold.
His invention is now considered to be one of the best lightweight folding bikes. It's known for its durable carbon fiber frame and its stylish design.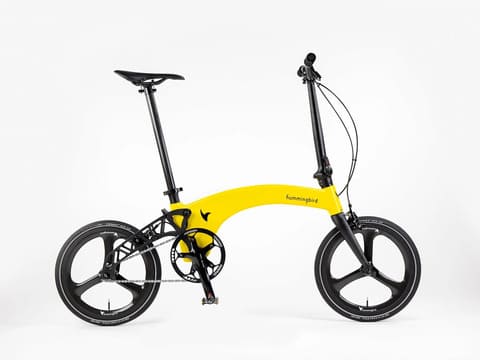 Folded Size: 117 x 60 x 20 cm | Gears: 4-speed internal gear | Weight: 7.24 kg | Sizes: One size
Known as the ultimate city bike, the Hummingbird is skillfully constructed and manufactured.
READ NEXT: BEST LIGHTWEIGHT FOLDING BIKES
Let's dive in and learn all there is about the Hummingbird.
Hummingbird Bike Review – Pros and Cons
Let's start by comparing the pros and cons, so we get a feel of what the Hummingbird is all about.
Pros
The single-speed version is the lightest folding bike on the planet, weighing just 6.9 kg
A stunning design that is sure to turn heads wherever you ride
The bespoke rear hub design eliminates the need for a chain tensioner
Cons
The price tag is out of reach for most folding bike riders (including myself!)
The single-speed design may not be ideal if you live in a hilly terrain area, although Hummingbird does offer a 6-speed option too
Hummingbird Folding Bike: An Overview
With its lightweight, state-of-the-art design, the Hummingbird is considered by many bike enthusiasts as the best lightweight folding bike. Keep reading to find out more about this stylish, state-of-the-art bike.
It's All in the Rear
One of the most innovative features of the Hummingbird's frame design is its rear hub. Made of lightweight aluminum, the CNC-machined rear hub remains pivoted around the bottom bracket.
This means the distance from the rear hub to that bottom bracket remains the same, even when you fold the bike. It does away with having to deal with pesky chain tensioners.
It's one reason why the Hummingbird is lighter in weight than other folding bikes.
Sleek Design
The Hummingbird looks great in yellow, but it's also available in burnt orange, black, and blue. Its sleek, modern design makes it one of the most aesthetically-pleasing folding bikes to date.
Besides being pleasing to look at, this bike is geometrically designed.
There's a sense of balance and symmetry to it. You feel the stability of the bike as you're riding, but, at the same time, you also get a sense of freedom.
Quick and Nimble
The Hummingbird was designed for city streets and carrying onto public transport. This is why it comes with one Sturmey Archer internal gear hub and only four speeds.
The designer wanted a bike with as few moving parts as possible to minimize weight. But then, it turns out that fewer parts are a good thing. It means fewer parts to fix, replace, clean, lubricate, and take care of.
Hummingbird Folding Bike Price
At the time of writing, the Hummingbird bike cost for the multi-speed option is £3,745 (British pounds). If you are ordering the bike from overseas the 20% Value Added Tax (VAT) will be discounted from your order 🙂
Get Our FREE Tricycle Buyer's Cheat Sheet
This free cheat sheet will help you choose a trike by providing quick information on the 7 key considerations for buying an adult tricycle!
By subscribing, you agree to get emails from Folding Bike Guy. We'll respect your privacy and you can unsubscribe any time.
What's Unique about the Hummingbird?
Find out more about this attractive bike. These three unique selling points make the Hummingbird a top contender in the world of folding bikes.
A Solid Frame
The Hummingbird's frame is made with beautifully-designed carbon fiber. It's what makes it the lightest folding bike.
Carbon fiber also ensures a smooth, comfortable ride, because it's highly stable and durable.
It's manufactured by Prodrive, a company known for its work building race cars for names such as Volkswagen, Aston Martin, and Subaru.
Each bike is engineered, processed, and built by hand at their facilities in Banbury, Oxfordshire.
This attention to detail makes the Hummingbird a reliable, user-friendly folding bike.
The carbon fiber makes it light to carry, yet, at the same time, it boosts its durability.
The way this bike is built ensures it can roll smoothly on almost all kinds of terrains with no problems.
The Hummingbird Fold
While there are many great folding bikes out there, none come with the claim of a 5-second folding time. The Hummingbird bike does.
To be honest, it actually takes around 20-25 seconds, but that's still an excellent time.
The whole process is extremely straightforward and easy to master. There are no tricks or complicated steps that take forever to get through.
There's a 4-step folding system.
Using a quick-release mechanism, it's easy to flip the rear wheel, the seat, and the handlebars under the main bike frame.
Once everything's been lowered into its place, you lock it together with a hook on the end of the bars.
Another great folding feature is the removal of the pedals. With a simple flip of your wrist, you can take off the pedals.
This reduces the chance of bumping into them as you're carrying the bike. It's also a great space saver when it's time to store away your bike.
You can even remove the front wheel. This is a handy feature to have, especially if you want to make the most out of small storage space.
The Wheels
Using ultralight aluminum alloy rims, the Hummingbird's wheels are unique and innovative.
The alloy offers many advantages over other types of materials, like steel.
First off, it makes for a lighter bike, without compromising its speed or stability.
The wheels are manufactured by German tire makers, Schwalbe Kojak.
It's a company whose name is synonymous with high-performance, top-quality products.
Also, the sealed bearings are some of the best we've seen.
This is why when you take the Hummingbird for a spin, you know you'll enjoy an effortless, seamless ride.
Conclusion
One of the world's best lightweight folding bikes, the Hummingbird folding bike is certainly making headlines.
It's proven itself to be a serious player in the bike industry, all thanks to its high-quality, top-performance features.
At the same time, there's no denying that it's extremely lightweight and portable.
Thanks to its simple folding technique, and carbon fiber frame, it seems that the Hummingbird has managed to get the best of two worlds.
Mark Plummer
Mark Plummer
is an experienced bike mechanic who has built, repaired, and customized thousands of bikes over the years. A former mountain biking athlete, his cycling adventures have taken him all over the globe from the mountains of Scotland to the South Island of New Zealand. These days he enjoys the benefits of commuting to work and touring on his Dahon and Brompton folding bikes.
Get Our FREE Folding Bike Buyer's Cheat Sheet
This free cheat sheet will help you choose a folding bike by providing quick information on the 7 key considerations when buying a foldable bicycle!
By subscribing, you agree to get emails from Folding Bike Guy. We'll respect your privacy and you can unsubscribe any time.