When you use our links, we may earn an affiliate commission. Learn more.
As an outdoor enthusiast, the Jeep Wrangler is possibly your ultimate adventure vehicle.
If you enjoy road cycling, mountain biking, are planning a road trip or relocating, a Jeep Wrangler bike rack is just what you need for your bikes.
Instead of piling them on top of your roof or cramming them into a truck, Jeep bike racks will protect them from possible scratches.
However, it is important that you choose the best bike rack for your Jeep Wrangler.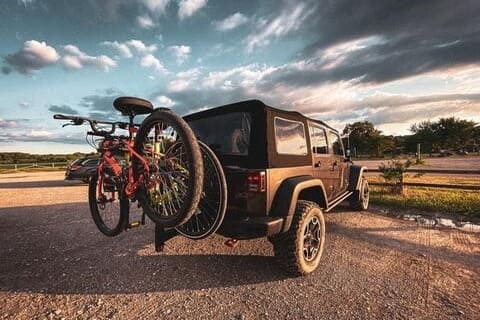 Here are the three top options for you to choose from.
Best Bike Rack for Jeep Wrangler
We've got every kind of bike rack you can think of here.
Whether you're looking for roof-mounted racks or a Jeep spare tire bike rack, bike racks for Jeep Wrangler on this list have it.
While there are several good options for bike racks for a Jeep Wrangler, these are the three top Jeep bike racks available in the market.
Last update on 2023-10-02 / Affiliate links / Images from Amazon Product Advertising API
This black alloy steel bike rack is simply one of the best Jeep bike racks available currently.
It is a quality bike rack and great for taking multiple bikes along on your road trip.
The quick assembling process and simple vehicle installation make it perfect for beginners. 
Once you take your new rack out of its box, you only need three bolts to assemble it and be on the road in a few minutes.
The hitch-mounted bike rack has a locking quick install hitch that is wobble-free and does not require you to use any tools.
The strap mounting attaches it quite snugly on your Jeep Wrangler or SUV.
The bike rack holds your bikes in place with its tie-down cradle system. 
You can also tilt the mount bike rack for convenient life-gate access. 
The protective black powder coating on this Allen bike rack offers protection from all types of weather.
By using the foldable carry arms, you can store your bike rack very easily because it uses up very little space.
Furthermore, this product is the best hitch-mounted bike rack for Jeep Wrangler on the market these days. 
Key Features
Hitch-mounted bike rack
Quick installation system with locking hitch insert that fits into the 2-inch receiver hitches
Comes with 2 keys
Quick setting foldable arms fold for storage or snap into place for use
Quick setting straps and tie-down cradles protect the bikes
Use internal tilt to release for convenient access to the liftgate
Padded spine shield for protection of bikes while being transported
Experience
Once you use this bike rack, you will realize that it is very easy to manage.
It's the first feature you notice in the best Jeep bike racks. You can tilt it back for easy lift and gate access.
By using the tie-down cradle system, your bikes will stay in their right positions during the journey. 
This bike rack can carry up to four bikes. 
It is exactly what Jeep owners need for their mountain bikes.
Upon arrival at your destination, simply fold the bike support arms and store your bike rack in the trunk.
The alloy steel material keeps the rack rust-free. Users report that the rack accommodates a diverse range of bike frame designs.
Users appreciate the fact that the rack folds down without having to remove the hitch.
This is useful while camping because you can open up your hatch and put back your things without having to remove the rack.
There are also some very positive reviews regarding the super easy-to-use straps, easy installation, and good value for money. 
Some users do report some difficulty in placing four bikes together on the bike rack.
While they were able to do so, it required some maneuvering. 
Last update on 2023-10-02 / Affiliate links / Images from Amazon Product Advertising API
This remarkable two bike rack is suitable for fat tire standards and electric bikes.
You can carry up to two bikes on this rack very conveniently. It allows a 60-pound weight capacity for bikes which is very good.
The KAC Overdrive is perfect whether you are traveling with your friend or partner or by yourself.
This 2-bike carrier will provide convenient and efficient loading and storage.
This bestselling and popular bike rack offers titling for access, padded hooks for safe frame retention, and folding for storage.
It also comes with a hitch adapter and provides no frame contact by using tire retention. 
This bike rack supports e-bikes or standard fat-tire bikes weighing up to 60 pounds each.
You can carry two bikes of any kind on the K2 hitch-mounted bike rack.
This is because of the adjustable and padded hook arms and the heavy-duty 5" wheel holders that can very easily carry a diverse range of bikes with any tire size, suspension, or frame. 
Key Features
A patented anti-wobble system keeps the bikes safe and sturdy.
The quick-release tilt system lets you access the rear cargo easily.
It also lets you fold up your bike rack when you don't need it.
Durable steel tubing, padded clamps, and locking hitch pin and knob to support 2 bikes weighing up to 60 pounds each
High visibility with rear reflector
Simple installation and adjustment due to pre-assembled parts
Lifetime, limited warranty to cover a diverse range of performance guarantees and mishaps
5th wheel or RV use is not allowed.
Experience
KAC products are generally affordable, high quality, and have a solid build.
The KAC Overdrive Sports K2 has all these qualities and more.
This is evident in the feedback from users who have shared their experiences with this bike rack. 
Users find the Overdrive Sports K2 easy to assemble and convenient to use.
The three locks on the rack ensure that it is hitched safely to your vehicle and that your bikes remain safe during your journey.
If you are not using the rack, you can easily fold it up. 
The price is also very reasonable given the high quality and features offered by this bike rack.
The bike weight that this rack can carry is particularly important as most racks in this price range do not carry as much. 
Another very important quality of this bike rack is that all its load-bearing parts are made of steel.
It is a heavy-duty bike rack with a good design and equally good quality manufacturing.
Your bikes will sit in it quite securely, more like a motorcycle carrier works. The tilting feature is especially useful and convenient for loading and lift gate access. 
The one concern shared by users is that the straps for additional security and bounce prevention were a bit short for the 4" tires.
In this case, you may want to use additional tie-down straps.  
Overall, this bike rack is exceptional and surely the best available product in this price range.
Last update on 2023-10-02 / Affiliate links / Images from Amazon Product Advertising API
This two-bike spare tire mounted rack by Hollywood Racks is the "best spare tire bike rack for Jeep Wrangler" available in the market.
Its unique design prevents bumps and scratches and provides a safe travel space for your bikes. 
The simple, durable structure of the Hollywood Racks SR1 allows quick installation and removal because of the rugged strap and clamp system.
If you want a spare tire-mounted bike rack for your Jeep Wrangler, this is the perfect one for you. 
It is completely adjustable and fits most kinds of spare tires. 
You can also center the support arms for spare tires mounted on the side or fold them when you're not using them.
The soft rubber cradles can hold two bikes that are held safely with integrated safety straps while in transport. 
Because it comes completely pre-assembled, you do not have to worry about even a simple assembly process.
Key Features
Practical black color
Made from durable nylon material
Good quality imported product
Completely adjustable and fits most spare tires
Foldable support arms
Completely pre-assembled for quick installation onto your spare tire
Spare tire mounted, removal not required
35 pounds maximum capacity per bike
Not suitable for e-bikes
For use with ladies frame bikes or children's bikes, a top tube adapter may be needed to fit them on the spare tire bike rack
Experience
Hollywood racks have been around for approximately 50 years.
The company focuses on making spare tire bike racks that do not need assembling and are easy to use. The SR1 Spare Tire Rack is one of their best products. 
This spare tire-mounted rack comes with many advantages, and the first is surely its high quality.
Made from powder-coated steel, this spare tire-mounted rack is a bit heavy to lift, but this very fact makes it one that will last for several years. 
There won't be any corrosion unless the powder coating gets damaged.
And if this happens, simply add another coat to maintain its high level of protection. The clamps and straps are equally durable.
Another advantage is that this spare tire-mounted rack fits alongside your spare tire.
The spare tire and its bolt stay in place as usual.
You can carry a variety of bike types in this spare tire bike rack, even those without a straight top bar.
You may have to use a top tube adaptor with your bike in some cases. 
The best part is that this spare tire bike rack comes completely assembled.
All you need to do is attach it to your Jeep Wrangler spare tire and then add your bikes. It is an impressive one indeed!
There are a few concerns.
The first is that it does not come with any security in the form of a locking system. If this is an issue, you can add a chain to secure your bike and bike rack. 
The second concern is that this spare tire bike rack may not fit spare wheels that have a hardcover or larger wheels.
So do check the compatibility of the spare tire bike rack with your Jeep.
Overall, this is the best spare tire bike rack for your Jeep Wrangler, and you will surely love it!  
How Do I Choose A Jeep Wrangler Bike Rack?
After reviewing three excellent Jeep bike racks for your Jeep Wrangler, we will now look at some of the things you must consider when buying a bike rack.
Because a bike rack will stay with you for several years, you must make sure that it is the right one for you and your car. 
The best Jeep Wrangler bike rack is one that has adjustable features suited to your car's specific needs like for example whether you carry spare tires.
If you do, you'll need a rack that can work with the spare tires.
Here's everything you need to consider.
Weight Limit for Bikes
This is a very practical factor that will play an important part in your choice of bike rack.
Bikes racks often allow a 70-pound weight. If you plan to carry only one bike, you can choose one with a lower limit for weight. 
However, it is advisable to choose one with a higher limit so that you have greater flexibility in the future. 
Security
The security of your bike rack and your bikes is an important matter.
This is because you do want to prevent any possible theft of either.
Most Jeep bike racks do come with a locking system of some kind, so you are most likely to have a safety feature. 
However, if you do end up choosing one without a lock, it is advisable that you consider the additional expense you will make on buying the lock.
Convenient Usage
You do want your bike rack to be easy to use.
If it is too complicated to use, you may end up half your time figuring out how to load and unload your bikes.
To make sure that your bike rack is user-friendly, you can do a dry run and install it at the store. 
One easier option is to watch video reviews online. 
Another important aspect of convenient usage is that if the bike rack is large in size, there should be arms that fold.
On the other hand, some racks are compact.
A smaller or foldable design will be useful for storage while traveling or at home. 
Choose a bike rack that is fully assembled or simple to put together.
Also, make sure that the bike rack comes with simple instructions for installing, mounting, and retrieving the bike. 
Style
Your choice of style for your bike rack is very personal.
However, it is an important factor to consider while choosing a bike rack.
It should have a good design and style so that it does not look unbecoming on your Jeep Wrangler. 
The color and finishing should align with your Jeep. 
Get Our Ultimate Folding Bike Guide
Learn How To Choose, Setup, Ride & Maintain Your Folding Bike with The Ultimate Folding Bike Beginner's Guide
Learn More
The Bottom Line
You now have all the essential information you need to choose the best bike racks for your Jeep Wrangler.
Among the top three Jeep bike racks available in the market that we have discussed in detail, you are sure to find the one that meets your needs perfectly. 
The Allen Sports 4-Bike Hitch Rack is super easy to use and ideal for beginners, the KAC model works superbly with electric and fat bikes, and the Hollywood Racks spare tire rack offers the best protection for your vehicle.
So, what are you waiting for? Pick one of these three options and go biking.
Mark Plummer
Mark Plummer
is an experienced bike mechanic who has built, repaired, and customized thousands of bikes over the years. A former mountain biking athlete, his cycling adventures have taken him all over the globe from the mountains of Scotland to the South Island of New Zealand. These days he enjoys the benefits of commuting to work and touring on his Dahon and Brompton folding bikes.
Get Our FREE Folding Bike Buyer's Cheat Sheet
This free cheat sheet will help you choose a folding bike by providing quick information on the 7 key considerations when buying a foldable bicycle!
By subscribing, you agree to get emails from Folding Bike Guy. We'll respect your privacy and you can unsubscribe any time.