Undoubtedly, many considerations must be made when identifying which lightweight folding bike is right for you.
Below I have drawn together the best lightweight folding bikes currently available.
Whether a lighter bike provides any significant benefits on the road is an age-old debate that has raged for many decades. This question has been a central topic of conversation among everybody, from amateur riders to professionals.
Ultimately the lightest folding bikes can make a massive difference on the road; however, it is essential to consider whether you require a more lightweight folding bike.
Is a lightweight bike worth it?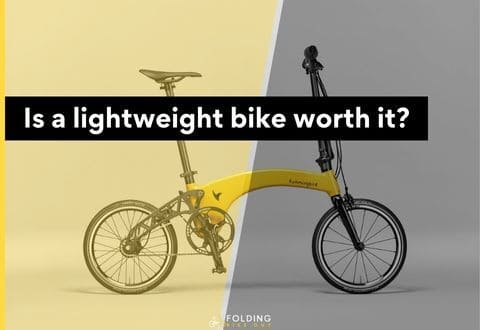 A lighter bike is worth it for commuters, and those who want maximum performance from their bicycle, especially when climbing steep ascents, as each pound of the weight difference between bikes, save 2.5 seconds on a 7 percent gradient climb.
A lightweight bike is also more responsive when riding and accelerates faster.
There are some disadvantages of lightweight bikes too.
Achieving an ultralight status often involves compromises in component selection (e.g., smaller wheels, fewer gears, no suspension) and has a higher cost due to the use of more advanced materials such as carbon fiber and titanium frames.
Another drawback of lightweight bicycles is that they are not as robust and can feel less stable when riding off-road, on bumpy terrain, or in a crosswind.
Which is the lightest folding bike?
The Hummingbird single-speed is the lightest folding bike ever made, weighing in at a claimed 15.2 lbs (6.9 kg). The frame and tri-spoke wheels are handmade in England from carbon fiber to achieve this ultralight performance.
What are the best lightweight folding bikes?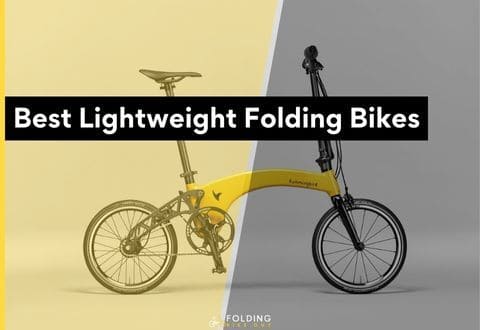 Here are the best lightweight folding bikes for 2023, ranked in order based on their overall weight. We have also included details on wheel size, frame material, and the number of gears to provide a fairer comparison between models.
Best Lightweight Folding Bikes
Many lightweight foldable bicycles above come in different configurations, such as with additional gears or accessories. I have generally selected the lightest format for this article, i.e., single speed, with no other accessories.
I also did some in-depth analysis to identify how frame material, wheel size, and folding bike brand affect a folding bike's weight. Let's take a look at that now, and I will share some exciting conclusions below: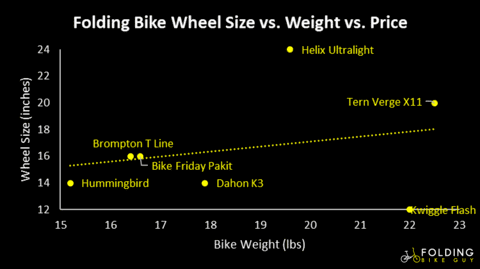 Based on my analysis, I have identified that:
Most folding bike brands have not compromised too heavily on wheel size to reduce overall weight. While I believe a 16″ to 20″ wheel size is optimal for most folding bike riders, reducing that slightly further to 14″ is a reasonable compromise to reduce weight.
The Hummingbird single speed is reasonably priced compared to the dollar per pound (dotted) trend line.
The Dahon K3 offers the best value for money as it is the furthest below the trend line in the middle chart. This supports my recommendation of the Dahon K3 as the best lightweight folding bike.
While I am on record saying titanium is the best bike frame material, it comes with a hefty price premium!
Aluminum offers good value for money in terms of weight vs. price, although none of the aluminum bikes ranked here were at the ultralight end of the scale.
Hummingbird Single Speed (15.2 lbs)
The Hummingbird single-speed folding bike has retained its title as "lightest folding bike in the world" for 2023. All up, the Hummingbird weighs a paltry 15.2 lbs (6.9 kg), which is achieved through a combination of:
A handmade carbon fiber frame, handlebars, and seat post
Ultralight tri-spoke carbon fiber wheels with Schwalbe Kojak Kevlar tires
The Hummingbird is equipped with super light components, including Tektro brakes, Shimano Alfine Hollowtech crankset
How does the Hummingbird Single Speed perform?
The Hummingbird is perfect for commuting thanks to the stiffness and responsiveness of the carbon frame and components.
While there are some design compromises to reduce weight (think 14-inch wheels instead of the standard 16-inch or 20-inch wheels and single-speed gears), this folding bike performed exceptionally well.
Another feature I loved is that it folds away in 10 seconds or less, which, combined with the lightweight, makes it super easy when getting on or off public transportation.
I did identify a few drawbacks of the Hummingbird, so let's discuss them too.
This incredible lightweight folding bike comes with a price tag to match, and because it is made in the UK, you can expect to pay additional import tax if you are a US resident.
While the Hummingbirds fold quickly and easily, it is not the smallest folding bike. The folded size is 46" x 23" x 8" (117 x 60 x 20 cm)
Brompton T Line (16.4 lbs)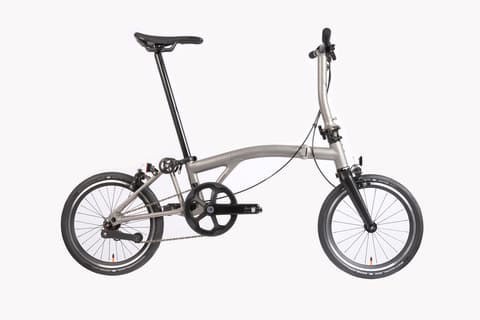 The T Line One is the lightest Brompton folding bike, weighing 16.4 pounds. The T Line offers all the usual benefits one would expect of a Brompton (e.g., a highly reputable brand, excellent build quality, exceptional customer service) with the bonus of a lighter weight.
How did Brompton achieve this?
The T Line is the lightest Brompton folding bike because the frame is built from titanium, which reduces the bike's overall weight by approximately 9 lbs (4.4 kg) compared to a typical mid-range Brompton.
Some other notable tweaks to the T-Line design result in a phenomenal ride experience. The frame stiffness is enhanced through wider tube shapes, while the titanium stem provides improved comfort by flexing a little more than a steel stem would.
I also found that the titanium frame and Schwalbe One Brompton tires were easier to control and more comfortable when riding on bumpy or uneven terrain.
Another subtle but much-appreciated design feature is the carbon seat post coated with a thin external layer of steel to prevent scoring. Brompton has gone above and beyond their already high standards designing the T Line.
Bike Friday Pakit Mk2 (16.6 lbs)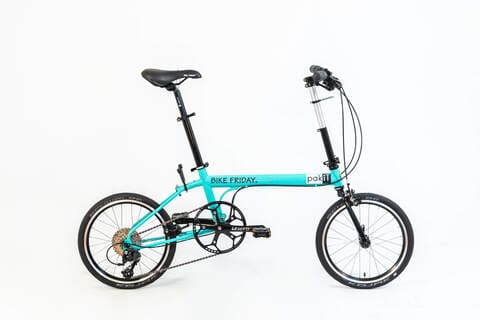 By way of a quick introduction, Bike Friday is a family-owned business founded in 1992 by brothers Alan and Hanz Scholz. Even today, every bike is assembled to your specific custom order requirements in their factory in Eugene, Oregon.
Over the years, Bike Friday has established an enviable reputation for producing the best folding bikes, and many Bike Friday owners have toured on long journeys with their bicycles.
The Bike Friday Pakit Mk2 is the lightest and most miniature model in their range and has been designed for commuters. They have a range of gearing options that you can select here – one option which I liked is the belt drive because it eliminates the risk of getting oil on your work clothes and makes a super quiet ride.
If you want to opt for gearing, they also offer an internal geared rear hub which again is a fantastic option as it minimizes maintenance and ensures longevity.
9-speed gears add approximately 2 lbs to the overall bike weight.
Another advantage of the Pakit Mk2 is that it's equipped with 16-inch wheels, similar to a Brompton, which provide better rolling performance and higher top speeds than some of the other models tested here, with smaller wheels size.
Interestingly, Bike Friday bikes have not followed the herd regarding frame material either. They opted for a 4130 cro-moly frame, a steel alloy containing molybdenum and chromium. While not as "sexy" as some of the more exotic materials used by other folding bike brands, this offers a strong frame that could easily be repaired anywhere in the world if required.
The bike weights I have shared here are based on the ultralight frame upgrade, which is 2 lbs lighter than the standard frame. Note that this frame has a 190 lbs weight limit, so if you are heavier than 190 pounds, you will need to opt for the stock frame.
The folding mechanism is the only drawback of the Bike Friday Pakit Mk2.
While the Pakit Mk2 can be folded away to a compact size of 28" x 17" x 8" for storage in a suitcase, this takes a little longer, and on your daily commute, you would be using the "quick fold" option which folds away to 38" x 24" x 10."
While this is a reasonable size for transporting by train, tube, or bus, I found the folding mechanism wasn't as good as Brompton's, and it took me about 20 seconds to fold away, compared to 10 seconds with other leading brands.
Not a dealbreaker, but it makes a difference when you scramble in the morning to catch the train!
Dahon K3 (17.9 lbs)
The Folding Bike Guy team is a long-term fan of Dahon folding bikes because they consistently produce quality foldable bicycles at competitive prices.
The Dahon K3 is the lightest model in the Dahon range, and I rated it as the best lightweight folding bike of 2023. While it's not the absolute lightest foldable bicycle, the Dahon K3 offers a 9-speed drivetrain, folds away in 10 seconds or less, and is significantly cheaper than the Hummingbird and Brompton T Line.
In summary, it is a great commuting bike that is still exceptionally light, offers excellent riding performance, and you won't have to sell a kidney to buy one!
Helix Ultralight (19.6 lbs)
Generally, folding bikes have small wheels to dial back on the folded size.
With the right gearing, the bike will be faster. In that case, I'd recommend opting for this ingenious folding bike from Helix.
First, it's important to note that Helix releases three versions: 
A single-speed, 
10-speed derailleur, and 
11-speed internal gear hub.
All of those versions sit atop 24" wheels that ramp up the speed and performance.
Instead of the carbon fiber that we saw in the previous picks, Helix depended on robust titanium to fabricate the main bike frame.
Although it doesn't feel as light as the Hummingbird, it's more durable and sturdier.
The single-speed version is rated at 23 lbs, while the 10-speed and 11-speed weigh 24.5 and 27 lbs, respectively.
The front wheel is held in place via a pass-through lock that you have to rotate a sensible amount before turning the wheel.
This system is secured with another safety button to ensure the best stability on the road.
Kwiggle Flash (22.0 lbs)
The Kwiggle Flash was launched in August 2022 and is the latest model in the Kwiggle line-up. While it's not the absolute lightest folding bike, it does claim the title of the "world's most compact folding bike."
When folded away, the Kwiggle Flash 22" x 16" x 10" (55 x 40 x 25 cm) is impressively small and can easily fit under a bus or train seat or in the trunk of your car.
Kwiggle bicycles are designed and manufactured in Germany so you can be confident of build quality.
However, note if you are US-based, there is a 250 euros shipping cost, and you may also be liable for import duty when your bike reaches you.
The design and aesthetics are somewhat quirky, which I'm not mad about, but I can see the practical appeal of this folding bike for commuters.
The small folding size is achieved by using 12-inch wheels, which compromise ride quality but are a necessary evil to achieve such compact folded dimensions.
Tern Verge X11 (22.5 lbs)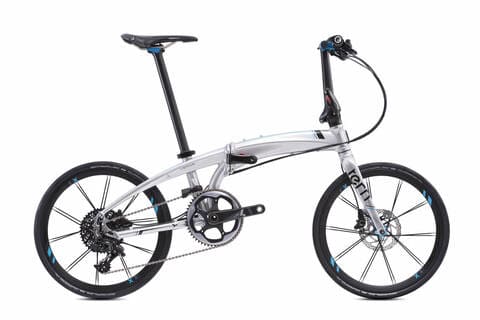 The unique thing about the Verge-X11 is the state-of-the-art SRAM drivetrain.
With complete carbon construction, the crankset delivers exceptional performance while staying lightweight.
As you might already know, the 1 x 11 gearing is famous for its frequent chain drops, especially when you attempt to change the gear.
Luckily, Tern changed that. With the SRAM's X-SYNC technology, the chainring's teeth alternate between narrow and wide.
There's also a convenient chain guide that keeps the chain in place at all times.
The fact that you also have SRAM X1 rear derailleur paired with the GX trigger shifter makes changing gears smoother than most, if not all, of the other folding bikes.
The gears range in size between 24 and 102 gear inches.
I like that because it performs satisfactorily in the steepest hills, even with the smallest gear applied.
Yet you can ramp up the speed when driven on the large one.
Hummingbird Electric (22.7 lbs)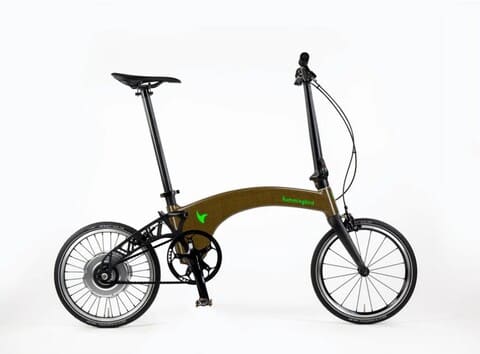 The Hummingbird Electric is the lightest electric folding bike in the world, weighing 22.7 lbs (10.3 kg). It is lighter than a standard Brompton (non-electric) folding bike.
The latest Gen 2.0 model has seen significant design upgrades and improvements since the original model. Specifically:
A 50 percent increase in torque.
A 20 percent increase in range means you can travel over 30 miles on a single charge.
A remote control has been added to adjust power settings on the fly.
A "boost" option was added to provide extra assistance on steep hill climbs.
The updated Active Lock electric system offers improved security.
Wow, that's pretty impressive!
The Hummingbird electric offers all the design benefits I discussed earlier in this article (e.g., bespoke design, lightweight carbon fiber frame, handmade in the UK, folds away in under 10 seconds).
Additionally, the Hummingbird Electric incorporates a 250 watts electric motor integrated into the bicycle's rear hub.
This is a highly functional, incredibly designed, lightweight folding electric bike with a price tag to match! 
If you purchase from outside the UK, there would be a 20 percent deduction on the MSRP of 3,745 British pounds.
Lightest Brompton Bikes
I get lots of questions every week from Brompton fans, and many of those questions relate to the weight of various Brompton bicycles and how to reduce that weight further.
How heavy is Brompton Superlight?
A Brompton Superlight has a claimed weight of 10.2 kg (22.5 lb), which is approximately 0.7kg lighter than a standard Brompton bicycle. This weight saving is achieved using titanium (instead of steel) for the front fork, rear frame, and a more lightweight wheelset.
How can I make my Brompton lighter?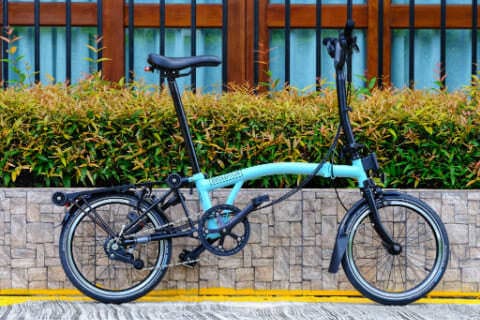 The most cost-effective modifications to make your Brompton lighter are removing the mudguards, upgrading to a titanium seat post, and selecting a lighter bottom bracket. These three modifications alone can reduce the weight of your Brompton bicycle to under 20 pounds.
How heavy is a Brompton 6-speed?
The Brompton C Line bicycles are equipped with a 6-speed drivetrain; the Brompton C Line Explore weighs 26.7 pounds (12.1 kg), and the Brompton Electric C Line Explore weighs 38.4 pounds (17.4 kg).
How much do the lightest Bromptons weigh?
The Brompton T Line One is the lightest bicycle in their range, weighing in at a claimed 16.4 lbs (7.4 kg) with a single-speed drivetrain. The Brompton T Line Urban features a 4-speed groupset and weighs 17.5 lbs (7.9 kg).
The other ultralight option is the Brompton Superlight, a titanium/steel frame weighing 22.5 lbs (10.2 kg).
Selection Criteria: What To Consider When Choosing The Lightest Foldable Bicycle
Here are the five critical criteria you should consider when selecting a lightweight foldable bicycle:
Lightweight Folding Bike Selection Criteria
Important Factors to Consider
Overall folding bike weight
What is the foldable bicycle's overall weight, including pedals, electric motors, etc.?
Wheel size
What size wheels are the bicycle equipped with, and are they suitable for your chosen riding conditions?
Number of gears*
How many gears does the bike come with, and will that be sufficient for any hilly terrain you plan to ride?
Frame robustness
How robust is the frame, is it strong enough to carry your weight and for your intended riding conditions? Many of the lightest frames have a weight capacity of 220 lbs which may not be sufficient for heavier riders.
Upgrade potential
Suppose your budget restricts you from buying an ultralight bike. Could you buy a slightly cheaper one which has the potential to further reduce the weight in future by upgrading components and accessories?

I have used this approach many times over the years with great success, and I always focus on buying the best frame I can find, as the other components are easier (and cheaper) to upgrade retrospectively.
*Note that for ultralight weights comparison in this guide, I have selected the least number of gears for each model; however, many have options to choose more speeds if required, albeit at a compromise to the overall weight of the bicycle.
As I stated at the beginning of this article, it is essential to try to ascertain whether or not you genuinely require a lightweight folding bike – or at least one of the lightest folding bikes around before purchasing one.
If you plan on carrying your folding bike around for an extended time, it makes sense to find an exceptionally light one.
However, if not, you may be sacrificing functionality for nothing other than saving your arms a bit of extra work.
Not only do the lightest folding bikes cost considerably more than the more weighty models, but they also tend to lose some functionality and additional features.
Ultimately, in the folding bicycle business, lightness will cost you.
Another essential fact to bare in mind when deciding whether or not to purchase a lightweight folding bike is whether or not you can handle the instability of them.
Yes, you heard it right – instability.
One of the most significant issues with light bikes is that they can be particularly "twitchy" when on the road. As a result, it can be pretty unstable. This is entirely model and specification-dependent.
Furthermore, it's crucial to consider that lightweight frames can be considerably less durable than heavier versions.
As a result, they can lose their rigidity and may not be in one piece after a crash.
Fortunately, the models listed above are all well-built and high-quality models.
Another potential solution worth considering is purchasing a heavier model and then modifying it to weigh less.
Now, this may only be possible on some folding bikes. However, some modifications can be made to most bikes to make them lose weight.
Lightweight Folding Bike FAQs
The average weight of a typical folding bike is about 25 pounds (or 11.3 kg). The weight may vary significantly or slightly, depending on the bike frame material used, the components, and whether it includes an electric motor. Folding bikes are built primarily for commuting and touring in urban environments.
How heavy should a folding bike be?
The standard weight for a folding bike is 25 pounds. Folding mountain bikes are typically around 30 pounds, while electric foldable bicycles can weigh up to 40 pounds. A typical folding bicycle should weigh at most 30 pounds, with pedals included.
What are the lightest bikes made of?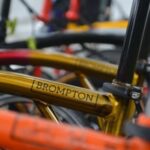 The lightest bikes are made from exotic materials such as titanium or carbon fiber. These are considered the best bike frame materials, a critical design factor in achieving the lightest bike weights. Other components, such as wheels and groupsets, also notably impact overall bike weight.