The MicroBike folding bike was designed by Otto Linander and Sven Hellestam in 1987 and made in Sweden; it is no longer in production. The above example is a 1993 model. It had 12″ plastic wheels and an aluminum frame weighing 8.5kgs and featured a Kevlar belt drive.
MicroBike Folding Bike Review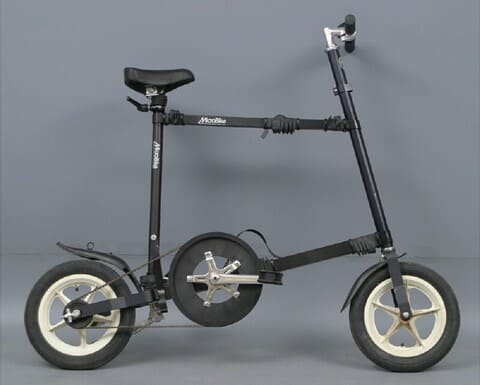 The Micro folding bike was, in many respects, a very clever design year ahead of its time. The concept for the MicroBike stemmed from the designers' frustrations with commuting using public transport in Gothenburg, Sweden.
Otto and Sven wanted a foldable bicycle that could achieve three essential requirements:
It needed to fold away in 10 seconds or less so that you could still catch the bus or train even if you arrived at the station at the last moment (which, let's be honest here, happens pretty often when we're traveling to work).
It should be lightweight to make it convenient to carry on and off public transport.
There should be the capability to carry some luggage for the commute to and from work.
The designers created an aluminum frame, plastic 12-inch wheels, and a Kevlar belt that drives the folding bike.
The resulting specifications to fulfill the project brief is summarized in the table below:
| | | |
| --- | --- | --- |
| Micro Folding Bike Specifications | US | EU |
| Folded Size | 12″ (L) x 18″ (W) x 39″ (H) | 30cm x 45cm x 100cm |
| Folding Time | 5 Seconds | 5 Seconds |
| Unfolding Time | 3 Seconds | 3 Seconds |
| Gears | 2-3 speed | 2-3 speed |
| Top Speed | 18 mph | 25 km/h |
| Drivetrain | Kevlar Belt Drive | Kevlar Belt Drive |
The MicroBike went into production in 1988 and sold sixteen thousand bicycles over five years! Compared to modern-day foldable bikes, the Recommended Retail Price (RRP) was $560 (USD) or 3,800 Swedish Kronor, which is relatively expensive.
How Does The MicroBike Compare to Modern Compact Folding Bikes?
I recently wrote a guide on the smallest folding bikes available today. So it would be interesting to compare the Microbike with the Quirky Kwiggle, which has earned the reputation of being "the smallest folding bike in the world."
| | | | | |
| --- | --- | --- | --- | --- |
| Bicycle | Folded Size | Weight | Wheel Size | Volumetric Size |
| Quirky Kwiggle | 22″ x 16″ x 10″ | 19 lbs | 12-inches | 55 Litres |
| MicroBike | 12″ x 18″ x 39″ | 23 lbs | 12-inches | 138 Litres |
Well, the folks at Quirky will be pleased to learn that they still retain the title for the most compact bicycle. 
What grabbed my attention was the MicroBike design centered around the 12-inch wheels even though it started over twenty years ago, and we find ourselves today with the same design parameters.
Microbike of Sweden Verdict
I hope you found that interesting and have learned a few things about the MicroBike folding bike's history and how it compares to current designs.
According to their website, Otto and Sven are keen to relaunch the MicroBike, and I, for one, would be intrigued to see what changes and improvements they might make to the original design with the benefit of twenty-five years of hindsight!