When you use our links, we may earn an affiliate commission. Learn more.
If you are interested in folding bikes, you can choose from dozens of manufacturers. However, there are a few things that make the Montague brand unique. They pride themselves on being able to combine a compact folding bike with exceptional performance.
This allowed them to partner with the US Military and some of the largest brands in the world.
While these are impressive achievements, that doesn't mean that their bikes are the ideal choice to suit your needs. Keep reading as we evaluate some of the bikes in their range so you can determine if they will be a good fit for you. 
About Montague Bikes
Montague bikes were started in 1987 by David Montague. He was at MIT when he came up with the idea of a full-sized bike that offered exceptional performance but could still be folded. This drove him to develop the BiFrame model, which defined Montague bikes. 
Over time, the manufacturer has been involved in many high-profile partnerships.
Most notably, they were asked to work with the US Military to help develop a folding bike that the US Marine Corps could use. They have also worked with General Motors and have been used by athletes in the 1996 Olympics. 
7 Best Montague Folding Bikes 2023
There are numerous folding bikes that Montague has created. Here are reviews of seven of the most popular models.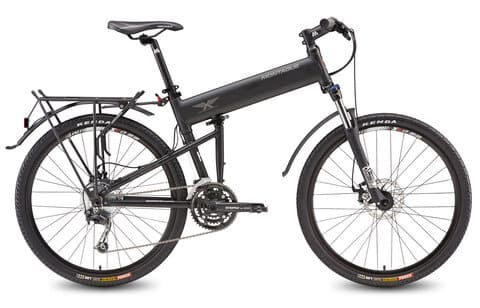 Pros
Able to take on rugged terrain
Responsive and easy to control
Developed for military use
Cons
Won't be as compact as other types of folding bikes
This bike was built initially for paratroopers within the US military. This allows them to jump out of the plane with their folding bikes, then ride to their objectives. As a result, this bike is designed to be able to cope with a range of terrains. You can even take it off-road, which is relatively rare for a folding bike.  
There are numerous ways the Paratrooper Pro can cope with challenging terrain.
First, it comes with oversized tires. This provides grip and will insulate against any bumps in the road. It also has a 27-gear system, so you won't have trouble going up an incline. 
The exceptional performance can also be felt in the way the bike steers.
It's responsive, and you will find it easy to steer it. The speed is also exceptional, especially with traditional folding bikes. This makes it a lot of fun to ride on city streets and off-road. 
There are just a few minor downsides to keep in mind.
The Paratrooper Pro weighs 31 pounds when folded. This will still be lightweight, and you shouldn't have any issues putting it in the back of your car. But if you need to carry it for an extended time, it can get cumbersome. 
Pros 
Strong performance over rough terrain 
Plenty of control
Copes well with hills
Cons
Not as compact as other bikes when folded
It can be a little heavy
This bike is the next evolution in the Paratrooper Pro series. As a result, it delivers exceptional results when you take it off-road. This is because it has huge 27.5-inch wheels to help cushion any bumps in the road.
It's rare for a folding bike to have such large wheels. 
It comes with hydraulic brakes and a robust suspension fork. This ensures you will have plenty of control while riding along the track. It also has a 20-speed groupset, so you won't have trouble going up the hills. 
While it won't struggle around a dirt track, it's also great to use around city streets, where you can build impressive speeds. 
The only downside is that it can be inconvenient when folded.
You won't have any problems storing it in a closet or putting it into the boot of a car. But it can be bulky if you want to walk with it over long distances, like getting onto and off public transport.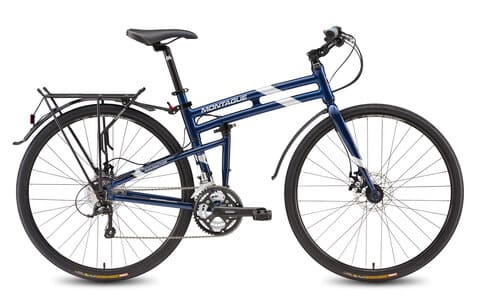 Pros 
Includes a RackStand
27-speed gearbox
Able to handle gravel tracks
Built to last
Cons
It can be cumbersome to fold.
This might be the right option if you are looking for an excellent bike for long-term riding. There are a few reasons why this bike is such a great all-rounder. First, it is built to be tough. the Montague Navigator will be able to take on a wide range of terrains.
While I don't recommend doing hardcore off-roading, it will be strong enough to ride on a gravel trail. 
The Navigator also comes with a 27-speed drivetrain which allows you to take on any terrain and make riding uphill easy.
This is on top of a strong frame, providing years of use.
One of the most exciting factors is that the Navigator comes with a RackStand. This acts as a stand and a cargo carrier. This would be an expensive extra with other folding bike manufacturers.
The only downside is that the Montague folding system is a little more cumbersome than other manufacturers. For example, you will need to remove the front wheel. However, you can buy a bag to keep everything together.
Pros
Smooth and quiet ride
Low maintenance
Includes a RackStand
Cons
It can be challenging to adjust to suit taller people.
The Allston is aimed at a more casual type of rider than the other Montague models. Though it is still built tough and will be able to cope with a few bumps in the road. It also comes with an impressive set of features.
For example, it will have hydraulic brakes, so you can stop quickly. Plus, it has a RackStand, which will give you a place to store equipment and a kickstand. 
However, the most prominent feature of the Allston is the carbon belt drive.
This is why the bike can be so quiet when you are driving. You'll often hear the crunch of the wheels on the pavement. This type of gear system will also significantly reduce the amount of maintenance you need to do. 
The only downside is that it comes in two sizes.
So, if you aren't between 5'3 to 6'4, adjusting the bike to fit you comfortably can be a little challenging. This issue will recur across several other models in the Montague range.
Pros 
Ideal for beginners 
Can operate as either a free-wheel or fixed-gear bike
Strong and durable
Cons
Expensive
It might not be suited to tougher climbs
If you are a beginner, Montague Boston might be the ideal option.
It eliminates the need to worry about changing gears. This ensures an uncomplicated ride and lowers the amount of maintenance you need to perform. However, getting up steep hills might make it a little harder. 
A unique feature is that you can choose between free and fixed wheels, depending on your riding style.
A free-wheel bike will allow you to coast, while a fixed-wheel bike will require you to always pedal if the wheel is moving, though you can pedal backward to try and regulate your speed. 
This bike comes with 700cc wheels, which ensures a smooth ride.
Plus, like all Montague models, it comes with a strong frame. This ensures that it will be able to last for many years to come. The only downside is that it is a little expensive, especially since you only get one gear. 
Pros
Helps you create a comfortable riding position
Absorbs bumps in the road
Fast
Cons
It can be challenging to transport.
The Crosstown is designed to be a commuter bike and is built to be comfortable. For example, it features a padded seat and ergonomic handlebars. It has a seven-speed gear system. This ensures that you will be able to climb over any hills. This makes it a calming way to get to work every day.
It also comes with large 700cc wheels.
These will help you absorb any bumps in the road. Plus, the wheels are thin. This ensures you can build up speed while staying firmly on the road. This is ideal for a commute into the office. But the bike will be so comfortable to ride that you will be okay going on longer trips. 
There is just one minor problem.
Though the folding mechanism is easy to use, the larger wheels can make the bike slightly bulky. This can make it a little awkward to carry onto public transport, which can be problematic if you use this bike for your daily commute on public transport. 
Pros
Electric
Can handle a few bumps in the road
Front and rear lights
Easy-to-read display
Cons
Heavy
It can be a little bulky
Expensive
The M-E1 is the only electric bike within the Montague range, and there are plenty of things to love. Let's start by talking about the electric motor. It supports three pedal assistance modes. This allows you to conserve the battery if you plan a longer ride. The motor also allows you to power the front and rear lights, which are vital if you ride at night. 
Aside from the battery, the bike's design ensures a comfortable ride.
There are wide tires to help you absorb the impacts of potholes in the road. Plus, it comes with a built-in rear luggage rack.
As we've mentioned, this feature often comes as an add-on with other manufacturers, though it does add to the weight. The robust frame will last for many years to come. 
Of course, there are also a few minor drawbacks to consider.
First, the M-E1 is pretty heavy.
This can make carrying easier if you plan to commute with it. It can also be quite expensive, costing you around $4,000. Though it should be noted that these issues occur with most folding electric bikes. 
Get Our FREE Tricycle Buyer's Cheat Sheet
This free cheat sheet will help you choose a trike by providing quick information on the 7 key considerations for buying an adult tricycle!
By subscribing, you agree to get emails from Folding Bike Guy. We'll respect your privacy and you can unsubscribe any time.
How To Choose the Right Montague Bike for Your Needs
As you can see, there are plenty of excellent options for you to choose from. Here are some elements you should consider finding the right one for you. 
Riding Style
The first thing to consider is how you intend to use the bike. Some people will be looking for something that can go off-road and conquer gravel and dirt tracks. Others will search for a commuter bike that can ride smoothly along city streets. 
Wheel Size
Montague bikes will have larger wheels than other manufacturers. This is why they can create a more comfortable ride, helping to insulate drivers from any bumps in the road. However, this comes with a downside.
The bikes will be bulkier when folded and will add weight. 
Budget
Most Montague bikes are sold for a premium price. But some models will be cheaper than others. For example, Boston is one of the most affordable in the range. Though it only comes with a single speed. It's best to define how much you want to spend before you start looking. 
Foldability
There are a few aspects of foldability that you should consider. First, how easy is it for you to fold the bike? Most of the time, a Montague model will take between 20 to 30 seconds. Then, consider how compact you want the bicycle to be.
Sometimes, it's okay to get it small enough to put into a cupboard or the boot of a car. At other times, you will want to carry it on public transport. 
Whether You Require Electric Assistance
Lastly, it's essential to consider whether you want to get a bike that comes with electric assistance. This might be beneficial on a longer ride or in an area with many hills. But if you have a short ride to the office daily, you can save money by forgoing this feature. 
Alternatives
While Montague is a well-respected manufacturer, there are a few alternatives on the market that you should consider. The best example is Downtube Bikes.
Montague vs. Downtube Bikes
Both of these manufacturers are known for producing exceptional bikes. Downtube Bikes, though, tend to fold more compactly than Montague models. Furthermore, they are adjustable, so one size will fit the whole family.
This contrasts Montague, which tends to tuck into a bulkier package and comes in two sizes, depending on the rider's height. 
While the more prominent 26-inch wheels of the Montague bikes can make them less compact, they improve the performance over rougher ground. This is better than the 20-inch wheels that Downtube Bikes provide. As a result, if you are planning off-roading, only the Montague options are suitable. 
People Also Ask
Where Are Montague Bikes Made?
Montague bikes are made in America and manufactured in Cambridge, Massachusetts, where the company was founded. This location was chosen because it is associated with innovation in the United States. Their bikes are sold across the world, supplying 30 countries.
Is Montague a Good Bike?
Montague is considered to be an excellent manufacturer of high-quality bikes. There are a few qualities that help set this brand apart. They use larger wheels and rigid frames. This means that they can be used off-road. In fact, their Paratrooper line was initially developed for the US Marine Corps, so it had to excel in all environments. 
Montague is also known for its premium products, with its bikes built to last for years. They also include features like a luggage rack as standard, while other companies would charge extra. 
How Do You Fold a Montague Bike?
First, you will need to lift the clasp on the rear rack, then slide the rack under the rear wheel. Next, release the quick release on the front wheel, which will allow you to remove the wheel. Release the hinge at the rear of the main frame; this will enable you to fold the bike in half. Lastly, a strip is attached to the bike's front wheel. Once practiced, this routine can be done in 20 to 30 seconds.
Montague Bikes Verdict
Montague folding bikes have earned a strong reputation within the industry for being some of the toughest folding bikes on the planet. They can take on dirt roads, potholes, and off-road sections. This is something that few other manufacturers can offer.

Folding Bike Guy
Even better, there is a wide range for you to choose from. If you are looking for dirt road adventures, the Paratrooper line might be a good option. While if you want a more laid-back option for the daily commute, the Allston, Boston, M-E1, or Crosstown are all suitable candidates. 
Mark Plummer
Mark Plummer
is an experienced bike mechanic who has built, repaired, and customized thousands of bikes over the years. A former mountain biking athlete, his cycling adventures have taken him all over the globe from the mountains of Scotland to the South Island of New Zealand. These days he enjoys the benefits of commuting to work and touring on his Dahon and Brompton folding bikes.
Get Our FREE Folding Bike Buyer's Cheat Sheet
This free cheat sheet will help you choose a folding bike by providing quick information on the 7 key considerations when buying a foldable bicycle!
By subscribing, you agree to get emails from Folding Bike Guy. We'll respect your privacy and you can unsubscribe any time.