I recently had the chance to test out the Montague Crosstown folding bike. Let me tell you, it's a game-changer for urban commuters and long-distance riders alike.
Montague, a brand based in Boston, has a reputation for crafting high-quality bikes for various needs, from mountain to full-sized folding bikes.
The Crosstown is no exception; it's a brilliant hybrid between a road bike and a folding bike that offers speed, comfort, and convenience – all wrapped in a sleek, minimal design.
Our Pick
Montague Crosstown Folding Bike
A brilliant hybrid between a road bike and a folding bike. It has all the perks of a road bike, predominantly speed and less energy requirement. However, it can also be folded down into a relatively small size for easy storage and transportation making it the perfect Montague urban folding bike.
Best For: The Montague Crosstown is best suited to commuters who occasionally need to fold their bike.
Pros:
Easily folded away in less than 20 seconds

Large and thin wheels - very fast

High-quality build

Beautifully minimal aesthetics

Very comfortable to ride over long distances

700cc wheels have excellent traction and shock absorption
Cons:
Large wheels aren't easily transported as a Brompton
$849 from Montague ➚
We earn a commission if you make a purchase, at no additional cost to you.
Montague Crosstown Review
The Crosstown's folding mechanism is impressive – it can be folded away in under 20 seconds, making it ideal for easy storage and transportation. The large, thin wheels provide excellent speed and traction, while the 700cc wheels ensure shock absorption for a smoother ride.
Though the large wheels might not be the most easily transportable, the bike's overall ease of use and practicality make up for it.
My Experience on a Test Ride
Going into my test ride of the Montague Crosstown, I was intrigued by the combination of a full-size road bike with folding capabilities. The bike's overall design was sleek and eye-catching, with the silver and black paint giving off a premium vibe.
Once I started riding, I quickly discovered how comfortable the Crosstown was, even over long distances. The thin wheels and ergonomic design allowed me to travel faster with less effort, making it an excellent choice for zipping through city streets.
The Montague Crosstown could be easily folded down in under 20 seconds.
While the large wheels posed some challenges in portability, the lightweight frame made carrying it manageable once I got used to it. The Velcro strap holding the bike together when folded was a nice touch.
I experimented with the Octagon system, the quick-release handlebar mechanism, during my ride.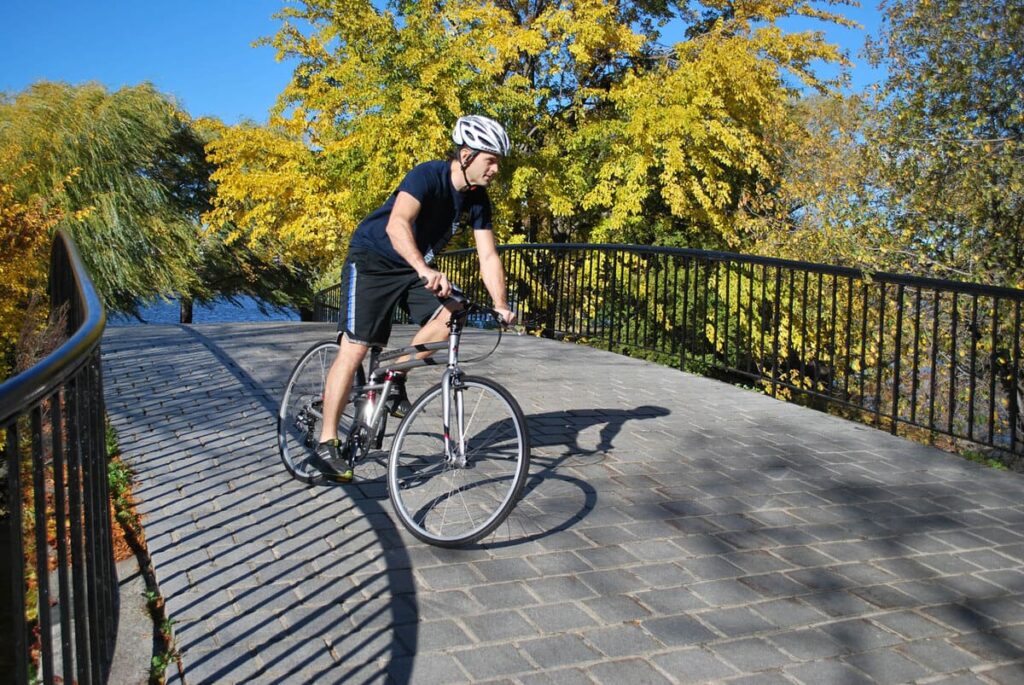 This feature allowed me to adjust the handlebar height while cycling, making it a breeze to share the bike with others and find my perfect fit. This added versatility set it apart from other folding bikes I've tried.
The Montague Crosstown offers a unique mix of road bike performance and folding bike convenience.
While I encountered minor drawbacks, such as large wheels affecting portability, the bike's sleek design, speed, and adaptability more than made up for it.
In my experience, the Montague Crosstown is an ideal bike for those who need a reliable commuter folding bike that can be easily stored away when not in use. 
Montague Crosstown Specifications
Color: Boulder Gray/Black
Frame: Custom 7005 series aluminum with FIT System
Fork: Rigid Unicrown with CLIX Wheel Release
Rims: 700c alloy, silver-colored, 32 holes
Tires: CST semi-slick 700c x 28mm
Hubset: Formula alloy with CLIX front quick-release
Spokes: 14-gauge stainless steel
Saddle: Performance gel comfort saddle
Seatpost: 30.0 x 300mm alloy
Handlebars: Riser-style, 30mm rise, 580mm wide
Stem: Octagon height-adjustable (no tools needed)
Gear Shifting: Shimano 7-speed RevoShift
Rear Derailleur: Shimano Altus
Crankset: 42T chainring with 170mm alloy crank arm
Brakes: Tektro dual-pivot caliper (side pull)
Pedals: Non-slip trekking
Bottom Bracket: Semi-sealed cartridge
Available Frame Sizes: 17″, 19″, 21″
Folded Dimensions: 35.9″ x 27.9″ x 11.9″
Weight: 26.9lbs
Montague Crosstown vs. Montague Urban Review
As an expert bike mechanic who has extensively used both the Montague Crosstown and the Montague Urban, I can offer some insights into the pros and cons of each bike.
The Montague Crosstown is ideal for riders seeking a lightweight and straightforward folding bike. The Montague Urban offers more versatility in terms of terrain and speed. 
Based on my extensive testing of both bikes, the Montague Urban's 21-speed gear system may edge it ahead for more serious cyclists.
Below is an overview of some notable specifications for each bike:
Montague Crosstown:
Color: Boulder Gray/Black
Rims: 700c Alloy, 32-hole, Silver
Tires: CST Semi-Slick, 700c x 28mm
Speeds: 7
Frame Sizes: 17″, 19″, 21″
Weight: 26.9lbs
Montague Urban:
Color: Black/Blue, Reflective
Rims: 700c Alloy, 32-hole, Silver
Tires: CST City+, 700c x 32mm
Speeds: 21
Frame Sizes: 17″, 19″, 21″
Weight: 29.0lbs
Montague Crosstown Final Verdict
As a folding bike enthusiast, I've had the pleasure of riding the Montague Crosstown for quite some time, and it has made my urban commutes and leisure rides quite enjoyable. 
The unique combination of a full-sized hybrid bike and a folding mechanism makes it stand out. Let me share with you some of the key features and performance aspects of this bike:
The folding and unfolding process is quick and efficient, taking less than 20 seconds to complete. This is ideal for those who must switch between riding and public transportation.
The large 700c wheels provide excellent traction and shock absorption, ensuring a smooth ride on various surfaces. However, these wheels are more cumbersome than smaller wheels on other folding bikes.
The high-quality build and minimalist aesthetics give the Crosstown an attractive look, making it more than just a practical travel option.
Thanks to its ergonomic design and seat, this bike was comfortable even on long rides.
Its 7-speed system provides satisfactory performance for city rides, though it might be slightly limiting for those seeking more speed options.
Comparing the Montague Crosstown to other folding bikes, it is an excellent choice for those who prioritize a full-sized bike experience but still want the convenience of a folding mechanism for easy storage and transportation. 
Some drawbacks, like the larger wheels and limited speed options, might only suit some people's preferences. Still, overall, the Crosstown is a reliable and enjoyable choice for my urban commutes and leisure rides.
How do Montague and Fuji Crosstown bikes differ?
Montague Crosstown bikes are designed to be a hybrid between a road bike and a folding bike, with larger, thinner wheels for faster cycling and a folding feature for easy transportation. They are specifically designed for urban environments and comfortable long-distance rides. 
On the other hand, Fuji Crosstown bikes are more traditional hybrid bikes that don't have the folding feature. They offer a comfortable riding experience with a focus on durability and practicality.
Where are Montague bikes made?
Montague bikes are designed and manufactured in the United States. Montague prides itself on producing high-quality bicycles with innovative designs and features, constantly working to improve its products.
What is meant by a "Crosstown" bike?
A Crosstown bike is designed for urban commuters and casual riders who need a versatile and efficient vehicle for traversing city streets. 
These bikes are typically hybrid models, combining the features of road and mountain bikes to provide a comfortable and efficient ride. 
Montague Crosstown, for example, stands out with its folding feature, making it a unique choice for urban riders who require portability alongside performance.