When you use our links, we may earn an affiliate commission. Learn more.
The Montague Navigator is a premium folding bike by the legendary manufacturers Montague.
Montague has been producing top-notch bicycles for many years now and is a veteran of the folding bike scene, this is no different here.
While the Navigator is by no means a mountain bike, which Montague is world renowned for producing – it is a well-built road bike that is certainly one of the finest models around today.
MONTAGUE NAVIGATOR
Our Rating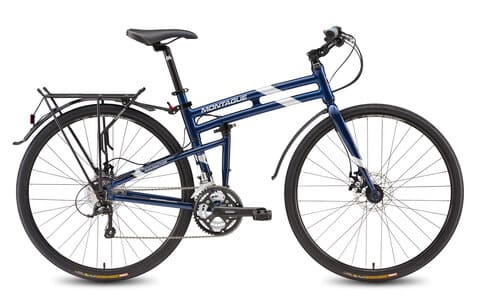 PROS
High-quality disc brakes
Well-made 21″ tires
Sleek aesthetics
Lightweight and sturdy design
Very quick on the road
27 quick shift gears
CONS
Large and takes up a lot of space when folded
Moderately expensive
Takes 20 seconds to fold away
OUR VERDICT
"A well-built lightweight, durable and quick folding bike – perfect for the commuter and for those looking for a reliable and easily transportable bike on the road."
The Montague Navigator is designed to be sleek, quick, and easy to put away too. It is, in many people's eyes, the perfect commuter bike.
The larger 21″ wheels that it possesses enable riders to easily navigate (excuse the poor pun!) throughout a city and get to their destination rapidly too – with the flexibility to store it away with little effort whatsoever.
"Another excellent addition to Montague's already outstanding roster, the Navigator is one of the finest folding road bikes around today – and it is likely to stay there for some time too!"
This particular model weighs very little, it's comfortable to ride on a road, and has been designed for a commuter planning to utilize their folding bicycle on a daily basis.
It is a premium bike and with that comes a truly premium price tag – however, as with all of Montague's bikes, it's difficult to bemoan the cost of this stunning folding bike, we all believe it is worth every cent.
As you can see from the above photo, the bike is easily stored away with a stand that is provided with the bike, it's a nice little touch and this is exactly what we have come to expect from Montague in recent years.
The bike has a total of 27 gears that easily enable it to tackle steep hills and flats alike, it is in essence designed to provide riders with very few difficulties – ensuring that their journey goes as smoothly as possible.
Performance
We tested this gorgeous model throughout the city and also out into the more "mountainous" countryside surrounding my home too.
At no point did I find it taxing to cycle anywhere, wherever I needed to dismount and put the bike away – I managed to do so in under 20 seconds.
I believe that 20 seconds is the average amount of time taken for folding bikes these days, so nothing too special here – but no complaints either.
The thin tires on the Navigator were a bit of a concern for me, regarding grip in the wet, however, it actually rained when I took the bike out for a spin and had absolutely no issues on the road. In fact, they are clearly well designed and with puncture protection too, it's unlikely that they will get damaged too easily either.
Furthermore, the disk brakes were very strong, I didn't use them all too much, but whenever I did they were extremely smooth too.
Pulling the handle hard brought the bike to an immediate halt, whereas doing so gradually was a much more gradual decline, with no jerkiness whatsoever.
Get Our FREE Tricycle Buyer's Cheat Sheet
This free cheat sheet will help you choose a trike by providing quick information on the 7 key considerations for buying an adult tricycle!
By subscribing, you agree to get emails from Folding Bike Guy. We'll respect your privacy and you can unsubscribe any time.
Test Ride
All in all, you can really tell that Montague has tried to ensure that the Navigator is perfect in almost every single aspect.
It's difficult to criticize, apart from the obvious fact that it's going to be poor on uneven terrain due to its slim-line tires.
For the purpose of commuting, it really is fairly perfect and I would highly recommend it to anyone looking to use it in that way.
Specifications
Fork: Full Cro-Mo, with disc mounts and CLIX Wheel Release System, ramped dropout
Rims: 700c Alloy. 32-hole, double wall. Black.
Tires: Kenda Khan 700c x 35mm semi-knobby.
Hubset: Formula, Alloy. CLIX front quick release. Disc ready.
Spokes: 14 Gauge
Saddle: Zena Comfort.
Seatpost: 30.0 X 300mm Alloy.
Handlebars: Alloy, 30mm rise. 600mm wide.
Stem: Octagon height-adjustable stem. No tools are required.
Shifters: Shimano Rapid Fire Road for Flat Handlebar. 3-Speed Left. 9-Speed Right.
Front Derailleur: Shimano top pull for triple crankset,
Rear Derailleur: Shimano Sora. 9-Speed.
Crankset: SR Suntour. 48/38/28. Alloy 170mm crank arm. Black.
Speeds: 27 Speeds
Brakeset: Alloy. Caliper side pull.
Pedals: Trekking pedal with all-weather non-slip tread.
Bottom Bracket: Sealed Cartridge
Sizes: 17″
Folded Size: 36″ x 28″ x 12″
Weight: 27lbs
Concluding Remarks
I genuinely believe that the Montague Navigator is one of, if not the, best folding bikes for commuting.
It's a fairly expensive model, but due to the fact that it's durable, well built, and highly refined for its job – I would definitely recommend spending a little bit extra on your bike and to go for a well-known brand.
Montague is not just a big brand, they are known for producing quality folding bikes – something that cannot be said for every manufacturer selling a large number of bicycles today. In all fairness, it's not a huge price tag and for the quality on offer with the Montague Navigator, it's almost definitely worth it.
Mark Plummer
Mark Plummer
is an experienced bike mechanic who has built, repaired, and customized thousands of bikes over the years. A former mountain biking athlete, his cycling adventures have taken him all over the globe from the mountains of Scotland to the South Island of New Zealand. These days he enjoys the benefits of commuting to work and touring on his Dahon and Brompton folding bikes.
Get Our FREE Folding Bike Buyer's Cheat Sheet
This free cheat sheet will help you choose a folding bike by providing quick information on the 7 key considerations when buying a foldable bicycle!
By subscribing, you agree to get emails from Folding Bike Guy. We'll respect your privacy and you can unsubscribe any time.