When you use our links, we may earn an affiliate commission. Learn more.
Have you ever wondered if Schwinn bikes are any good? You're not alone! Schwinn is a reputable brand known for its innovative designs and affordable pricing, making it an attractive option for many cyclists.
So, let's dive into the world of Schwinn bikes and see if they truly live up to the hype and answer the following questions:
Are Schwinn bikes great for beginners and casual riders?
What makes Schwinn bikes stand out from the competition?
How does Schwinn perform in terms of durability?
My bottom line: Schwinn bikes are a sound choice for a wide range of cyclists. They impress with their durability, innovative design, and affordability, a testament to the brand's commitment to quality and customer satisfaction.
History and Reputation of Schwinn
Schwinn, an American bicycle company, was founded in 1895 by Ignaz Schwinn and Adolf Arnold. Surviving even the Great Depression, Schwinn dominated the bicycle market well into the 20th century.
However, things took a turn in 1992 when the company filed for bankruptcy. Since then, the Schwinn brand has been owned by Pacific Cycle.
Schwinn bikes are known for being affordable and reliable. 
Whether you're a beginner rider or a hardcore cyclist, Schwinn likely has something to suit your needs. Their bikes are designed to be smooth to ride, and their wide range of options means there's usually something for everyone.
However, expect a top-of-the-line performance from only some Schwinn bikes.
As with any brand, they have entry-level and high-end models. Throughout their ownership changes, the quality of Schwinn bikes has improved significantly.
Different Types of Schwinn Bicycles
Schwinn Mountain Bikes
If you're looking for a solid bike to tackle off-road trails, Schwinn mountain bikes are popular due to their affordability and reliability. A great example is the Mesa 3, which features an aluminum frame, front suspension, and 26″ or 27.5″ wheels for a smooth ride on rough terrain.
Schwinn Road Bikes
Do you love cruising at high speeds on paved surfaces? Schwinn road bikes might be right up your alley. These bikes are designed for smooth, fast rides on asphalt, making them ideal for long-distance cycling or racing. And with their affordable price points, they're great options if you start exploring road cycling.
It's no secret that I'm a huge fan of Schwinn road bikes, and if you'd like to explore their models check out my reviews:
Schwinn Hybrid Bikes
Hybrid bikes offer a versatile ride by combining a mountain bike's comfortable, upright seating position with thinner tires and a faster road bike ride. Whether commuting, exercising, or going on a leisurely ride, a Schwinn hybrid bike has your back. The Schwinn Volare 1200 is one of my favorite hybrid bicycles!
Schwinn Cruiser Bikes
Looking for that perfect bike to leisurely ride around your neighborhood or at the beach? Say hello to Schwinn cruiser bikes. With their retro design, wide balloon tires, and comfortable wide seats, these bikes are made for relaxed rides and scenery enjoyment. So, kick back, relax, and let your Schwinn cruiser bike do the work.
Schwinn Electric Bikes
Schwinn electric bikes come with a battery-powered motor that assists, making tackling steep hills or long distances effortless. Plus, you'll still get some exercise since you're still pedaling (with some help).
Schwinn Kids Bikes
Searching for a quality bike to introduce your little ones to the joys of cycling? Schwinn kids' bikes come in various sizes and designs, ensuring a perfect option for every child, with safety and ease of use as top priorities.
Schwinn BMX Bikes
Schwinn BMX bikes are designed for performing tricks and tackling challenging terrain at skate parks and dirt courses. So, wow your friends, and get ready to show off your skills on a Schwinn BMX bike.
Schwinn Adult Tricycles
Last but not least, let's remember Schwinn's tricycles. You might be wondering who these trikes are for, and the answer is simple: anyone who wants a stable, comfortable, and unique riding experience. With three wheels, Schwinn tricycles provide extra stability, making them perfect for cyclists who may have balance concerns or want a different ride.
Schwinn Folding Bikes
With its 7-speed drivetrain and efficient alloy linear pull brakes, the Schwinn Loop folding bike ensures a smooth ride and reliable stopping power. It folds neatly into a compact size for easy storage and comes with a heavy-duty nylon carry bag for convenience.
On the other hand, the Schwinn Hinge folding bike offers an easy-to-fold step-through frame and a 1-speed drivetrain that's perfect for flat urban commuting. Both bikes embody Schwinn's commitment to quality, ensuring robust frames, reliable brakes, and efficient gears. Whether you're tackling the morning commute or a leisurely weekend ride, these bikes promise an enjoyable cycling experience.
The Schwinn Run-A-Bout bike was technically not a folding bike since the frame itself did not fold in any way, but we included a page on it after getting countless e-mails regarding its omission.
Get Our Ultimate Folding Bike Guide
Learn How To Choose, Setup, Ride & Maintain Your Folding Bike with The Ultimate Folding Bike Beginner's Guide
Learn More
Performance and Features
Quality and Durability
Schwinn has proven reasonably reliable and durable for beginner riders and casual and recreational cyclists. They feature sturdy aluminum or steel frames that can withstand the test of time. Remember, like all bikes, proper maintenance is critical to ensuring your Schwinn stays in excellent condition.
Comfort and Ergonomic Design
Have you ever hopped on a bicycle, and it just feels right? That's what Schwinn bikes are all about! They focus on providing a comfortable ride with ergonomically designed seats and handlebars. You'll also notice the smoothness in their pedaling and how the tires effortlessly glide on various terrains.
Brakes and Suspension
Safety first, right? Schwinn bikes have efficient braking systems, such as mechanical or hydraulic disc brakes, to ensure you can stop when needed. Additionally, some models come with suspension systems like 100mm front suspension that provide a smooth and stable ride, even on rougher terrain. 
Weight and Materials
Schwinn bikes are primarily made with lightweight aluminum or steel frames that make them easy to carry and maneuver. Remember that their entry-level models are heavier due to slightly lower-end specs. But hey, that's the trade-off for affordability, right?
Here's a quick summary of the Schwinn bikes' features:
Reliable and durable
Comfortable and ergonomic design
Efficient brakes and suspension systems
Lightweight aluminum or steel frames
Pros and Cons of Schwinn Bikes
Here's my Schwinn bikes pros and cons summary to help you decide whether Schwinn suits your needs.
Pros of Schwinn Bikes
Affordable: Schwinn bikes are known for their affordability, making them an excellent option for cyclists on a budget. Your wallet will thank you, trust me.
Reputation: Schwinn has been in the bicycle game for a long time, and they've built a solid reputation for producing reliable bikes. You know, like that one friend who's always on time.
Signature Series: Their Signature series offers higher-quality materials and better performance, ensuring you get more bang for your buck. It's like upgrading from a motel to a hotel but without the budget-breaking prices.
Innovative designs: Schwinn focuses on innovation in their bike manufacturing, incorporating features like Smart Start technology to make cycling easier and enjoyable. Remember how we thought learning to ride a bike was impossible? Not with Schwinn innovations!
Reliability: Did I mention reliability? Schwinn bikes are known to withstand the test of time, so you won't have to worry about your bike falling apart after just a few rides.
Cons of Schwinn Bikes
Heavy: One downside of some Schwinn bikes is that they can be heavy, which might be a drawback if you plan to take several flights of stairs daily. Remember how you struggled with your old bike? Yeah, let's avoid that.
Entry-level components: While some of their bikes are affordable and reliable, they may come with entry-level components. These might not provide the best performance, especially if you're a more experienced cyclist looking to tackle more challenging rides.
Limited options for high performance: If you're looking for a top-of-the-line bike with all the bells and whistles, Schwinn might not be a good choice. Their focus on affordability and reliability sometimes means sacrificing cutting-edge performance components.
Popular Schwinn Models
Here are the most popular Schwinn bike models that could perfectly fit you and your biking needs. I'll cover Schwinn Bonafide, Schwinn High Timber Mountain Bike, Schwinn Sanctuary 7, Schwinn Mendocino, and Schwinn Meridian bikes.
Schwinn Bonafide
Ever thought about taking up a challenging mountain biking trail? You'll need a reliable bike, and Schwinn Bonafide is an excellent choice. This mountain bike features an aluminum frame for lightweight durability and a front suspension to tackle rough terrain easily.
Schwinn High Timber Mountain Bike
The Schwinn High Timber Mountain Bike might be your new companion if you're outdoorsy. Its aluminum frame and front suspension make it perfect for trail adventures and rough terrain. Whether cruising through a forest or navigating up a mountain, the High Timber bike offers comfort and stability to let you enjoy the ride.
Schwinn Sanctuary 7
Looking for a comfortable ride for casual afternoons? Schwinn Sanctuary 7 is a cruiser bike that offers both style and comfort. With its 7-speed gear system and fenders for splash protection, it's perfect for a leisurely ride around town or at the beach. Picture yourself riding alongside the ocean, the wind in your hair, and the Schwinn Sanctuary 7 effortlessly gliding under you.
Schwinn Mendocino
Only some people want a full-blown mountain or road bike, and that's where the Schwinn Mendocino comes in. This versatile hybrid bike is designed for both on and off-road cycling. Mendocino features a lightweight frame, comfortable seating position, and the versatility of multiple gears, making it your go-to bike for daily commutes and weekend rides.
Schwinn Meridian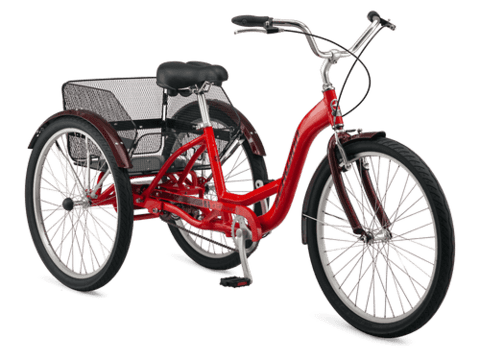 Ever needed to run errands but didn't want to deal with parking a car? Schwinn Meridian is here to save the day! This adult tricycle is perfect for those seeking stability, comfort, and extra storage space. You can easily transport groceries or other supplies with its large rear basket. So next time you think about hopping in the car, why not try the Schwinn Meridian?
Read my full Schwinn Meridian Review here and discover why I rated it as the Best Tricycle for Adults!
Factors to Consider When Choosing a Schwinn Bike
Schwinn products are known for their quality and durability, making them perfect for beginners and experienced riders. Here are the four factors I recommend you consider when choosing between different Schwinn models:
Experience Level: If you're a beginner or casual rider, a bike with a comfortable, easy-to-use design or a stable tricycle could be ideal. Schwinn's hybrid or commuter bikes, known for their comfortable upright riding position, or Schwinn's adult tricycles, celebrated for their stability and ease of use, are worth considering.
Intended Use: Think about where you plan to ride. A mountain bike with grippy tires and a sturdy frame may suit rough terrains. Daily commuters might benefit from a bike designed for urban environments or even a folding bike for easy storage and portability. If stability and comfort are priorities, consider Schwinn's range of adult tricycles.
Rider Age and Needs: Shopping for a Youngster? Schwinn has a range of balance bikes. A tricycle could be ideal for adults, especially those who prioritize stability or have mobility issues.
Durability: You'll want a long-lasting product. Schwinn is known for high-quality, durable designs, but do read reviews and ask other riders about their experiences with specific models.
Schwinn Bikes vs. Other Brands
So, how do Schwinn bikes stack up against other brands? Let's dive into some comparisons with other popular bicycle manufacturers. 
Schwinn vs. Giant
Ever thought about the differences between Schwinn and Giant bikes? Well, one thing which stands out is that both brands are known for producing a variety of bikes in different price ranges.
Schwinn bikes are generally known for being affordable and reliable, an ideal choice for beginners and casual riders. 
On the other hand, Giant offers an extensive line of bikes focusing on innovation and advanced technology.
Regarding road bikes, Giant is definitely the more recognized and respected brand for high-performance bicycles. But don't let that discourage you! Schwinn offers some reliable and budget-friendly road bikes as well.
Schwinn vs. Huffy
While both offer budget-friendly options, Schwinn tends to have better-quality components and overall construction.
On the other hand, Huffy bikes are designed for entry-level riders and have a reputation for being more basic in their design.
Additionally, Schwinn bikes often provide smoother handling and a more enjoyable riding experience. A Schwinn might be right up your alley if you're ready to progress from an entry-level bike without breaking the bank.
Schwinn vs. Mongoose
Lastly, let's take a look at Schwinn vs Mongoose. Mongoose is a brand under the same parent company, Pacific Cycle, as Schwinn. However, Mongoose is more well-known for their BMX and off-road bicycle offerings.
Mongoose usually features lower-end components than Schwinn, intended for casual users rather than heavy off-road use. Schwinn bikes offer a reliable and smooth ride for riders looking to get around town or hit the occasional bike trail.
Schwinn Exercise Bikes
Schwinn exercise bikes come with various features to help you track your fitness progress and make your workouts more enjoyable. Fancy LCD screens, multiple resistance levels, and comfortable seats are just some perks you can expect:
LCD screens: Schwinn bikes often come with user-friendly screens that provide real-time data, such as speed, distance, time, and calorie burn, to help you stay motivated and engaged during your workouts.
Resistance levels: You can easily adjust the resistance levels on your Schwinn exercise bike to challenge yourself and make your workouts more effective. 
Comfort: Many customers praise the ergonomic design and comfortable seating options, ensuring you can keep cycling for longer without discomfort.
So, why pay for a pricey gym membership when you can have your own Schwinn exercise bike at home?
Schwinn FAQs
Are Schwinn Bikes Reliable?
Schwinn is a reputable brand widely known for its reliability. Schwinn bikes are built with quality components designed to withstand regular use over a long period. Many customers report high satisfaction rates with their Schwinn bikes, citing their durability and minimal maintenance requirements.
Are Schwinn Bikes Good?
Schwinn bikes are a solid choice for beginners, casual riders, and recreational cyclists. Schwinn's innovative designs, value for money, and ease of riding make them attractive. Remember that there might be better bicycles for advanced riders, as some discount options can be heavy and come with slightly subpar specifications.
Are Schwinn Signature Bikes Good?
Schwinn Signature bikes are a step up from the regular line, offering improved performance and features. Schwinn Signature bikes are a great choice if you want something more advanced but affordable.
Where are Schwinn Bikes Made?
Like many other bike manufacturers, Schwinn has shifted some of its production to Asia. The company maintains its commitment to quality, and Schwinn bikes remain a popular choice among riders. Just make sure you're buying from an authorized dealer to ensure you're getting an authentic Schwinn product.
Mark Plummer
Mark Plummer
is an experienced bike mechanic who has built, repaired, and customized thousands of bikes over the years. A former mountain biking athlete, his cycling adventures have taken him all over the globe from the mountains of Scotland to the South Island of New Zealand. These days he enjoys the benefits of commuting to work and touring on his Dahon and Brompton folding bikes.
Get Our FREE Folding Bike Buyer's Cheat Sheet
This free cheat sheet will help you choose a folding bike by providing quick information on the 7 key considerations when buying a foldable bicycle!
By subscribing, you agree to get emails from Folding Bike Guy. We'll respect your privacy and you can unsubscribe any time.