When you use our links, we may earn an affiliate commission. Learn more.
Are you considering a folding bike for a compact and comfortable city ride? I've been testing the Schwinn Loop Adult Folding Bike, which aims to make urban cycling hassle-free. Its convenient folding aluminum frame is durable and saves precious storage space.
I loved the 7-speed twist shifter on this folding bike because it ensured smooth gear changes, while the 20-inch alloy wheels with street tires provided a fast ride through city streets. The front and rear linear-pull brakes had ample stopping power, making the Schwinn Loop ideal for busy urban environments.
The rear cargo rack, which comes with a heavy-gauge nylon bag, sets this folding bike apart.
It makes carrying backpacks, groceries, or other belongings extremely easy. When you're done with your ride, fold the bike into its ultra-compact storage configuration and tuck it away until next time.
Schwinn Loop Folding Bike Review
The Schwinn Loop Adult Folding Bike is a fantastic choice for urban cyclists who need a convenient, easy-to-store option. 
This 20-inch, 7-speed folding bike is perfect for both men and women and offers a smooth ride around town during weekdays and weekends.
The Loop is great for those with limited storage space, commuting professionals, and casual riders.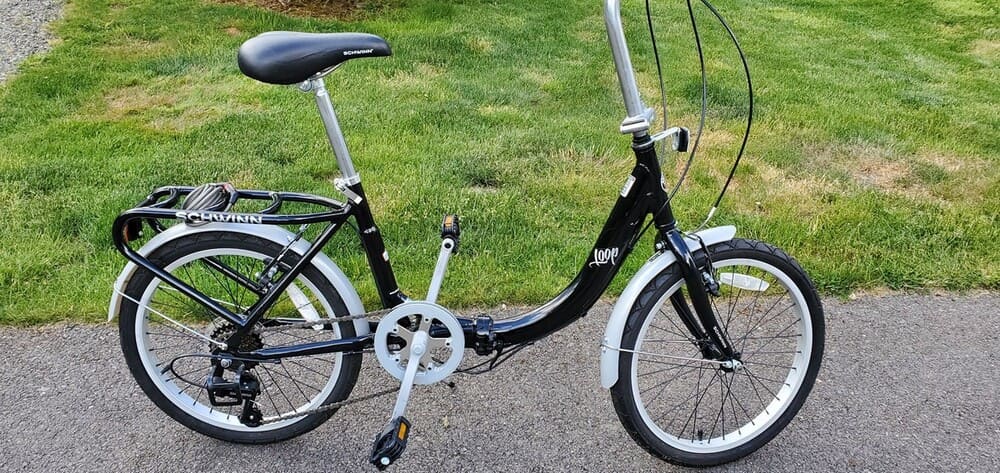 However, there may be better fits for hardcore cyclists or those looking for competitive performance.
Some primary reasons to consider buying the Schwinn Loop include its:
Durable aluminum frame
Smooth gear changes
Secure stopping due to the front and rear linear-pull brakes
The ease of hauling cargo thanks to the rear carrier and included heavy-gauge nylon bag
Schwinn bikes offer a limited lifetime warranty with the Loop.
Foldable and Easy to Store
When it comes to storing the Schwinn Loop, it is reasonably user-friendly. The compact size of the folded bike means it easily fits into tight spaces or can be tucked away until it's time for the next ride.
I was also pleasantly surprised with the included heavy-gauge nylon bag with the bike. It's perfect for storing the Loop when unused or even when you need to carry it on public transportation. 
Features a Robust, Low Stand-Over Aluminum Frame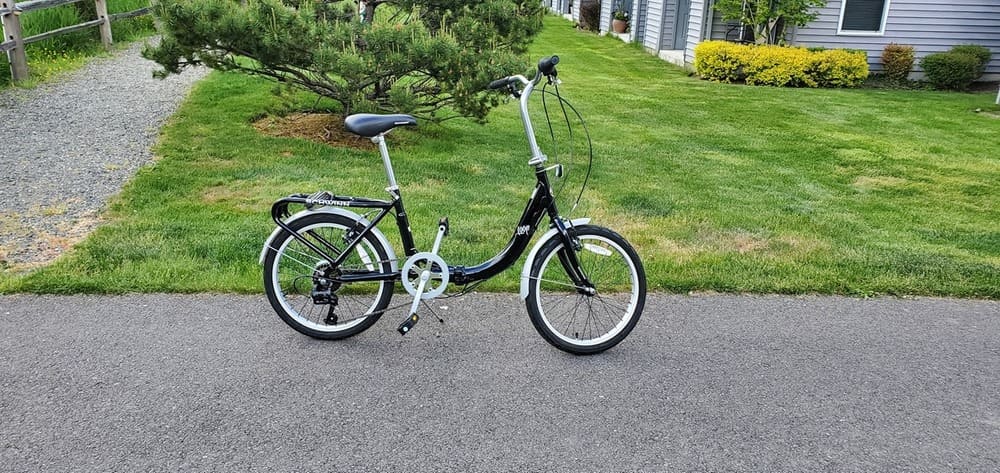 The Schwinn Loop Adult Folding Bike is a practical choice, primarily because of its robust, low stand-over aluminum frame. This feature made it durable and accessible for various rider heights, accommodating users between 4'8″ and 6'2″. 
Tackle Hilly Terrain with 7-Speed Drivetrain
I recently took the Schwinn Loop out for a spin, and we couldn't be more pleased with how it conquered hilly terrain. The 7-speed twist shifter made gear changes effortless, allowing me to tackle inclines easily. Thanks to the smoothly functioning drivetrain, I felt confident to maintain a comfortable pace while climbing and avoided overexerting myself.
As I descended, the front and rear linear-pull brakes performed reliably, giving me the security I needed during those steep descents. Furthermore, the 20-inch alloy wheels and street tires provided a comfortable and efficient ride on city streets, minimizing any bumps I experienced.
Comes with Full-wrap Fenders and a Rear Rack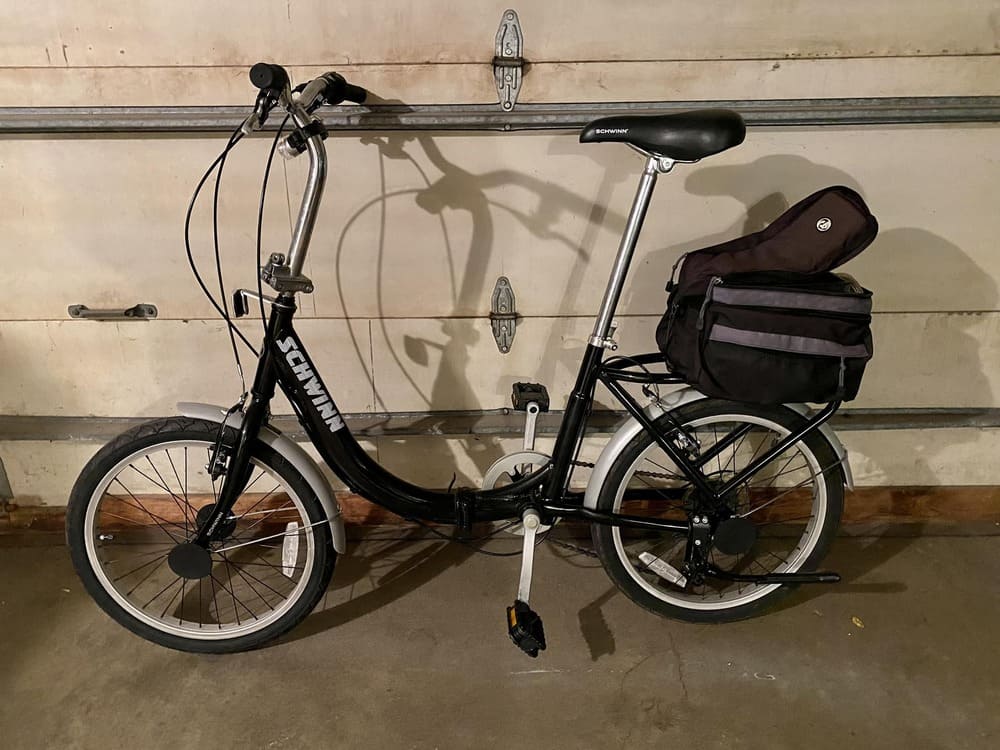 The Schwinn Loop folding bike impressed me with its thoughtful features. Among them, the full-wrap fenders and rear cargo rack stood out.
I love the practicality of the full-wrap fenders, which protect riders from water splashes and debris while riding on wet or muddy streets.
Moreover, the rear cargo rack is handy for carrying bags, especially when commuting or running errands. It adds to the versatility of this bike, providing space to place belongings securely.
Test Ride
I took the Schwinn Loop for a spin around the city, and this folding bike impressed me quite a bit.
The 20-inch wheels with smooth rolling street tires made for a comfortable and swift ride. The 7-speed twist shifter allowed us to tackle hills smoothly, and the front and rear linear-pull brakes proved reliable and safe.
However, the folding process required a bit of practice as it wasn't as intuitive as I had hoped.
After a few tries, I managed to fold the bike into its ultra-compact storage configuration, making it perfect for small living spaces or office storage.
The rear cargo rack with the included carrying bag was a definite bonus, as I could easily take my backpack and other belongings during the commute. 
On the downside, the Loop was heavier than I would have liked, and rolling it when folded was a much-appreciated feature.
Get Our Ultimate Folding Bike Guide
Learn How To Choose, Setup, Ride & Maintain Your Folding Bike with The Ultimate Folding Bike Beginner's Guide
Learn More
Schwinn Loop Specifications
Here's a brief overview of the Schwinn Loop specifications:
| Feature | Details |
| --- | --- |
| Frame Material | Aluminum |
| Wheel Size | 20 Inches |
| Color | Black |
| Number of Speeds | 7 |
| Bike Type | Folding Bike |
| Suspension Type | Rigid |
| Brake Style | Cantilever |
| Size | One Size |
| Warranty Description | Limited Lifetime Warranty |
| Item Weight | 33 Pounds |
Alternatives
If you're still deciding about the Schwinn Loop, here are a few alternatives worth considering.
Schwinn Loop vs. Zizzo
Our Pick
ZiZZO Urbano 24lb Foldable Bike
A high-performing, lightweight (24lb) folding bike that is perfect for commuting and tackling hilly terrain, thanks to its 8-speed 11-32T Shimano cassette. And it's 3-5x cheaper than a Brompton!
Best For: Urban riders seeking value for money.
Key Specifications:
Wheel size: 20-inches
Gears: 8-speed
Weight: 24.5 lbs
Fold time: <30 seconds
Pros:
Lightweight, strong aluminum frame

Zizzo is a reputable brand

11-32t cassette is perfect for flat and hilly terrain riding

Outstanding value (5x cheaper than most Brompton's!)
Cons:
Folded size of H-27" L-31" W-12.5 won't fit in a standard suitcase

The saddle and pedals would benefit from an upgrade
BUY FROM AMAZON ➚
$429.99 FROM ZIZZO ➚
We earn a commission if you make a purchase, at no additional cost to you.
09/24/2023 07:30 pm GMT
Zizzo bikes, such as Zizzo Urbano or Zizzo Forte, are known for their lightweight aluminum frames, making them easier to carry when folded. In contrast, the Schwinn Loop has an aluminum frame, which is a few pounds heavier (but still offers excellent durability).
Regarding the gear system, Zizzo bikes often come with an 8-speed drivetrain, while the Schwinn Loop offers a 7-speed twist shifter that provides smooth gear changes. Both bikes deliver reliable stopping power with front and rear linear-pull brakes.
Unlike the Schwinn Loop, Zizzo bikes usually don't include a rear cargo rack and carrying bag for storage. Overall, both bikes are great options for urban cycling, and your choice might come down to personal preferences on weight or additional features like cargo racks.
Schwinn Loop vs. Hinge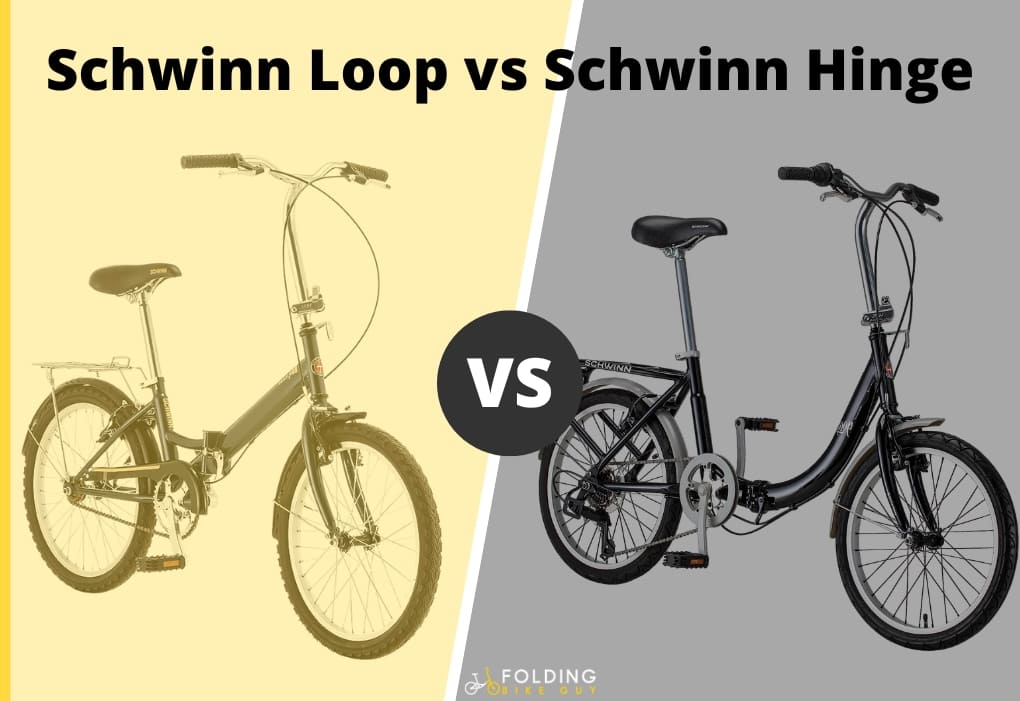 Another alternative is comparing the Schwinn Loop to the Schwinn Hinge folding bike. Both bikes come from the same brand, share folding features, and target riders who require compact storage solutions. There are, however, some differences between the two models.
While the Schwinn Loop has a 7-speed twist shifter, the Hinge features a single-speed drivetrain.
This means that the Loop offers more versatility in gear options, which can benefit riders who face varied terrain or need to manage different speeds during their commutes.
Is The Schwinn Loop Worth Buying: My Verdict
After testing the Schwinn Loop folding bike, I believe it's an excellent choice for urban cycling and commuting because: 
Its folding aluminum frame is durable and convenient for those with limited storage space. 
The bike's 7-speed twist shifter provides smooth gear changes
The front and rear linear-pull brakes ensure secure stopping power.
The 20-inch alloy wheels and smooth-rolling street tires make it perfect for weekday commutes or weekend rides around town.
I also appreciated the rear cargo rack, which included a heavy-gauge nylon carrying bag for hauling items. Remember, it's a budget bike, but it's excellent value for the price.
Of course, there are a few drawbacks, such as the rough handlebar grips, higher weight than I would have liked, and the inability to raise or lower the handlebars. However, these minor issues don't detract from the overall convenience and performance the Loop offers.
In conclusion, the Schwinn Loop is a solid option if you're looking for a reliable, affordable, and convenient folding bike.
FAQs
How much does the Schwinn Loop folding bike weigh?
The Schwinn Loop folding bike weighs 33 pounds. While its weight may be heavier compared to some other folding bikes, the overall sturdiness and durability of the frame more than makeup for it.
How to fold a Schwinn Loop bike?
Folding a Schwinn Loop bike is simple and can be done in a few steps. I'll guide you through the process:
Lower the saddle: Loosen the quick-release lever on the seatpost and then push the saddle down as needed. Make sure to lock the quick-release lever back in place.
Fold the pedals: Push the center of the pedal inwards and fold it towards the crank, ensuring that it lies flat against the frame.
Unfasten the frame hinge: Locate the safety latch and open it. Afterward, release the quick-release lever on the Hinge.
Fold the frame: Gently lift the frame at the hinge point, folding the bike in half.
Fold the handlebars: Release the quick-release lever on the handlebar stem and rotate the handlebars downward until they align with the bike frame. Secure the lever back in place.
Use the safety strap: Wrap the strap around both halves of the folded frame and secure it to keep the bike in its folded position.
Mark Plummer
Mark Plummer
is an experienced bike mechanic who has built, repaired, and customized thousands of bikes over the years. A former mountain biking athlete, his cycling adventures have taken him all over the globe from the mountains of Scotland to the South Island of New Zealand. These days he enjoys the benefits of commuting to work and touring on his Dahon and Brompton folding bikes.
Get Our FREE Folding Bike Buyer's Cheat Sheet
This free cheat sheet will help you choose a folding bike by providing quick information on the 7 key considerations when buying a foldable bicycle!
By subscribing, you agree to get emails from Folding Bike Guy. We'll respect your privacy and you can unsubscribe any time.