Looking for a convenient and space-saving bike for urban cycling? You're in the right place! I recently tried the Schwinn Hinge Adult Folding Bike, and it's been a game-changer. With 20-inch wheels and a folding steel frame, this bike is perfect for urban cycling and weekend rides.
One of the things I love about the Schwinn Hinge is the rear carry rack and the heavy-gauge nylon bag.
It made it super easy to haul my backpack and groceries while riding, but even better is how compact this bike gets when folded up. Tucking it away after a ride is a breeze, a huge plus if you have limited storage space like me.
As someone who has been riding bikes for years, I found the Schwinn Hinge durable and enjoyable. The 20-inch alloy wheels with smooth rolling street tires made my riding around town incredibly convenient and comfortable.
My Verdict: Schwinn Loop Folding Bike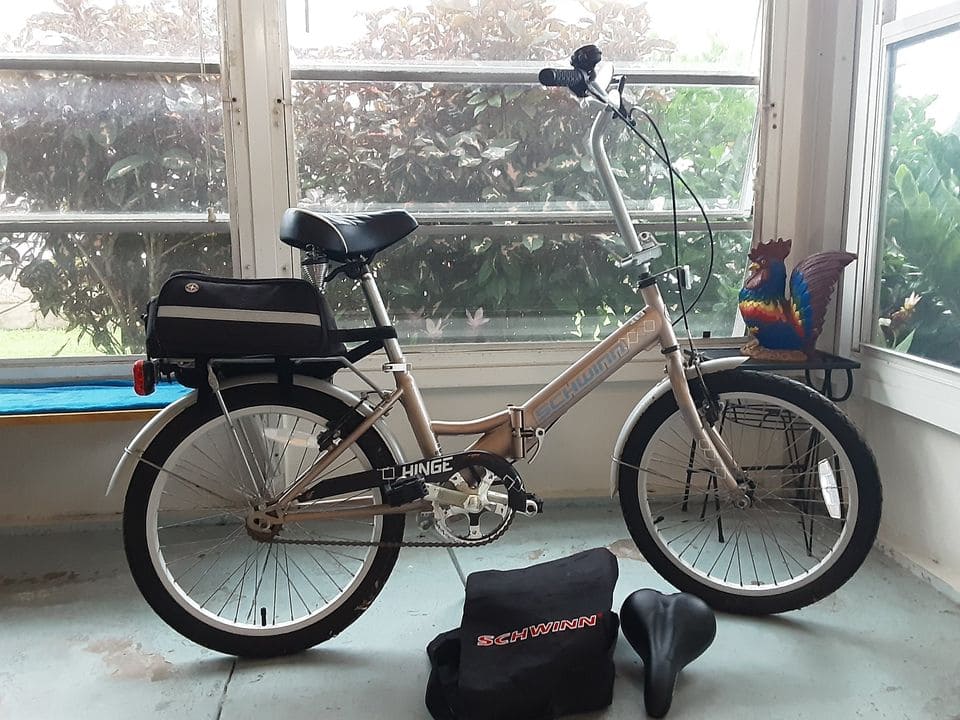 As a fellow urban cyclist, I can confidently say that the Schwinn Hinge Adult Folding Bike is perfect for those with limited storage space who need a convenient mode of transportation around the city.
The folding steel frame and 20-inch wheels with smooth rolling street tires make it my go-to bike for weekday commutes and weekend rides. 
However, if you're looking for a high-performance bike or require multiple gears to handle steep inclines, the Schwinn Hinge may not be for you, as it has a single-speed drivetrain. With a maximum weight capacity of 300 pounds, this bike is suitable for a wide range of riders, and the full-wrap fenders keep me clean and dry during my rides.
In short, the Schwinn Hinge Folding Bike is an excellent choice for urban riders seeking convenience without sacrificing functionality. It's also ideally suited to senior riders thanks to the low-step through frame design.
Schwinn Hinge Review: My Honest Opinion
As a city dweller, I enjoyed the convenience of the Schwinn Hinge Folding Bike. Its durable steel frame and 20-inch alloy wheels with smooth rolling street tires made my daily rides enjoyable. The rear carrying rack and the heavy-gauge nylon bag proved highly useful for carrying my backpack, groceries, and other essentials.
The folding mechanism is seamless and easily fits in my cramped apartment and car trunk when not in use.
Additionally, the single-speed drivetrain lets me coast when needed.
The Hinge has full-wrap fenders to keep you clean and dry during rides. Despite its compact size, it has a maximum weight capacity of 300 pounds (rider and cargo).
Arriving partially assembled with a thick nylon storage bag, a few tools, and a limited lifetime warranty, the Schwinn Hinge is a practical and stylish solution for urban cyclists.
Foldable and Easy to Store
During testing, I found that the Schwinn Hinge takes a fair amount of time to fold away; it took me just over 25 seconds. 
This is not the worst I have seen; however, it is much longer than the premium bikes around that can do this in less than 15 seconds, e.g., the Brompton A Line folds away in 10 seconds or less. 
I love how the Schwinn Hinge folding bike makes my life easier with its compact and foldable design. During testing, folding the bike was hassle-free whenever I finished my ride, and it fit perfectly in my Honda HRV car trunk.
One folding pedal and one regular pedal are practical as they allow for smoother storage, reducing the folded size to 30″x 32″x 11″. This is fantastic for storing in tight spaces and even comes with a convenient carrying storage bag that keeps everything neat. I tested carrying my Hinge in the trunk of my Honda HRV, which fit no problem.
The sturdy, low stand-over steel frame and 20-inch alloy wheels made it easy to carry but also durable and reliable.
Features a Robust, Low Stand-Over Steel Frame
One of my favorite features of the Schwinn Hinge design is the low step-through frame design. I like this because it makes it easy to mount and dismount, which is ideal for senior riders.
The frame is made from steel and is robust for riders up to 300 pounds.
Effortless Navigation with Single-Speed Drivetrain
I love how the single-speed drivetrain allows me to navigate urban areas smoothly. The 20-inch wheels and street tires make my daily commute and weekend rides ever so smooth.
Although this bike has a single gear, it's perfect for city riding and even provides a good workout. When I need a break, coasting is effortless, and there's no need to worry about switching gears or maintaining a complicated drivetrain. 
Remember, this bike is for urban cycling, so be mindful that there might be better choices for hilly terrains. 
Comes with Full-wrap Fenders and a Rear Rack
Another positive I appreciated when testing during rainy or wet days was the full-wrap fenders and rear rack. These fenders kept me clean and dry during my ride, even when going through puddles. The rear rack is also a fantastic addition, making it convenient for me to carry my cargo, such as groceries or a backpack.
Schwinn Hinge Customer Reviews
In addition to my testing of the Schwinn Hinge Folding Bike, I also spent over 10 hours reviewing other customers' feedback, which I summarised below to help you decide whether it's worth buying:
Positive Reviews
Many users praised the bike's easy assembly, only needing to attach one pedal included in a smaller box. 
The carrying bag is a big plus, making storage and transportation a breeze.
Negative Reviews
Some customers found the bike too heavy, making it difficult to carry around. 
People appreciated the sturdy frame but had issues with a tight folding hinge. Spraying it with WD40 helps. 
The brakes may come too tightly secured, so loosening them might be necessary.
A few users had problems with damaged parts; bent hinges and front chainrings caused concerns. 
Overall satisfaction with the bike was generally high for the price. It might not be perfect, but it seems suitable for casual rides and easy transportation. 
Test Ride: My Expert Opinion
During my testing, I took the Schwinn Hinge folding bike for a spin around town, and it was an enjoyable experience. The 20-inch wheels and smooth-rolling street tires made for a pleasant ride, whether on my daily commute or simply exploring local paths at the weekend. 
I appreciated how straightforward and effective the folding mechanism was, perfect for those needing storage options. The rear carrier and nylon carrying bag helped transport my daily essentials or groceries.
Like other riders, I found the Schwinn Hinge a bit heavy, which made carrying it around slightly inconvenient, and it wouldn't be my favorite folding bike for commuting. 
Some of the plastic components, like the fenders, were tight against the tires and caused a bit of rubbing noise, but it was a minor issue.
Overall, the Schwinn Hinge is a good option for the price, especially for casual cyclists who need a compact and versatile bike. Be prepared for some tweaking to get it working just right.
Schwinn Hinge Folding Bike Specifications
Here's a summary of the Schwinn Hinge Folding Bike specifications:
| 20-inch / Medium | Detail |
| --- | --- |
| Frame Material | Alloy Steel |
| Wheel Size | 20 Inches |
| Color | Grey |
| Number of Speeds | 1 |
| Age Range (Description) | 14 Years + |
| Bike Type | Folding Bike |
| Brake Style | Linear Pull |
| Size | 20 inch / Medium |
| Foldable Feature | Yes |
| Suspension Type | Rigid |
| Warranty Description | Limited Lifetime |
Alternatives
While I was impressed with the Schwinn hinge during testing, there were a few drawbacks I identified which, depending on your needs, may make it worth considering other options such as:
Brompton Folding Bikes: With a smaller 16″ wheel size and patented folding mechanism, a Brompton bicycle would be a better alternative than the Schwinn Hinge for commuters, albeit at a higher price point.
Dahon Folding Bikes: Dahon provides folding bikes with a broader range of speeds and styles, making it easy to find a suitable alternative to the Schwinn Hinge.
Tern Folding Bikes: Tern focuses on sustainable city transportation solutions with their folding bikes, which often have unique features and designs.
Based on questions I received from readers considering the Schwinn Hinge, I've also provided a few specific alternative comparisons below.
Schwinn Hinge vs. Loop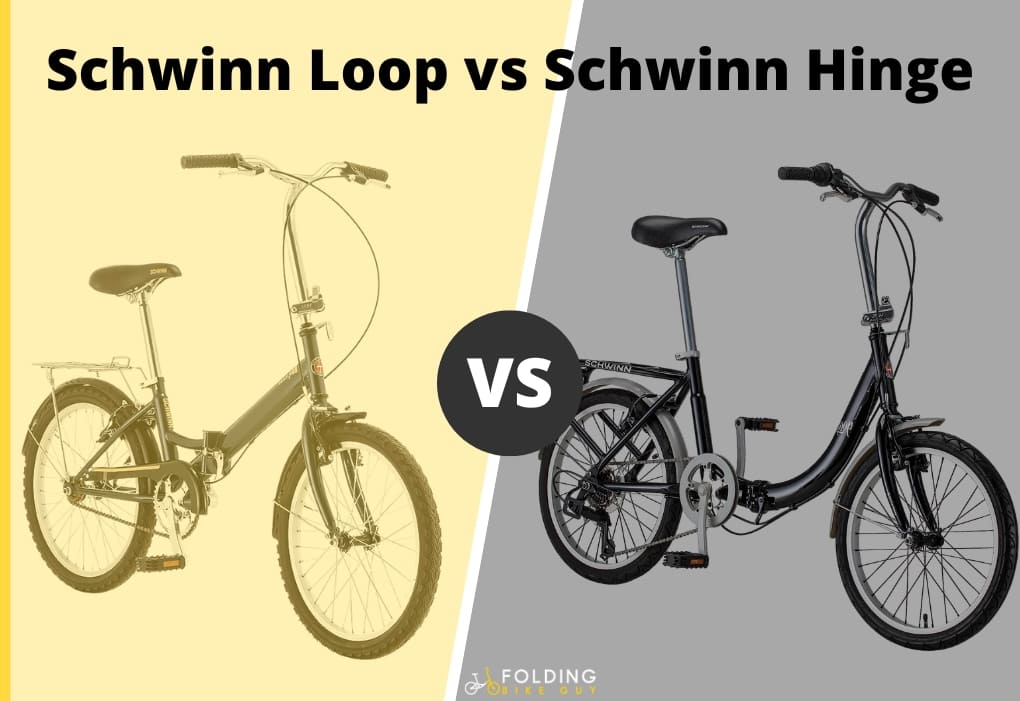 Having recently tested the Schwinn Hinge and Loop bikes, I identified some differences between these two folding bikes. 
Both folding bikes have 20-inch wheels, an easy-fold mechanism, a 300-pound weight capacity, fenders, and a rear rack. The critical difference between the Schwinn Loop and Hinge is that the Loop is lighter but comes at a slightly higher price.
Thus, the Schwinn Loop is better if you're a rider who values a sleeker design and lightweight feel, particularly for urban commuting or quick trips. However, the Hinge is the top choice for those seeking a bike with sturdy construction and a more affordable budget.
Schwinn Hinge vs Zizzo Urbano
I also tried the Zizzo Urbano folding bike and compared it to the Schwinn Hinge. The Zizzo Urbano has a stylish and lightweight aluminum frame, making it easier to carry when folded. It also features 20-inch wheels and a 7-speed drivetrain, providing more gear options and a smoother ride on various terrains.
You can read my full Zizzo Urbano review here.
If you don't mind a slightly heavier single-speed bike and value the practicality of fenders and a cargo rack, the Schwinn Hinge could be an excellent choice.
Is The Schwinn Hinge Worth Buying?
In my experience with the Schwinn Hinge Adult Folding Bike, it is an excellent option for urban cycling and limited storage spaces. The folding steel frame is durable, and the 20-inch wheels ensure a smooth ride, perfect for daily commuting and weekend rides.
I appreciated the rear carrier and the included heavy-gauge nylon bag, which made carrying my belongings a breeze.
However, it's important to note that some users have mentioned the bike being heavier than other folding bike brands and having issues with the folding mechanism being tight, which wouldn't be ideal for commuters.
Despite these minor drawbacks, the Schwinn Hinge offers a comfortable and convenient riding experience with full-wrap fenders and a rear cargo rack.
Because it arrives partially assembled, the assembly process is pretty simple. Overall, the Schwinn Hinge Folding Bike is a solid choice for those seeking an affordable and practical foldable bike for urban riding.
Before you go, I recommend this article If you'd like to learn more about the Schwinn bikes brand.