When you use our links, we may earn an affiliate commission. Learn more.
Traveling on a train with a conventional bike can be a nightmare, a problem that the more compact folding bike can help solve. But will folding bikes be allowed on trains? 
Public transport trains, like the tube, will allow folding bikes. They won't incur any additional fees or pay additional fees. Using a private train company, like Eurostar, typically requires transporting the foldable bike in a suitcase. Provided the bag is less than 32 inches (82cm) wide, it will be allowed on the train.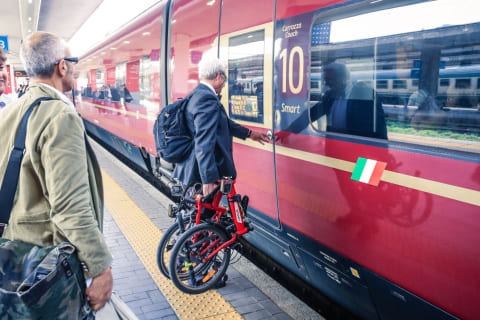 In most cases, you shouldn't have any problems taking your folding bike on a train.
But if you plan on taking it for a more extended trip on a private train, you will need to consider the size and weight of your suitcase. Read on to learn more about the restrictions you need to consider. 
Can You Take A Folding Bike On A Train When Traveling Overseas?
You can take a folding bike on a train while traveling in most cities and countries worldwide. Here is a breakdown by country, including notes on any restrictions or important considerations you should be aware of.
| Country | Can You Take A Folding Bike On A Train? |
| --- | --- |
| Australia | The rules vary by city in Australia; you can take a folding bike on most trains provided it is folded up and placed inside a bag or suitcase no larger than 90cm by 70cm by 36cm. For safety reasons, it is prohibited to transport the bike in overhead luggage racks. |
| Canada | Folding bikes are permitted on SeaBus, SkyTrain, and West Coast Services at all times; however, they are limited to one bike per carriage, and peak hour restrictions may apply. |
| Europe | Folding bikes are generally permitted on trains in Europe without any prior reservation. Different rules apply between public and private trains, such as Eurostar, which requires the bike to be folded and stored in a suitcase measuring 82cm (32in) or less. |
| Great Britain | Folding bikes are allowed on trains in the UK without any restrictions or reservations, provided they are fully folded and subject to available space to carry them. |
| Japan | You can take a folding bike on a train in Japan; the bicycle doesn't need to be folded but must be covered with a plastic bag or similar. The foldable bike does not need to be folded for transportation. |
| Singapore | Foldable bikes are allowed on trains; however, they must be folded at all times in LRT/MRT stations, terminals, and while on the train. The folded size must also not exceed 120cm by 70cm by 40cm (47in by 28in by 16in). |
| USA | Amtrak permits carrying folded bicycles in designated storage areas of certain luggage cars. The bicycle must have folded dimensions no greater than 34″ by 15″ by 48″ (86 x 38 x 112 cm) to be allowed to travel. |
Can You Take An Electric Bike On A Train?
On most train services, you can travel with an electric bike, and e-bikes are subject to the same requirements and restrictions as regular bikes. In some instances, this may include limitations such as the electric bike weighing less than 50 pounds, peak hour restrictions, and only being permitted to travel in certain train carriages.
Get Our Ultimate Folding Bike Guide
Learn How To Choose, Setup, Ride & Maintain Your Folding Bike with The Ultimate Folding Bike Beginner's Guide
Learn More
Transporting A Folding Bike on Public Trains 
Public transport like trains is a great way to travel around a busy city. You won't have any issues getting your bike onto the train. You can take a folding bike on any public rail system in the UK without booking in advance or paying any additional fees.
Other countries around the world follow the same laws.
For example, the US and Australia allow you to take a folding bike onto public transport train systems without additional fees or restrictions. 
Tips For Taking Folding Bikes on Public Trains
If you are planning to bring your folding bike on a public train, here are a few considerations that you need to keep in mind: 
Roll your bike on the platform. Most folding bikes are relatively light, weighing around 20 pounds. But it is still a good idea to roll it along the platform, particularly if you have a long way to walk. Because of this, leave the seat, using the wheels to move the bike in front of you. You can also sit on the seat post while you wait for the train to arrive; keeping your feet on the ground will help steady the bike. 
Carry by the frame. You will need to carry the folding bike onto the train. As you are doing this, lifting it by the frame is essential, rather than the handlebars or seat post. Some people opt to put the bike into a bag before bringing it onto the train. I also recommend wiping down the tires before you get onto the train. 
Consider where to put your foldable bike. Once on the train, you must consider where to put the bike. There are a few options to consider. First, consider placing it on the adjacent seat or putting it on your lap. You should have enough space to slide it under the seat. If it's a packed train, you might need to stand, placing the folding bike by your side. 
Transporting Bikes On Private Trains
Sometimes, you can take a trip on a private train. A private train is most common when you are going on holiday or taking a long journey. Eurostar is a prominent example of this type of train, which runs trains from London to Belgium. 
In this case, there will often be a limit on the size and weight of the luggage you can take.
The good news is that trains are laxer in this area than airports. The exact regulations will vary a little, depending on the train company. But here are the guidelines on Eurostar: 
No weight limit, though you have to be able to lift your bag on your own.  
Bags must be 85cm long at the widest point.
In Standard Class, you can have two pieces of luggage and one hand luggage item.
If you opt for Business Class, you can have three pieces of luggage and one hand luggage item.
The good news is that these regulations are reasonably generous, considering that most pieces of luggage are 75cm wide.
Because of this, if your folding bike can fit into a suitcase, you will be able to bring it onto the train. Most folding bike models are compact enough for this. You might even have enough space left over to put in some clothes. 
Though if you need additional luggage space, you will be able to purchase it. But it will incur an additional fee. 
The requirements on Eurostar are representative of the industry. Here are some other famous lines and the regulations that apply: 
TGV. TGV is a famous line in France. The rules vary a little, depending on the line. Sometimes, you will only be allowed luggage that you can store in the overhead luggage racks. At other times, you will be limited to suitcases that measure 85 x 55 x 35cm and weigh less than 25kg (55 pounds). Either way, you shouldn't have issues bringing a folding bike onto the train. 
ICE. ICE is a train line that is popular in Germany. They allow two suitcases and one piece of hand luggage per customer. There is no weight limit, though you must carry your bag.
AVE. AVE is a train line that operates bullet trains in Spain. They allow folded bikes. But they must be in a case. Furthermore, the sum of the case dimensions must be no more than 180cm. 
Italo. This Italian line has maximum luggage requirements of 75 x 30 x 30cm. 
These regulations are pretty standard and will indicate what train lines worldwide expect. However, some American trains might be a little tighter. For example, Amtrack only allows a maximum of 50 pounds for luggage. 
It's always a good idea to double-check the rules when packing.
For example, in advance, some lines, like Thalys, might require you to tell them about bulky luggage, like folding bikes. 
As long as you have a folding bike that can fit into a standard-sized suitcase, which most models will, you can take them onto these trains.
Plus, you don't need to worry about a weight limit. But even if your line does impose limits, it's usually not an issue.
Most folding bikes weigh 20 pounds or less.
If you have a choice, though, it's often best to choose a folding bike with tires that have less than 24-inches. A smaller folding bike ensures that there will be enough space in your suitcase for other items. If you want, you can pack some clothes around the bicycle. 
If you are going on a train holiday, it's best to use a hard-shell case for your bike to ensure that it won't be damaged while getting it into your cabin. However, you won't need any padding, as when taking a folding bike on a plane.
Final Thoughts
The train is a convenient way of getting around the city and moving from one country to another. You shouldn't have any problems getting a folding bike onto this form of transport.
Often, you'll only encounter an issue when you are trying to pack for a private train, and there is limited suitcase space. But, if needed, you can always purchase an additional suitcase for a fee.  
Mark Plummer
Mark Plummer
is an experienced bike mechanic who has built, repaired, and customized thousands of bikes over the years. A former mountain biking athlete, his cycling adventures have taken him all over the globe from the mountains of Scotland to the South Island of New Zealand. These days he enjoys the benefits of commuting to work and touring on his Dahon and Brompton folding bikes.
Get Our FREE Folding Bike Buyer's Cheat Sheet
This free cheat sheet will help you choose a folding bike by providing quick information on the 7 key considerations when buying a foldable bicycle!
By subscribing, you agree to get emails from Folding Bike Guy. We'll respect your privacy and you can unsubscribe any time.