When you use our links, we may earn an affiliate commission. Learn more.
There are hundreds of folding bikes available from dozens of manufacturers. Despite the intense competition, many cyclists prefer to use Brompton bikes. This is proof that they offer something unique.
There are several reasons why the Brompton brand stands out above the rest. This includes their experience, strong reputation, and wide range.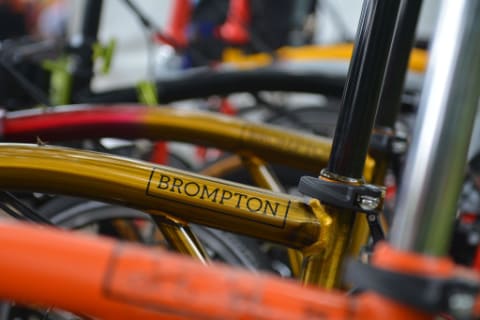 1. Long History Of Quality Folding Bikes
One of the biggest reasons people choose Brompton bikes is because it is one of the original folding bike manufacturers. Andrew Ritchie started it in 1975. He created a three-part fold because he wanted a more convenient way to travel around the city.
At first, he worked on improving the design and made each bike by hand.
Eventually, though, he opened a factory in 1991. His team made each bike by hand, producing 60 a month. Over the coming years, the Brompton grew in popularity, and the manufacturing capabilities expanded.
As the brand expanded, Brompton worked to improve awareness of the folding bikes. By doing this, Brompton has helped normalize the concept of a folding bike.
2. Wide Range Of Bikes
Due to its long history, Brompton has been able to create multiple types of bikes. Each of these will cater to a slightly different market. Here are the bikes that they offer:
A Line. This is the most basic model and will be the most affordable.
C Line. This line has three bikes: Utility, Urban, and Explorer. These come with luggage carriers and mudguards as standard. You'll be able to choose which handlebars you want to use. There is a range of colors to choose from.
C Line Electric. As the name suggests, these will come with pedal assistance, which makes it easier to get up a hill. Unlike other electric bikes on the market, the motor and battery will sit in a saddle bag, which you can wear as a backpack if you wish.
T Line. This bike sports a titanium frame. This makes it both lightweight and robust. It weighs just 16 pounds (7.45 kilograms), lighter than many of its competitors.
P Line. This is a lighter version of the A-line bikes. It also comes in an electric variety.
Each of these bikes caters to a slightly different audience, you can learn more about the full range in my Brompton bikes guide.
For example, those who value performance will often want the T Line. If you need a more affordable option, the A Line won't disappoint.
They have a range of bike accessories, including front and rear lights, which can be a good way of personalizing your bicycle.
Get Our FREE Tricycle Buyer's Cheat Sheet
This free cheat sheet will help you choose a trike by providing quick information on the 7 key considerations for buying an adult tricycle!
By subscribing, you agree to get emails from Folding Bike Guy. We'll respect your privacy and you can unsubscribe any time.
3. Strong Manufacturer's Warranty
There are several elements that people will look for when they are choosing a bike. One of the most important considerations is the type of protection you will get. Many quality folding bike brands will back their products with a generous warranty.
In this area, Brompton is no exception. How long the warranty will last will depend on the type of product:
Electrical elements. These will be backed by a two-year warranty period. Though this can be extended to three years for additional protection.
Frame. The warranty will last for five years. However, it can be extended to seven years if you wish.
Other components. These come with a two-year warranty.
The team from Brompton can be contacted by email seven days a week. You can also take your Brompton to a local bike shop, which qualified technicians will service.
4. Positive Customer And Critic Reviews
Before purchasing any folding bike, it's a good idea to look at what other customers have said. In this area, Brompton tends to have a reasonably good reputation.
People are impressed by the innovative features these bikes have become associated with:
For example, you can unfold them within a few seconds.
Plus, they have a strong customer service team to help customers with any problems.
These bikes have proved to be a hit with professional critics. Their bikes are frequently given four or five-star reviews and are viewed as one of the best brands in the industry.
5. Easy To Fold And Unfold
Many people are wary about choosing a folding bike. They worry that unfolding and setting up the bike will be too complex. But Brompton has helped to alleviate these concerns by creating bikes that are easy to fold and unfold.
They can be unfolded and ready to ride in as little as 20 seconds.
The company has plenty of resources to help you learn the correct folding method for your bike. After the first few rides, you should be able to fold it like a pro.
6. Built To Last
Brompton is known as a relatively inexpensive brand. Their electric models will cost just $3,499. Despite this, they are made to last for a long time.
As we mentioned earlier, Brompton bikes have an impressive warranty, with frames protected for up to seven years. There are many reasons why these bikes are so durable. These include:
Strong frames. The bike frames have been made from solid materials. This ensures that they will be able to take a few knocks. All components, like gears and brakes, can be replaced over time. Because of this, as long as you have a strong frame, the bike can last for many years.
Quality parts. The Brompton brand has been built on providing premium products for an affordable price. Because of this, they won't skimp on the features. Even the basic A-Line will still have comfortable seats and handlebars.
Qualified bike mechanics. You can use their skilled technicians if you live close to one of the Brompton stores. They have been trained specifically to work on Brompton bikes and will be familiar with their intricacies.
7. Excellent Ride Performance
While all the qualities above are essential, the most critical element will be the way the bike feels to ride. In this case, Brompton has included several features that helped to create superior performance. These include:
Suitable for riders of all ages. The Brompton bikes are accessible to anyone. Within minutes, you'll be able to adjust the cycle to make it more comfortable for you to ride.
It can handle some off-road tracks. It's not wise to take the Brompton into rough terrains. But it should be able to cope with a small amount of gravel or a dirt road. Just remember to clean the chain afterward.
Comfortable for commuting. Folding bikes are commonly used to get to and from work. In this respect, the Brompton is a comfortable ride that is easy to control and maneuver. Interestingly, a crucial part of the Brompton brand is that you should be able to ride in work clothes, so there's no reason to wear lycra.  
Great for uphill riding. One of the drawbacks of riding a folding bike is that the small wheels can struggle when going uphill. But this isn't the case with the Brompton. They have a reliable gear system and offer electric folding bikes if you still need a little extra help 😉
Final Thoughts
Brompton is one of the best brands in the world for folding bikes. This is because they focus on providing a quality experience to their customers. As a result, you can feel confident that you will get a high-quality bike when you buy one that carries this label.
Mark Plummer
Mark Plummer
is an experienced bike mechanic who has built, repaired, and customized thousands of bikes over the years. A former mountain biking athlete, his cycling adventures have taken him all over the globe from the mountains of Scotland to the South Island of New Zealand. These days he enjoys the benefits of commuting to work and touring on his Dahon and Brompton folding bikes.
Get Our FREE Folding Bike Buyer's Cheat Sheet
This free cheat sheet will help you choose a folding bike by providing quick information on the 7 key considerations when buying a foldable bicycle!
By subscribing, you agree to get emails from Folding Bike Guy. We'll respect your privacy and you can unsubscribe any time.