When you use our links, we may earn an affiliate commission. Learn more.
A cruise is an exciting adventure; for many, it's the perfect opportunity to explore new destinations. If you're a cycling enthusiast, consider taking a folding bike on your next cruise as a great way to enjoy islands and ports of call while still getting exercise and taking in the sights.
Can You Take A Folding Bike On A Cruise Ship?
Some cruise lines, such as Royal Caribbean Cruise and Norwegian Cruise, allow guests to bring folding bikes onboard, as long as they're stored in staterooms and used only in ports of call. Pack your bike securely, abide by the cruise line's specific rules, and always check with the cruise line for any potential restrictions or requirements beforehand.
3 Amazing Benefits of Taking Folding Bikes on a Cruise Ship
Folding bikes are a practical option for cruises because they're compact and lightweight, which makes them easier to store and transport.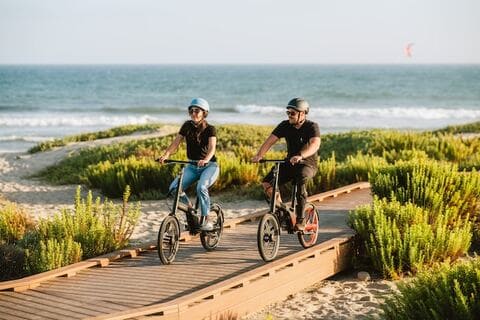 #1 Easy Port Exploration
Taking a folding bike on a cruise ship allows you to explore each port more efficiently and at your own pace. Instead of relying on public transportation or expensive shore excursions, you can unfold your bike and start pedaling through the streets. 
This gives you the freedom to visit local attractions, shops, and restaurants without worrying about the schedule of buses or taxis. 
Plus, you can discover hidden gems off the beaten path since you're open to more than predetermined routes.
#2 Staying Active and Healthy
Bringing a folding bike on your cruise ensures you can maintain your exercise routine and stay physically active throughout your vacation. 
Cycling is an excellent form of low-impact cardiovascular exercise, making it ideal for cyclists of all fitness levels. 
As you pedal through various ports, enjoy the fresh air and beautiful views while reaping the benefits of exercise. 
In addition, incorporating physical activity into your travel plans helps counteract the indulgent meals and ample lounging time that often come with cruises.
#3 Space-Saving Advantages
Folding bikes are easy to store and compact, making them the perfect companion for a cruise ship vacation. When not in use, your folding bike can be stored in your stateroom without taking up too much space. 
This leaves more room for essential belongings like clothing, toiletries, and souvenirs you pick up during your trip.
Get Our Ultimate Folding Bike Guide
Learn How To Choose, Setup, Ride & Maintain Your Folding Bike with The Ultimate Folding Bike Beginner's Guide
Learn More
Cruise Line Policies and Restrictions
Regarding taking a folding bike on a cruise ship, policies, and restrictions vary by cruise line. I have summarised the guidelines for several major cruise lines below.
Note: these guidelines were correct when writing; however, you should ALWAYS check directly with the cruise line as policies can change with time and by destination.
Carnival Cruise Lines
Carnival Cruise Lines does not mention folding bicycles in their prohibited items list.
However, you should contact the cruise line directly to confirm whether your folding bike can be brought onboard. Remember that candles, incense, coffee makers, clothes irons, travel steamers, and heating pads are prohibited on Carnival ships.
Can You Bring A Bike On A Royal Caribbean Cruise?
You can bring a folding bike on a Royal Caribbean cruise ship, provided it's lightweight and compact. It should be securely packed for transport, potentially using a carrying case for extra protection.
Once onboard, you must store your folding bicycle in your stateroom, possibly pre-arranged with the cruise line.
Norwegian Cruise Lines
Norwegian Cruise Line has a policy allowing guests to bring foldable bicycles as long as they're stored in a suitcase.
Princess Cruises
Princess Cruises has no stated policy on folding bikes. For the most accurate information, it's advised to contact them directly.
Celebrity Cruises
Celebrity Cruises does not explicitly mention folding bicycles in its onboard policies. I have read mixed responses about whether you can or cannot carry your folding bike on board, so I advise you to contact the cruise line to inquire about bringing your folding bike on board.
Holland America
There is no definitive answer about bringing folding bikes onboard Holland America ships. You should contact the Holland America representative and request written confirmation if they allow folding bikes to avoid issues during embarkation.
Disney Cruise Line
Unfortunately, Disney does not allow bicycles or scooters on board except those required for mobility, such as wheelchairs. It's essential to review their policy and adhere to their guidelines.
My bottom line: Before bringing a folding bike on any cruise, check with the cruise line for its specific policies and storage options. Keep your folding bicycle secure during the voyage, and be prepared to explore exciting ports on your trusty two-wheels!
Preparing Your Folding Bike for Travel
When packing your folding bike for a cruise, choose a stateroom with enough storage space. A standard-size suitcase may not suffice, so check the dimensions before purchasing a travel bag or case for folding bicycles.
Follow these tips for successful packing:
Disassemble the bike as much as possible (if required) according to the manufacturer's instructions.
Use padding, bubble wrap, or clothes to protect delicate parts from potential damage during transit.
Stay within the luggage weight limit imposed by your cruise line.
Folding Bike Models and Brands For Cruises
Consider choosing a suitable folding bike model or brand for your cruise. Brands like Brompton are popular for their compact size and ease of transportation. When selecting a bike, consider factors such as:
Size when folded: Check dimensions and compare them to the stateroom and suitcase to ensure a good fit. The wheel size and folding mechanism type are important considerations for a compact fold; I recommend choosing a wheel size of 16 inches or smaller.
Weight: Lighter bikes are generally easier to carry, transport, and store on board.
Comfort and performance: Look for reviews and test ride different models before purchasing your folding bike.
Accessories and Necessities
Ensure a smooth sailing experience by bringing along essential accessories and necessities.
A lock: Protect your bike while visiting restaurants, beaches, or other off-ship locations.
A bike bag or cover: Comply with any onboard requirements for bike storage and keep your stateroom clean.
Repair kit: In case of any problems, include an essential toolkit with a spare tube, patch kit, and multi-tool.
A helmet and reflective gear: Prioritize safety by bringing along appropriate gear, especially for local regulations in port destinations.
Exploring Popular Cruise Destinations with Folding Bikes
Europe
Europe is a fantastic region to explore by folding bicycle during your cruise. River cruises are particularly suited for this, as they allow you to access enchanting cities and towns along the riverbanks.
Imagine cycling through the charming streets of Amsterdam or along the scenic Danube River, taking in the beautiful landscapes and historic architecture at your own pace.
In Iceland, you can experience the unique natural wonders this country offers by biking through its picturesque landscapes. Popular destinations like Reykjavik offer bike-friendly paths and tour opportunities to maximize your biking experience.
Caribbean
A Caribbean cruise is perfect for those who love biking in sun-soaked destinations. On a Western Caribbean cruise, passengers can cycle around the various island ports, exploring the lush landscapes and vibrant local culture.
Your folding bike will enable you to cover a lot of ground and visit off-the-beaten-path locales that many Caribbean tourists may miss.
Canada and New England
Discover the rich history of Canada and New England on your folding bike. As you journey through quaint coastal towns and bustling cities, you can meander along scenic waterfronts and picturesque parks.
This region is famous for its stunning fall foliage, and what better way to experience it than on a leisurely bike ride?
Alaska
Though it may be less conventional for bike enthusiasts, Alaska is an adventure waiting to be explored on your folding bike. Take advantage of Alaska's extensive network of bike trails and battle-tested roads to immerse yourself in the untamed wilderness, wildlife, and striking beauty of the Last Frontier.
Mexico
Folding bikes provide the perfect way to enjoy Mexico's rich cultural heritage and stunning natural beauty. Cruise passengers can navigate charming colonial towns while soaking up the vibrant atmosphere and enduring history. Remember to stop and savor some authentic Mexican cuisine after a rewarding ride!
Safety and Compliance
Onboard and Port Procedures
When taking your folding bike on a cruise ship, it's essential to adhere to the rules and regulations the cruise line sets. Contact your cruise line to see if they allow folding bikes onboard.
Always follow their guidelines for properly storing your bike, especially during embarkation and disembarkation. Do your part in keeping the ship's environment safe by avoiding the following:
Sharp objects, ammunition
Illegal drugs, substances, or CBD oil
Candles, incense, matches
Appliances like coffee makers, clothes irons, travel steamers, hot plates, and heating pads
Hoverboards, water hookah pipes, paint
Some cruise lines might require you to sign a waiver acknowledging the potential risks involved in bringing specific items like a folding bicycle onboard.
Emergency and Health Considerations
Your safety on the cruise ship is a top priority. Keep your folding bike secure and away from areas where it could cause potential harm or hazards.
This is important when onboard and at the ports you visit. Ensure that you know the port procedures and regulations regarding bike use, as each port may have specific rules or restrictions.
In case of any emergencies on the cruise ship, please pay attention to the ship's staff and follow their instructions diligently. 
This can include storing your folding bike in a designated area during an emergency or adhering to health protocols set by the cruise line, such as maintaining an appropriate distance from others.
Mark Plummer
Mark Plummer
is an experienced bike mechanic who has built, repaired, and customized thousands of bikes over the years. A former mountain biking athlete, his cycling adventures have taken him all over the globe from the mountains of Scotland to the South Island of New Zealand. These days he enjoys the benefits of commuting to work and touring on his Dahon and Brompton folding bikes.
Get Our FREE Folding Bike Buyer's Cheat Sheet
This free cheat sheet will help you choose a folding bike by providing quick information on the 7 key considerations when buying a foldable bicycle!
By subscribing, you agree to get emails from Folding Bike Guy. We'll respect your privacy and you can unsubscribe any time.