Learn more about site author Mark Plummer.
About Folding Bike Guy
Foldingbikeguy.com was founded in 2015.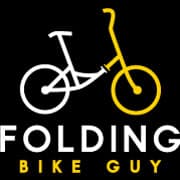 Hi and welcome to Folding Bike Guy! Our mission is to help you choose the best folding bikes and folding electric bikes by providing detailed reviews and guides.
As a passionate cycling enthusiast and experienced bike mechanic, I started this site to share with you some of the knowledge I have gained from building and repairing thousands of bikes over the last 20 years.
And thus Folding Bike Guy: The Folding Bike Review Blog was born.
If you would like to contact us you can do so here.