When you use our links, we may earn an affiliate commission. Learn more.
If you're into a life of adventure, then mountain bikes are going to be your new favorite thing. But, whether your love for mountain bikes is newfound or pretty old, we can all agree that keeping a mountain bike means it'll take up garage space.
Don't let that stop you!
The world of folding mountain bikes has opened up new possibilities for lovers of mountain bikes.
This article will tell you everything you need to know about the best folding mountain bikes on the market.
Just read this folding bike buyer's guide, and you'll find the best folding bike that checks all the boxes for you.
We've put together a top 10 list of some of the best foldable mountain bikes available.
So follow along and find your dream foldable bike with the help of this article.
Best Folding Mountain Bikes Reviews
No foldable mountain bike buying guide is complete without listing the best products the market has to offer.
Luckily for you, some of the leading bike manufacturers have taken it upon themselves to build the most durable foldable mountain bike you can also use for daily commuting.
Whether it's taking a short ride to work or covering long distances on a biking adventure, mountain bikes can do it all.
So let's go on to find the best folding mountain bike from the top 10 options available.
Best Overall Folding Mountain Bike: PASELEC GS9
Last update on 2023-05-04 / Affiliate links / Images from Amazon Product Advertising API
Do you believe in love at first sight?
If not, then the PASELEC GS9 is here to restore your faith in it with its sleek and eye-catching design.
E-bikes are have been the talk of the town for quite a while now.
But, there are no hybrid bikes quite as good as the PASELEC GS9. This bike stands out from the crowd because of its quality and its intelligent driving system.
With the PASELEC GS9, you now get a bike with three riding modes.
When you have a bike as smart as the PASELEC GS9, you don't have to worry about those dreadful rides uphill.
Its human mode, electric mode, and power-assisted mode change up dynamically depending on how much boost you need.
Its 500w motor can take whatever you throw at it.
With eight variable speeds and a top speed of 28mph, you'll feel like you're flying on the clouds.
This one's definitely very high on our list of the best folding mountain bikes.
It's the perfect intelligent mountain bike for those who want to go for a much more compact alternative.
With this beast by your side, all your adventures can now become a reality.
Features
An intelligent power system that gives just the perfect boost for an effortless ride.
The product comes 85% assembled.
Large rims with a strong grip.
New bike frame design with full suspension.
Pros
Complete after-sales service is available.
A hybrid bike with a powerful 500w motor.
Highly responsive and completely safe hydraulic brakes.
Cons
Pedal installation can be a problem.
Assembly might be faulty.
The bike chain can get caught in the gear and battery if care is not taken.
Last update on 2023-05-04 / Affiliate links / Images from Amazon Product Advertising API
There are thousands of conventional folding mountain bikes around. But what sets this one apart from most folding mountain bikes is that the Opeak Ebike is electrically operated.
If you're up for a futuristic riding experience, the Opeak Ebike is right up your alley.
But why should I buy this when there are so many other folding bikes to choose from?
If you're asking the same question, then you're not alone.
However, in all fairness, the Opeak Ebike is one of a kind. Stereotypically, electric bikes aren't as heavy-duty.
But unlike any other electrically operated traditional mountain bike, with the Opeak Ebike, you get a reliable and high-performing bike.
With no compromise on comfort and a high power throttle, Opeak is an unbeatable beast.
Open yourself up to new dimensions of the world of mountain biking.
This electric bike is any biker's dream come true. And with the cherry on top give its foldable nature gives it even more points for portability.
Features
6061 aluminum alloy frame.
48V, 750W robust and high-speed motor.
A 51 km/hr top speed.
A removable battery with a 6 hour charging time for 0% to 100%.
Pros
Eight-speed shift gear guarantees a smooth ride.
LCD screens and gadget holders allow you to stay connected with your loved ones on the go.
The front suspension fork and center shock absorbers add to the overall comfort.
Cons
The hex wrench bolts might come loose frequently.
The rear bracket holding the fender and the frame together isn't very sturdy.
You'll have to wait for the battery to charge fully to get the most of your ride. So the charging time is a pain.
Montague Folding Mountain Bike: Paratrooper Pro
Want a military-grade mountain bike but a futuristic design as well? Do you think it's impossible to have both?
With the Paratrooper Pro, Montague has proven that wrong.
A traditional Montague bike is known for its sturdy military-grade build. But with the Paratrooper Pro, Montague went one step further.
The Paratrooper brings you the same unmatched mountain bike quality with upgrades and a sleek design.
Now you can take on any terrain in style without worrying about the wear and tear on your mountain bike.
The Paratrooper Pro has 27 speeds!
It's incredible for off-road traveling, remote bike travel, and adventure touring alike.
So don't let anything hold you back anymore. Explore and conquer mountains with the Paratrooper Pro.
Its 100mm suspension fork with lockout will let you explore even the most unthinkable terrains.
It's foldable as well, so you can pack it in your car the next time you go camping. All you need to have is a taste for adventure, and you're good to go.
Features
Mechanical disc brakes for quick switching and a smooth ride.
26″ double-wall alloy rims.
Aero mountain saddle.
The bike has an aluminum alloy frame.
Pros
The Paratrooper comes with a rack stand for holding all your cargo.
A foldable design is great for fitting your bike in your car.
The suspension fork is equipped with a lockout to help you go miles.
Cons
Not suitable for daily commuting.
It's heavy to carry, which isn't an ideal characteristic of a portable bike.
It can appear bulky even after folding.
Last update on 2023-05-04 / Affiliate links / Images from Amazon Product Advertising API
Do you live in a small apartment? Or is your garage already cramped up? Let's face it. If you get a mountain bike in an already cramped-up space, you're doing nobody any favors.
However, there's one way to keep everyone happy.
With the Xspec 7 Speed Folding Compact Mountain Bike, you don't need a lot of room to keep your prized possession.
Keep it in your car or at the bottom of your closet. The point is that this foldable mountain bike won't get in your way.
The best part is that it takes about 15 seconds to fold and unfold this folding bike. The Xspec is a fantastic grab because of its sturdy tensile frame, portability, and genuine Shimano SL Tx30 shifter. 
It might not seem much to the unknowing eye.
But this shifter allows you to ride your bike at seven different variable speeds effortlessly and smoothly.
So if you're willing to spend a few greens in exchange for scoring a badass folding bike, Xspec is your go-to.
Get your hands on this all-rounder and enjoy a fearless mountain biking experience like never before.
Features
Recommended rider height and weight are; 5'3″-6'0″ and 220 lbs.
26-inch folding bike with rear and front shock absorbers.
Disc brakes and alloy rims equipped.
Pros
Sturdy steel frames are perfect for the uneven terrain of the mountains.
Quick 15 seconds easy folding mechanism.
Smooth 7 speed function included.
Cons
The instructions manual isn't beneficial.
Initial assembly can be a bit of a hassle.
Last update on 2023-05-04 / Affiliate links / Images from Amazon Product Advertising API
The next bike on our list is for all the adventurous ladies out there.
Have you been putting off the idea of going on a biking adventure just because you can't find the right bike?
If you're into mountain biking but dread carrying bulky heavy-weight bikes around, the Eurobike Speed Foldable Bike is your go-to bike. Much lighter than the other bikes, the Eurobike is compact and perfect for mountain trails.
It comes in three attractive colors with dual suspension.
This bike offers a smooth ride with effortless transitions. Now ride around rough trails without worrying about any damage to your bike.
The overall frame and build of the bike is also a factor that gives it superior comfort. It ranks high up as the lightest folding bike, weighing only 40 lbs.
Ride around in style without the need to drag around a bulky bike, which is hard to maneuver.
A lightweight folding mountain bike is going to be the game-changer you need on your next mountain adventure.
Features
This lightweight bike weighs only 40 lbs.
Maximum weight capacity for riding the bike 300 lbs.
Equipped with 3*7 shifters.
MTB front suspension fork included.
Pros
Its aluminum alloy frame makes it a sturdy bike fit to ride on dirt paths.
Its shifter allows for smooth speed transitions perfect for off-road bike paths.
It has sensitive dual mechanical disc brakes.
Cons
Not suitable for the beach.
Handlebars may become loose.
Gears need to be lubricated often.
27.5″ Full Suspension Folding Mountain Bike: Eurobike G7
Last update on 2023-05-04 / Affiliate links / Images from Amazon Product Advertising API
Need a bike for navigating around town daily? Something built for rough roads and at an affordable price?
Save both space and money with one of the best folding bikes out there.
The 27.5″ front fork allows for the attachment of larger tires for you to glide around the city effortlessly.
The Eurobike G7 is a top-notch bike for moving about the city.
With its high-quality shock absorbers, this masterpiece can take a beating. Don't worry about those bumps along the road with a durable steel frame.
You're completely safe.
Its dual disc brake will stop you in your tracks and is designed to take on the hustle-bustle of the city.
So get yourself the best of the best folding bikes made for city life.
Forget your worries about storage with the Eurobike G6. The bike folds away effortlessly so that you can store it in your apartment building or your garage.
Features
21-speed shifting system.
Dual disc brakes.
Sturdy frame.
Pros
Superior shock absorbtion.
Installation and assembly instructions included. The product comes semi-assembled.
No extra tools are needed.
Cons
The bike might be shaky because of poor assembly.
Brakes tend to rub against each other.
Rims bend very easily.
Last update on 2023-05-04 / Affiliate links / Images from Amazon Product Advertising API
Are you looking for a sporty and charming mountain bike?
Are you sick and tired of looking at the same old boring folding mountain bikes over and over again?
What if we told you that the folding mountain bike of your dreams is still out there.
The Outroad 26 Inch Folding Mountain Bike is a unique bike that comes in bright and attractive colors.
It comes in a bright yellow and bright orange color.
So now you can be expressive through your bike as well. The bike is made of a carbon steel frame adding to the overall strength of the bike.
With a comfortable seat and a frame designed for optimal comfort, you can ride for hours before experiencing any symptoms of fatigue.
With dual suspension gears and 21-speed gears, the ride becomes even smoother and more comfortable than ever before.
The Outroad bike is the best foldable mountain bike for those who enjoy being expressive and playing around with bold colors.
Features
Dual disc brakes and 21-speed gears.
26″ all-terrain tires with optimum grip.
Rear shock absorbers.
Pros
A safe folding mountain bike.
You can use it on gravel.
Rapid and effortless folding design.
Cons
People have complained of the faulty quality of parts.
Customer service isn't the most helpful.
The instructions manual for assembly isn't beneficial.
Lightweight Folding Mountain Bike: Paratrooper Elite
The Paratrooper Elite is top tier.
It is by far the best and highest performing folding mountain bike. The toughest folding mountain bike is built for effortlessly moving across rugged bike trails.
So whether you're riding on mountain paths or over tough gravel, Paratrooper Elite won't disappoint you.
Paratrooper Elite allows for a smooth and comfortable ride.
No matter how bumpy the path gets, your bike ride won't. Built by the Swiss line Montague these rough and tough military-grade bikes are one of a kind.
With effortless gear shifts and hydraulic brakes, you can ride your bike for hours without an ounce of fatigue.
Its larger Mavic wheels are phenomenal for riding over obstacles. It's also among one of the best quality full suspension folding bikes.
There genuinely aren't many bikes that can meet the high standards of the Paratrooper Elite. Its versatile, comfortable, and sturdy design is unbeatable.
Features
27.5″ Mavic wheels, larger than the standard 26″ size.
RockShox Reba suspension fork.
Power Angle geometry.
Pros
A larger wheel makes it easier to move past obstacles.
Lifetime warranty and 30-day return policy included.
Compact design with quick fold mechanism.
Cons
Handlebars are slightly narrower than the average trail bike.
Are you sick and tired from leaning into your trail bike?
Especially if you're a male with a good height, it's exceptionally hard to keep leaning in and riding for long hours.
If you've given up on your riding dreams just because it's way too uncomfortable for you and your back, then you should hang on. There's still hope for you.
Montague is here to save the day once more.
With the Paratrooper Highliner, Montague brings the ultimate biking experience for taller people, especially males.
With their taller height and wider frame, it is tougher to find a perfect bike for their demeanor.
And with its folding nature, it stays compact and can sit in the back of your car or even inside a corner in your closet.
The Paratrooper Highliner is fit to ride on any terrain you can think of.
From mountains to the beach or the gravel. This folding bike is a true multifunctional gem.
The ultimate adventure sports bike specially designed for taller individuals is now a reality.
It's great for riders as tall as a staggering 6'4″.
But that's not it.
With the adjustable seat, you can optimize comfort to match your height perfectly.
Features
It's a great bike for riders of 5'7″ to 6'4″.
This bike has 20 different seeds.
27.5″ wheels instead of the standard 26″ wheels diameter.
Pros
Super chain retention and reliable shifting.
Hydraulic disc brakes.
Superb for all kinds of terrains.
Cons
The handlebars are relatively narrower, which might be a problem for people with naturally wider frames and off-roading in general.
The seat might need an upgrade for optimum comfort.
Folding Mountain Bikes Buying Guide
Before you go on and find your dream bike, there are a few benchmarks you should look out for. Here's a list of all the things a folding mountain bike must-have.
Frame
Frame size and material are the two primary things you should look for.
You should know your height and weight and choose a bike with the frame optimal for your stature. Make sure the pressure is evenly distributed.
The material also matters significantly.
Aluminum is the material of choice since it isn't costly and folds easily. While steel is also another cheap and accessible alternative, it's not very common since it's denser.
Carbon fiber is also used in some bikes because it's lightweight. However, it is expensive and more fragile than aluminum.
Gears
Gears are an essential factor while choosing a folding mountain bike. A bike with a variety of high gears and low gears is preferred.
A high gear will let you smoothly pedal downhill, while a low gear is perfect for riding at slower speeds and climbing.
Mountain bikes are unique because they have various gears to compensate for the rough terrain.
The result is a smooth and effortless bike ride.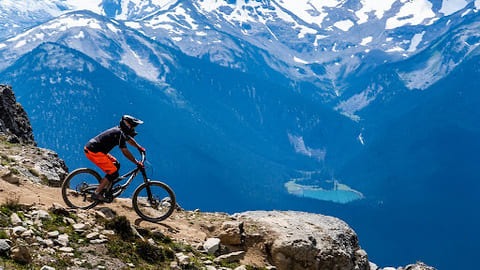 Suspension
A folding mountain bike is made of alloy or aluminum, as per general rule.
And this is an excellent idea since the material is flexible, lightweight, and sturdy. However, it doesn't absorb shock as well.
So, what all-mountain bikes need are the front and rear suspension.
Suspensions are great for absorbing shock, especially in the uneven terrain you get off-road.
The rear suspension especially will take off a lot of pressure your back might otherwise face.
So what you get is a comfortable ride.
Folded Dimensions
Folding dimensions are precisely the compactness of the bike.
And the whole appeal of a folding vs mountain bike lies in how compact it is. If your folding mountain bike fails to fit into the trunk of your car or your closet, then that defeats the whole purpose.
So make sure you're getting a bike that is precise as compact as you need.
Brakes
The two most common breaks you'll find in a bike are either disc brakes (typically hydraulic) or rim brakes.
Disc brakes have more power and are safer when you're off-roading.
So your mountain bike must have disc brakes.
They can either be mechanical or hydraulic. Although hydraulic brakes are a little more expensive, most bikers prefer these to mechanical ones because mechanical brakes come with wires.
Wheel Size
Wheel sizes are ultimately going to affect two things—first, the bike's speed. And second, the overall compactness of the bike.
You'll be able to find a folding mountain bike with a 26″ wheel as well as one with a faster rolling 27.5″ wheel.
The larger the wheel, the bigger the bike will be.
But it's a simple trade-off. Larger wheels are great for traveling longer distances at a faster momentum.
Get Our FREE Tricycle Buyer's Cheat Sheet
This free cheat sheet will help you choose a trike by providing quick information on the 7 key considerations for buying an adult tricycle!
By subscribing, you agree to get emails from Folding Bike Guy. We'll respect your privacy and you can unsubscribe any time.
People Also Ask
Are folding mountain bikes any good?
Folding mountain bikes are an excellent investment. They're fun to ride and just as durable as regular mountain bikes. Not just that, but folding mountain bikes also have good resale value. So whether you decide on keeping it or selling it, it's a win-win scenario.
Another great advantage a folding bike has over a regular bike is its portability.
So ride your heart out, and then pack your bike in the back of your trunk. Whenever you're in for an adventure, unpack your bike. Now, you can ride it like a regular bike and then sell it off if you feel like you want a different hobby.
Which folding mountain bike is best?
Since there are countless folding mountain bikes in the market picking, just one winner is impossible. There are many great options especially with high-quality brands and competitors in the mountain bike market.
Many renowned brands specialize in the manufacture of mountain bikes. The competition is extremely tough for brands like Brompton, Tern Verge, Origami Hawk, Eurobike, and Montague.
So at the end of the day, it all boils down to what you're looking for rather than one great bike. The best approach is to evaluate what you're looking for and find your perfect fit.
Are folding bikes good for trail riding?
If you're wondering whether a folding bike will leave you high and dry when you put it to the test, then you have nothing to worry about. Those who use folding bikes can swear by the fact that foldable mountain bikes can take whatever it is that you throw at them.
Folding bikes that are specifically designed for trail riding never disappoint. When you're riding foldable bikes, you can't even tell the difference between The competition is extremely tough for brands whether you're riding a regular bike or a folding bike. So take yours through a mountain or on a trail through the woods. You'll enjoy the complete trailing experience if you have a good-quality folding bike.
The Bottom Line
When it comes to the best folding mountain bike, the choice is impossible. But we can narrow it down for you.
However, before you set your heart out on one, make sure you have done all your research.
Make sure you know what you're looking for, and then decide which one is the best folding mountain bike according to your needs.
Each bike in ourselves brings something unique to the table.
The PASELEC GS9 is the most impressive model among intelligent hybrid bikes.
However, we can't ignore the outstanding features the Opeak Ebike brings to the table. Both these bikes are remarkable and will please you.
But that doesn't mean the good old-fashioned bikes are any less. Among the best folding mountain bikes stands the Eurobike G7. It's economical and safe for riding around the city.
Now that you know all there's need to know about the best folding mountain bikes don't let lack of space hold you back from having an adventure!
Mark Plummer
Mark Plummer
is an experienced bike mechanic who has built, repaired, and customized thousands of bikes over the years. A former mountain biking athlete, his cycling adventures have taken him all over the globe from the mountains of Scotland to the South Island of New Zealand. These days he enjoys the benefits of commuting to work and touring on his Dahon and Brompton folding bikes.
Get Our FREE Folding Bike Buyer's Cheat Sheet
This free cheat sheet will help you choose a folding bike by providing quick information on the 7 key considerations when buying a foldable bicycle!
By subscribing, you agree to get emails from Folding Bike Guy. We'll respect your privacy and you can unsubscribe any time.