When you use our links, we may earn an affiliate commission. Learn more.
Choosing between the Brompton S Type, H Type, and M Type handlebar is one of the most important decisions you can make when buying a Brompton folding bike.
Why? Because the handlebar type dictates the riding position and on a Brompton, the handlebar height cannot be adjusted.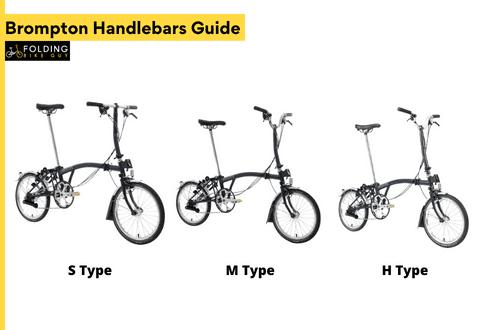 In case you are not familiar with the 3 handlebar types here's our guide to the key differences between them.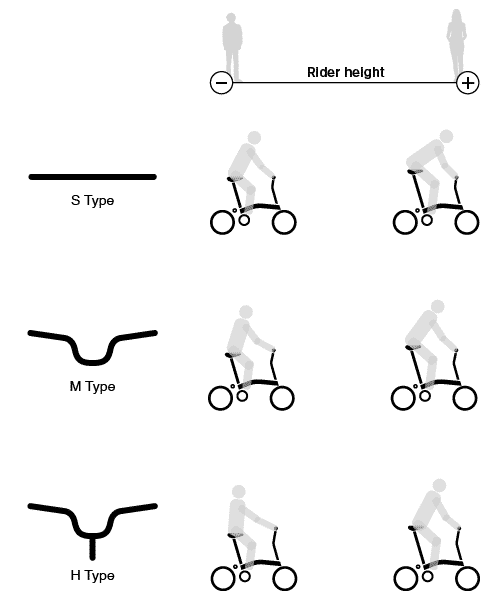 Brompton S Type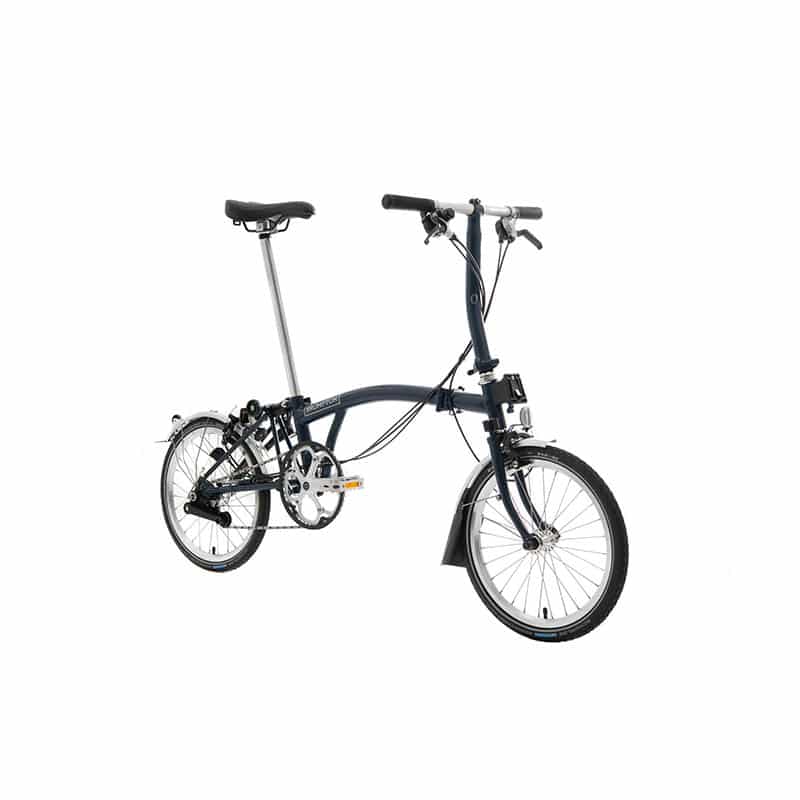 The Brompton S handlebar offers a sporty riding position and is the lowest height from the ground at 92.5cm (36 1/2″).
The S-bar itself is a straight design and measures 55 cm (21 1/2″) in width.
Best suited for: if you are a shorter rider then the S-bar will give you a good all-round position.
If you are a taller rider who is used to riding a road bike then this design may also be a good choice for you.
Brompton M Type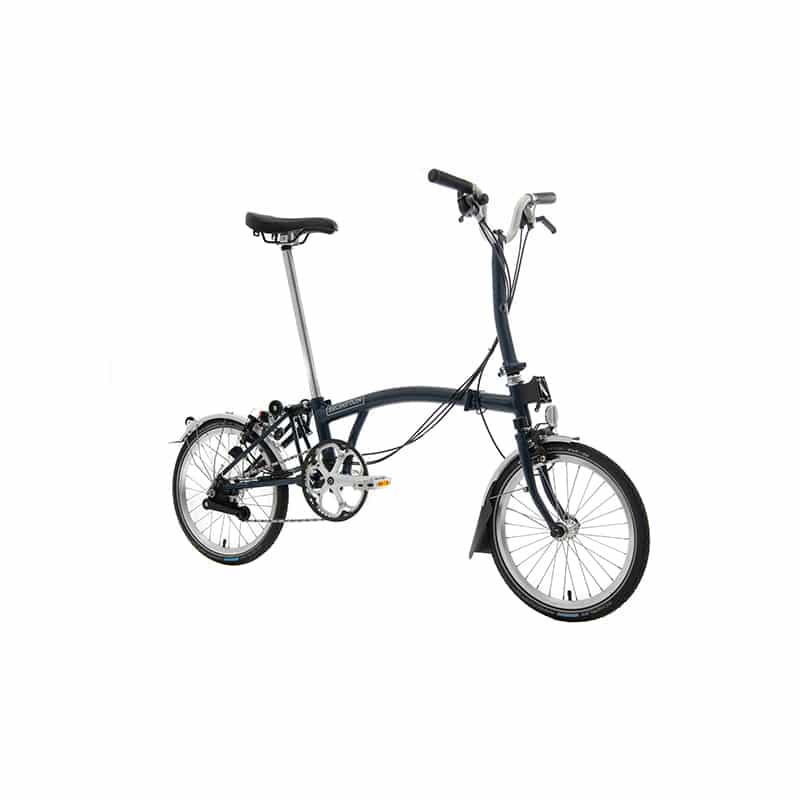 The M-type handlebar is Brompton's classic handlebar shape which provides a neutral all-round position for most riders.
The M-bar is slightly narrower than the S-bar and measures 53 cm (20 3/4″) in width.
It measures 101.5 cm (40″) from the ground, which is 9 cm (3 1/2″) higher than the S-type.
Best suited for shorter riders who prefer a more upright riding position.
If you're a taller rider who prefers a moderately sporty riding position you may also consider the M type.
Get Our Ultimate Folding Bike Guide
Learn How To Choose, Setup, Ride & Maintain Your Folding Bike with The Ultimate Folding Bike Beginner's Guide
Learn More
Brompton H Type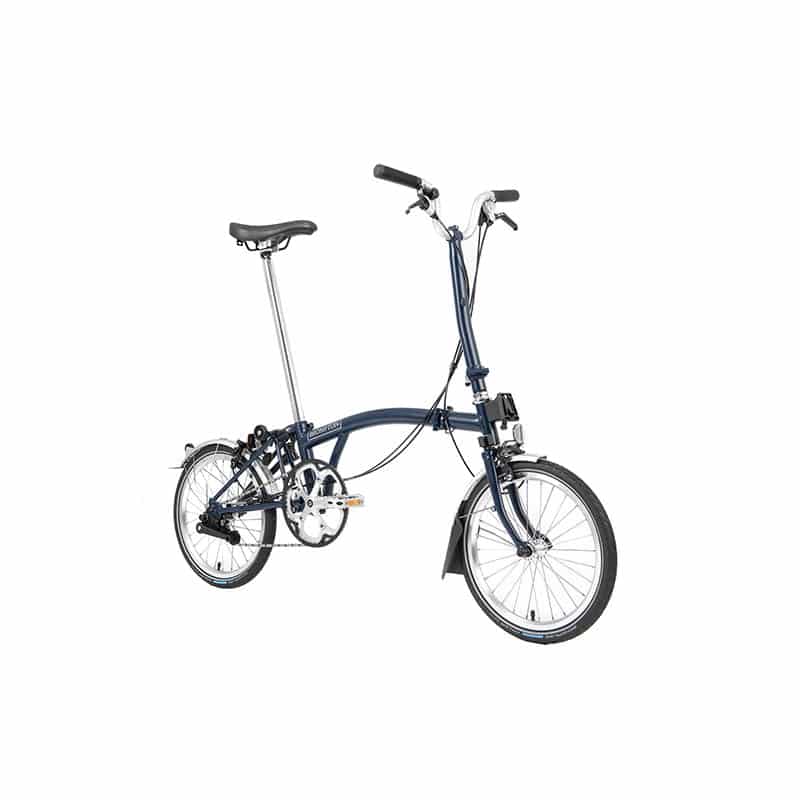 The H-type handlebar is another classic handlebar shape and is the highest of the 3 options.
It has the same dimensions as the M-bar and is another 6 cm (2 1/2″) higher from the ground.
Best suited for taller riders who are looking for a neutral riding position.
If you're a shorter rider who is looking for a close to an upright position then you may also consider the H-type handlebars.
How do I choose a Brompton Bike?
When choosing a Brompton bike, they adopt a consistent naming convention.
In case you're not familiar with that, here's an example:
A Brompton S3L refers to a Brompton S type handlebar, which has 3 speeds and mudguards (the L denotes mudguards).
It's worth noting that the handlebar type is the first letter in the naming convention, which (perhaps) emphasizes the importance of choosing the correct handlebar for your riding style!
Final Thoughts
Choosing the best Brompton handlebar is ultimately a personal choice that depends on your height, riding style, and more.
That said the M Type handlebar is the preferred option for most riders because it offers a comfortable riding position even for longer distances.
Mark Plummer
Mark Plummer
is an experienced bike mechanic who has built, repaired, and customized thousands of bikes over the years. A former mountain biking athlete, his cycling adventures have taken him all over the globe from the mountains of Scotland to the South Island of New Zealand. These days he enjoys the benefits of commuting to work and touring on his Dahon and Brompton folding bikes.
Get Our FREE Folding Bike Buyer's Cheat Sheet
This free cheat sheet will help you choose a folding bike by providing quick information on the 7 key considerations when buying a foldable bicycle!
By subscribing, you agree to get emails from Folding Bike Guy. We'll respect your privacy and you can unsubscribe any time.