Since the technological boom of the early 21st century, electric vehicles have always amazed mankind.
This review will cover the best-selling and highly-rated folding electric tricycles and make the selection process easy for you.
With the increasing number of remote jobs and work-from-home opportunities, people can often be seen switching to a sedentary lifestyle. However, they don't realize the importance of being physically active.
Just two hours of cycling per week is enough to keep you in shape if done on a regular basis.
These pedal-assist electric scooters do not burn any fossil fuels and thus also help in reducing the carbon footprint.
So whether you are a senior looking for a comfortable way to commute daily, have certain mobility issues, or are someone looking to beat the city rush, these folding electric tricycles can help you in all your endeavors!
Let's dive in and find out more about what these folding electric scooters have to offer.
Foldable Electric Trikes for Adults and Seniors
Best Foldable Electric Tricycle for Adults: Viribus 250W
Viribus has continued to grow its excellent range of tricycles with this latest addition to its collection, the Viribus 250-watt folding electric tricycle.
Built around 24-inch wheels for riders less than 6 feet tall or 26″ wheels for riders between 5'7″ and 6'9″, the Viribus frame steel frame is well-built. 
I liked that it comes with a rear basket, as that can be super helpful for carrying some items for your ride or if you plan on cycling to do your grocery shopping.
The 250-watt electric motor is neatly built into the front hub and capable of speeds up to 15mph. You can choose between 3 modes of riding:
Electric powered where the motor does all the work for you (albeit over less distance) 
Pedal-assist mode, where the motor assists you in riding up to 21 miles. 
Manual mode, where you can switch off the motor if you want to get some good exercise or the battery has run flat.
Are there any drawbacks to the Viribus?
Weighing in at a claimed 66 lbs, the Viribus is on the heavy end of the scale; however, upgrading the frame and components to lighter options would significantly increase the price, so it still offers exceptional value for money.
As with almost every tricycle on the market, the assembly can be tricky if you're not an experienced bike mechanic or technically minded.
Choose the assembled option or have your local bike shop assist you with assembly if you encounter any issues.
Best Lightweight Folding Electric Tricycle: TopMate ES32 Folding Electric Tricycle
Even though it comes at an affordable price, this folding electric tricycle can go toe-to-toe with all the premium offerings out there when it comes to performance.
It features a 3-gear system that takes it up to 12 mph on the first gear, speeding up by 8 mph on the second gear and 4 mph on the third one, respectively.
Despite the compact size, ride quality is one of its key highlights.
This is achieved by the three shock absorbers which are strategically placed below the seat and with the rear wheels. This translates to higher stability when you ride.
This electric scooter weighs just 30 pounds and can be easily folded, making it one of the most compact trikes in this segment.
The body is completely corrosion-resistant due to the aluminum alloy frame. The triangular weight keeps the weight centered and provides a good loading capacity too.
TopMate says that the lithium battery will last up to 5 years.
Its 36-volt battery can be charged in just 3 hours and can stretch you up to 18 miles. Furthermore, the pneumatic tires used on the TopMate ES32 come with anti-vibration functionality.
This means that they can absorb vibrations and are suitable for all terrains.
The only possible downside to having this trike is the overly sharp design. It has been designed to minimize air drag. Thus, it compromises width and comfort.
You should also note that this bike is not suitable for younger kids (less than 10 years old).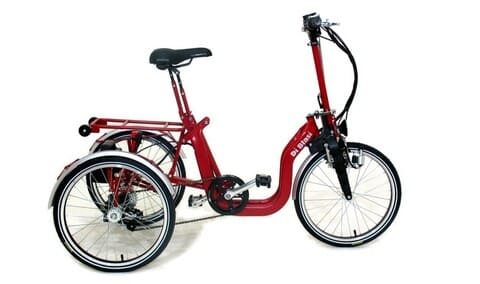 Di Blasi has been in the industry since 1974.
They have been an authority in making auxiliary vehicles and folding electric bicycles for therapeutic assistance.
Made in Italy, this trike has a low step-through frame which aids easy riding. It comes in three different sizes, which makes them highly versatile folding electric trikes for seniors.
Users also get to customize and tweak various options before making their purchase.
The lithium battery is easily removable and can be installed back in just a few seconds. Di Blasi provides an on/off switch on the handlebar, which helps you engage its motor.
This is a pedal-assisted trike; hence the motors work only when you are pedaling.
The brand guarantees 15 miles of range on flat terrains (without pedaling). The speed that you get without pedaling is around 4 mph.
As for the frame, it is made up of a high-tensile carbon steel frame.
Fully engineered in Di Blasi's Italian facilities, they also coat premium quality paint with polyester powder on top.
It comes in three color options: Black, blue, and red.
You can also add accessories like a rear shopping bag, extra lithium battery, rearview mirrors, 5-speed shifter, etc., for some extra charges ($40-$300).
Best Range: MotoTec Folding Electric Trike 48V 800W
This personal transporter folding electric tricycle can be driven both while standing and sitting. It is pulled by an 800-watt motor which can take up to an impressive 25 miles per hour.
This speed is one of the highest in the e-trike segment, especially in the sub-thousand-dollar category.
The hub motor, coupled with its highly efficient 4x 12V batteries, lets you take it to 18 to 20 miles on a full charge. The charger that is supplied along with the product can fully charge in roughly 4-5 hours.
Although it misses out on pedal assistance, it comes with a twist throttle and a drum brake system installed on the left handle.
Buyers can also get a company-fitted rear hub and LED lights on this trike for improved usability.
You must note that the range on an e-bike is also proportional to the payload that you are carrying and thus might differ from person to person.
The ground clearance is also quite respectable at 3 inches, making it suitable for both on-road and off-road trails. The seat is slightly inclined at a 15-degree angle and can also be removed easily.
To sum up, this trike gives you the fun of riding a Segway at a much more affordable price, in comparison.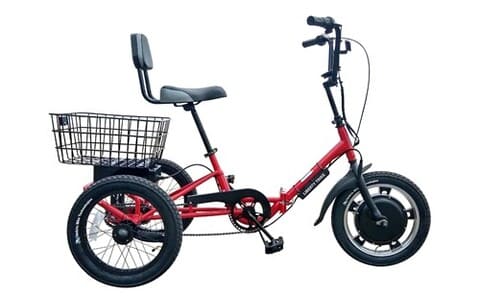 If you are on the lookout for a mobility scooter that you can fit in the back of your vehicle without having to compromise on any features, then this is the perfect pick for you.
This bike is super-portable and can easily be folded.
There is a specialized hinge on the frame, which allows it to be folded in half or split up into two equally weighted pieces.
Starting with the design, Liberty offers an impressive payload of 400 pounds with this mobility scooter.
However, if you want to get the most out of your lithium battery, we would recommend going with a light payload.
This robust trike showcases quality marksmanship and also features a durable backrest. Liberty also gives you the option of adding a rear basket to further increase the cargo space.
It has a 750-watt wheel hub motor which is synchronized with the handlebar and turns on by a twist-action.
It also has a reverse button which comes in really handy in parking spots. The drive hub motor gives it a peak speed of 15 miles per hour.
As for the charging time, you can take it from zero to 100 in just around 3 hours using the 2.5Amp charger, which then gives you enough juice to go up to 15 miles.
It comes with a ProMax mechanical disc with a 160mm rotor which facilitates quick braking, and a Coaster brake on the rear end.
You can also get an additional discount if you opt to buy another battery that doubles your usage time.
Overall, it is the perfect mix of portability, convenience, and power.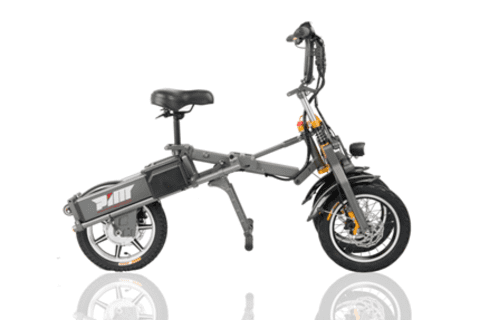 This e-trike is simply a technological marvel on three wheels. Be it the advanced steering system or the fast maneuverability, this folding electric tricycle scooter can take care of all your needs.
It also comes with hydraulic disc brakes and integrated lights.
Its folding feature makes it ultra-portable, so you can easily fold and stow it in the back of your car.
It has an efficient 250-watt hub motor fitted into its rear wheel, which provides ample power to maintain a steady speed on flat terrains.
The PIM Mylo boasts a top speed of 17 mph, which can be achieved effortlessly, thanks to its smooth throttling performance.
On the battery front, this electric scooter has a 36-volt system along with a 10 ah lithium battery.
One can also double the usage by purchasing another lithium battery which can be fitted into a dedicated secondary battery slot.
Together, this system produces enough power to help this electric scooter last for a good 54 kilometers.
PIM has housed these batteries in a protective plastic case to safeguard them against dirt. Users can effortlessly remove them from the socket and charge them up to 50% in roughly 90 minutes.
The LCD display on the handlebar lets you take a peek into settings like lithium battery level, speed, distance traveled, etc.
This display comes with a high pixel density and can easily be viewed under direct sunlight.
The curb weight is nearly 44 lbs, along with a durable aluminum alloy build.
However, this high weight is compensated by its robust body. Riding quality has also been given a lot of refinement in this trike.
The spring suspension in the front offers 30 mm travel which helps you get a smooth ride over those bumpy off-road trails and corners.
This electric scooter can also come to a quick halt, thanks to the combo of 145-160mm rotors at the front and rear portions, respectively. As soon as you press the brakes, the inbuilt motor inhibitors cut the power supply immediately.
Lastly, this electric scooter comes with a 1-year comprehensive warranty.
Foldable Electric Trike For Adults Buyer's Guide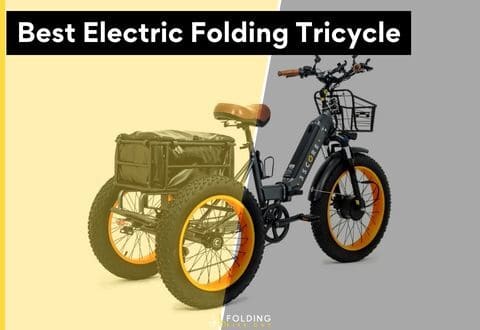 With loads of customization and brands to choose from, a selector can easily fall into a dilemma. Here are some factors that you must take into consideration while purchasing your foldable electric tricycle for adults:
Electric vs Pedal-assisted
Folding electric trikes have a throttle-activated motor and are geared toward people who like cycling with minimal pedaling. They can usually cover short distances and provide superior power as compared to pedal-assisted trickles.
This also means that the lithium battery drains faster.
Pedal-assisted bikes, on the other hand, are a better all-around option.
Since human effort is usually involved, these bikes have a superior mileage range. The batteries also last longer as they are toggled off whenever the motor is not in use.
Spec Sheet
Getting acquainted with the controls and specs is vital prior to choosing folding electric tricycles.
The ampere rating of the battery, build material, battery type, etc., are some important aspects that must be checked. You must also read up on some user reviews and ratings before making your purchase.
All the bikes listed here have received an overall positive response from the community and are each highly rated in their domains.
Quality
This directs us to the chassis and the ride quality.
If you are getting an e-bike for commuting to work, then you must ensure that the path being followed is devoid of any bumpy terrain.
While some bikes come with in-build shockers and padding, most do not do well when taken off the road.
Ensure that the material is rust-resistant and that the battery comes in a protective enclosure.
Features
To keep up with the ongoing trends, many of the bikes come with displays and multi-geared speed settings.
A good electric scooter should also include ample legroom.
Many brands also throw a detachable storage unit along with the main product to make it more appealing.
Other intuitive features include:
Drum-designed brakes for good stopping potential
Additional storage option/rear-mounted baskets
An interactive monitor that provides information like speed, distance covered, etc.
Licensing
Most e-trikes would not require you to have any license.
However, we recommend you check your state laws to avoid any problems later.
Usually, the maximum accepted legal speed for e-trikes in most counties is around 19 mph.
The majority of e-trikes are also exempted from registration, thus emerging as an excellent commute choice for college-going students.
Cost Savings
Aside from the low carbon footprint and low maintenance, having a high mileage also leads to cheaper functional costs.
To facilitate this, always go for trikes that come with a lithium battery as it is more power effective, and charges quicker as compared to lead-acid batteries.
The running costs of these folding electric trikes are also quite low.
To give you a good measure: they can save you up to $500-$800 annually in contrast to a fueled vehicle.
Range
This factor determines the distance you can cover after a full charge. As mentioned above, this feature is concordant with the payload of the bike.
However, the minimum industry standard is set around a minimum of 15 kilometers for pedal-assisted and 5 kilometers for self-pedaling bikes. We recommend purchasing an extra battery pack with whatever model you go with.
This acts as an additional battery hub in times of emergency and also doubles the mileage.
As for speed, high-speed electric scooters are usually less efficient. A speed of 6-9 mph is considered adequate for daily commuting for elderly people. Some bikes in this segment can also reach maximum speeds of up to 25 mph.
Keep in mind that this also results in a faster battery loss.
Furthermore, folding electric tricycles should always be driven at low speeds due to the increased risk of tipping over while cornering.
Charging Time
Most of these bikes can take up to 3-5 hours to charge fully.
The in-house battery lasts up to 3-5 years if maintained decently. The majority of e-trikes have 48-volt batteries, while the wattage can vary from 300-750 watts.
You can also replace the batteries and make some modular adjustments to boost the mileage with the right tools.
Additional Tips
These bikes usually come with two kinds of seats, upright and recumbent. While the upright seats focus mainly on speed and aerodynamics, recumbent seats go easy on your back and provide a relaxed riding posture.
Cornering on a folding electric tricycle is quite different as compared to conventional bikes. You must apply the brakes and shift your center of mass towards the other side of the turn to avoid tipping over.
As for the riding styles and posture, this is something that will come off pretty easily to you, thanks to the three-wheel support base, which provides additional stability.
The rear wheel width is larger in trikes, which is something that new riders overlook when riding. Having a three-wheel path means that swerving around objects when going through busy roads will be a tad bit difficult. Thus, always maintain a low speed when crossing unfamiliar paths.
Verdict
There you have it, all the best folding electric tricycles at your disposal!
After extensive research and testing, we crowned the Viribus 250W as the best folding electric tricycle for adults, while the TopMate ES32 Folding Electric Scooter came out victorious in the best lightweight electric folding tricycle category.
The Di Blasi R34 Folding Electric Tricycle was a clear winner as the best folding electric tricycle for seniors.
Three points of contact with the ground, considerable range, and attachable storage combos are some reasons that make these trikes really compelling for seniors.
As for the adults and teens, what could be a cooler way to hit off their weekly strolls or commute to work other than these cutting-edge trikes?
Have a safe ride!
READ NEXT: Swagtron SwagCycle Pro Review