Bike Friday has earned a reputation for providing a vast range of folding bikes, catering to the needs of all types of riders. These are all finished to a high standard, compact, and affordable. 
At first glance, this can make them seem like an ideal choice. But how do these bikes perform in the real world? Keep reading to learn whether Bike Friday will be able to meet your needs.
About Bike Friday
The idea for Bike Friday came in the 1980s from brothers Alan and Hanz Scholz. They had long been interested in cycling. As a result, they started a bicycle store, with both brothers working to develop innovations.
However, it wasn't until 1991 that they started working on a folding bike, and the Bike Friday brand was born. 
Initially, the folding bike was intended to be for personal use only.
But once the word of the bicycle got out, the brothers were surprised by the community's interest. Today, Bike Friday is one of the best-selling folding bike brands in the world. 
5 Best Bike Friday Folding Bikes 2023
Though Bike Friday offers many models, here are the best Bike Friday folding bikes for you to consider.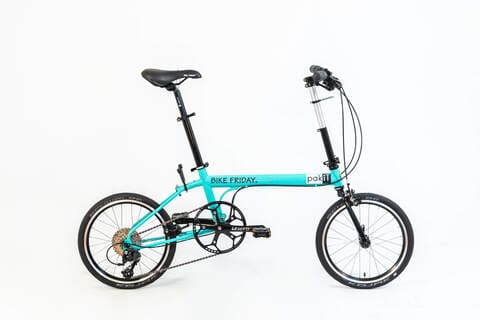 Pros 
It can be folded into a backpack
Quiet and low-maintenance
Fast
Cons
The pakiT can be a little twitchy
Need to avoid bumps in the road
Let's start by talking about the most remarkable thing about this bike. It is incredibly compact. It can be folded down into a package size that's small enough to fit into your backpack.
If you want, Bike Friday offers backpacks specially designed to hold and transport your bike.
As you can imagine, this makes the pakiT extremely portable, so you shouldn't have any issues taking it on public transport. It will also be small enough to fit into your locker at work. 
While the compact folded size is impressive, the ride is also remarkable.
Thanks to the low weight and the smaller 16-inch wheels, you'll be able to get up to speed quickly. The belt drive is quieter than a chain. Often, the only sound you'll hear is the crunching of the wheels on the pavement. Plus, it doesn't need any grease, reducing the maintenance required. 
There are, though, a few downsides to using smaller wheels.
First, they don't offer as much bump absorption. Because of this, you must be careful to avoid potholes or bumps in the road. Also, they can be a little twitchy, though you'll often get used to this over time. 
It should be noted that these issues aren't limited to the pakiT. They can be found across most of the Bike Friday range.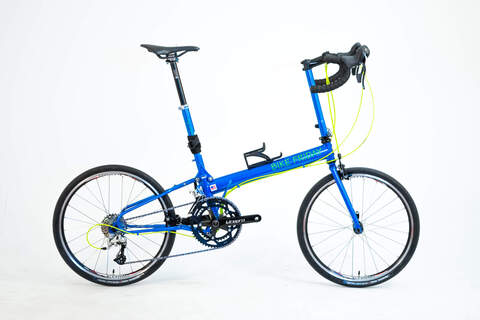 Pros 
Fast
Packs into a suitcase
Can cope with hill ascents
Comfortable and easy to steer
Cons
If you are looking for a great road bike, the Pocket Rocket might be your ideal option. As the name suggests, this lightweight bike has been built for speed. It has 20-inch wheels and a 10-speed gear system. This ensures that you'll be able to accelerate, and comfortably tackle any hilly sections. 
A downside to larger wheels is that you will need to pedal hard to maintain the top speed, especially along a flatter section. 
This bike is very comfortable to ride.
You'll be able to adjust every aspect to ensure that it fits you correctly. Like all Bike Friday models, you'll be able to choose which add-ons you want, creating a perfectly customized bike to suit your needs. 
If you prefer, it's easy to take this bike on a trip with you.
It can fold up and be taken into a suitcase. As a result, you can take this folding bike on a plane without paying for excess baggage.
However, this is one of the more expensive models that Bike Friday offers. It will start at $1,975. But when you start customizing it, the cost can quickly grow.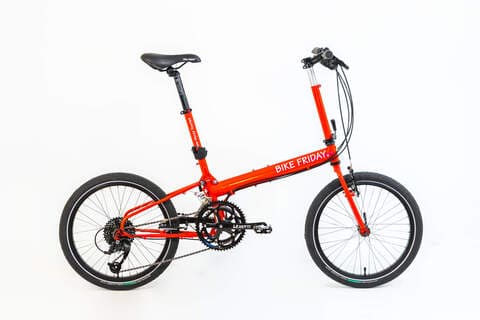 Pros 
No proprietary parts
Comfortable to ride 
Built to last for a long time
Cons
Interestingly, this is a remodel of the original bike used to launch the Bike Friday brand in 1992. Today, it's the most popular model that Bike Friday sells and is an ideal choice for the daily commute. Though it can also be used for a more extended bike tour. 
As you would imagine, this bike is comfortable to ride.
Furthermore, it's easy to adjust and customize to ensure it fits you correctly. As we mentioned, the smaller wheels can be a little twitchy. But you'll get used to this after your first few rides.  
Another positive element is that this model doesn't have any proprietary components.
This ensures that your local bike shop can perform repairs efficiently. They should have most of the parts on hand or be able to order them in quickly. 
Plus, this bike has been built to last for a long time.
Like all Bike Friday models, it comes with a 10-year warranty on the frame. Many riders report riding this bike every day, for several years, without experiencing any problems. 
There are a few minor issues that you should keep in mind, though.
First, it's best to avoid any potholes. Due to the smaller wheels, hitting these rough patches can be a little uncomfortable. 
The bigger problem is that it can be challenging to transport.
Folding the bike is easy and only takes a few seconds. But to put it into travel-sized luggage, you must partially deconstruct it by removing the front tire. This can take between 15 to 30 minutes.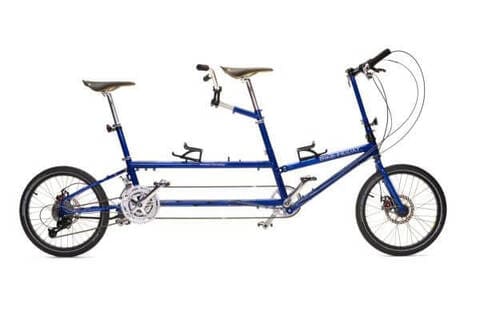 Pros
Can hold two riders
Can fit into two travel-sized suitcases
It fits into the back of most vehicles.
Cons
It can be a bit complicated to fold
It can take a while to fit into the suitcases.
Finding a folding tandem bike is rare. But Bike Friday makes one of the best tandem bicycles on the market. Because there are two seats and four wheels, getting folded will be more difficult. Plus, the folded size will be a little larger at 33x37x17".
This should still be small enough to fit into the boot of larger vehicles. 
Most interestingly, you can pack the tandem bike into two travel-sized suitcases to take it on vacation. Though this will be a difficult task, often requiring you to deconstruct part of the bike. It can take around half an hour. 
When it comes to performance, though, this bike will deliver.
It is easy for both the captain and the stoker to step into the frame. Each person can customize the bike to suit their needs better. Furthermore, it has a 27-speed gear system, so it will have plenty of power to get up steep inclines.
The disc brakes provide plenty of stopping power and make it easy for the captain to control the bike.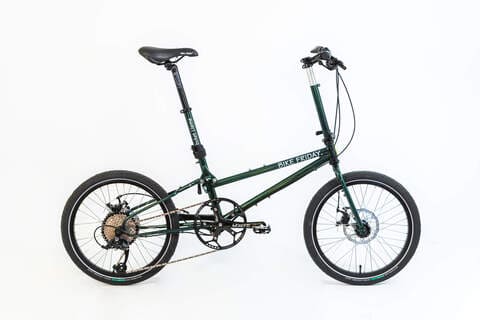 Pros
Able to handle a higher load
Suitable for gravel and dirt roads
It can be customized to suit heavier riders.
Cons
Expensive
Racks might struggle with heavier loads.
Finally, let's look at the Diamond Llama, a folding bike built for touring. There are a few ways that it can fulfill this role. First, it can handle a heavier load.
If you opt, you can install both front and rear racks, giving you plenty of space to store your luggage during the trip. The bike can also be customized to suit heavy riders or those who wish to carry a lot of equipment.
It can take up to 330 pounds. 
It would help to be careful about how you pack your bike because the rear rack might bend under a heavy load. 
This bike also comes with wider tires.
Bike Friday advertises that this allows you to go off-road. But this is not a good idea. The Diamond Llama should be able to cope with some dirt or gravel, but if it gets too rough, you will feel all the bumps because of the smaller wheel size. 
It should be noted that this bike starts at $1,995 and will become more costly as you begin to customize it. This is relatively expensive for a folding bike.
Though it is built to be strong and will last many years. Plus, it comes with a ten-year warranty on the frame. 
How To Choose the Right Bike Friday Bicycle For Your Needs
There are plenty of Bike Friday options for you to choose from. Here are some elements to consider to ensure you find the right one. 
Riding Style
It's best to think about how you plan to ride it. Do you plan on riding it as part of your daily commute? Are there hills in your local area? Are you planning on getting a bike that can go fast, or do you want something that can handle a few bumps in the road? 
Handlebar Design
The handlebar design will help determine your riding position, ensuring you are comfortable behind the wheel. You can choose the flat, drop, or Bike Friday specialty options.  
Electric Assist
An electric assist can add additional weight and will drive up the price. But it can be helpful when riding over a more extended period. It can also help if you are going up hills. 
Gears
I recommend choosing a folding bike with at least seven speeds if you intend to ride in a hilly or mountainous area.
Gear Shifter Style
Having a wide gear selection is essential. But it's even more critical to quickly and easily select the right gear to suit the scenario. These are the styles that Bike Friday offers across: 
Twist shifter
Trigger shifter
Bar end control
Electronic shifters
Double tap shifters
Type Of Brake
Good brakes are necessary to ensure you have plenty of control over your bike. There are a few types of options that Bike Friday offers, these are: 
Caliper brakes
Disc brakes (my preferred choice!)
V-brakes
Customizing The Bike To Suit Your Needs
With any Bike Friday model, it's easy to customize your bike to better suit your needs. Bike Friday allows you to select your desired features and search for a bike that fits those requests. Plus, there are plenty of ways to customize each model to fit your needs. 
Alternatives To Bike Friday
While Bike Friday might be known for their superb folding bikes, they aren't the only manufacturers you can choose from. With this in mind, let's look at some alternatives. 
Bike Friday vs. Brompton
The Bike Friday might provide a better riding experience, as the Brompton can be a little twitchy with the steering. However, Brompton will fold more conveniently and into a more compact package. 
The Brompton can be folded into a suitcase within a few minutes.
Both of these brands, though, are very popular. In the United Kingdom, Brompton is the clear favorite. In the United States, however, Bike Friday is the preferred option. 
Bike Friday vs. Tern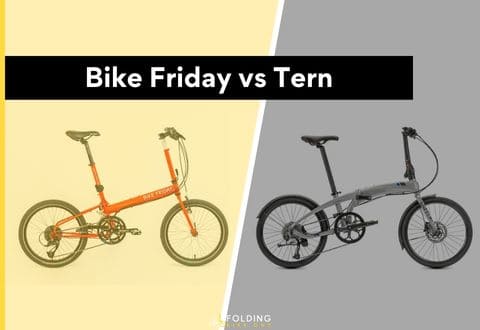 The Tern tends to come with bigger wheels, 20 inches being the most common wheel size. This makes Tern bicycles better at handling bumps in the road. However, it also means they will fold into a larger size than the Bike Friday range and be a little more cumbersome. 
The Tern range offers bikes better suited to long-distance riding and off-road tracks. Though it should be noted that they will use Tern-specific parts, which can make repairs a little more challenging. 
Dahon vs. Bike Friday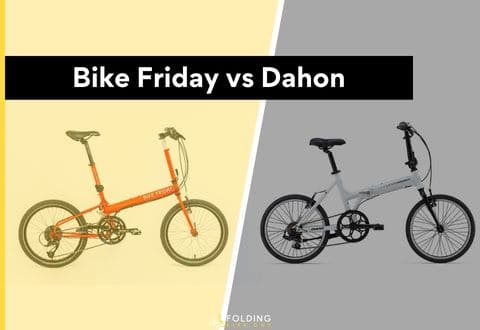 The Dahon is an excellent option for all-around riding. Often, they will handle similar to a regular-sized bike. But they will also be a little more cumbersome it comes time to fold and carry them. 
The Dahon bikes will often be less expensive than the Bike Friday options. Though, you won't get the exact customization. Furthermore, many customers report that the service of Dahon isn't as strong as Bike Friday's, particularly when you want to get replacement parts. 
People Also Ask
How Do You Fold A Bike Friday Tikit?
First, you need to rotate the left pedal until it is in line with the chain stay. Then, push the seat pillar forwards by slapping on the back of the saddle. Once done, lift the bike quickly. The rear wheel should rotate forwards and fold under the frame, sitting next to the front wheel. The handlebars and the mast can then be folded down and should lock into place with a click. 
At first, the folding process can be daunting. But with practice, you can fold a Bike Friday model within 20 to 30 seconds. 
Is Bike Friday A Good Bike?
Bike Friday is considered one of the best folding bike manufacturers in the world. They are primarily known for their compact size and durability, with their bike frames covered by a ten-year warranty. Their bikes also provide exceptional performance, riding similarly to their full-sized counterparts. This is why they are one of the most popular folding bike manufacturers in the United States. 
However, one of the most unique elements of this brand is its ability for customers to customize their bikes to suit their needs better. They can select which parts and upgrades they want to include. Plus, many customers applaud the customer service.
Where Is Bike Friday Made?
Bike Friday is manufactured in the United States. Their factory is located in Eugene, Oregon. This is also where the company was founded and is headquartered. This location was chosen because of the founder's long history in the area. 
While many components are sourced from overseas, welding and assembling are done within the United States.
Bike Friday Verdict
Bike Friday has earned a reputation for being one of the best folding bike manufacturers in the United States. Whether going on a short commute to work or a longer multi-day trek, their bikes are comfortable.
Plus, they can be folded down into a compact size within seconds. 
There is plenty of options within their range, with the ability to further customize each bike. This ensures that you find something that will suit your needs.