Brompton is arguably the best manufacturer of premium-quality folding bikes.
They come with small wheels, durable and sturdy frames, and extremely compact folded dimensions. Unlike regular non-folding bikes, you can also customize Brompton bikes according to your height and riding style.
These features make these folding bikes the best option for daily commuters. This article will discuss different Brompton bikes available in the market along with their features and pros and cons. So, let's get started.
About Brompton Bicycles
The original design of the Brompton bikes was made by the company's founder, Andrew Ritchie, in 1975.
The company claims that "nothing folds like a Brompton folds," and it's true because of the innovative folding design, known as the "Brompton fold," that Andrew created.
He expertly engineered to transform a standard bike into a highly compact package, a little larger than the bike's wheel. He completed the folding bike prototype in 1977, and the production of Brompton folding bikes started in 1981 in London.
Andrew Ritchie Inventor of the Brompton Folding Bike
You can customize and purchase Brompton bicycles online and acquire nationwide pickup and maintenance services from accredited retailers.
Interesting Fact: The company claims that if you consider the bike accessories, components, colors, and frame materials, a Brompton bike will offer 16,982,784 combinations.
Best Brompton Folding Bikes
If you're interested in buying a Brompton bicycle, consider the reasons why many riders believe that Brompton makes the best folding bikes and read the following reviews carefully to choose the best product that suits your needs.
The Brompton A Line is the most affordable bicycle that the company offers. Perhaps it's the only folding bike at its price point that can fit under almost all bus seats and even under your work desk because of its highly compact folded dimensions.
It's specially designed for daily commuting in an urban city and allows you to efficiently travel from point A to point B. This collapsible bike has a steel frame, but the overall weight is very low.
It weighs only 23.1 pounds, which means you can easily carry it if you want to take it on public transportation.
The Brompton Line, A model, is equipped with a 3-speed drivetrain and Schwalbe marathon racer tires with puncture resistance.
It features the "A-Line" calipers to ensure excellent stopping power and Brompton's signature composite hinge clamp levers for quick folding.
You can easily fold this bike within 10 seconds, which comes in handy while hopping on public transport. The mid-rise handlebar keeps the riders upright for a comfortable cycling experiment.
Some optional accessories such as mudguards and a front carrier are also available, and you can purchase them separately. The only downside of the A-Line model is that it comes in just one color, glossy white.
Features
Drivetrain: 3-speed
Frame Material: Steel
Folded Dimension: 25.3 x 23 x 10.6 inches
Weight: 23.1 pounds
Tires: Schwalbe Marathon Racer puncture-resistant tires
Wheel Size: 16 inches
Pros
Affordable price tag
Extremely compact
Puncture-resistant tires
Rear and front reflectors
Composite hinge clamp levers
Rides great
Cons
Available only in one color
---
Three different bikes are available in the Brompton C Line, including C Line Explore, C Line Utility, and C Line Urban. The main difference between these three folding bikes is their weight and speed.
The drivetrain and weight of these folding bikes range from 2 to 6 and 24.8 to 26.7 pounds, respectively.
The difference in weight is not very big, and you can carry each folding bike easily to take in on public transport.
All of them are available with different handlebar types, including high, mid, and low. Four types of saddles and three different seat-post lengths are also available for each model.
They come with a durable front frame that features heat-treated steel tubing, and the rear frame is made of micro-alloy steel tubing.
All the models come with composite hinge clamp levers, fenders with rubberized flap, and front lights for a greater riding experience.
The saddle of the C line folding bikes also features a carry handle and offers a dedicated mount for a saddlebag and rear light. 
You can buy these folding bikes in different colors, including Turkish Green, Gloss Black, Black Lacquer, and Flame Lacquer. You can use any folding bike from the Brompton C lineup for biking fitness rides or commuting in the city.
Features
Drivetrain: C Line Explore 6-speed, C Line Utility 3-speed, C Line Urban 2-speed
Frame Material: Hand brazed steel
Folded Dimensions: 25.3 x 23 x 10.6 inches
Weight: C Line Explore 26.7 pounds, C Line Utility 26 pounds, C Line Urban 24.8 pounds
Tires: Schwalbe Marathon Racer puncture-resistant tires
Wheel Size: 16 inches
Pros
Multiple gearing options
Fold into a small locked package that you can store in the car's trunk
Multiple color option
Multiple handlebar options, seat-post lengths, and saddle types
Built-in fenders with rubberized flap
Cons
---
The Brompton P Line was released in November 2021, and it currently offers only one folding bike called P Line Urban.
You can buy this P Line model with or without the roller frame for easy portability. It's a super light folding bike that allows you to enjoy a fast and comfortable ride.
The body of this folded bike is made with a combination of steel and titanium. It weighs a lot less than the Brompton folding bikes that come with only steel bodies. 
The fork and the bike's rear frame are made of titanium, and the rest of the body is made of steel.
The P Line Brompton bike also features a redesigned suspension block and dual locking seat-post system for the rider's comfort.
It comes with a compact, super light 4-speed gear system and Schwalbe ONE Black tires to deliver excellent performance. You can ride this folded bike through highly tight and busy spaces, and it also performs well on uneven surfaces.
Features
Drivetrain: 4-speed
Frame Material: Combination of titanium and steel
Folded Dimensions: 25.3 x 23 x 10.6 inches
Weight: 21.8 pounds
Tires: Schwalbe ONE Black tires
Wheel Size: 16 inches
Pros
Speedy and compact
Great for commuting
Delivers great performance
Durable titanium frame with reduced weight
Easy to fold
Cons
Higher price due to titanium
---
The T Line is the most expensive folding bike range of Brompton. There are two different bikes available in this lineup. These bikes come with fully titanium bodies, so they're costly.
The T Line One weighs only 16.4 pounds, and as the name implies, it comes with a single-speed drivetrain. On the other hand, the T Line Urban weighs 17.5 pounds and has a 4-speed gearing system.
The folded dimensions of these bikes are also minimal, and you can easily carry and store them in tighter spaces. You can take them even if you need to go through the stairs.
While the price of these bikes is exceptionally high, they are worth the investment because of the features and advantages they bring to the table. If you want a durable and reliable folding bike by Brompton, you can't go wrong with the company's T line.
Features
Drivetrain: T Line One single-speed, T Line Urban 4-speed
Frame Material: Titanium
Folded Dimensions: 25.3 x 23 x 10.6 inches
Weight: T Line One 16.4 pounds, T Line Urban 17.5 pounds
Tires: Schwalbe ONE Black tires
Wheel Size: 16 inches
Pros
Cons
---
Brompton Electric Bikes
Brompton claims that it offers the most compact folding electric bike globally.
There are three different bikes in the company's electric lineup, and they're undoubtedly highly compact. These models include Electric C Line Explore, Electric C Line 22 Edition, and Electric Explore 2021.
All these models come with a powerful 250-wall electric motor and 36-volt batteries. The combination of powerful motor and battery allows the Brompton electric bikes to cover the distance of 20 to 45 miles within a single charge and offer a top speed of 15.5 mph.
Additionally, the drivetrain of all these Brompton electric bikes is the same, 6-speed, and they also have the exact folded dimensions.
However, the Brompton Electric C Line Explore and Electric C Line 22 Edition weigh 32 pounds, whereas the Electric Explore 2021 weighs 34.2 pounds.
You can go to your nearest Brompton store in the United States to test ride any of these electric bikes.
The folding mechanism of these Brompton electric bikes is similar to any other bike that the company offers, and you can also buy additional accessories such as a rear rack.
Features
Drivetrain: 6-speed
Frame Material: steel
Folded Dimensions: 25.3 x 23 x 10.6 inches
Weight: Electric C Line Explore & Electric C Line 22 Edition 32 pounds, Electric Explore 2021 34.2 pounds
Tires: Schwalbe Marathon Racer puncture-resistant tires
Wheel Size: 16 inches
Pros
Fold-down to a compact size a little larger than its wheels
Excellent for multimodal commuters
Lightweight and durable
It offers a comfortable riding experience
Cons
---
How To Choose The Right Brompton Bike For Your Needs?
If you're planning to buy a new bike from Brompton, keep the following factors in mind to choose the best option.
Weight
Weight is a critical factor you must consider while buying a folding bike because it can make or break your entire experience. 
If you're planning to buy a bike for commuting and need to use local transport, we recommend you choose a lightweight folding bike that you can easily carry.
It'll allow you to pick it up quickly to take it on any public transport without hassle.
Gearing
The gearing system of a bike also matters considerably. You can go with a single-speed bike if you only need to ride it on flat and even roads. 
However, if you need to climb up hills or roads with an angle, we recommend you go with at least a 4-speed bike. It'll allow you to climb steep roads or hills without hurting your legs easily.
Frame
The Brompton bikes discussed above come in two different frame materials. Some are available in steel frames, and others feature titanium bodies.
Both steel and titanium are durable, but the former is way heavier than the latter.
If you are looking for a highly lightweight bike, you should go with the one made of titanium. But keep in mind, these models will cost you a lot of money.
Electric Or Non-Electric
Brompton offers both electric and non-electric folding bikes. If you prefer convenience, then you should go with the electric models. However, if you enjoy cycling, buying a non-electric bike will suit you better.
Alternatives
Brompton isn't the only game in town. Several other renowned brands offer high-quality folding bikes. Let's discuss how Brompton compares to the other available bikes.
Brompton vs. Birdy
Brompton bikes are smaller and more compact when folded, and they also make for better mixed-mode commuters. On the other hand, Birdy's bikes are better for people who enjoy leisure riding and touring.
So, if you need a foldable bike for short distances, there is no better option for you. However, if you like to ride a folding bicycle for entertainment, you should go with Birdy Bikes.
Brompton vs. Road Bike
The size of the wheels is the most significant difference between a road bike and a Brompton folding bike.
The road bike comes with bigger wheels and allows you to achieve more speed than Brompton bikes. They also perform better on rough terrain because of the same reason.
However, they're not practical for commuters who need to take their bikes to public transportation. So, if you need a bike for practical purposes, buying a Brompton bicycle is your best bet.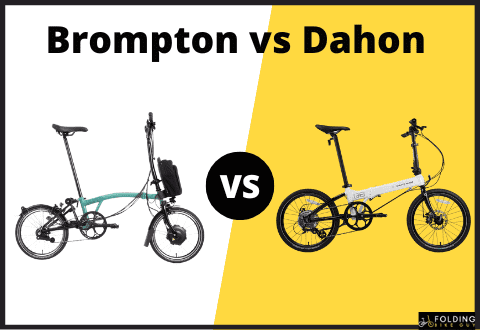 Brompton and Dahon are both excellent folding bike brands, but for different reasons. Brompton offers a bike that is better suited for commuting, due to its smaller wheel size enabling it to fold away into a more compact space either in your office or for carrying on the tube.
Dahon bicycles, on the other hand, are more comfortable to ride, offer a larger range of accessories, and fold away faster due to their unique hinge mechanism.
People Also Ask
How Much Does a Brompton Folding Bike Cost?
The cheapest Brompton bike comes with a price tag of $1,000, and the price goes all the way up to $5,000 for the most expensive model.
These bikes are more expensive than regular bikes because of their premium quality components and complex folding mechanism.
Is a Brompton Bike Worth the Money?
Brompton bikes are worth the money. The company manufactures some of the best folding bikes in the world. Their main focus is to make lightweight and compact bikes.
The Brompton folding bikes fold in thirds instead of half, unlike other foldable bikes. Compact size, lightweight, and premium quality components are why a Brompton folding bike is worth the money.
Why Are Bromptons So Fast?
Brompton bikes are fast because they are incredibly lightweight and have lower moments of inertia due to smaller wheels. They allow you to accelerate quickly.
However, you'll need to keep pedaling to maintain a higher speed because of less momentum due to small wheels.
The Bottom Line
Brompton is the best option for all people who want a foldable bike for commuting. Read different Brompton lineups carefully, along with the folding bikes that each lineup offers, and keep all the essential considerations in mind. It'll allow you to choose the Brompton bike that best suits your needs.