Folding bikes are perfect for exploring cities, traveling to adventurous destinations, commuting, etc.
Over the past few years, the range and quality of foldable bicycles have continued to grow. Today there are exceptional bikes at budget prices and folding mountain bikes capable of withstanding the most demanding off-road terrain.
Then there is the meteoric rise of fast electric folding bikes, perfect for everything from urban commuting to leisurely rides along the coast at weekends.
I have painstakingly selected my ten favorite foldable bikes, each with a unique "superpower" so that you can find a bike that best meets your intended use.
The Zizzo Urbano is my pick for the best folding bike because it weighs an impressive 24 lbs and has 20″ wheels that offer excellent rolling performance and folding size. Zizzo is a reputable brand, and Urbano delivers exceptional performance at a competitive price.
Here's how the best folding bikes for every kind of ride stack up (paid links):
Pros:

Lightweight, strong aluminum frame

Zizzo is a reputable brand

11-32t cassette is perfect for flat and hilly terrain riding

Outstanding value (5x cheaper than most Brompton's!)

Pros:

20-inch wheels offer excellent riding performance

The Campo is perfect if you are looking for a budget folding bike

Upgraded with stronger pedals, a wider saddle, redesigned stem, and crankset.

Pros:

Easily removable battery for indoor charging

Powerful front and rear disc brakes

20" x 4" fat tires for excellent off-road traction

Increased ride comfort through bump absorption
Our Pick
Pros:
Lightweight, strong aluminum frame

Zizzo is a reputable brand

11-32t cassette is perfect for flat and hilly terrain riding

Outstanding value (5x cheaper than most Brompton's!)
Our Budget Pick
Pros:
20-inch wheels offer excellent riding performance

The Campo is perfect if you are looking for a budget folding bike

Upgraded with stronger pedals, a wider saddle, redesigned stem, and crankset.
Best Electric
Pros:
Easily removable battery for indoor charging

Powerful front and rear disc brakes

20" x 4" fat tires for excellent off-road traction

Increased ride comfort through bump absorption
10/27/2023 12:14 pm GMT
Updated 2023: We added new folding bikes we like, removed some previous picks, and updated our reviews of other bikes to reflect changes in specifications, features, and pricing.
Are Foldable Bikes Worth It?
Foldable bikes are worth it for commuters, travelers, and cyclists with limited storage space. The main advantage of folding bikes is that they fold away easily in under twenty seconds, making them ideal for transporting on tubes, trains, and planes with minimal fuss and no extra costs for excess baggage.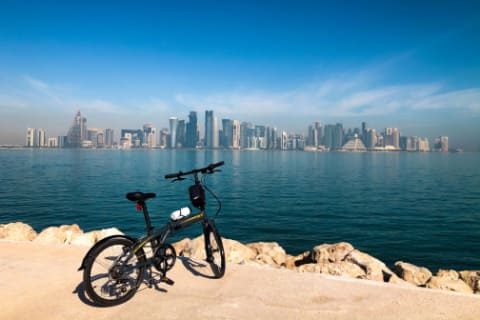 Folding bikes are also great for incorporating an exercise routine into your daily schedule without too much extra time.
One disadvantage worth considering, though, is that foldable bikes tend to be dearer than regular bicycles because of the additional folding mechanism complexity and bespoke equipment required for the unique design.
Best Folding Bike: Zizzo Urbano
The Zizzo Urbano beat some tough competition to be shortlisted as the best folding bike for 2023.
Our Pick
ZiZZO Urbano 24lb Foldable Bike
A high-performing, lightweight (24lb) folding bike that is perfect for commuting and tackling hilly terrain, thanks to its 8-speed 11-32T Shimano cassette. And it's 3-5x cheaper than a Brompton!
Best For: Urban riders seeking value for money.
Key Specifications:
Wheel size: 20-inches
Gears: 8-speed
Weight: 24.5 lbs
Fold time: <30 seconds
Pros:
Lightweight, strong aluminum frame

Zizzo is a reputable brand

11-32t cassette is perfect for flat and hilly terrain riding

Outstanding value (5x cheaper than most Brompton's!)
Cons:
Folded size of H-27" L-31" W-12.5 won't fit in a standard suitcase

The saddle and pedals would benefit from an upgrade
BUY FROM AMAZON ➚
We earn a commission if you make a purchase, at no additional cost to you.
---
Wheel size: 20-inches | Gears: 8-speed | Weight: 24.5 lbs | Fold time: <30 seconds
Zizzo is headquartered in Northern California, and collectively the team has over 50 years of cycling experience. They have produced a range of excellent folding bikes, including the Euromini, Campo, and many more.
The Urbano is one of the latest models in the Zizzo line and was released in late 2021.
In my opinion, Urbano is a perfect balance between price, performance, and reliability, and it seems to have built on all the learnings and developments of previous models.
The Urbano is built around a lightweight aluminum alloy frame, complemented by a Shimano Altus 8-speed drivetrain and 20-inch double-wall rims paired with light multi-terrain tires.
All up, it weighs in at an impressive 24 pounds (10.9 kg).
During testing, I was consistently impressed with how lively the bike felt on flat and hilly terrain (thanks to the 11-32 tooth rear cassette, which gives plenty of range for steeper climbs).
I also appreciated how lightweight it was, which made the Urbano perfect for commuting, carrying upstairs, and lifting in and out of my car or apartment.
As with all Zizzo bikes, it folds away easily and conveniently, and I found myself initially able to fold the Urbano up in 45 seconds. As I got used to it, I managed to get that down to around 30 seconds for fully folded condition.
Another neat feature I loved was the adjustable stem which makes the Urbano suitable for riders ranging from 5 foot to 6 foot 4 inches in height!
This is great because it means a couple or a family could easily share the folding bike offering maximum value and fun.
As part of my research on the Zizzo Urbano, I also wanted to get insights and independent opinions from other riders to see what they thought. I checked out Raymond Strazdas' review after one year of riding his Urbano and judging by the number of times he mentions the word "awesome" in the video, I could tell he is delighted with it 😉
There were a few drawbacks I identified during testing, although, being honest, for a foldable bicycle of this quality at under $500, they were pretty minor points.
The saddle and folding pedals, which come as standard, although adequate, could benefit from being upgraded to quick-release pedals and a more comfortable saddle, especially for longer rides. 
Zizzo does offer these accessories (and more) as optional upgrades. I would personally advise buying the standard bike first, and once you've spent some time riding it, you can decide if you would like these upgrades.
Best Budget Folding Bike: Zizzo Campo
The Zizzo Campo is another fantastic folding bike from Zizzo, which offers many of the same benefits that I described above for the Urbano, but at a lower price.
Our Budget Pick
ZiZZO Campo
The Zizzo Campo is perfect if you are looking for a budget folding bike that performs well, is relatively lightweight, and has 7 speeds to tackle hilly terrain.
Pros:
20-inch wheels offer excellent riding performance

The Campo is perfect if you are looking for a budget folding bike

Upgraded with stronger pedals, a wider saddle, redesigned stem, and crankset.
Cons:
If you can stretch your budget slightly, the Zizzo Urbano would be a worthwhile upgrade

Steel forks add weight to this model.
Buy From Amazon
We earn a commission if you make a purchase, at no additional cost to you.
10/27/2023 12:14 pm GMT
---
Wheel size: 20-inches | Gears: 7-speed | Weight: 29 lbs | Fold time: <30 seconds
To be clear, this lower price point involves some compromises (which I describe in detail below), and if your budget can stretch to the Urbano, I recommend it over the Campo.
However, if you are on a tight budget, then the Zizzo Campo is my budget pick for 2023.
The latest Campo model retains all the great features of the original version which made it so famous e.g. 
lightweight aluminum alloy frame, 
20-inch by 1.95-inch all-terrain tires, and
A seven-speed drivetrain.
And on top of all that, the Zizzo Campo has received a series of further upgrades and improvements:
A broader saddle that improves comfort on longer rides
The crankset has been redesigned to improve pedaling performance.
A magnetic catch has been added to keep the Campo securely folded.
The folding pedals have been reinforced to make them stronger.
The folding stem has been redesigned to make it easier to adjust (perfect for couples or families who intend to share the bike)
Overall, the Campo is a fantastic budget-friendly folding bike option that has received excellent reviews from users, which you can read about here.
I was impressed with the Campo; however, compared to my experience riding the Urbano, I definitely noticed some compromises in its performance to deliver the lower price point. 
This is best explained if I compare the two bikes head-to-head.
Zizzo Urbano vs Campo
Overall, the Zizzo Urbano is a superior folding bike to the Campo because it is five pounds lighter, has 8 gears instead of 7, an aluminum fork instead of steel, and has higher quality Shimano components. The Campo is a better choice for riders on a limited budget and willing to make some compromises in performance to save money.
| | | |
| --- | --- | --- |
|   | Zizzo Urbano | Zizzo Campo |
| Bike Weight | 24 lbs | 29 lbs |
| Carrying Capacity | 240 lbs | 240 lbs |
| Frame | Lightweight Aluminum | Aluminum |
| Forks | Aluminum | Steel |
| Drivetrain | 1 x 8 (11-32t rear cassette) | 1 x 7 (14-28t rear cassette) |
| Chain | Rustbuster | Regular |
Best Electric Folding Bike: Heybike Mars
The Heybike Mars is my choice for the best electric folding bike because:
It offers great value for money, 
The 500 watts motor is sufficiently powerful for most riding situations, 
It was remarkably comfortable to ride, and
The 4-inch fat tires provide superior traction making them suitable for gravel road tracks, icy conditions, and off-road mountain biking conditions.
Best Electric
Heybike Mars Electric Foldable Bike
Balancing city commute and off-road adventures, the Heybike Mars offers a smooth ride with a powerful 500W motor, versatile riding modes, and a removable battery for under $1,000!
Pros:
Easily removable battery for indoor charging

Powerful front and rear disc brakes

20" x 4" fat tires for excellent off-road traction

Increased ride comfort through bump absorption
Cons:
Not compact or easily transportable when folded due to 66lb weight

Pedal-assist mode can be slow to engage

500-watt motor may struggle on very steep, bumpy off-road terrains

Performance drops significantly when the battery dies
Buy from Amazon
We earn a commission if you make a purchase, at no additional cost to you.
10/27/2023 11:44 am GMT
---
Wheel size: 20-inches | Gears: 7-speed | Weight: 66 lbs | Fold time: 45 seconds
Reasons to buy
Powerful 500W electric motor can achieve up to 47-mile range on a single charge
Super comfortable and fun to ride
Performs well off-road, on gravel, and in icy conditions
Reasons to avoid
Unrideable if the battery goes flat
66 lbs weight makes the Heybike difficult to carry on public transport
I also considered Tern and Brompton electric folding bikes for this category. While I was impressed by both, ultimately, I shortlisted the Heybike Mars because of its more affordable price point. If you have a larger budget, I would also recommend considering the Brompton Electric C Line and Tern HSD before making a final decision.
Heybike Mars Review
A fun, easy, great new design. The perfect electric folding bike for city riding and using on gravel road tracks thanks to the 4-inch fat tires which make the Heybike so comfortable to ride.

Folding Bike Guy
The Heybike Mars electric folding bike boasts a remarkable 500-watt motor, so you can easily tackle almost any terrain.
Other noteworthy features of this e-bike include the 20″ x 4″ puncture-resistant fat tires, 7-speed Shimano drivetrain, dual shock absorbers, and 3 riding modes:
The Heybike Mars has 3 Riding modes.
<10mph: The low-power mode is suitable if you want to conserve battery power or ride at low speeds
10-15mph: A good compromise between riding speed and managing battery life
15-20mph: This is the mode I used most often when riding the Heybike Mars, and I found that the bike could comfortably sustain 20 mph when riding on flat, smooth terrain such as bike paths and commuting in the city.
The Heybike Mars can travel up to 37 miles unassisted and is suitable for cyclists between 5'2″ and 6'5″ in height.
In reality, though, I most often rode the bike in Mode 3 (the fastest mode), and at that speed, the range was typically around 15 miles.
As a former competitive mountain biker, I wanted to put the Heybike to the test off-road and in the gravel and on-road conditions I had already tested it in. I am pleased to say that it exceeded my expectations off-road and was super fun up in the mountains.
The Heybike coped well off-road in all but the steepest climbs it struggled with occasionally.
Another takeaway I learned from pushing the bike to its limits off-road is that it will be competent for riders who intend to use it on gravel tracks or in icy conditions, thanks mainly to the fat tires.
Things I Loved
The battery is easily removed and can be brought inside to charge; you can also choose to purchase a second battery if you are a frequent rider.
Front and rear disc brakes performed adequately during testing on various terrains.
The fat tires provide excellent traction off-road and increased comfort through bump absorption.
Things I Didn't Like 
The Heybike is not the most compact or easy to transport when folded because it weighs 66 pounds (30 kg), which made lifting it upstairs or into the trunk of my car rather challenging. 
The pedal-assist mode can be frustrating, sometimes taking multiple pedal revolutions to engage.
The 500-watt motor, although robust enough for most situations, did struggle at times on very steep climbs, especially when off-road in bumpier terrain.
The Mars performed very poorly during testing; when the battery ultimately died, I was almost unable to pedal it entirely unassisted.
Best for Commuting: Brompton A Line
The Brompton A Line is a new addition to this shortlist for 2023.
While Brompton bikes need no introduction, you may like to read this article on why Brompton makes the best folding bikes as a refresher before I get stuck into why I chose the A Line as the best folding bike for commuting.
Best Commuter
Brompton A Line
The Brompton A Line is perfect for the stylish commuter who wants a reliable folding bike that they can easily fold away to take on public transport or store in the office.
Pros:
Folds away in less than 20 seconds, perfect for fast and easy commuting

Brompton is an outstanding brand

Very fast to ride around town, weighs 25 lbs!
Cons:
Brompton's are excellent bikes but cost more than other brands

3-speed may not be ideal if you live or commute in a hilly area.
Buy from Amazon
We earn a commission if you make a purchase, at no additional cost to you.
10/27/2023 01:39 pm GMT
---
Wheel size: 16-inches | Gears: 3-speed | Weight: 25 lbs | Fold time: 20 seconds
The A Line is built around a classic Brompton steel frame, with 16-inch wheels and a simple 3-speed drivetrain.
Brompton's selection of a 3-speed drivetrain is, in my opinion, the critical differentiator that makes the A Line stand out ahead of its rivals. 
Why?
Because the drivetrain helps to keep the weight down to 25.3 lbs, even with a steel frame.
This lightweight, combined with Brompton's patented tri-folding mechanism and smaller wheel size, makes it ideal for quick and easy folding away in under 20 seconds. 
You can take it on the bus or tube or stick it in the back of an Uber if caught out by inclement weather.
And, of course, the Brompton A Line is an uber-stylish folding bike that stands out from its competitors as you ride around the city. I love the classic design of the A Line saddle, which was also surprisingly comfortable.
As with any Brompton bike, be mindful that a critical decision is choosing the handlebars, which can notably affect your riding experience.
I prepared this Brompton S, M, and H-type handlebars guide to help with your selection.
I identified a few drawbacks while testing the Brompton A Line, which may or may not be deal-breakers depending on your fitness, intended riding conditions, and budget.
The most significant disadvantage is that it costs over two times more than the Zizzo Urbano, which weighs slightly less than the A Line, has more gears, and features an aluminum frame.
The Brompton price tag comes with the territory of investing in a hand-built folding bike made in the UK, and only you can decide whether the Brompton is worth the higher price tag.
While I loved the 3-speed drivetrain for zipping around the city, I should caution that this would only really be suitable for relatively fit riders and/or intend to ride around a relatively flat city.
If you live in a hilly environment or don't perhaps have the quad muscles of a Tour De France rider (okay, maybe a slight exaggeration, but you get my point), then you may be better suited with the Brompton C Line Explore, which offers 6 gears.
Best For Seniors: Schwinn Loop
The Schwinn Loop is my pick of the best folding bike for seniors because:
It offers excellent build quality at an affordable price point; 
The 7-speed Shimano grip shift gears are easy to operate; and 
The low stepover frame design makes mounting and dismounting easier for seniors.
---
Wheel size: 20-inches | Gears: 7-speed | Weight: 34 lbs | Fold time: 30 seconds
I also love that despite the low price point, it comes complete with a built-in rear carrier rack and nylon bag. This makes the Schwinn Loop ideal for short rides to your local shops or supermarkets to purchase a few groceries while exercising daily.
Style-wise I think the classic design of the Schwinn Loop really appeals to senior riders, and you can choose between a black, silver, or white frame.
Regarding drawbacks, I would have liked to see an adjustable handlebar height option, but it's not a deal-breaker at this price. 
I also note that the design and specifications of the Schwinn Loop have not changed in the past few years, and I can't help but feel that it's due for an updated model to be brought to market soon. 
Not a disadvantage per se, particularly for senior riders who may not be as easily swayed or concerned by the latest folding bike trends.
I remain consistently impressed by Schwinn bikes; however, I feel that the competition is heating up in 2023, and brands such as Zizzo, Dahon, Brompton, and Tern are leading Schwinn in bringing newer, improved models to market. 
Best Lightweight Folding Bike: Dahon K3
I'll be honest with you here, choosing the best lightweight folding bike was far and away the most challenging decision I had to make this year. I thought long and hard before deciding on the Dahon K3 Plus as my top pick.
Best Lightweight Folding Bike
Dahon K3 Plus
This 18 lb rocket ship is powered by a 9-speed drivetrain making it a functional lightweight folding bike - at a fraction of the cost of its rivals.
Pros:
A super lightweight bike at a fraction of the cost of Hummingbird and Brompton T Line

9-speed gears are perfect for various terrains you may encounter

Perfect for rapidly folding away and carrying on public transport.
Cons:
Not the absolute lightest folding bike in the world

The 14" wheels are a compromise in terms of ride performance.
$1,499 from Dahon
We earn a commission if you make a purchase, at no additional cost to you.
---
Wheel size: 14-inches | Gears: 9-speed | Weight: 21.6 lbs | Fold time: 30 seconds
Why?
Because there are so many unique lightweight foldable bicycles to choose from, selecting only one wasn't easy. As a lifetime weight weenies fan, my inherited bias was selecting the lightest option as the winner.
However, after careful consideration, the Dahon K3 Plus stood out above other lightweight folding bike rivals because, while not the absolute lightest bike, it effortlessly combines an 18-pound weight with a functional 9-speed drivetrain and a (relatively) affordable price.
Strong, light, cheap: pick two.

Keith Bontrager
What Keith Bontrager is eluding to the fact that it is impossible to achieve all 3 of those bike design goals simultaneously, and one of the three would always have to be compromised to reach the other two. 
In the case of the Dahon K3 Plus, I can honestly say it comes closer than any other bike I have ever reviewed to achieve the holy trinity of bike design.
Perhaps the main area where Dahon has compromised in the K3's design is their choice of 14″ wheels to help reduce weight.
While the smaller wheel size saves weight and has the added advantage of lowering folding size (making it perfect for transporting and commuting), I prefer a larger wheel size for the improved rolling performance and bump absorption they offer.
For that reason, I also highly rated the Tern Verge X11 because it offers 11-speed and 20-inch wheels, so while technically not the lightest bike, it is perhaps arguably the most versatile lightweight folding bike on the list.
For total transparency in this lightweight folding bike category, it would be remiss of me not to include details of some of the other excellent shortlisted bikes so that you can make your own mind up:
Best for Tall And Heavy Riders: Aventon Sinch Foldable Ebike
The Aventon Sinch was a clear winner in the best folding bike for tall and heavy riders category because:
It has a 300 lb carrying capacity, 
It is suitable for riders up to 6 foot 3 inches in height, 
The Sinch features a robust hydro-formed aluminum frame, and
The 20 by 4 inch Kenda Krusade puncture-resistant tires provide superb traction and increased stability.
Best for Heavy Riders
Aventon Sinch Folding E-Bike
This sturdy folding e-bike is perfect for heavy and tall riders. Its powerful 750W peak power motor and 180mm hydraulic disc brakes offer exceptional acceleration and braking power.
Key Specifications:
Carrying capacity: 300 lbs
Height range: 5'0" - 6'3"
Pros:
Suitable for riders up to 300 pounds in weight, and 6' 3" in height.

Powerful 500W motor with 750W peak power delivers great riding performance

A robust hydro-formed aluminum frame balances strength and weight.
Cons:
At 68 lbs, this is one of the heavier foldable e-bikes

May not be suitable for tall or heavy riders who prefer a conventional bike style

You have to spin the pedals before engaging the throttle which is slightly irritating.
$1,399 from Aventon
We earn a commission if you make a purchase, at no additional cost to you.
---
Wheel size: 20-inches | Gears: 7-speed | Weight: 68 lbs | Fold time: 45 seconds
And I haven't even started to talk about the fantastic e-bike capabilities of the Aventon Sinch!
Featuring a powerful 500-watt motor (750 W peak power), the Aventon Sinch can achieve top speeds of 20 mph using only the throttle or with a pedal assist. 
Pedal-assist was my preferred riding style for the Sinch to help preserve battery power and ensure I was enjoying a fitness benefit from the ride.
After a few weeks of riding, I found that I could achieve a range between 40 and 71 miles on a single charge.
However, it's unrealistic to think that you can consistently accomplish a 70+ miles distance as that requires the lowest power mode setting, which I rarely found myself using.
Another feature of the Aventon Sinch that I loved for heavier riders was the Tektro 180mm disc brakes, which offer ample stopping power. I also liked the automatic disengagement of the motor as soon as you pull the brakes.
So, what didn't I like?
A slight irritation with the Aventon is that you have to spin the pedals before engaging the throttle. In my view, this is a built-in safety feature, but it feels a bit like overkill and is a drawback.
I also found the motor slightly noisier than other folding e-bikes when accelerating. Once the Sinch was cruising, I found the motor relatively quiet.
Overall, the Aventon Sinch is a great option for heavy or tall riders that I would highly recommend.
I also considered the Bike Friday Diamond Llama for this category. With a 330 lb capacity, it is another excellent choice and worth checking out if you weigh more than 300 lbs or prefer a traditional folding bike without an electric motor.
Best Folding Bike For Travel: Brompton C Line Explore
The Brompton C Line Explore has superseded my previous top pick of the Bike Friday Word Tourist as the best folding bike for touring because:
It is built with superb craftsmanship, 
The C Line Explore folds away small enough to fit in a regular suitcase, and 
The steel frame is easier to repair than aluminum in the event of damage during transport.
Best for Travel
Brompton C Line Explore
The Brompton C Line Explore folds away in 15 seconds or less, and can be easily transported in a suitcase making it the perfect traveling companion!
Key Specifications:
Carrying capacity: 240 lbs
Height range: 4'7" - 6'8"
Pros:
Made with superb craftsmanship

Can fit in a regular suitcase when folded

The steel frame can be easily repaired anywhere in the world.

Extended seat post option for taller riders
Cons:
As with any Brompton, the C Line Explore comes with a high price tag

Heavier than some aluminum-framed folding bikes

It may require time to get used to the smaller 16-inch wheels.
Buy from Amazon
We earn a commission if you make a purchase, at no additional cost to you.
10/27/2023 11:32 am GMT
---
Wheel size: 16-inches | Gears: 6-speed | Weight: 26.7 lbs | Fold time: 20 seconds
The C Line Explore is perfectly designed and equipped for touring because:
It has 16-inch wheels, which are ideal for achieving a compact folding size without being so small that they compromise ride quality (such as the 12-inch wheels on the world's smallest folding bike by Kwiggle)
The patented tri-folding mechanism enables the C Line Explore to be effortlessly folded away to a size of 23″ x 22.2″ x 10.6″ which fits into a regular suitcase for transporting by plane, bus, or train.
Brompton offers custom-made bags which are ideal for safely touring.
The C Line features a steel frame ideal for travel because steel can be easily repaired in almost any country. 
Brompton, a reputable and prominent folding bike brand, has representation in many countries around the world, which helps in the event you need your bike repaired while touring.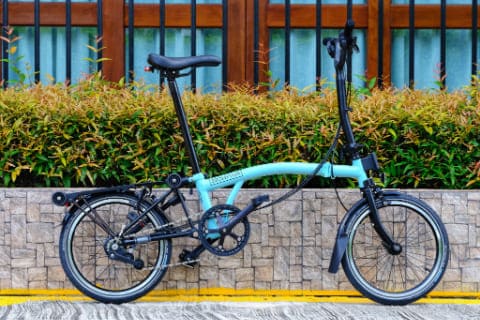 You may also like to learn more about the advantages of touring with a folding bike before deciding whether it's the right choice for your adventures!
Best Foldable Tricycle For Adults: Mantis Tri-Rad
Over the past few years, adult tricycles have grown in popularity. I have received many requests to include my favorite foldable adult tricycle on this year's list.
The Mantis Tri-Rad is my pick for the best folding tricycle because its cruiser handlebars make for a very comfortable ride, the powerful v-brakes make stopping effortless, and the single-speed gearing makes for more leisurely riding, more fun, and less maintenance.
Mantis Tri-Rad Folding Tricycle
The Mantis Tri-Rad folding tricycle is perfect for all the family. The cruiser handlebars and stable ride are perfect for children, seniors, and riders with balance issues.
Pros:
Ideal for elderly riders, children, and riders with special needs

Cruiser handlebars make for a comfortable, relaxed ride

A stable ride, enhanced by powerful v-brakes for extra safety when braking.
Cons:
Folded size is (obviously) a lot larger than conventional folding bikes

Single-speed offers simplicity but may not be ideal if you live in a hilly area.
Check Price on Amazon
We earn a commission if you make a purchase, at no additional cost to you.
10/27/2023 07:53 pm GMT
---
Wheel size: 20-inches | Gears: Single-speed | Weight: 45 lbs | Fold time: 45 seconds
After extensive testing of the Mantis Tri-Rad, I can also tell you that it's suitable for elderly riders, children with special needs, or people with balance issues.
Additionally, the single-speed gearing makes it less complicated (and more fun!) to ride.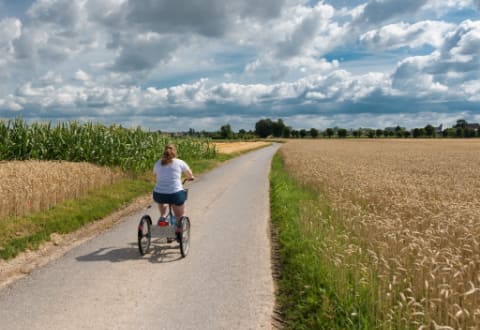 I found the Mantis comfortable during testing, thanks to the cruiser handlebars. I also really loved the powerful v-brakes, which made stopping effortless.
This folding tricycle offers value for money. When not in use can be easily folded away to half its full size.
Check out my Mantis Tri-Rad review and best foldable tricycle guide, which includes a detailed breakdown of things you should consider when choosing a folding tricycle.
Best for Off-Road Riding: Montague Paratrooper Highline
In case you're not familiar with Montague bikes, let me introduce them by telling you that the original Montague folding bike design was developed for US soldiers to parachute out of airplanes and into combat with a folding mountain bike.
So, now that you understand the pedigree of Montague bikes, it's probably not a surprise that they were my top pick for the best folding mountain bike.
Best Off-Road
Montague Paratrooper Highline 27.5"
Perfect for adventurous off-road riders, with Rock Shox, 27.5-inch wheels, and a Shimano Deore 2 x 10 drivetrain this bike is ready to explore.
Pros:
Without a doubt, Montague builds some of the best folding mountain bikes on the planet!

Designed to very high specifications to meet the needs of US military troopers

Performs brilliantly off-road.
Cons:
The 27.5" wheels improve off-road capabilities, however, this comes at the compromise of folded size.
$1,495 from Montague
Our Review
We earn a commission if you make a purchase, at no additional cost to you.
---
Wheel size: 27.5-inches | Gears: 20-speed | Weight: 30 lbs | Fold time: 45 seconds
The Montague Paratrooper Highline is a rugged off-road bike that has been designed and specced out with 27.5″ wheels to provide superior performance over obstacles (compared to conventional folding bikes with 16″ or 24″ wheels). 
The RockShox suspension forks and 2 x 10 drivetrain offer enough gear inches for any terrain you may encounter.
Montague's decision to build the Paratrooper Highline around 27.5″ wheels improves the off-road performance.
It gives them access to a superior range of components because they can use gears, wheels, and suspension forks from regular bikes.
The only drawback, in my opinion, of this design choice, is that it compromises the folded size. However, I feel this is justified for the benefits it provides in terms of improved off-road performance.
I have provided a detailed Montague Paratrooper Highline Review to help you decide if it's the right choice. If you are looking for an electric folding mountain bike, I recommend the Opeak Ebike.
The Selection Criteria: What We Look for In a Great Folding Bike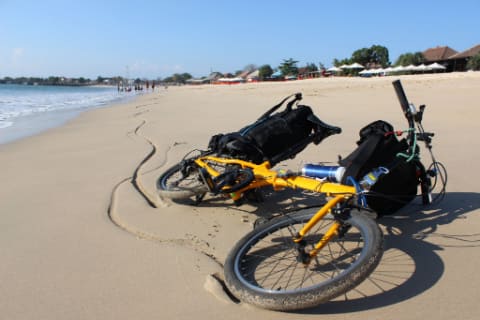 Though we've looked at some of the most popular foldable bikes, there are many other options on the market. Here are some things I look for in a great folding bike.
Folding Bike Brand Reputation
I have touched on brand reputation a few times in specific circumstances where it is imperative, such as when choosing a folding bike for touring.
Fortunately, there is a heap of unique folding bike brands that are well-known and established. I'm happy to report that there are also some emerging brands, such as Zizzo, which are quickly gaining an enviable reputation.
If you want to dive deeper, then take some time to read my best folding bike brand guide.
Top Tip: Don't limit yourself to only selecting one of the well-known folding bike brands (like Brompton, Tern, and Dahon) because while they are reasonable, some emerging brands can offer you better value for money.
Value for Money
It goes without saying that regardless of your budget, you want to choose a folding bike that delivers exceptional value for money. Building on the point, I made earlier about considering emerging brands because they can offer better value for money.
This is something I considered very carefully, which is reflected in the fact that Zizzo took the top two spots on this year's list I think.
At the same time, they have not earned the reputation of the likes of Brompton.
They have done enough to show that they are perfectly capable of delivering foldable bicycles, which will last for years to come. 
Moreover, they have done this at very competitive prices and designed and built some high-performance folding bikes.
Wheel Size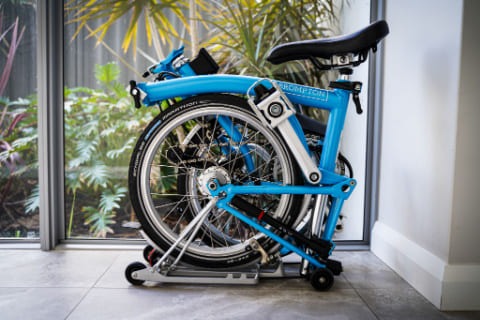 It would help if you searched for the correct size wheel for you; the available options range from 16-inch wheels to 27.5-inch wheels:
16″ Wheels: These wheels are tiny; they do not offer the most stability, but they are exceptionally flexible on the road. These bikes are designed explicitly for short-distance leisurely riding and should not be considered if you plan on traveling on them as your daily commuting ride. They are not the quickest wheel style but are by far the most portable.
20″ Wheels: Most folding bicycles have 20-inch wheels; these are the quintessential hybrid-sized wheel. Not only do they offer good maneuverability, but they are genuinely agile and portable as well. Perfect for your daily commute or leisure activities, too – one to consider.
24″ Wheels: The larger the wheel, the more comfortable the ride. This is the size of a wheel where this statement becomes most evident. While these bikes are not the most portable, they are far more stable to ride and are still a viable option to use on your commute. Regardless of whether you require the use of public transportation – these are not overly large wheels and a good model can still be folded down to a reasonable size.
26″ or 27.5″ Wheels: The biggest style of a folding bike wheel, typically found on folding mountain bikes. This is somewhat of a niche wheel size and is certainly rarer than the other wheel sizes discussed above. They offer the most stable and comfortable ride because of their outstanding shock resistance. However, they are pretty large and cumbersome to carry around daily.
Folding Mechanism
Many people don't realize the significance of a folding bike mechanism when buying their first model.
I can tell you from many years of experience that it is absolutely essential.
At a fundamental level, the solitary component affects how quickly the bike can be folded down. The different types of mechanisms include:
Split Fold Mechanisms: This is the most popular type of mechanism by quite a margin too. Generally found on the average 20″ bikes, but also right up to the largest models too. 
This mechanism uses a hinge located in the center point of the bike's frame. It essentially functions by folding the bike in half. Why would you want to choose this type of mechanism?
Well, these folding bikes function the best in almost all circumstances and are relatively quick to fold away.
Why wouldn't you? 
The main reason would be that they are generally the bulkiest when folded. They are perfect for people who constantly find themselves on the go and those with ample storage space.
Triangular Hinge Mechanisms: These are becoming increasingly common in today's bikes – many believe they are now the gold standard.
While I'm currently sitting on the fence about this, there's no doubt that they are a well-functioning style.
Bike frames containing these mechanisms function intricately fold together in a compact form. They include both hinges and clasps – as a result, they are slightly more complicated to fold away and usually take more time.
However, they take up the least space once folded down, so they are helpful bike models to carry around on public transport.
Break Away Mechanisms: The rarest of the three mechanisms. While the majority of folding bikes are either folded or somewhat taken apart.
These bike models function by splitting entirely into two separate pieces.
This may sound appealing. However, I have found that it takes far longer to fold these bikes away, and it can become quite a tedious task too. I would never personally recommend purchasing one of these styles. However, there is a small minority of people who swear by them.
Gearing
One bike configuration variable people tend to get stuck at is whether or not to purchase a geared model.
I will break this decision down for you so it is easy to digest.
Single-speed bikes function via a single chain. They are slow at accelerating, have a high-top speed, and generally struggle at climbing hills. However, these bikes are the most reliable, and so many choose to use them for their daily commute.
Geared bikes accelerate quickly, traverse hills with relative ease, and have high-top speed. The downside is that these bikes are liable to break.
I would personally recommend purchasing a bike with three to eight gears.
Frame Material & Weight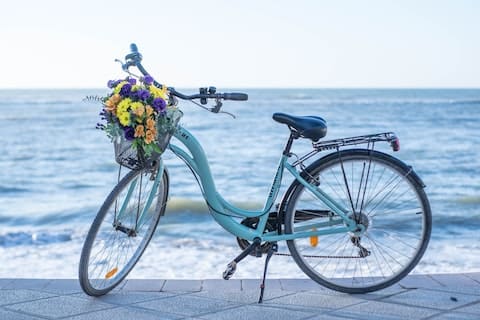 I believe another specification that should be central to any decision is the material of the frame.
Why the frame?
Because the frame contributes most of the weight towards the bike, it is crucial to ensure you get the lightest type possible – in most cases, at least. The most popular folding bike frame materials include:
Aluminum
The benefits of choosing an aluminum frame design are numerous.
This has been the material of choice for bike users worldwide for many years, and not for any reason.
These bike frames will not rust and are relatively lightweight too.
On the downside, aluminum isn't the most robust material; however, it is a good hybrid choice.
Carbon Fiber
The most expensive style of bike frame by a significant margin.
Carbon fiber is the lightest material, so your bike will weigh virtually nothing.
However, expect to break the bank and spend exorbitant cash if you want one of these gorgeous frames.
Furthermore, carbon is very easily broken, so taking care of it is essential if you plan on purchasing one of these folding bikes.
Steel
Like aluminum, it has been utilized in bike frames for many years now.
It is also resistant to becoming rusty over time. What's more? It is a lot more durable than aluminum too.
The downsides?
Steel is the heaviest of the materials used in bike frames, so it isn't an ideal option for a folding bike, given that most people want a portable model.
Titanium
A less widely used bike frame material; however, it is a totally viable option – if you can afford it.
Expect to pay a similar amount as you would expect for a carbon frame.
Titanium bike frames weigh more but are durable, so you won't break your bike easily.
Furthermore, these are the most stable bikes; these truly premium frames keep vibrations to an absolute minimum.
How We Picked The Best Folding Bikes
I have over 25 years of experience (yikes!) in riding, building, testing, and repairing bikes. As an experienced bicycle mechanic and former cycling athlete who has also undertaken extensive research and testing of various folding bikes, I had a great starting point for researching the specific considerations for selecting the best.
Here is my complete list of folding bicycle reviews and guides, which you are welcome to check out if you want to perform your own research.
While my experience and knowledge of bikes were helpful, I needed to go a level deeper to ensure I was knowledgeable about the latest trends and developments in the folding bike market.
To achieve this: 
I Spent over 100 hours performing online research on manufacturers, 
I spoke with industry-leading experts, and 
I created a list of five criteria that I would use to objectively evaluate and rank the foldable bikes against, thereby removing any potential inherited biases I may have:
My criteria for selecting the best folding bikes were:
Build quality and brand reputation.
Value for money.
Wheel size. Note that the rating of this criteria varied depending on the specific category I was ranking the bike for. For example, I rated a bike with larger wheels highly in the off-road category as it would improve riding performance, whereas when choosing a bike for touring, I placed bikes with smaller wheels highly since this enabled them to be compact enough to fit in a suitcase for travel.
Gearing.
Frame material and weight.
I then used the selection criteria to shortlist the top-rated foldable bicycles for testing.
Our Testing Process And Why You Should Trust Us
Testing involved a combination of desktop comparisons and research, combined with test rides of specific foldable bikes which I performed in a range of urban, outdoor, and off-road environments to test out and compare the different models.
Finally, I compiled a summary of all my bike testing, as shown in the table below:
| | | | | | | | |
| --- | --- | --- | --- | --- | --- | --- | --- |
|   | Brand | Value | Wheel Size | Foldability | Gearing | Material /Weight | Overall Score |
| Zizzo Urbano | 85% | 90% | 100% | 80% | 90% | 100% | 91% |
| Zizzo Campo | 85% | 100% | 100% | 80% | 60% | 65% | 82% |
| Heybike | 80% | 85% | 85% | 50% | 70% | 80% | 75% |
| Brompton C Line Urban | 100% | 50% | 90% | 90% | 70% | 80% | 80% |
| Schwinn Loop | 90% | 80% | 90% | 80% | 70% | 80% | 82% |
| Dahon K3 Plus | 90% | 100% | 70% | 90% | 100% | 90% | 90% |
| Aventon | 80% | 80% | 85% | 10% | 85% | 90% | 72% |
| Brompton C Line Explore | 100% | 50% | 100% | 90% | 80% | 100% | 87% |
| Montague Paratrooper | 80% | 95% | 100% | 20% | 90% | 90% | 79% |
The table above looks at the key elements to consider when choosing a folding bike, so you can see how each top brand compares. They have been ranked for each category on a scale from 0% to 100%, with zero percent being the worst and one hundred percent being excellent.
Each bike must be scored on its merits against other similar bikes in that particular category.
For example, the Dahon K3 Plus scored an overall 90%, the highest rating of any bike in the lightweight folding bike category. That does not mean, however, that I would rate the K3 Plus above the Brompton C Line Explore (87% overall score) if you chose a folding bike for touring.
The only exception to this rule is selecting the "best overall folding bike." 
In this case, the Zizzo Urbano was compared against all other folding bikes on the list and, based on my research and testing, was the best overall performing folding bike for 2023.
Which Folding Bike Should You Choose?
Making a final decision on anything in life can be a difficult job.
When deciding what is the best folding bike for you, things can get a little trickier. I believe the best way to determine is to narrow down your options based on what type of rider you are.
What I mean by this is, what will your folding bike's ultimate purpose be?
Leisure Bikers
Most people looking to purchase a folding bike intend to buy one for leisure.
This generally involves taking your bike short distances from your home for day trips or small excursions but not utilizing it as your primary mode of transport.
Your activities would therefore include taking it to the shops, around your local town, or for part of your commute.
If, after reading this, you would classify yourself as a leisurely rider, you should therefore be looking at purchasing a cheaper model of bike.
Fundamentally, you don't require the highest specification bike; in a perfect sense, you need a folding bike that is safe to ride from A to B.
Obviously, the higher the specification, the better; you want the bike to look good, be comfortable, and be unlikely to break – however, aside from that, you should probably look to cut costs where possible.
Some additional considerations for your bike's specification should also be made, including: 
The number of gears your folding bike will have
If you live in a particularly hilly area, you should probably go for a bike with more, if not, then less – or even none.
Commuters
You are likely a commuter if you're not a leisurely cyclist. In this instance, you will regularly share the road with cars over long distances.
Traveling to work, for many, is a mundane and unpleasant experience.
Consequently, I believe that it is essential that we identify a model to make this as bearable as possible. The best folding bikes for work commutes are generally exceptionally comfortable, fast, lightweight, and above all – totally safe and unlikely to break.
That sounds like many requests; however, most folding bike models have been designed for commuters.
They were designed for commuting, so you will find several models ideally suited to your requirements.
Other essential considerations for commuters looking to purchase a collapsible bike include the wheel size and, once again, the number of gears.
Wheel size is an essential component because it is directly related to the speed and stability of the bike, likewise with the number of gears.
Given that you will be doing many miles on your bike almost daily, you should ensure that your bike is always quick and totally secure to ride.
Mountain Bikers
There is always one anomaly, and this is it. Some people will actively search for a portable bike capable of surviving off-road.
These are typically few and far between. However, there is a definite increasing trend in the number of these folding mountain bike models becoming available.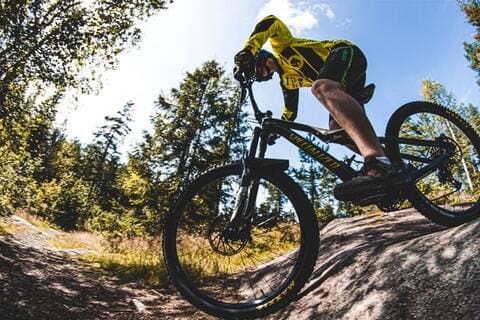 Overall, these bicycles are designed to be durable and quick over a diverse array of terrains.
These bikes have large, thick, and often have large treads too.
Furthermore, they are not always too portable since they tend to weigh a little more to increase their riding stability when off-road.
These bikes characteristically come with shock absorption features to prevent the riding from being thrown around too much.
A large variety of suspensions are found on these bikes; some are considerably better than others – but they all essentially do the same thing.
Prices on mountain bikes vary drastically. 
Make sure you weigh your personal requirements before purchasing one, as it is easy to spend astronomical amounts of money on a top-of-the-range fold-up bike.
Types of Folding Bike
Not only are there many different brands currently producing foldable bikes, but there are several different types too.
While it holds true that most collapsible bikes are your typical size (20-inch wheels), it is crucial to realize that there are many more potential options to choose from:
Folding Mountain Bikes
I have provided an article on what I think are the best folding mountain bikes here.
MTBs are certainly growing in popularity, whereas in the past, they were a pretty niche form of fold-up bike. They're the least portable form of a folding bike. However, they are beneficial for a wide range of activities.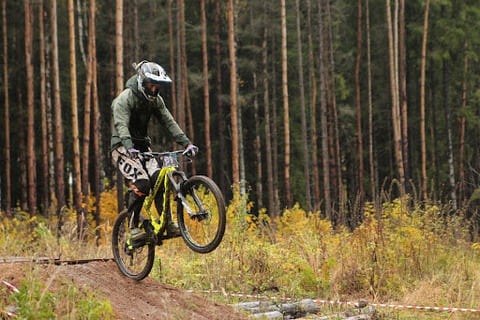 Not only do they offer higher speeds than standard models, but they're also capable of tackling both road and dirt tracks.
Another benefit mountain bikes offer is the ability to traverse hills relatively easily.
This results from folding mountain bikes usually having larger wheels, although this can vary somewhat between manufacturers.
An increasing number of brands have been taking the step to produce folding bikes and mountain bike hybrids in recent years.
Due to their exceptional usability, we believe they will soon be regularly seen on roads globally.
Folding Road Bikes
Another example of a relatively unheard-of or unseen style of folding bicycle is the folding road bike.
As many would expect, these are typically the lightest models available, but as discussed previously regarding mountain bikes.
They also tend to be moderately less portable than a 20″ model.
Conversely, as their name suggests, road bikes are extremely fast on the road and can travel far more quickly than motor vehicles throughout a city.
If time is essential to you and portability is not, these lightweight bikes might be perfect for you.
Regarding portability, these bikes also tend to have much larger 700cc diameter wheels, but they don't weigh too much, so carrying them around isn't always a massive drain.
Benefits of Foldable Bikes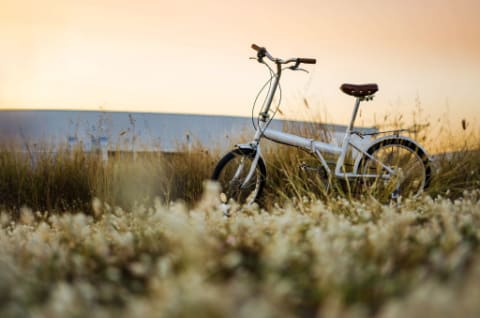 An almost innumerable amount of benefits can be derived from using a folding bike. Here are some of the main reasons why so many people consider purchasing folding bikes:
Free Travel
Folding bikes enable you to save vast sums of money in such a short period, whatever your circumstances.
Think about it; no transport fees, insurance, fuel, parking tickets, or any form of maintenance for your automobile either.
Furthermore, a folding bike can utilize more than one mode of transport.
You can use it on any public transport and reach your destination far more quickly.
I save upwards of $300 every month using my folding bike in combination with public transport, buses, and trains.
Exercise Daily
When I purchased my first folding bike, I never realized how much it would raise my fitness levels.
I used to be overweight, and by fairly, I mean extremely.
Weeks would go by where I rarely did any physical exercise and constantly traveled to and from work in my car, then simply vegetating at my desk all day long.
I purchased my folding bike to make traveling to and from work quicker and to become less dependent on cars.
As a result of riding my folding bike, I lost excess fat and looked and felt much healthier.
Flexibility
In many cities, it is challenging to travel by car (difficulty parking and constant traffic), and you are forced to walk or use public transport to get around.
Folding bikes can be carried anywhere. 
They are smaller than a briefcase and weigh very little. Consequently, you can take them absolutely anywhere easily and won't have to worry about them being stolen.