If there were a hall of fame for folding bikes, the Graziella would certainly belong due to its commercial success and long history.
The Graziella Biclicletta's form was conceived by Italian designer Rinaldo Donzelli in 1963 and built by Teodoro Carnielli & Co. in Vittorio Veneto, Italy, who then introduced it to the market in 1964. Carnielli was a home fitness equipment ("Cyclette" exercise bikes) and bicycle company founded in 1908.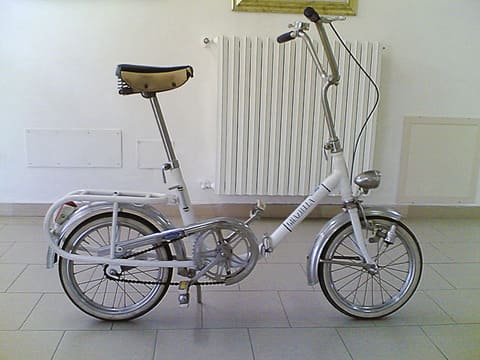 Teodoro's son, Guido Carnielli, was instrumental in coming up with the idea to make a folding bike with small wheels that could be transported in a car. Guido's name is listed on the bike's patent as Inventor, filed on January 7, 1964, in Italy.
The original bike was built as a Bottecchia brand but adopted the Graziella name by product launch in 1964. The initial Graziella was a single-speed folding bike with 16″ wheels, a dynamo headlight, a bell, and a front-hand brake with a rear coaster brake. 
Graziella Tandem Folding Bike
A Graziella tandem folding bike soon followed, and similar to the original Graziella foldable bicycle, it featured 16-inch wheels, a single-speed drivetrain, dynamo lights, and a rear drum brake design.
Other Biclicletta Graziella Italian Folding Bike Models
Soon after releasing the tandem bike, Graziella launched a Junior bicycle model with 12″ wheels and even a Graziella Baby bike with 10″ wheels making it suitable for children.
In 1971 a model with 20″ wheels was offered along with the original 16″ wheel version.
Some minor accessory modifications were introduced over the years, including changes in the headlight style, front basket, etc. Gears became available in the mid-'70s with an optional 3-speed hub gear.
A Flor or "Flower" model was made available and adorned with flower decals, apparently a nod to the hippie flower power era. In the late '70s, a model with 22″ wheels was available.
The Graziella was influential in popularizing folding bikes, which led to an explosion of them in the 1970s.
It was produced in large numbers and advertised extensively, including a print ad campaign featuring Brigitte Bardot. The Graziella was exported to many countries and was seen as an Italian chic fashion bike.
The simple U-frame design was ultimately copied by many bicycle companies that increased the form in vintage folding bicycle designs that appeared throughout the 70s.
Even today, some folding bike offerings still feature it.
Carnielli themselves stuck with the U-frame plan with folding bikes they made in the '70s under other brand names like Amica, Annabella, Bottecchia, and Roma-Sport.
Carnielli ended the production of the Graziella in the late 80s, but in 2012 Bottecchia resurrected the brand and began offering a modern, updated version. In 2014, Graziella celebrated its 50th Anniversary since the introduction of the original.
Bottecchia, the current owner of the Graziella brand, produced a special edition 24-carat gold-plated frame version of the modern version to commemorate the event.
As a testament to the cultural icon that the Graziella became, many Graziella fan sites on the web honor the bike's enduring legacy since many Graziella bicycles were handed down and enjoyed by multiple generations.