When you use our links, we may earn an affiliate commission. Learn more.
Buying a folding bike is an excellent purchase for avid but space-conscious bikers. Several brands, such as Brompton and Tern, promise the best quality and features, but how do they compare?
Brompton and Tern are reputable folding bike brands offering high-quality bikes.
However, they cater to different user needs. Brompton is optimal for urban commuters, with features designed to ensure clean, compact, and convenient travel on public transit. Tern provides a ride geared towards distance and varied terrains, making it an ideal choice for rural or long-distance riders.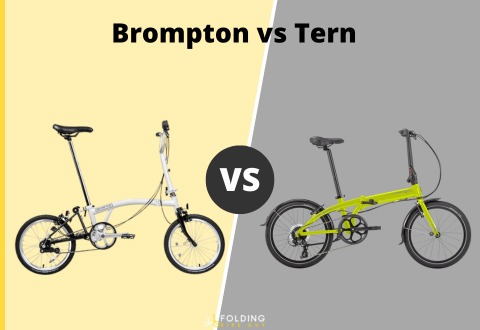 When considering which brand to go with, consider your needs, such as: 
Whether you will often transport it folded
Whether the smallest possible folding size is essential to you
The terrain you are going to ride on
The distance you are planning to bike
How much weight are you able to carry
Your budget
Keep reading more about how Brompton and Tern stack up in these categories.
Comparing Features of Brompton and Tern Folding Bikes
You can expect Brompton to focus on portability and having the smallest folded size on the market. Tern prioritizes rideability instead, and thus, their portability is more akin to a standard bike with folding only for storage.
| Brompton | Tern |
| --- | --- |
| It uses magnets to stay folded | Folds with a larger footprint |
| Weighs 20-30 lbs. | Weighs 15-26 lbs. |
| Chain covered when folded | The chain is uncovered while folded |
| Locked in place when folded | Uses magnets to stay folded |
| Higher starting price | More bike for your buck |
| Thin profile and barebones frame | Wide wheels and aluminum frame |
| No included kickstand | Kickstand |
| Starts at £900 (1110 USD) | Starts at £405 (500 USD) |
Which Features Are Most Important for Portability?
If your goal is to have a bicycle you can fold and carry around, then prioritize a bike with the following:
A small folding size
A locking mechanism to prevent it from coming unfolded while being carried
A design to prevent you from getting chain grease on your or someone else's clothing
A weight you can comfortably carry
Which Features Are Most Important for Rideability?
If you will primarily be riding the bike when it is not being stored and you are not worried about its ability to be carried while folded, then look for the following:
Wider Wheels (improves stability)
An Aluminum Frame (more responsive)
A design that evenly distributes your weight on the wheels
Built-in shocks (to reduce jarring on rougher terrain)
Brompton Folding Bike Features: A Deep Dive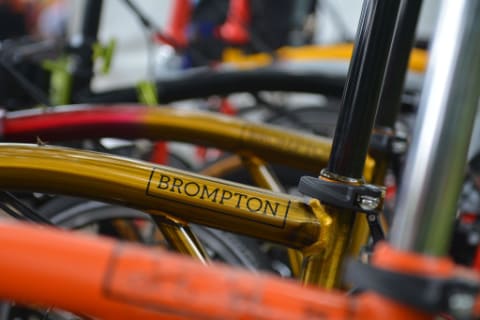 Brompton has three folding bike lines: The A-Line, The C-Line, The P-Line, and The T-Line. Most Brompton bikes share the exact base specifications as the A-Line with minor differences or additional features. Notably, the P and C lines are also available as electric bikes. 
A-Line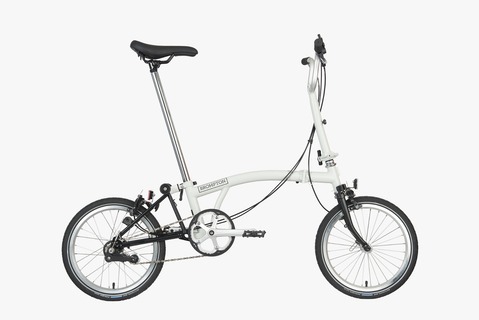 The A-Line is the standard Brompton folding bike. Buying the previous year's model is slightly cheaper, but not by much. This bike can set you back between £900 and £1000.
Best Commuter
Brompton A Line
The Brompton A Line is perfect for the stylish commuter who wants a reliable folding bike that they can easily fold away to take on public transport or store in the office.
Pros:
Folds away in less than 20 seconds, perfect for fast and easy commuting

Brompton is an outstanding brand

Very fast to ride around town, weighs 25 lbs!
Cons:
Brompton's are excellent bikes but cost more than other brands

3-speed may not be ideal if you live or commute in a hilly area.
Buy from Amazon
$1,150 from Brompton
We earn a commission if you make a purchase, at no additional cost to you.
10/02/2023 06:59 pm GMT
Specifications
Weighs 11.6 Kg.
Size when folded is 645mm (H) x 585mm (W) x 270mm (D) (25.3" x 23" x 10.6")
Hollow tube steel frame
Saddle seat with integrated carrying handle
Non-folding composite pedals
3-speed drive train
6061 forged aluminum crank with 44T chainring and chainguard
349 x 35C puncture-resistant Schwalbe Marathon Racer tires
Available Add-ons
While The A-line is primarily a barebones model, you can purchase the following aftermarket accessories: 
Mudguards
Front Carrier
Pump
C-Line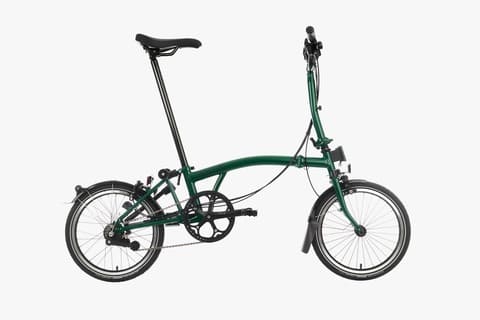 The C-line is their more customizable bike line and contains two models – The Urban and The Explore. Each allows for three handlebar configurations, a range of colors, and includes mudflaps. C-Line bikes will cost between £1200 and £1500. 
The Urban
This model is a two-speed bike. The Urban is lighter than most Brompton bikes (11.3 kg.) and has a folded size identical to the standard A-Line. This bike is optimal for a casual commuter if you have the budget.
The Explore
Best for Travel
Brompton C Line Explore
The Brompton C Line Explore folds away in 15 seconds or less, and can be easily transported in a suitcase making it the perfect traveling companion!
Key Specifications:
Carrying capacity: 240 lbs
Height range: 4'7" - 6'8"
Pros:
Made with superb craftsmanship

Can fit in a regular suitcase when folded

The steel frame can be easily repaired anywhere in the world.

Extended seat post option for taller riders
Cons:
As with any Brompton, the C Line Explore comes with a high price tag

Heavier than some aluminum-framed folding bikes

It may require time to get used to the smaller 16-inch wheels.
Buy from Amazon
$1,850 from Brompton
We earn a commission if you make a purchase, at no additional cost to you.
10/03/2023 04:07 am GMT
The Explore is Brompton's attempt to create a more rugged bike. However, while it is six-speed, it lacks most of the features needed for a comfortable long-distance ride and maintains its' racer wheels and steel frame.
P-Line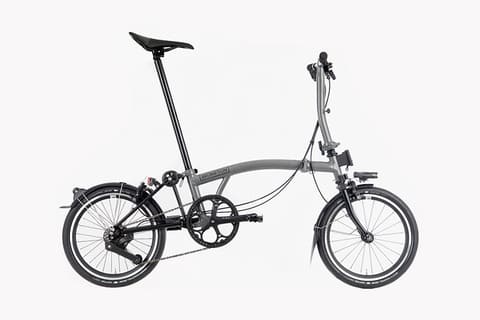 The P-line is Brompton's performance line. These bikes are super light at a mere 9.9 kg. and have the standard Brompton folding size. Key differences other than weight from the classic A-line include:
Folding left pedal
An included front carrier
Optional roller rack
The Brompton P-Line can cost anywhere from £2,300 to £2,500, depending on your chosen options.
T-Line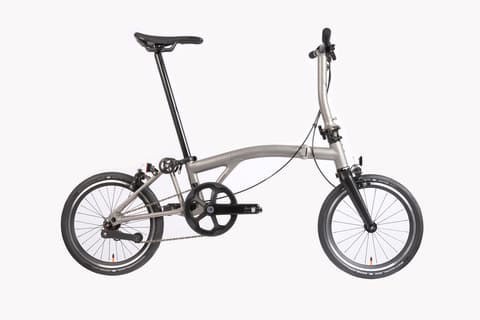 The T-line contains two models, the T-Line Urban and the T-Line One. These are by far the most expensive bikes Brompton offers and cost up to £ 5,000 depending on customizations.
However, they are also the only Brompton bikes to ditch the steel frame for titanium, which brings their weight down to just under 8 Kg.
The Urban
This four-speed bike is overkill for most consumers but might scratch the itch for a high-performance commuter bike. Everything on this bike screams innovation, from the Schwalbe ONE tires to the carbon core and 0.3mm steel armor seat post.
The One
This model is identical to The Urban, except for its drivetrain. This bike has only one gear and doesn't mess with a Derailleur. In return, you'll save a sizable chunk of change for losing this feature.
Get Our Ultimate Folding Bike Guide
Learn How To Choose, Setup, Ride & Maintain Your Folding Bike with The Ultimate Folding Bike Beginner's Guide
Learn More
Tern Folding Bike Features: A Deep Dive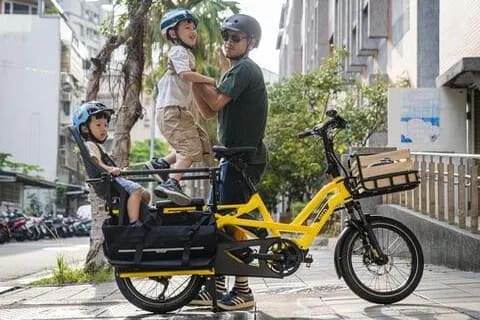 Most Tern bikes are designed to replicate the rideability and versatility of a traditional bicycle while incorporating space-saving technology. As a result, they're slightly heavier and less compact than Brompton bikes but include essential features such as:
Suspension
Wide tires
Aluminum frames
Cargo space
A Kickstand
In addition to being better suited to long-distance and cargo use, Tern bikes also start cheaper than Brompton. One of their entry-level models, the Link A7, costs just under $500.
Tern offers a much more comprehensive range of bikes than Brompton (there are 11 separate bike lines), but all their folding bikes fall into three categories: standard folding, ultra-compact folding, and flat-folding. 
Standard Folding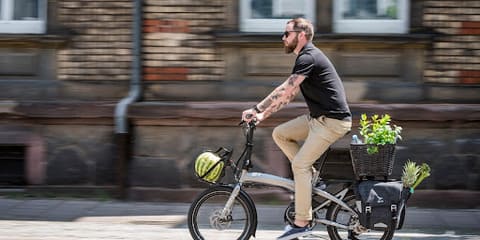 When you decide to get a folding bike, these bikes are likely what you are thinking of – the wheels sit on top of one another to save space during storage. In this category are models like the Vekron S10. While folded, Tern standard folding bikes come in around 40 × 85.5 × 67.5 cm (15.7 × 33.7 × 26.6 in).
Ultra-Compact Folding
These bikes are designed to be transportable even on airlines and have an optional suitcase-reminiscent storage bag. Tern bikes in this category include the BYB line. When folded, Tern ultra-compact folding bikes are 33 × 81 × 51 cm (13 × 31.9 × 20.1 in).
Flat Folding 
While most people don't associate folding bikes with those that fold flat, they shouldn't be discounted. Tern's flat-folding bikes have folding pedals and handlebars designed to store vertically.
The result is a bike that requires only the amount of space as a potted plant and can easily be stored in a car or a small apartment.
Tern BYB vs. Brompton
Tern's BYB (Bring Your Bike) series is a relatively recent entrant in the folding bike market, aiming to combine compact size with ride quality and strength.
When stacked against the iconic Brompton, the Tern BYB holds its own in terms of foldability, boasting one of the smallest folded sizes in Tern's lineup.
The design is tailored to urban commuters, featuring a frame that's 30% smaller than traditional Tern bikes, making it apt for tight city spaces and public transportation.
On the other hand, with its decades of refinement, Brompton offers a time-tested design known for its quick fold, lightweight, and small footprint that's hard to beat.
In terms of ride experience, both bikes cater to urbanites seeking convenience and performance.
Brompton's nimble design and three or six-speed options have garnered a loyal fan base.
In contrast, the Tern BYB, with its adjustable handlebar and seat post, emphasizes personal customization and ergonomic comfort.
Ultimately, the choice between Tern BYB and Brompton comes down to personal preference, as both bikes offer a blend of compact design and reliable performance, each with its own set of strengths.
Tern vs. Brompton: My Verdict
When choosing between a Tern and a Brompton folding bike, the biggest question you need to ask yourself is how it will be used.
For consumers who want a simple, lightweight design that can fold into a carriable package, go with Brompton.
If the features of a standard bicycle and the potential for rough terrain are more important to you than being able to carry your bike while folded, then Tern is ideal. 
FAQs
Is a Tern as Good as a Brompton?
The choice between a Tern and a Brompton depends on personal needs. Brompton is superior for city commuting due to its compactness and portability. Tern is designed for better rideability and is ideal for long-distance or rural trips. Factors like usage, portability, budget, and personal preferences should guide the decision.
Where Are Brompton Folding Bikes Made?
Brompton bikes are all designed and assembled in West London, England. However, they use parts manufactured in several countries, including Taiwan, China, and various locations in the EU. 
Where Are Tern Folding Bikes Made?
Tern bikes are designed, manufactured, and assembled in Taipei, Taiwan. They are then shipped to the company's USA, UK, Finland, and China offices.
Mark Plummer
Mark Plummer
is an experienced bike mechanic who has built, repaired, and customized thousands of bikes over the years. A former mountain biking athlete, his cycling adventures have taken him all over the globe from the mountains of Scotland to the South Island of New Zealand. These days he enjoys the benefits of commuting to work and touring on his Dahon and Brompton folding bikes.
Get Our FREE Folding Bike Buyer's Cheat Sheet
This free cheat sheet will help you choose a folding bike by providing quick information on the 7 key considerations when buying a foldable bicycle!
By subscribing, you agree to get emails from Folding Bike Guy. We'll respect your privacy and you can unsubscribe any time.